TSS Athenia Passenger List - 8 May 1925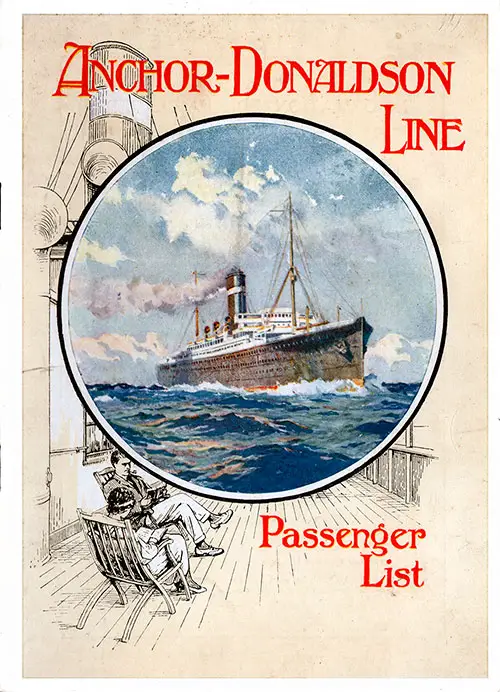 Front Cover of a Cabin Passenger List for the TSS Athenia of the Anchor-Donaldson Line, Departing Friday, 8 May 1925 from Glasgow to Quebec and Montreal, Commanded by Captain James Black. GGA Image ID # 159214fc38
Senior Officers and Staff
Captain: James Black, - Commander
Chief Officer: Andrew Brownlie
Chief Engineer: John Carnegie
Surgeon: James P. Henderson
Purser: Albert P. Bishop
Chief Steward: Peter MacDonald
Conductress: Miss Jessie Livingstone
List of Cabin Passengers.
Mrs. Grace Anderson
Miss Minnie Anderson
Miss Margaret Bain
Miss Mary H. Bain
Mr. C. W. Baxter
Miss Louisa Beaumont
Miss Tassie P. Bell
Miss M. A. Blair
Miss C. M. Borthwick
Mr. S. Brentnall
Mrs. Brentnall
Miss Janet Brown
Dr. Mary Brown
Miss Nellie Brownlie
Mr. Donald Calder
Mrs. Annie T. Calder
Mr. James K. Carruthers
Miss Jean L. Clark
Mrs. Agnes Conner
Miss Isabella Conner
Miss Annie Conner
Mrs. J. B. Consologe
Mrs. Helen Cormack
Miss Hazel Cormack
Miss Margaret Cormack
Miss S. A. Cowap
Miss Dora R. Craig
Miss Jean Craig
Mr. J. Dackworth
Mr. James Dickson
Mrs. Agnes Dickson
Miss Georgina Dickson
Mr. W. B. Donaldson
Mr. N. P. Donaldson
Miss K. F. Donaldson
Mr. James Fichlie
Mr. Andrew Gillespie
Mrs. Margaret Gillespie
Miss Mary Gillespie
Miss Nina Gillespie
Miss Sarah A. Glover
Mrs. C. Graham
Miss Virginia Hamilton
Miss Elsie Harbison
Mr. F. Harrison
Miss Agnes M. Henderson
Miss Roberta Henderson
Mr. Wm. G. Henderson
Mrs. Mary Hunter
Master William Hunter
Mrs. Jessie G. Kennedy
Miss Helena A. Kennedy
Miss Isabel C. Kerr
Miss Isabella Lemmon
Miss M. Lewis
Mr. Wm. MacDonald
Mr. John Macpherson
Mr. F. Malone
Mr. Samuel J. Mann
Mrs. Helen Mathieson
Mrs. R. McCulloch
Mrs. K. McKay
Miss I. McKenzie
Mr. John Middleton
Mrs. Jessie Mill
Miss Florence Mill
Mrs. Jean Millar
Master Hugh Millar
Master Jack Millar
Miss M. D. Miller
Miss Susan Moffat
Mrs. Janet Morrison
Miss E. A. W. Munro
Mrs. I. Nicholson
Mrs. I. A. Orr
Miss H. C. Orr
Mr. Wm. J. Peoples
Mr. Jas. Quigg
Mr. James Rae
Mrs. Hazel Rae
Mrs. Eliz. Rennie
Mrs. Janet M. Robertson
Master J. S. Robertson
Master T. A. Robertson
Mrs. Isabella Rosborough
Miss Christina Ross
Miss K. Rowan
Mr. A. Rowan
Mrs. A. Russell
Miss J. Russell
Mrs. E. Rutherford
Mrs. M. Sampler
Miss A. M. Seaife
Miss A. C. Shannon
Mrs. C. T. F. Sharp
Mr. Henry M. Shaw
Mrs. I. Sutherland
Master I. Sutherland
Mrs. A. Taylor
Master H. Taylor
Mr. J. W. Teale
Mrs. V. A. Turner
Miss R. J. Turner
Mrs. Martha Waddell
Mrs. E. F. Watson
Miss Mary Watson
Mrs. E. Webster
Mr. John Whyte
Mrs, Whyte
Mr. Peter Whyte
Master Stewart
Whyte Miss Jean Whyte
Mr. Robert Wilcox
Additional Passengers
Mrs. S. H. Brabazou
Miss A. Chivers
Mr. Joseph Jon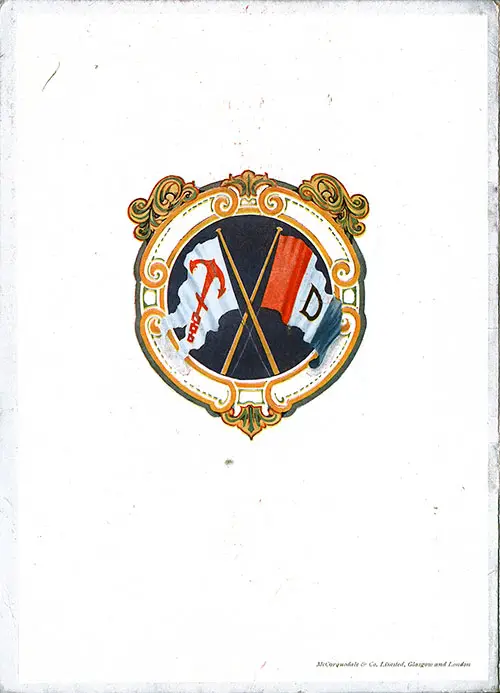 Back Cover of a Cabin Class Passenger List for an 8 May 1925 Voyage of the SS Athenia of the Anchor Donaldson Line. GGA Image ID # 15921d92c4
Anchor - Donaldson, Limited,
12-16 St. VINCENT PLACE,
Glasgow.
The Robert REFORD Co., Limited,
Montreal. Quebec, Toronto, St. John, Halifax, and Portland, ME.
Information for Passengers
Additional Passage Money or Freight paid on board—Passengers should obtain a receipt on the Company's form for such disbursements.
Baggage. — Enquiries regarding baggage on board ship should be addressed to the Purser.
Trunks, Wraps, etc., will be stored and re-shipped by the Company for the return voyage.
Complaints.—Complaints of incivility, carelessness or inattention on the part of any of the ship's staff should be immediately reported to the Chief Steward, or failing satisfaction, to the Purser.
Deck Chairs and Rugs may be hired for the voyage at the Company's offices or from the Deck Steward. Printed receipt to be obtained by Passengers for this hire.
Divine Service may be held in the Saloon (weather permitting) every Sunday at 10:30 am
Dogs.—Returning Passengers are notified that Dogs cannot be landed in Great Britain unless a licence has been procured from the Board of Agriculture, London. Forms of Licence can only be obtained by direct application to the Department before the dog is taken on board.
Dogs can only be carried by special arrangement being made with the Company prior to embarkation. Whilst on board they are not permitted in any of the public rooms or staterooms.
Drafts are issued, free of charge, payable in currency at any of the Offices of the Company in the United States and Canada, and, similarly, drafts are issued in the United States and Canada payable at any of the Company's Offices in the United Kingdom in sterling, or at the Company's Offices in Europe in the currency of the country on which they are drawn.
Library.— Library Books may be obtained on application to the Deck Steward.
Lights in Saloon until 10.30 pm; in public rooms until 11:00 pm The Bar closes at 11:00 pm
Lifebelts.—Lifebelts must not be removed from staterooms, except in cases of extreme danger and necessity.
Meals.—Breakfast, 8:00 am; Lunch, 1:00 pm; Dinner, 6:00 pm
When two sittings are necessary, meals will be served as follows :-
Breakfast, First sitting, 8:00 am; Second sitting, 8.45 a.m
Lunch, First sitting, 12.30 p.m,; Second sitting, 1:15:00 pm
Dinner, First sitting, 6:00 pm; Second sitting, 7:00 pm
Meals cannot be served in cabins' or on deck unless with the Surgeon's permission.
Ports.--Passengers are requested not to open the ports. The Stewards will do this whenever practicable.
Railway Timetables may be consulted on application to the Music-Room Steward.
Smoking. — Smoking in saloons and staterooms is strictly prohibited. Children are not allowed in the Smokeroom. Cigarette smokers are requested to be careful when smoking on deck to see that cigarettes are extinguished before being thrown away.
Table Seating.—The Chief Steward has the arrangement of table seating.
Telegrams and Letters for despatch should be handed to the Purser, and must be fully prepaid.
Telegraph Forms and Postage Stamps can be had from the Purser.
The Surgeon is authorized to make customary charges, subject to the approval of the Captain, for treating Cabin Passengers at their request for any illness not originating on board the ship. In the case of sickness contracted on board no charge will be made and medicine will be provided free.
Tobacco, Spirits, Etc.—Tobacco, cigars, cigarettes, wines, spirits and perfumery are liable to duty on being brought into the United Kingdom, and the smallest quantities should be declared to the Customs authorities.
Copyright Books and Music are forbidden and will be confiscated by the Customs authorities.
Valuables.—Money or valuables should not be exposed in staterooms. The Company will not be responsible for articles lost or stolen. Valuables may be deposited in ship's safe, under care of the Purser, free of charge.
Passengers are warned that they should not on any account part with money or valuables to any persons representing them- selves as members of the ship's staff.
Wireless Telegraphy. — Wireless Telegraph messages should be handed to the Purser for transmission.