SS Demosthenes Archival Collection
Demosthenes (1911) Aberdeen Line (British)
Built by Harland & Wolff, Ltd., Belfast, Ireland. Tonnage: 11,223. Dimensions: 500' x 62' (517' o.l.). Triple-screw, 15 knots. Triple expansion engines. Two masts and one funnel. Passengers: 100 first class. Fate: Scrapped in 1931. Sister ship: Themistocles. Service: England-Australia, via Capetown.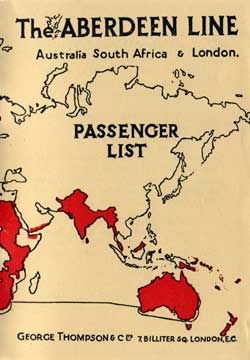 1926-01-16 TSS Demosthenes Passenger List
Steamship Line: Aberdeen Line
Class of Passengers: Saloon
Date of Departure: 16 January 1926
Route: Australia to the United Kingdom via South Africa and Spain
Port of Calls: Melbourne » Fremantle » Durban » Capetown » Tenerife » Southampton
Commander: Captain F. A. Orriss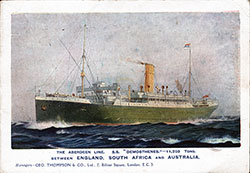 1927-02-13 SS Demosthenes Dinner Menu Card
Vintage Dinner Bill of Fare Card from 13 February 1927 on board the SS Demosthenes of the Aberdeen Line featured Fried Sole, Tomato Sauce, Roast Sirloin of Beef & Horseradish, and Plum Tart & Cream for dessert. The reverse side contained a daily progress report of distance traveled and weather conditions.