SS Drottningholm Archival Collection
Drottningholm (1905) Swedish-American Line
Built by Alexander Stephen & Sons, Ltd., Glasgow, Scotland. Tonnage: 11,182. Dimensions: 517' x 60' (538' o.l.). Triple-screw, 18 knots. Steam turbines. Two masts and one funnel. Passengers: 426 first, 286 second, 1,000 third. First voyage as Drottningholm from Gothenburg to New York, May 1920. Refits: New single reductioned geared steam turbines installed in 1922. War Service: Served as repatriation ship during World War II. Renamed: (a) Brasil (1948), (b) Homeland (1951). Fate: Scrapped in Italy, 1955. Ex-Virginian (1920).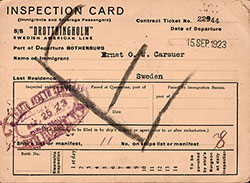 1923-09-15 Inspection Card - Swedish Immigrant
U.S. Inspection Card (Immigrants and Steerage Passengers) for Earnst O. W. Carsuer, Sailing from Gothenburg 15 September 1923 on the SS Drottningholm of the Swedish American Line, Arriving in New York 25 September 1923.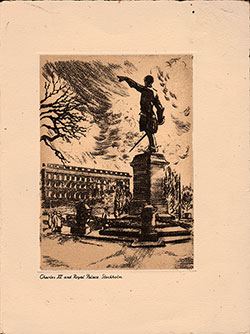 1946-05-27 SS Drottningholm Luncheon Menu
Luncheon Bill of Fare from 27 May 1946 on board the SS Drottningholm of the Swedish American Line, featured Chopped Beef à la Lindstrom for Standard Class Passengers on an eastbound voyage from New York to Gothenburg.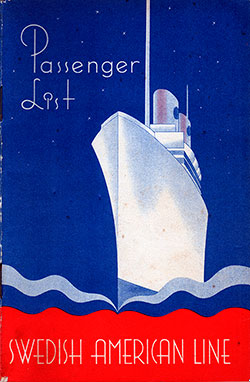 1946-07-09 SS Drottningholm Passenger List
Steamship Line: Swenska Amerika Linien / Swedish American Line
Class of Passengers: Cabin
Date of Departure: 9 July 1946
Route: Gothenburg to Saint Johns NF and New York via Liverpool
Commander: Captain J. Nordlander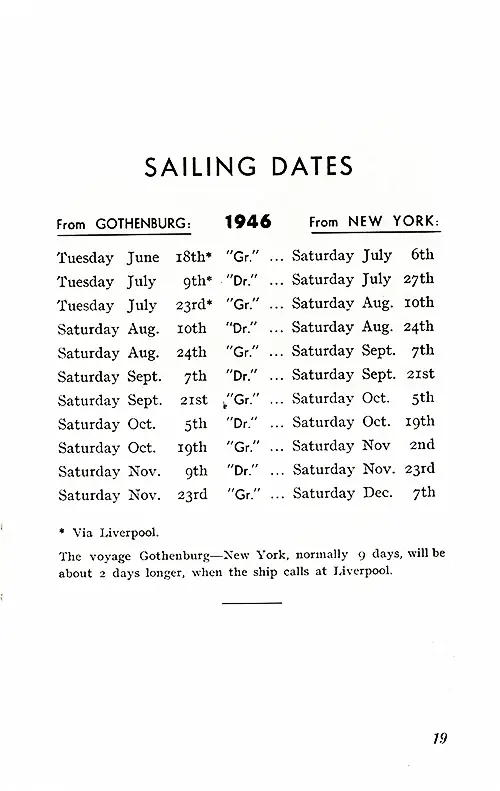 Sailing Schedule, Gothenborg-New York, from 18 June 1946 to 7 December 1946. Ships Included the (Dr) Drottningholm and (Gr) Gripsholm. The voyage from Gothenburg—New York, typically nine days, will be about two days longer when the ship calls at Liverpool. SS Gripsholm Passenger List, 18 June 1946. GGA Image ID # 1eb6e3a5c9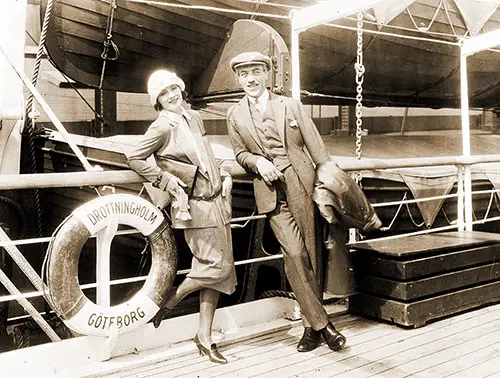 Greta Garbo and Mauritz Stiller on Board the SS Drottningholm in 1925, En Route to the United States. GGA Image ID # 1e0343d80c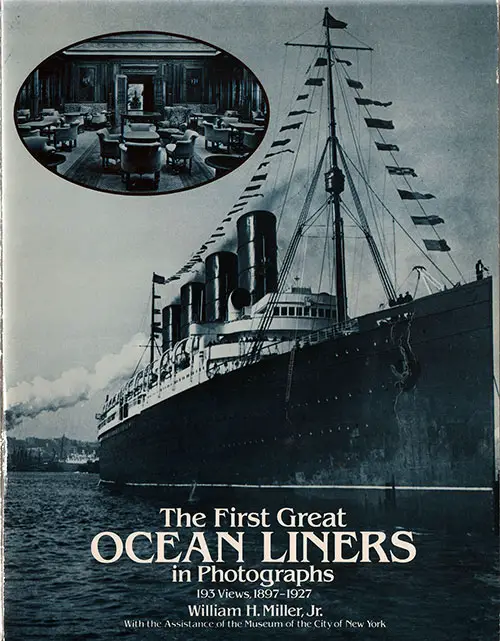 The First Great Ocean Liners in Photographs - 1983
Sumptuous volume recalls the glorious early years of elegant transatlantic travel. Over 190 historic photographs depict exterior and interior views of 101 great ocean liners, including the Virginian, Imperator, Vaterland, Bismarck, Lusitania, Mauretania, Balmoral Castle, Titanic, Olympic, Aquitania and dozens more. Full captions.