SS Virginian Archival Collection
Virginian (1905) Allan Line (British)
Built by Alexander Stephen & Sons, Ltd., Glasgow, Scotland. Tonnage: 10,754. Dimensions: 520' x 60' (540' o.l.). Triple-screw, 19 knots. Three steam turbines. Two masts and one funnel. Attained a speed of 19.8 knots during her trials. Nine boilers. Steam pressure of 180 lbs. per sq. in. Consumed about 2,500 tons of coal per voyage. Maiden voyage: Liverpool-Canada, April 6, 1905. Speed Records: She broke the Liverpool-Rimouski speed record, as she made it in 5 days, 20 hours, 40 minutes. She and her sister ship Victorian remained the fastest liners in the Canadian trade, until the new Canadian Pacific liners Empress of Britain and Empress of Ireland entered the service. Ownership Transfer: Ownership of the Virginian was transferred to Canadian Pacific Line in 1917. Renamed: (a) Drottningholm (1920), (b) Brasil (1948), (c) Homeland (1951). Fate: Scrapped in Italy, 1955. Sister ship: Victorian. Note: These popular ships were the first trans-Atlantic liners to be equipped with steam turbines.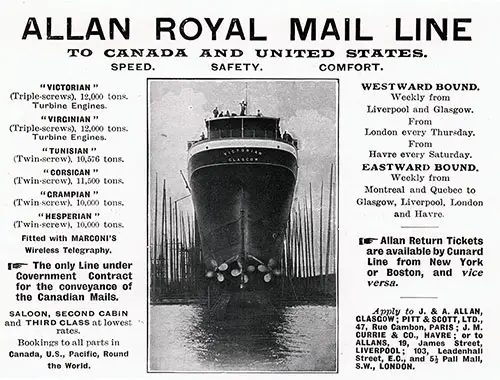 Advertisement, Allan Royal Mail Line. Ships Include the Victorian, Virginian, Tunisian, Corsican, Grampian, and Hesperian. Cunard Daily Bulletin, Ivernia Edition for 22 July 1908. GGA Image ID # 131f1a86b9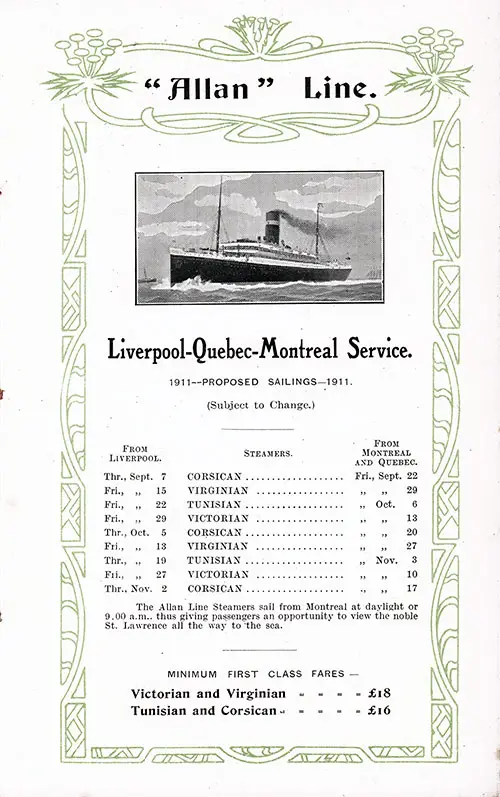 Proposed Sailings, Liverpool-Quebec-Montreal Service from 7 September 1911 to 17 November 1911. Ships Included the Corsican, Tunisian, Victorian, and Virginian. The Allan Line Steamers Sail from Montreal at Daylight or 9.00 A.M. Thus Giving Passengers an Opportunity to View the Noble St. Lawrence All the Way to the Sea. TSS Tunisian Passenger List, 22 September 1911. GGA Image ID # 1e0d11aed2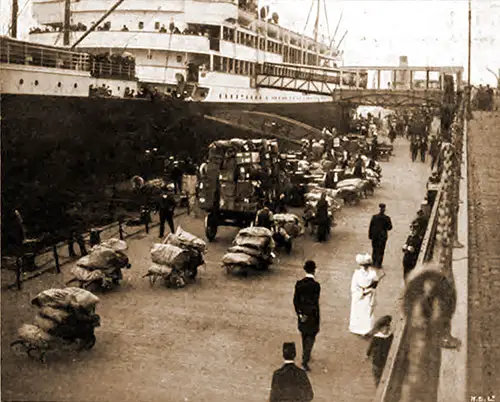 The Allan Line Turbine Steamship RMS Virginian Alongside the Liverpool Landing Stage, Waiting to Receive the Numerous Bags of Letters Which, In the Course of a Few Days, Will Reach All Parts of Canada. The Syren and Shipping, 25 September 1907. GGA Image ID # 17b8335777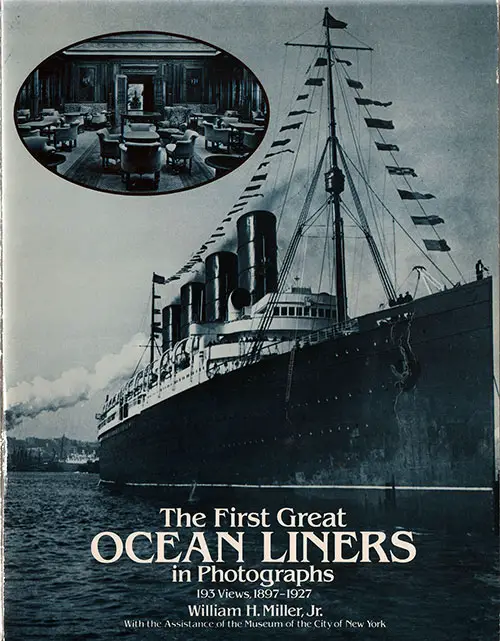 The First Great Ocean Liners in Photographs - 1983
Sumptuous volume recalls the glorious early years of elegant transatlantic travel. Over 190 historic photographs depict exterior and interior views of 101 great ocean liners, including the Virginian, Imperator, Vaterland, Bismarck, Lusitania, Mauretania, Balmoral Castle, Titanic, Olympic, Aquitania and dozens more. Full captions.