RMS Umbria Collection
Ephemera for the RMS Umbria are available at the GG Archives, including Passenger Lists, Menus, Brochures, Event Programs, and more.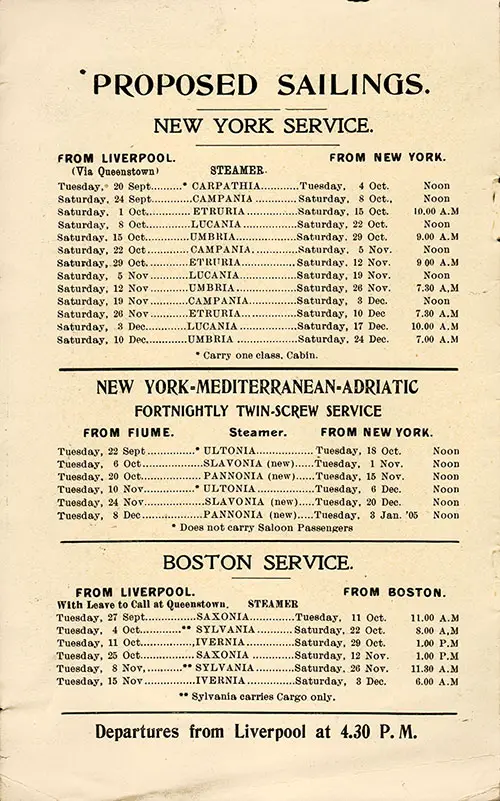 Proposed Sailings, Liverpool-Queenstown (Cobh)-New York, New York-Mediterranean-Adriatic, and Liverpool-Queenstown (Cobh)-Boston, from 20 September 1904 to 3 January 1905. Ships Included the Campania, Carpathia, Etruria, Ivernia, Lucania, Pannonia, Saxonia, Slavonia, Sylvania, Ultonia, and Umbria. SS Carpathia Passenger List, 4 October 1904. GGA Image ID # 1e18ccfaad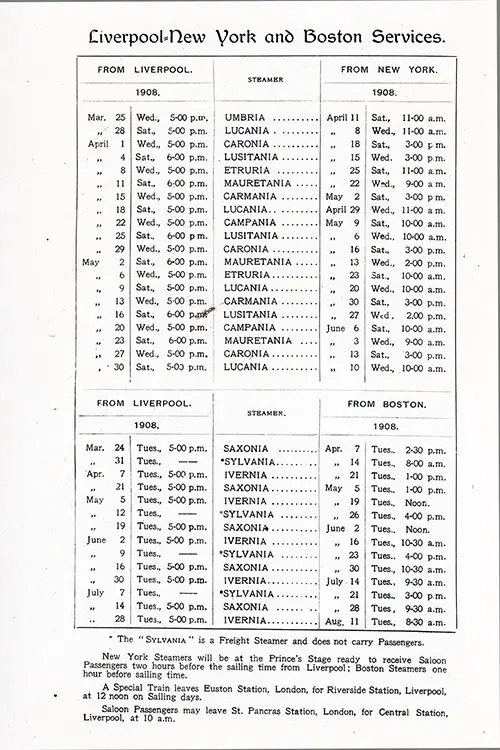 Sailing Schedule, Liverpool-New York and Boston Services, from 25 March 1908 to 11 August 1908. Ships Included the Campania, Carmania, Caronia, Etruria, Ivernia, Lucania, Lusitania, Mauretania, Saxonia, Sylvania, and Umbria. The Sylvania is a Freight Steamer and Does Not Carry Passengers. RMS Mauretania Passenger List, 11 April 1908. GGA Image ID # 1e3195b748
SS Umbria Enviable Record
This vessel has a record that is indeed enviable, and her reputation as an "ocean greyhound" has been well sustained. This remarkable racer in thirteen westward trips made an average passage of 6 days, 16 hours and 36 minutes. In twelve eastward trips she accomplished the runs on an average of 6 days, 10 hours and 7 minutes. The average speed per hour during this time going to the westward 17.67 knots, and to the eastward 18.55 knots. The Umbria's fastest August record was a little over 6 days, 12 hours.
Source: Ocean: Magazine of Travel, Vol. III, No. 2, September 1889, Page 41