SS Victoria Luise Archival Collection
Ephemera for the SS Victoria Luise available may include Passenger Lists, Menus, Brochures, Sailing Schedules, Route Maps, Photographs, and more.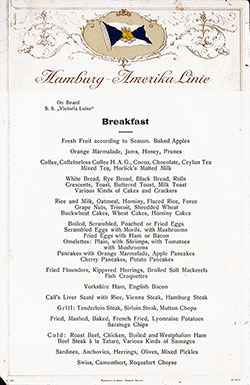 c1911 SS Victoria Luise Breakfast Menu Card
Vintage Breakfast Bill of Fare Card from circa 1911 on board the SS Victoria Luise of the Hamburg America Line featured an impressively large selection of items including Scrambled Eggs with Morils, with Mushrooms, Fried Eggs with Ham or Bacon, and Broiled Salt Mackerels. The reverse side of the Bill of Fare was printed in German.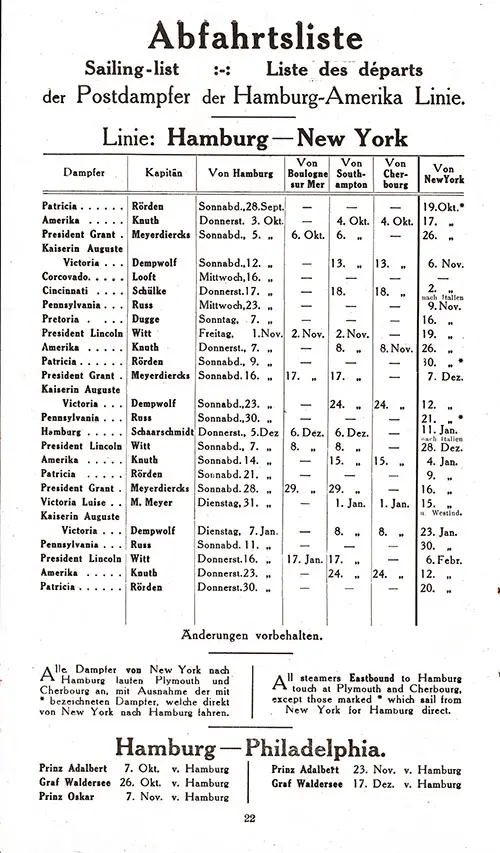 Sailing Schedule, Hamburg-New York via Boulogne-sur-Mer, Southampton, and Cherbourg, from 4 October 1912 to 20 February 1913 and Hamburg-Philadelphia from 7 October 1912 to 17 December 1912. Ships Included the Amerika, Cincinnati, Corcovado, Graf Waldersee, Hamburg, Kaiserin Auguste Victoria, Patricia, Pennsylvania, President Grant, President Lincoln, Pretoria, Prinz Adalbert, Prinz Oskar, and Victoria Luise. Assignment of Ship's Captains Included with Hamburg-New York Ships. SS Patricia Passenger List, 28 September 1912. GGA Image ID # 1ed91a7f1a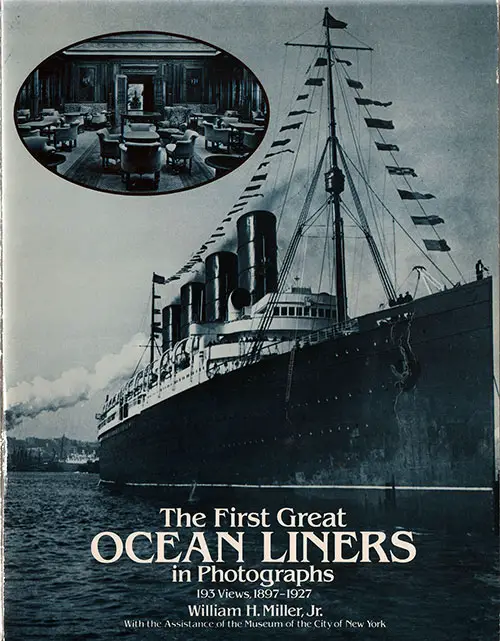 The First Great Ocean Liners in Photographs - 1983
Sumptuous volume recalls the glorious early years of elegant transatlantic travel. Over 190 historic photographs depict exterior and interior views of 101 great ocean liners, including the Virginian, Imperator, Vaterland, Bismarck, Lusitania, Mauretania, Balmoral Castle, Titanic, Olympic, Aquitania and dozens more. Full captions.