SS Victoria Luise Collection
Ephemera for the SS Victoria Luise are available at the GG Archives, including Passenger Lists, Menus, Brochures, Event Programs, and more.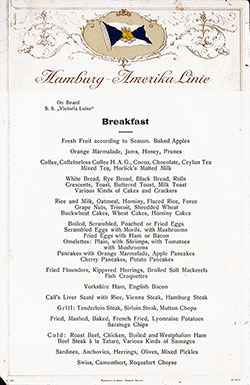 c1911 SS Victoria Luise Breakfast Menu Card
Vintage Breakfast Bill of Fare Card from circa 1911 on board the SS Victoria Luise of the Hamburg America Line featured an impressively large selection of items including Scrambled Eggs with Morils, with Mushrooms, Fried Eggs with Ham or Bacon, and Broiled Salt Mackerels. The reverse side of the Bill of Fare was printed in German.