SS Vancouver Collection
Ephemera for the SS Vancouver are available at the GG Archives, including Passenger Lists, Menus, Brochures, Event Programs, and more.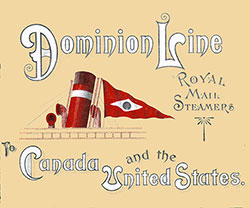 1900 - Dominion Line Book of Views
Excellent brochure from the Dominion Line circa 1900 that provided several views of their fleet of steamships, facts about their fleet, and views of their first, second, and third-class accommodations. Ships Featured: New England, Canada, Dominion, Scotsman, Vancouver, and Labrador.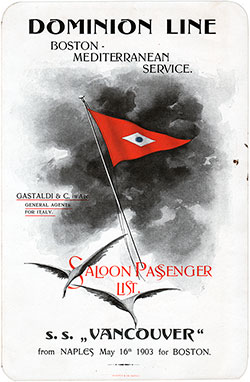 1903-05-16 SS Vancouver Passenger List
Steamship Line: Dominion Line
Class of Passengers: Saloon
Date of Departure: 16 May 1903
Route: Naples to Azores and Boston
Commander: Captain MacDonald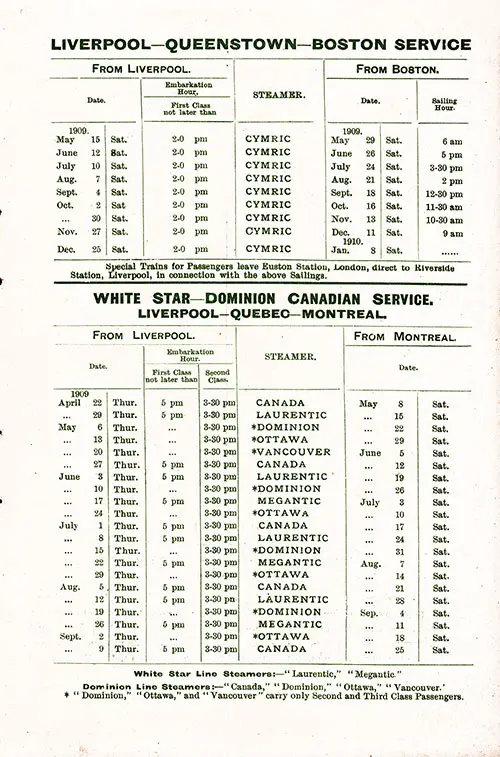 Sailing Schedule, Liverpool-Queenstown (Cobh)-Boston Service and White Star-Dominion Canadian Service, from 22 April 1909 to 8 January 1910. Ships Included the Canada, Cymric, Dominion, Laurentic, Megantic, Ottawa, and Vancouver. RMS Arabic Passenger List, 11 June 1909. GGA Image ID # 1e4b15ece5