SS Vancouver Archival Collection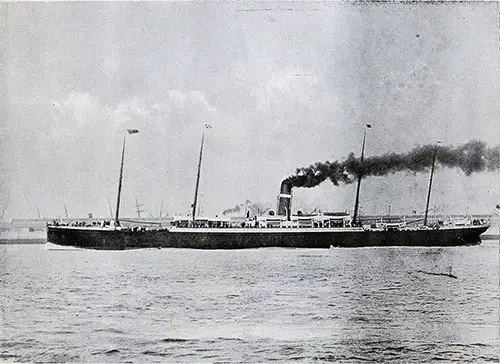 SS Vancouver - Steamship of the Dominion Line. Tonnage: 5231, Length: 430 Feet, Breadth: 45 Feet. Dominion Line Brochure: Book of Views, 1900. GGA Image ID # 121b956712
Ephemera for the SS Vancouver available may include Passenger Lists, Menus, Brochures, Sailing Schedules, Route Maps, Photographs, and more.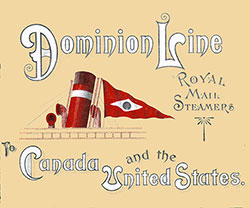 1900 - Dominion Line Book of Views
Excellent brochure from the Dominion Line circa 1900 that provided several views of their fleet of steamships, facts about their fleet, and views of their first, second, and third-class accommodations. Ships Featured: New England, Canada, Dominion, Scotsman, Vancouver, and Labrador.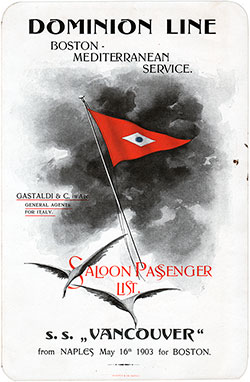 1903-05-16 SS Vancouver Passenger List
Steamship Line: Dominion Line
Class of Passengers: Saloon
Date of Departure: 16 May 1903
Route: Naples to Azores and Boston
Commander: Captain MacDonald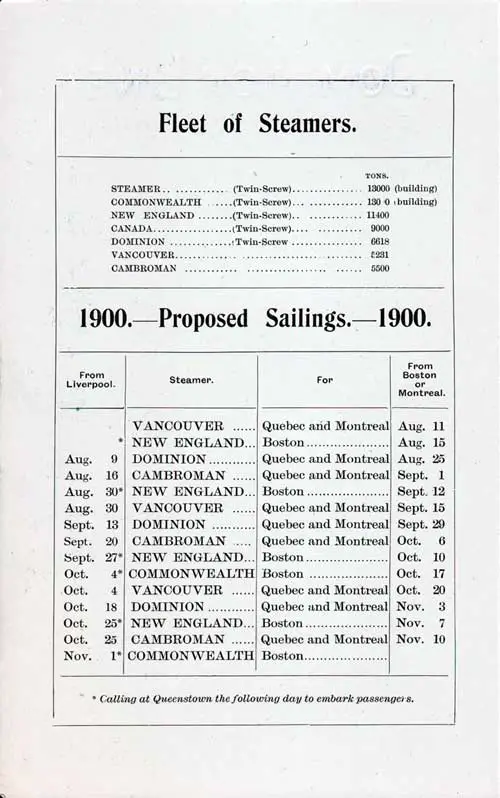 Sailing Schedule, Liverpool-Québec-Montréal or Liverpool-Boston, from 9 August 1900 to 10 November 1900. Ships Included the Cambroman, Commonwealth, Dominion, New England, and Vancouver. SS Dominion Passenger List, 9 August 1900. GGA Image ID # 1f048c83da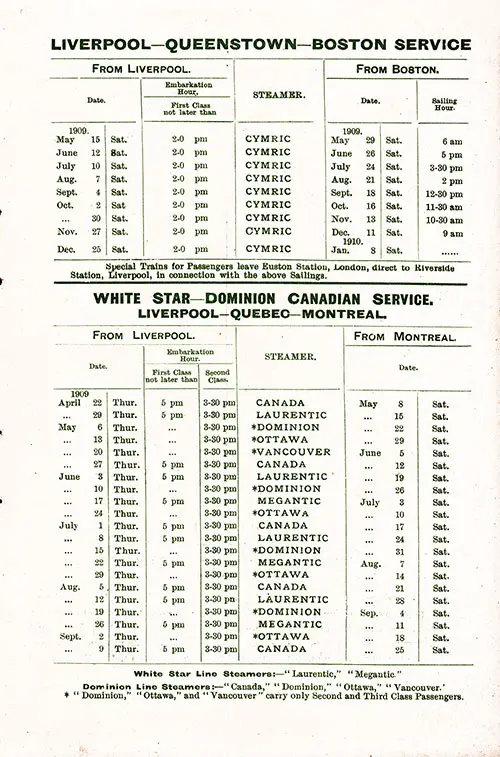 Sailing Schedule, Liverpool-Queenstown (Cobh)-Boston Service and White Star-Dominion Canadian Service, from 22 April 1909 to 8 January 1910. Ships Included the Canada, Cymric, Dominion, Laurentic, Megantic, Ottawa, and Vancouver. RMS Arabic Passenger List, 11 June 1909. GGA Image ID # 1e4b15ece5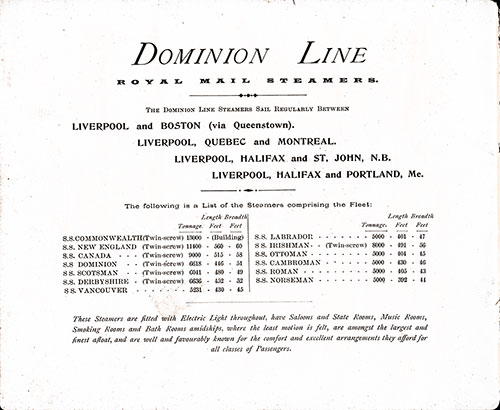 The Dominion Dine Steamers Sail Regularly Between Liverpool and Boston (Via Queenstown); Liverpool, Quebec, and Montreal; Liverpool, Halifax, St. John, NB; Liverpool, Halifax, and Portland, Me. The Following Is a List of the Steamers Comprising the Fleet: SS Commonwealth, SS New England, SS Canada, SS Dominion, SS Scotsman, SS Derbyshire, SS Vancouver, SS Labrador, SS Irishman, SS Ottoman, SS Cambroman, SS Roman, and SS Norseman. These Steamers Are Fitted with Electric Light Throughout, Have Saloons and State Rooms, Music Rooms, Smoking Rooms, and Bath Rooms Amidships, Where the Slightest Motion Is Felt, Are Amongst the Largest and Finest Afloat, and Arc Well and Favorably Known for the Comfort and Excellent Arrangements They Afford for All Classes of Passengers. Book of Views, 1900. GGA Image ID # 1f061f5e11
SS " VANCOUVER."
Sir Oliver Mowat, KCMG, Premier of Ontario, when presiding at a Concert held onboard the RMS " Vancouver " during the voyage from Montreal to Liverpool, in aid of the Seamen's Orphanage, paid a glowing tribute to this Steamer. "
We have always heard," said Sir Oliver, "that the ' Vancouver' is the best boat on the route, and from the uniform kindness and attention we have received from the genial and courteous Captain to the most humble servant of the ship, that impression has been fully confirmed."
Mr. H. Corley, M.P., and Attorney-General Longley, M.P., of Nova Scotia, both added their testimony as to the excellency of the Steamer and how the passengers were treated on the "Vancouver."
-- Dominion Line Brochure: Book of Views, 1900.