SS Dunluce Castle Archival Collection
Dunluce Castle (1904) Union-Castle Line
Built by Harland & Wolff, Ltd., Belfast, Ireland. Tonnage: 8,114. Dimensions: 475' x 56' (490' o.l.). Twin-screw, 14 knots. Quadruple expansion engines. Two masts and one funnel. Passengers: 360. Sale: Sold to shipbreakers in July 1939. However, was taken over by British Admiralty and converted to depot ship. Fate: Sold for scrap in 1945. Sister ships: Dover Castle and Durham Castle.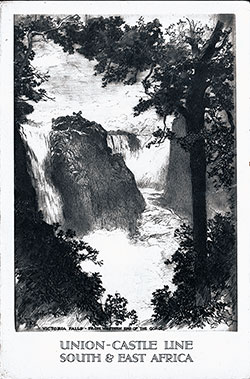 1936-05-25 SS Dunluce Castle Dinner Menu
Rare Vintage Dinner Bill of Fare from 25 May 1936 on board the SS Dunluce Castle of the Union-Castle Line featured Mignon of Beef Benjamin, Supreme of Turbot, Sauce Riche, and Junket aux Fraises Chantilly for dessert.