SS Duchess of York Collection
Ephemera for the SS Duchess of York are available at the GG Archives, including Passenger Lists, Menus, Brochures, Event Programs, and more.
1931-03-28 SS Duchess of York Passenger List
Class of Passengers: First Class
Steamship Line: Canadian Pacific (CPOS)
Date of Departure: 28 March 1931
Route: Cruise from New York to Hamilton, Bermuda
Commander: Captain R. N. Stuart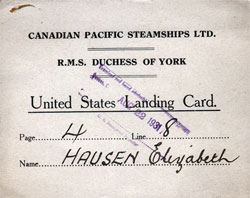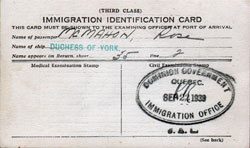 1939-09-22 Canadian Immigration Identification Card - Third Class Passenger
An example of a Third Class passengers' Immigration Identification Card for Canadian Immigrant Rose McMahon on board the Duchess of York of the Canadian Pacific Line. Stamped by Immigration Office 22 September 1939. Card provided information such as Name of Passenger, Steamship Name, Manifest No where individual appeared on and inspection stamp.