SS Duchess of York Passenger List - 28 March 1931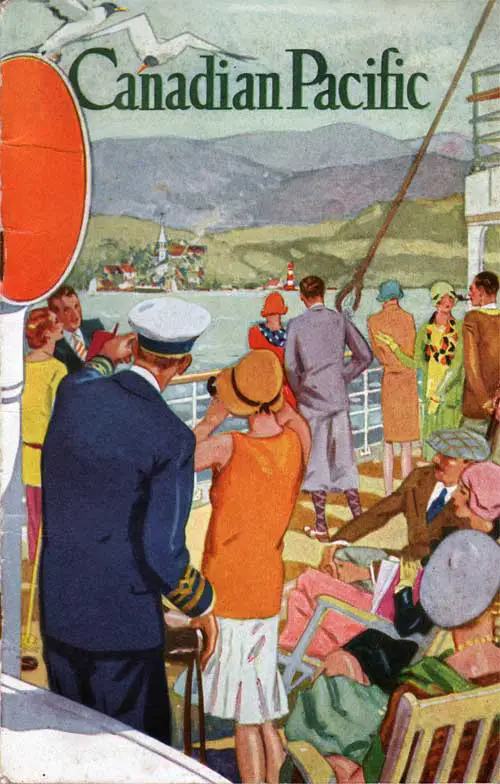 Front Cover of a First Class Passenger List for the SS Duchess of York of the Canadian Pacific Line (CPOS), Departing 28 March 1931 on a Cruise from New York to Hamilton, Bermuda, Commanded by Captain R. N. Stuart. GGA Image ID # 173b395a2b
Senior Officers and Staff
Captain R. N. Stuart, V.C., D.S.O., R.N. R., Commander
Chief Officer A. C. Hague
Chief Engineer J. T. Kelly
Purser G. F. Philpott
Surgeon E F D. Owen. M.R C.S., L.R.C.P
Chief Steward J. Cunniam
Special Traffic Representative Wm. Webber
First Class Passengers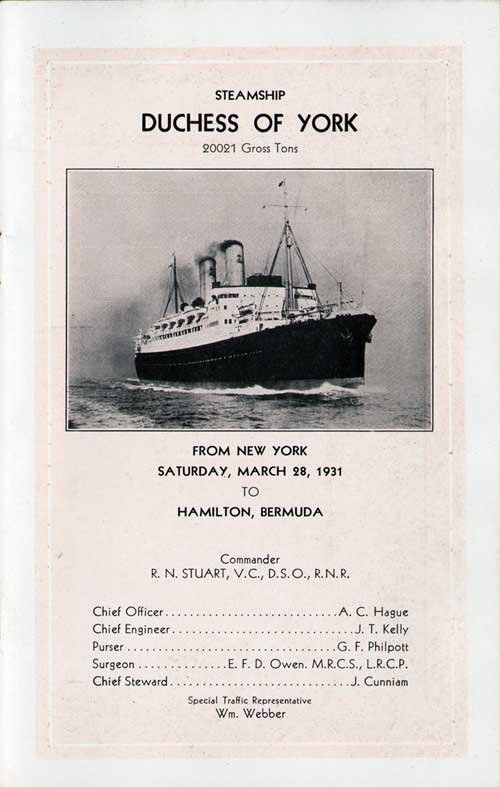 Title page of a First Class Passenger List for the SS Duchess of York of the Canadian Pacific Line (CPOS), Departing 28 March 1931 on a Cruise from New York to Hamilton, Bermuda that Included a Photo of the SS Duchess of York, 20021 Tons. GGA Image ID # 173b594a91
Abbott, Mrs. S
Abbott, Miss Jane
Abbott, Mr. Charles
Adams, Mrs. Charles L
Adams, Master Charles L
Adams, Miss Yvonne
Albright, Mrs. Edgar
Allen, Mr. A. R
Ames, Mr. Chester
Ames, Mrs
Ames, Miss Hermena
Andrew, Jr., Mr. James D
Andrew Jr., Mrs
Ansubel, Dr. H
Aplington, Mrs. H. W
Aplington, Mrs. H. T
Aplington, Master Henry
Astor, Mrs. Morris
Atlee, Miss Nancy
Austin, Mrs. Howard A
Austin, Miss Justine
Bailey, Mrs. A. A
Bailey, Mr. Hugh
Bailey, Mrs
Baker, Mrs. M. T
Baker, Miss
Banby, Mrs. Henry
BanfiII, Dr. S. A
BanfiII, Mrs
Bates, Mr. D. M
Bates, Mrs
Bauer, Mrs. L. C
Bauer, Miss Anne
Baughan, Mr. M. V
Baughan, Mrs
Baughan, Miss Fannie
Berg, Mrs. T. K
Berg, Miss Maxine
Bernhard, Mr. William
Bernhard, Mrs
Berzin, Miss Molly
Bessell, Mr. Leonard R
Bessell, Jr., Master L. Rufus
Bessell, Miss Cynthia Louise
Bickel!, Miss Mary
Bigham, Dr. R. B
Bigham, Mrs
Biles, Miss Elizabeth H
Bjorson, Miss Alice
Black, Mr. Thomas
Blake, Mr. Aldrich
Blake, Mrs. Aldrich
Blake, Miss Sally
Blanc, Mrs. E. 0
Blair, Mrs. J. M
Blennerhassett, Mrs. R. H
Bliss, Mr. R. L
Bliss, Mr. W. G. A
Bliss, Mrs
Bolton, Mr. C. C
Bolton, Mrs
Boozan, Mr. Charles
Bowie, Miss A
Bowie, Mrs. James Parke
Boyd, Mr. J. Ritchie
Boyd, Mrs
Boyd, Mr. H. W
Boynton, Mr. John Allen
Bracken, Mr. J. W
Bracken, Mrs
Brereton, Miss Ann
Brereton, Mrs. P. H
Brettney, Miss A
Brewster, Mrs. Florence
Brewster, Miss Mary
Brewster, Mr. Kingman
Broadfoot, Mrs. R. D
Broadfoot, Miss Frances
Brown, Mr. Arthur Emlen
Brown, Mrs
Brown, Jr., Master Arthur Emlen
Brown, Miss Frances Pitfield
Brown, Mrs. George A
Brown, Miss Mary L
Brown, Mr. George B
Brown, Mr. Harry
Brown, Mrs. and Two Children
Brunner, Mr. E. H
Brunner, Mrs
Brunner, Miss Jean
Bufano, Jr., Mr. Canior
Burbank, Jr., Mr. Daniel
Burbank, Mr. Lyman
Burbank, Mr. D. E
Burbank, Mrs
Burbank, Miss Barbara
Burrows, Mr. William W
Burrows, Mrs
Butterworth, Mr. S. F
Butterworth, Miss Elizabeth G
Butterfield, Miss Edith A
Candlish, Mr. Henry
Candlish, Mrs
Candlish, Dr. H. M
Candlish, Mrs
Cannell, Mr. J. E
Cannell, Mr. J. J
Cannell, Mrs. J. E
Cannel!, Mrs. J. J
Carpenter, Miss Blanche M
Carr, Mr. J. Maurice
Catley, Mrs. F. C
Cauchon, Mrs. N
Champion, Mr. L. S
Champion, Mrs
Chapin, Miss Ruth
Chase, Mr. Herbert
Chase, Mrs
Clark, Mrs. W. K
Clark, Mr. Arthur
Clarke, Mr. E. A. S
Clayton, Mrs. N. S
Clemes, Mr. W. H
Clemes, Mrs
Cline, Mrs. Stuart C
Coldwell, Mr. L. R
Coldwell, Mrs
Coldwell, Master Fred
Cole, Mr. Samuel
Conant, Miss Faith
Conant, Miss Emily
Conant, Mrs. A. B
Conant, Miss Ann
Cone, Jr., Mr. H. Houghton
Cone, Jr., Mrs
Connor, Miss M
Cook, Mrs. John H
Covert, Mr. M. H
Covert, Mrs
Cox, Miss Nancy
Cox, Mr. Channing H
Cox, Mrs
Creighton, Mr. D. B
Creighton, Mrs
Culver, Mr. George J
Culver, Mrs
Cunningham, Mr. F. W
Cunningham, Mrs
Cutler, Mrs. E. D
Cutler, Miss Helen
Cutler, Miss Marion
Darlington, Mr. P. S
Darlington, Mrs
Darlington, Mr. P. S., Jr.
Davenport, Mrs. A. S
Davenport, Miss Betty
Davidson, Mrs. Blanche
Davies, Mr. E. A
Davies, Mrs
Davis, Miss H
Davis, Third, Mr. Joseph W
Davis, Mrs
Davis, Mrs. Loring
Dexter, Mr. Hiram
Day, Mrs. Howard
Day, Mr. Wilson
Day, Miss Ida
Dean, Miss Gertrude
Dean, Miss Helen
Debevoise, Jr., Mr. Paul
DeSaulniers, Mr. J. V
DeSaulniers, Mde
DeSaulniers, Mrs. E
Dexter, Mr. Hiram
Dexter, Mrs
Dexter, Jr., Mr. Hiram
Dickinscheits, Miss Ruth
Dickinson, Miss Nancy
Dill, Mr. R. E
Dill, Mrs
Dimon, Miss Frances R
Dorrance, Miss Charlotte
Dodge, Mr. Philip Lyndon
Dodge, Mrs
Doherty, Miss Grace
Dorrance, Mrs. John T
Dorrance, Mrs. Ethel M
Dorrance, Miss Margaret
Dorrance, Jr. Mr. John Thompson
Dresser, Miss Sara E
Dreyfuss, Mr. Emanuel
Dreyfuss, Mrs
Dreyfuss, Miss Helen
Drake, Mr. Francis M
Drummer, Miss Helen
Duerdon, Mr. C
Eagles, Mrs. R. P
Eagles, Miss Mary
Eaton, Mr. Burrows P
Eaton, Mr. Cyrus S
Eaton, Miss Mary A
Eddy, Mr. Randolph
Eddy, Mrs. Randolph L
Eddy, Miss Grace B
Eddy, Master Arthur Post
Ellis, Mr. Dwight W
Ellis, Mrs
Ellis, Miss Mary
Ellis, Miss Dorothy
Elms, Mr. Henry
Emett, Mrs. E. H
English, Mr. Theodore
Farrell, Miss Mary
Flowe, Miss Mary
Forgan, Mr. J. D
Foster, Miss Mary
Francis, Miss Margaret
Franton, Miss Clara
Froeb, Mrs. Edith
Frost, Mr. Edward M
Frost, Mrs
Fuller, Mrs. S. F
Fuller, Miss Elizabeth
Fuller, Miss Jane
Fuller, Master W. Dean
Gallagher, Mr. Ralph
Gallagher, Mr. Barrett
Gallagher, Miss Frances
Garneau, Mr. Leon
Garretson, Mr. Gilbert K
Gefaell, Mr. Jack
Gerrity, Mr. Joe
Gerrity, Master Frank
Gerrity, Mrs. J. W
Gibby, Mr. Robert B
Giles, Mrs. L
Gobillot, Miss Emma
Goeller, Mr. Thomas
Gordon, Col. H. D. L
Gordon, Mr. Hugh L
Gottlieb, Mr. Bernard
Graham, Mrs. R. R
Grant, Mr. Louis M
Grant, Mrs
Grant, Master Barrett
Grant, Miss Betty
Grant, Miss Alice
Gray, Mr. F. M
Gross, Mr. Monroe
Groves, Mrs. Theresa
Groves, Miss Mary T
Grossett, Mrs. A
Grossett, Miss Alexandra
Hall, Miss Edna
Hall, Miss Cora E
Hall, Miss Rosamond
Hall, Mr. Thomas Shaw
Halstead, Mrs. T. A
Hamilton,. Mrs. F. E
Hamilton, Jr., Mr. Frank E
Hamilton, Mr. William H
Hamilton, Miss Harriet
Hanes, Mr. H. P
Hanes, Miss
Hanes, Miss Rosalie
Hance, Mr. Robert C
Harman, Mr. Walter
Harman, Mrs
Harmer, Mrs. M. A
Harmer, Miss M. G
Harris, Mrs. Sidney
Hart, Mrs. Lillian
Haytock, Miss Ethel
Heflin, Miss Catherine
Heinzinger, Mr. Robert
Heinzinger, Mrs
Henderson, Miss Nettie
Henry, Miss Eleanor
Hey, Mr. M
Hiscock, Mr. Ira V
Hiscock, Mrs
Hiscock, Master William
Hiscock, Miss Margaret
Holding, Dr. Arthur F
Holding, Mrs
Hollister, Mr. F. H
Hollister, Mrs
Holmes, Miss Frances
Holran, Mr. F. P
HoIran, Mrs. J. C
Hoopes, Mr. Maurice
Hoopes, Mrs
Howell, Mr. Harry R
Hyman, Miss Evelyn
Huntley, Miss Josephine
Hussey, Mr. A. W
Hussey, Mrs
Hutchinson, Mr. A. L
Hutchinson, Mrs
Hutton, Mrs. H. E
Ittner, Mrs. N. H
Ittner, Miss L. E
Jacobs, Mr. Robert
Jakiel, Miss Thiela
Jenings, Miss Frances
Johnson, Mr. F. W
Johnson, Mrs
Johnson, Miss Marie
Johnson, Miss Margaret
Johnson, Miss E. L
Johnstone, Mr. Chester D
Johnstone, Mrs
Jones, Jr., Mr. Clayton B
Jones, Mr. C. Pinkney
Jones, Master Tiffany Millar
Jones, Miss Beatrice Millar
Jones, Mr. Samuel T
Jones, Mrs
Kanouse, Mr. F. M
Kanouse, Mrs
Kelley, Miss Edythe
Kelley, Miss Emma
Kellow, Miss Lottie
Kendall, Miss Peggy
Kennard, Mr. William
Kennard, Mrs
Keppler, Mr. Richard R
Kerr, Mr. J
Ketchel, Miss Elizabeth
Ketchel, Master William Ray
Kinsey, Mr. Harold C
Kinsey, Miss Caroline
Klein, Mrs. W
Knighton, Miss M
Knoblauch, Mr. Eugene
Knoblauch, Mrs. A
Knoblauch, Miss C
Knoke, Mrs. Edward J
Knoke, Mr. C. Elliott
Kramer, Miss Margaret
Kretzschman, Mr. Fred H
Labell, Mr. Frederick J
Lane, Mr. Ralph S
Lane, Mrs
Lane, William
Lamb, Miss Clara
Lawrence, Mrs. W. Appleton
Lawrence, Miss Susan
Lawrence, Mr. William
Lawrence, Mr. Charles C
Lawrence, Miss Elizabeth
Lawrence, Mrs. K
Lawson, Mr
Lee, Miss Madeline
Lerp, Mr. William B
Leatherbee, Miss Florence K
Leishman, Mrs. Norman
Lewis, Mr. M
Lieber, Col. Richard
Lieber, Mrs
Long, Miss Elizabeth
Lonsdale, Mr. William
Loomis, Mr. Arthur H
Lund, Mrs. John
Lund, Miss Dorothy
Mackay, Mrs. D. D
Mackay, Miss Margaret
Magee, Miss Sadie
Magee, Mr. A. V
Marsh, Mr. Kendall
Marsh, Mrs
Marsh, Master Cooper
Marsters, Miss Georgie
Mayer, Mr. Frank
MacKay, Mrs. H. B
MacMillan, Miss Georgina
McCarthy, Mr. Fred
McCarthy, Dr. William D
McEntyre, Mr. John
McNally, Mrs. Almeda
McNicoll, Mr. Charles
Meigs, Mrs. Averell
Meigs, Miss Marcia
Merritt, Mrs. Schuyler
Miller, Miss E
Mills, Mr. J. Clawson
Mills, Mr. Lawrence
Moister, Mr. F. Corbin
Montizambert, Miss Tudor
Montizambert, Miss M
Morey, Mr. B
Morey, Mrs
Morey, Miss F
Morse, Mrs. O. W
Morse, Master
Muir, Mrs. George
Muffort, Mr. Robert C
Mulford, Jr., Mr. S. K
Mulford, Jr., Mrs
Neave, Mr. A
Neave, Mrs
Northrup, Mr. C. P
Northrup, Mrs
Norton, Miss M
Nutt, Miss F
O'Hanlon, Miss Amelia
O'Keefe, Miss F. L
Overton, Mr. M. L
Overton, Mrs
Overton, Mr. W. T
Owens, Miss Jane
Parker, Miss Helen
Parkins, Mr. E. R
Palmer, Mr. V. Claude
Palmer, Mrs
Pearson, Mrs. K. P
Pearson, Mr. John
Pendleton, Miss Jerry
Pensak, Dr. J
Pfitzinger, Mr. R. J
Pfitzinger, Mrs
Phillips, Miss Myrtle
Porter, Mrs. M. S
Powers, Mrs. George
Pressey, Mrs. A. R
Preston, Miss Elizabeth
Preston, Miss Mary Anna
Price, Jr., Mr. Hickman
Price, Mrs. R. D
Price, Miss Frances
Putney, Mr. W. P
Quackenbush, Miss Elsie L
Quackenbush, Miss Ruby M
Quinn, Miss Evelyn
Rasch, Mr. Roland
Rath, Mr. Wilson C
Rath, Mr. Charles
Ray, Miss Mabel
Ray, Miss Helen
Rearick, Jr., Mr. Allen C
Reid, Miss Betty C
Rhodes, Mr. Herbert
Rhodes, Mrs
Rich, Miss Gladys
Riker, Jr., Mr. Samuel
Ripley, Miss Ruth
Ritchey, Mrs. John L
Roberts, Mrs. Kingsley
Roberts, Master Kingsley
Robertson, Mrs
Roe, Miss Eleanor
Rolf, Miss Martha
Rohe, Jr., Mr. Charles
Rohe, Jr., Mrs
Rollins, Mr. Weld
Rollins, Miss Sarah
Rosenberg, Mr. Adolph
Rosenberg, Miss Sylvia
Roosevelt, Miss A. Virginia
St. Lawrence, Mr. Donald
Salant, Mr. Robert
Salomon, Mr. Percy
Salomon, Mrs
Salomon, Mr. William
Sandak, Mr. C. H
Sandak, Mrs
Sanderson, Mrs. W. W
Sands, Miss Nettie
Sawyer, Mrs. G. L
Sawyer, Miss E. B
Schaeffer, Mr. J. N
Schwenk, Miss Betty
Scoenijohn, Mr. Robert P
Scoenijohn, Mrs
Scoenijohn, Miss Roberta Helen
Scott, Miss M. C
Scoville, Mrs. L. M
Searle, Mr. S. A
Searle, Mrs
Sheldon, Mr. Hunter
Shevlin, Mr. James
Shipmand, Miss Ruby M
Simonds, Mr. F. M
Simonds, Mrs
Skillman, Mr. Newton
Skillman, Mrs
Skillman, Mr. Harry
Skillman, Miss Adele
Slawson, Jr., Mr. Harry
Sloan, Mr. M. S
Sloan, Mrs
Sloan, Miss Lidie L
Smith, Mr. D. J
Smithers, Mrs. F. S
Smithers, Miss Jane
Snowden, Miss J. M
Spaulding, Mr. Francis
Spaulding, Mrs
Spillsbury, Mrs. H. G
Spillsbury, Miss Bulla
Spitzer, Jr., Mr. Lyman
Spitzmiller, Mr. R. S
Staffs, Miss Eloise and Maid\
Starr, Mr. C. S
Starr, Mrs
Starr, Miss Mary Law
Starr, Miss Marjorie Murdock
Starr, Mr. Malcolm
Starr, Mr. Louis M
Starr, Mr. Howard W
Starr, Mrs
Steele, Miss Florence
Stearns, Mrs. Harry M
Stearns, Miss Elizabeth
Steele, Mr. F. R. Carnegie
Steele, Mrs
Steele, Mr. Keith C
Steele, Miss Dorothea C
Steinberg, Mr. S. H
Steinberg, Mrs
Steiner, Mr. Albert
Steiner, Mrs
Stern, Mr. Jonathan D
Stokes, Mr. J. M
Stokes, Mrs
Stokes, Miss Katherine
Stokes, Miss Margaret
Storm, Master Garret
Stowell, Mr. W. Mck
Sundermann, Mr. Fred
Sundermann, Mrs
Sutton, Miss Mary
Sutton, Miss Jane
Sweeny, Miss Mabel
Thwing, Dr. Charles F
Thwing, Mrs
Todd, Mr. Willis H
Towl, Mr. Edwin I
Tureman, Mrs. H. G
Tureman, Miss Joan
Tyson, Dr. M. Dawson
Tyson, Mrs
Upton, Mr. C. B
Upton, Mrs
Valentine, Mr. Ross
Vars, Mr. Otho L
Vars, Mrs
Vesper, Mr. F. W. A
Vesper, Mrs
Vesper, Miss Josephine
Vlasenack, Miss Hilda
Wade, Mr. Robert S
Walcott, Mrs. A. S
Walen, Dr. J. E
Walen, Mrs
Walen, Miss E. E
Wall, Mr. James E
Wall, Mrs
Wall, Miss
Watkins, Miss Katherine
Watson, Miss Edith Anne
Webber, Mrs. F
Weinacht, Mr. Edward
Weiss, Mr. Marcel
Weiss, Mrs
Wells, Mr. W. H
Wells, Mrs
Wells, Miss
Welsh, Mr. George A
White, Mrs. J. P
White, Mr. Victor
Whitlock, Mr. Willard P
Williams, Miss Gwennie
Williams, Mr. Philip
Williams, Third, Mr. Frederick B
Williamson, Mrs. G. B
Williamson, Miss Margaret
Wilson, Mr. C. T
Wilson, Mrs. F. B
Wilson, Miss Alice E
Wood, Mrs. W. G
Woods, Miss Jeanette
Woolley, Miss Dorothy
Wright, Jr., Mr. Fred G
Wuestner, Mr. C. T
Wuestner, Mrs
Wuestner, Miss Margaret
Wuestner, Miss Dorothy
Wynkoop, Mrs. Gura P
Wynkoop, Master Dubois
Wynkoop, Mr. Evart
Information for Passengers
Information Bureau is at your service.
Breakfast Bugle will not be sounded when only one sitting. Passengers should inform Bedroom Steward when they wish to be called.
Smoking is permitted in the Dining Saloon 45 minutes after the commencement of luncheon and dinner, but not after breakfast.
Bugle is sounded thirty minutes before lunch and dinner.
Smoking—For the general convenience of Passengers, smoking should be confined to the Smoking Room, Lounge and Card Room. It is not permitted in the Drawing Room.
Valuables and Money may be placed in the Purser's safe. Without charge, envelopes are provided which Passengers seal and sign. Company assumes no responsibility for loss or damage, however arising.
Change of Stateroom—Passengers who desire a transfer of accommodation should apply to the Purser who alone is authorized to make changes. If higher graded accommodation is desired the difference in fare must be paid.
Deck Chairs may be rented on board from the Deck Steward at $1.00 per person each way.
Rugs and Cushions, 50 cents each per person.
Deck Games—Deck Tennis, Deck Quoits, Shuffleboard and other deck games will be furnished by the Deck Steward or Deck Sailor.
Chess, Draughts, Dominoes, obtainable from Public Room Stewards.
Gymnasium—Fully equipped with modern appliances, is available for Passengers. Full information from Gymnasium Instructor. No charge is made for the use of the appliances.
Barber Shop and Beauty Parlor—On Deck A. Open all day.
Valet Service—Clothes pressed in 2 hours.
Shoe Shine—Boots cleaned if left outside stateroom.
Books of Fiction and Reference are obtainable from the Library. Books lost by Passengers must be paid for.
Surgeon—The surgeon is authorized to make customary charges for his services, subject to the approval of the Commander.
Nurses—The services of trained and qualified hospital nurses, under the direction of the Surgeon, may be obtained.
Divine Service is held on Sundays at 10:45 am
Altars are carried for the religious services of Holy Mass and Holy Communion.
Life Belts are in staterooms. Bedroom Stewards will explain method of attachment.
Emergency Stations—Passengers are requested to consult plan and directions in alleyway.
Stamps are on sale in the Shop and Library.
Baggage—Trunks which Passengers do not require in their staterooms during the voyage may be stored in the baggage room.
Baggage will be grouped alphabetically in Customs Shed on arrival at Hamilton, Bermuda, and Passengers must attend personally to Customs examination.
Baggage Labels and Tags may be obtained upon application to the ship's Baggage Master.
Baggage Insurance—Passengers are recommended to insure their baggage, as the Company's liability is strictly limited in accordance with contract ticket. Baggage insurance can be arranged at any of the Company's offices or through Purser on board.
Passengers are respectfully requested to call at our Bermuda Representative's offices, Messrs. Harnett and Richardson, 26 Front Street, Hamilton, within 24 hours after arrival, in order to comply with Bermuda Government regulations.
Mail, Cables, and Wireless Telegrams—Passengers are requested to enquire for mail at the Information Bureau.
Mail, cables and wireless messages are received at the Information Bureau for despatch. Cablegrams should be handed in an hour before arrival at Hamilton, Bermuda. None of the ship's employees, other than those on duty in the Information Bureau, are authorized to accept letters, cables and telegrams for despatch while the ship is at sea. Passengers are invited to leave their addresses at the Information Bureau, so that all undelivered mail, telegrams, etc., may be forwarded.
Suggestions—Passengers having any suggestions or complaints to make regarding service are requested to submit them to the Commander, Purser or Chief Steward promptly, so that immediate attention may be given.
Trans-Atlantic Services
between
Montreal and Quebec Summer
Saint John, N.B. Winter
and
London Liverpool Glasgow Greenock
Belfast Cobh Southampton Cherbourg Havre
Antwerp and Hamburg
Trans-Pacific Services
between
Vancouver and VICTORIA
and
Honolulu Yokohama Kobe Nagasaki Shanghai
Hong Kong and Manila
Largest newest and fastest steamships on the Pacific Ocean
Canadian Pacific Cruises
From New York
Round The World
Mediterranean
West Indies
One Management - Ship and Shore
Cheaper than comparable living at home
FULL DETAILS From Any Canadian Pacific AGENT
Canadian Pacific Express Company
Forwards Merchandise, Money Valuables
To ALL PARTS of The World
Issues Money Orders, Foreign Cheques and Travellers' Cheques, Payable Everywhere
For sale by all Canadian Pacific Agents and by Pursers on Shipboard
World's Greatest Travel System
RAILWAYS Steamships HOTELS TELEGRAPHS
UNDER One Management
CONTROLS Canadian Pacific Express Company
Through connections—Europe, Canada, Orient—over 12,500 miles Straightaway—Canadian Pacific all the way
Railway Services—Mileage operated by the Canadian Pacific Railway-20,805, including 5,065 miles of affiliated lines in the United States. Serving all the important industrial, commercial and agricultural sections of Canada, as well as many parts of the United States. It reaches large cities, famous historic spots, wonderful vacation and sporting resorts, and some of the most magnificent scenery in the world.
Steamship Services—Over 30,000 miles-69 ocean, inland and coastal steamships and 1 building. Gross tonnage of vessels in service and building over 522,595. Two passenger fleets—across the Atlantic Ocean to Europe and also to Bermuda and across the Pacific to Hawaii, Japan, China and the Philippines. Connection at Vancouver and Victoria with Canadian-Australasian Line to New Zealand and. Australia. Inland and coastal steamships on the Great Lakes, Pacific Coast and Atlantic Coast.
Hotels—Fourteen conveniently located from coast to coast. Thirteen Bungalow Camps and Rest Houses at convenient locations for tourists and sportsmen.
Cruise Services—Annual Cruises Round the World; to the Mediterranean and to the West Indies.
Telegraph System—Over 138,564 miles of wires and 248 miles of cables; extending the entire length of the railway and reaching as well, every point of importance away from it.
Express System—World-wide merchandise and financial service. 31,336 miles-7,044 offices and correspondents.
Colonization—Canadian Pacific land-settlement policies coupled with the large acreage of fertile agricultural land still for sale in the West, are helping to develop a richer and bigger Canada.
Industrial Department—Manufacturers, wholesalers and others who contemplate opening branch factories in Canada can secure from this department full information regarding sites for industries, available buildings, power rates, etc.
Canadian Pacific—IT SPANS The World
World Wide Fleet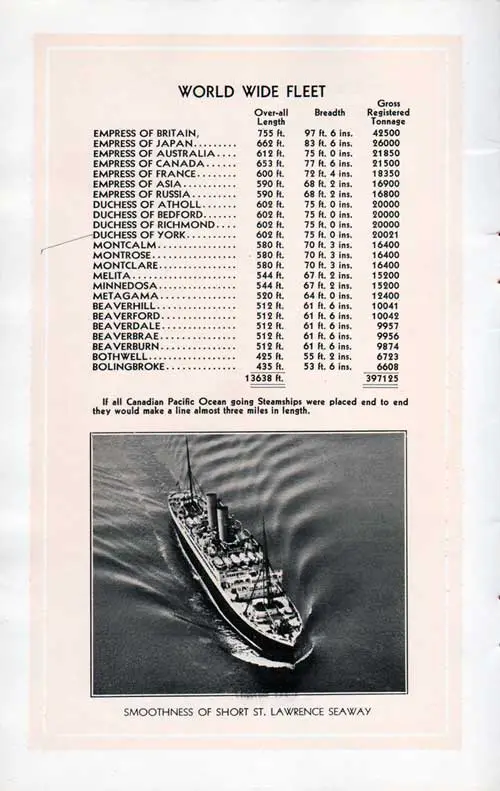 World Wide Fleet of the Canadian Pacific Line, 1931, Showing Photo of CPOS Steamship Navigation the St. Lawrence Seaway. GGA Image ID # 173be02e9e
Over-all Breadth Gross
Length Registered
Tonnage
Empress of Britain
, 755 ft. 97 ft. 6 ins. 42500
Empress of Japan
662 ft. 83 ft. 6 ins. 26000
Empress of Australia
612 ft. 75 ft. 0 ins. 21850
Empress of Canada
653 ft, 77 ft. 6 ins. 21500
Empress of France
600 ft. 72 ft. 4 ins. 18350
Empress of Asia
590 ft. 68 ft. 2 ins. 16900
Empress of Russia
590 ft. 68 ft. 2 ins. 16800
Duchess of Atholl
602 ft. 75 ft. 0 ins. 20000
Duchess of Bedford
602 ft. 75 ft. 0 ins. 20000
Duchess of Richmond
602 ft. 75 ft. 0 ins. 20000
Duchess of York
602 Ft. 75 ft. 0 ins. 20021
Montcalm
580 ft. 70 ft. 3 ins. 16400
Montrose
580 ft. 70 ft. 3 ins. 16400
Montclare
580 ft. 70 ft. 3 ins. 16400
Melita
544 ft. 67 ft. 2 ins. 15200
Minnedosa
544 ft. 67 ft. 2 ins. 15200
Metagama
520 ft. 64 ft. 0 ins. 12400
Beaverhill
512 ft. 61 ft. 6 ins. 10041
BEAVERFORD
512 ft. 61 ft. 6 ins. 10042
BEAVERDALE
512 ft. 61 ft. 6 ins. 9957
BEAVERBRAE
512 Ft. 61 ft. 6 ins. 9956
BEAVERBURN
512 Ft. 61 ft. 6 ins. 9874
BOTHWELL
425 ft. 55 ft. 2 ins. 6723
BOLINGBROKE
435 It 53 ft. 6 ins. 6608
13638 Ft. 397125
If all Canadian Pacific Ocean going Steamships were placed end to end they would make a line almost three miles in length.
SMOOTHNESS of Short St. Lawrence SEAWAY
Chateau Frontenac—in Quebec
COME To Old Quebec
COME share in the sport and gaiety of old French life. Come see the strangest city on this continent—a city with crazy, serpentine streets that climb way up to the turreted Chateau Frontenac. Come enjoy the lavish hospitality of this truly baronial hostelry where the famed Winter Sports have their center .. . with pageants and carnivals. Exhilarating weeks through Spring, cool, restful Summer days .. . gay Festivals for the Autumn time. Quebec is little more than a comfortable overnight's ride away. Directly on your route too, if you are crossing to Europe. Chateau Frontenac . .. one of a famous chain of hotels maintained by Canadian Pacific
World's Greatest Travel System
Mammoth new Empress of Britain
The Short St. Lawrence Seaway to EUROPE
Newest of Canadian Pacific's Atlantic Fleet, is the mammoth Empress of Britain. Then comes the Empress of France and Empress of Australia . . sailing from Quebec direct to Southampton and Cherbourg. New lower First Class rates in effect.
4 Regal Duchesses ... 20,000-gross-tons sister ships . . with a new high standard in Cabin Class accommodations. Also Tourist Third and Third Class ... from Montreal to Belfast, Liverpool, Glasgow.
6 Cabin Class Liners ... all these lower cost favorites, carrying you to Havre, Antwerp, Hamburg, London, Southampton, Belfast, Glasgow, Liverpool.
3 to 5 Sailings Weekly—down the short St. Lawrence Seaway, the most direct route to and from Europe ... with one-third the way inside the protected waters of River and Gulf.
Winter Cruises
Round The World, Mediterranean, West Indies
Canadian Pacific
For railway, steamship or hotel reservations, address any Canadian Pacific office in United States or Canada
BANFF
a mile high in the Canadian Rockies with the thrill of a mile-high golf course—bent grass greens before you, 8,000-foot peaks behind. Two huge swimming pools—warm sulphur, or a glacial plunge to make you feel like a cool million. And castle-like Banff Springs Hotel! ... Chefs who build menus to match—orchestras to spin mountain moonlight into magic—bridle paths for saddle horses, Alpine trails for nimble-footed ponies—Swiss guides. So come to Banff this Summer and stay. From Banff, motor 40 thrilling miles to Chateau Lake Louise, set beside the loveliest of mountain gems. You may stay here part time if you like, or at Emerald Lake Chalet.
Canadian Pacific
World's Greatest Travel System
Banff Springs Hotel—Golf Club from First Fairway of a $450,000 course.
Chateau Lake Louise—beside the loveliest of mountain gems.
LAKE LOUISE
Up 1,000 feet higher in the blue, is Chateau Lake Louise
... and easy trails lead from here to the Lakes in the Clouds.
Canadian ROCKIES BUNGALOW CAMPS
—each in some exquisite mountain nook . .. inexpensive
too and informal .. . easily reached by motor or pony trail.
ALASKA and The North Pacific Coast 1,000 miles north into Alaska on famous Princess Liners. A special 12-day cruise Aug. 11, Round Trip $125 and up. The "Triangle Route" between Vancouver, Victoria and Seattle. Vancouver Island West Coast Tours.
FAST DE LUXE TRAIN Service—through the Canadian Rockies—with connections for California—including "Trans Canada Limited", Montreal and Toronto to Vancouver; "The Mountaineer", from Chicago and St. Paul-Minneapolis to Vancouver.
NEARBY VACATION TRIPS and RESORTS—Ontario's Bungalow Camps for fishing and hunting. The Laurentian Mountains. Nova Scotia. New Brunswick. Great Lakes Service—sailing from Port McNicoll to Ft. William
Canadian Pacific
For railway, steamship or hotel reservations, address
any Canadian Pacific office in United States or Canada
Vancouver ISLAND
Empress Hotel—Victoria
Canada's
EVERGREEN PLAYGROUND
Vancouver Island, the wonderland of the North Pacific Coast. An evergreen island lying so near the tempered waters of the Japan Current that roses bloom in Victoria in December and golfers play on velvet greens the year round. Set amid green shrubs and evergreens, and overlooking Victoria's gay harbor, is the great Empress Hotel . . . a hotel whose re-enlarged, magnificent proportions match its old English manor-house welcome.
Going or returning from California, you will want to stay a fortnight or longer in Victoria, the garden city of an island wonderland . . . with famous motor roads, excellent fishing and every out-of-door sport. Too, you will enjoy the gracious hospitality of the Hotel Vancouver as you pass through beautiful Vancouver.
Canadian Pacific
World's Greatest Travel System
Through The Picture Book of the ORIENT
HONOLULU
Japan, China, MANILA
and now your stop at Honolulu brings the Orient much nearer! Too, the new white Empress of Japan has shortened the time across the Pacific . .. 21-knot speed .. . largest, fastest liner to the Far East.
4 great white Empress Liners to Japan, China and Manila, via Honolulu—Empress of Japan, Empress of Canada, Empress of Russia, Empress of Asia. Frequent sailings From Vancouver and Victoria. Attractive accommodations. Direct connections at Hong Kong for Straits ports and India.
Canadian Pacific
For railway, steamship or hotel reservations, address
any Canadian Pacific office in United States or Canada
Empress of Japan 26,000 gross tons
Diamond Head—Honolulu Harbor Hawaiian Dancing Girl