SS Duchess of Atholl Passenger List - 9 September 1932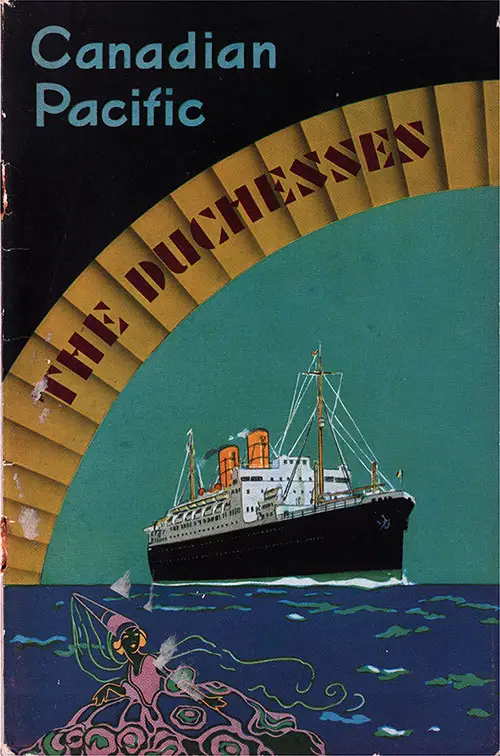 Colorful and Vibrant Front Cover to a Cabin and Tourist Class Passenger List for the SS Duchess of Atholl of the Canadian Pacific Line (CPOS). The Ship Departed 9 September 1932 from Liverpool to Quebec and Montreal via Belfast and Greenock, Commanded by Captain D. S. McQueen. GGA Image ID # 1585d59a77
Senior Officers and Staff
Captain: D. S. McQueen, Commander
Chief Officer A. C. Hague
Chief Engineer J E. Thearle
Purser D. F. Armour
Surgeon R D. Owens, M.B., Ch.B
Chief Steward T Burns
Rail Traffic Representative: N. Donald
Office on A Deck Entrance Hall
List of Cabin Passengers
Abbey, Lt.-Col. Phil
Abbey, Mrs. P
Adair, Mrs. W. R
Adam, Mr. J
Adam, Mrs
Archer, Mr. C. H
Archer, Mrs
Archer, Mstr R. J
Backer, Miss M
Backer, Mr. C. B
Backer, Mrs
Balfour, Capt. H., M.P
Barnes, Mrs. H. F
Barron, Mr. F. E
Beauchemin, Mr. A. O
Beauchemin, Mr. P
Benallack, Mrs. W. J
Birkett, Dr. H. S
Birkett, Miss W
Birkett, Mrs
Birtles, Miss L. A
Blomefield, Mr. N. N
Blumer, Mr. D
Boesel, Miss M
Bonnett, Miss G. L
Boulton, Mr. F. J
Boulton, Mrs
Boyd, Mr. F
Boyd, Mrs
Browne, Mr. H. M
Browne, Mrs
Bruce, Hon. Randolph
Bullen, Capt. I. B
Bullen, Mrs
Cairns, Mr. W. G
Campbell, Miss M. E. M
Carson, Mr. A. B
Chan, Miss and Infant
Chan, Mr. C. S
Chan, Mrs
Clinch, Mr. Courtenay
Clover, Mr. C. G
Colledge, Mrs. K. A
Cunningham, Mr. W. B
Cunningham, Mrs
Danks, Dr. A. I
Danks, Mrs
Davies, Mr. R
Davies, Mr. W. Rupert
Davies, Mrs
Dollard, Rev. J. B
Duffus, Mr. K. S
Ennes, Dr. C. J
Esdaile, Mr. A. J
Fife, Mr. H. A
Firth, Mrs
Firth, Rev. H
Foster, Miss A. L
Foster, Mr. A
Foster, Mrs. C. B
Francis, Mrs. Wellington
Gairdner, Mr. J. A
Gairdner, Mrs
Gante, Dr. H. W
Gante, Mrs
Gibson, Mr. G. B
Gibson, Mr. P
Gibson, Mrs
Greenaway, Mr. C. Roy
Greenaway, Mrs
Guggenheim, Mr. E. A
Herman, Mrs. M
Hughes, Mr. A. A
Hughes, Mrs
Hunter, Mr. J
Inglis, Mrs. R. J
Jamieson, Mr. S
Johnson, Mrs. A. E
Kellert, Miss H
Kellert, Miss R
Kellert, Mr. S
Kinnear, Mr. A. Roy
Kinnear, Mrs. Paddon
La Place, Mrs. C. G
Leighton, Mrs. J. R
Lestocart, Mrs. G
Lewis, Mr. A. S
Loader, Mr. G. S
Longstaff, Miss K
Lundwall, Mr. G
MacDonald, Miss M
MacDonald, Mrs. E
MacNutt, Mr. C. H
Mains, Miss B
Mason, Mr. A. W
McGregor, Mr. W
McMurray, Mr. L
Mellor, Mr. J. S
Memminger, Miss C. G
Memminger, Mrs. C. C
Miller, Miss C
Mitchell, Miss P
Mooney, Mr. J. C
Mooney, Mr. K. G
Moore, Mr. J. N. R
Moore, Mrs
Mrs. M. J
Munroe, Mr. H. S
Newman, Mr. R. H
Nicol, Mr. R. G
Nield, Mrs. M
Noonan, Mr. J. A
O'Brien, Mrs. M. H
O'Donnell, Mr. H. A
O'Donnell, Mrs
Owen, Mrs. J. F
Pearson, Mrs. C. E
Porter, Dr. G. D
Porter, Mrs
Ralston-Patrick, Miss E. H. C
Ralston-Patrick, Mrs. M. C
Reid, Miss M
Sanders, Mr. R. H
Smith, Mr. S. H
Smith, Mrs
Spielman, Miss M. L
Spielman, Mrs. L. C
Stevens, Miss E. C
Stevenson, Mr. A. K
Stewart, Mr. Wm
Swisher, Miss E. M
Tappenden, Mrs. Dorothy
Tattersall, Mr. T
Tattersall, Mrs
Thomson, Mr. A
Thomson, Mr. C. D
Thomson, Mrs
Thomson, Mstr C
Thomson, Mstr L. C
Tucker, Miss R
Van Vieck, Prof. J. H
Van Vleck, Mrs
Walter, Mrs. G. M
Weeks, Mrs. A. E
Westerfield, Mr. J. E
Westerfield, Mrs
White, Judge A. P
White, Mrs
White, Mrs. C
Winslow, Mr. E. P
Winslow, Mrs
Wishart, Miss M. T
Woodrow, Mr. J
Woodward, Mr. W. H
List of Tourist Passengers
Adair, Mrs. H
Aird, Mrs. P. A
Alty, Dr. T
Alty, Mrs
Anderson, Miss M
Anderson, Mr. R
Anderson, Mrs. A
Anderson, Mrs. J. W
Anderson, Mstr D
Anderson, Mstr N
Andrews, Miss K. M
Appleby, Mrs. E. B
Austin, Mr. L
Auterson, Miss M
Auterson, Mrs. G
Auterson, Mstr L
Ball, Miss O. C
Banks, Mrs. M
Banks, Mstr D
Barbour, Mrs. J
Bartholomew, Miss E
Baxter, Miss E. M
Berry, Mr. R
Beyers, Miss E. P
Beyers, Miss S. M
Birch, Mr. J. F. L
Blackadder, Mr. T. J
Blackburn, Mr. D
Blanchflower, Mr. V. J
Boardman, Mr. J
Boardman, Mrs
Boyes, Miss E
Boyes, Mr. W
Boyes, Mrs
Boyes, Mstr D
Boyle, Mrs. L
Breffitt, Mrs. M
Bremner, Mrs. J
Bromley, Mr. H
Burns, Mr. R
Burns, Mrs
Burrows, Miss H
Burrows, Mrs. E
Campbell, Mrs. M
Campbell, Mstr B
Carr, Miss E
Cassidy, Mr. J
Chalmers, Mr. A. B
Cherry, Mr. A
Cherry, Mrs. and Infant
Clements, Mrs. A. E
Closs, Miss A. E
Cohen, Miss H
Cohen, Mr. S
Cohen, Mrs
Coleman, Mr. J. U
Coleman, Mrs. A
Cooke, Mrs. M. A
Cowie, Mrs. M
Craig, Mr. G. E
Davidson, Mr. J
Davis, Mr. A. G
De Vogelaere, Mrs. Y
Dennison, Miss W
Dewar, Mrs
Dewar, Rev. L
Dodd, Mr. A. W
Doherty, Miss B
Dorion, Mr. H. S
Dorion, Mrs
Dugdale, Mr. F. E
Dugdale, Mrs
Dunslow, Mr. A
Elliott, Mrs. B
Ellis, Mr. J
Ellis, Mr. P
Ellis, Mrs
Ellis, Mrs
Emery, Mr. W. L
Entwisle, Rev. H
Evans, Mr. L
Farrar, Miss I
Faulkner, Miss O
Fergusson, Miss M. B
Fitkin, Miss M
Gailey, Mrs. G. N
Gaitens, Miss L
Galley, Miss E
Galley, Mstr J
Garrett Jones, Mr. C
Gibson, Miss C
Goodall, Miss C
Goodall, Mr. W
Goodall, Mrs
Gourley, Mrs. M
Gray, Mrs. M. S
Greenwood, Miss D. E
Griffin, Miss J
Hall, Mr. A
Harrington, Mr. F. A
Hartley, Miss A
Harwood, Mrs. E
Henderson, Mr. H
Hendry, Miss M
Herskind, Mr. H. G
Higham, Mr. J
Howat, Mr. D
Howlett, Adjutant F
Howlett, Miss A
Howlett, Mrs
Hunter, Miss E.
Hurd, Rev. T
Innes, Mrs. M
Jackson, Miss D
Jackson, Mr. A. H
Jackson, Mr. A. W
Jackson, Mrs
Jackson, Mstr W
Johnson, Miss E. M
Johnson, Mrs. J
Johnston, Mrs. J
Jones, Mrs. E
Jutsum, Mrs. A
Kent, Mrs. H. S
Kent, Mstr G. S
Kent, Mstr J. S
Killam, Miss A
King, Rev. Father R. G
Kinley, Mrs. H
Kirkbride, Miss E
Kirkbride, Mr. W. A
Kirkbride, Mrs
La France, Mr. P
Landymore, Mrs. M. F
Lapin, Mr. J
Lapin, Mrs
Law, Mr. J. K
Lewtas, Miss M. E
Lewtas, Mrs. M. A
Low, Mr. R
Lowe, Mr. W. S
MacNicol, Miss C
Mahon, Miss M
Major, Miss A. G
Major, Mr. J. F
Marsh, Mr. L. C
Martin, Mrs. J. B
McDonald, Mrs
McDonald, Prof. N
McDowell, Mrs. A
McGregor, Mr. T
McIlroy, Miss S
McIntyre, Mrs. F. L
McIntyre, Mstr H
McKinnon, Mr. A. L
McLean, Miss C
McMaster, Mr. A
McMurray, Mrs. G
McNeill, Miss L. K
McQuitty, Mr. J
McQuitty, Mr. J. L
McQuitty, Mr. W. B
McQuitty, Mrs
Mercer, Mr. J. F
Mercer, Mrs
Michie, Mr. W
Michie, Mrs
Molloy, Mr. J. J
Mooney, Mrs. M. E
Morris, Mr. R
Morris, Mrs
Moss, Miss M. L
Moyes, Miss J
Murray, Miss J. D
Neave, Mr. F
Neave, Mrs
Netherwood, Miss E. C
Oakley, Mrs. E
O'Connell, Miss R
O'Donovan, Mr. P. J
Paterson, Mr. H
Paterson, Mrs
Paxton, Mrs. G
Perrett, Mrs. D. M
Peters, Mrs. E. L
Peters, Mstr K. F
Phillips, Dr. J. A
Porteous, Mr. J. F
Priestnall, Mr. A
Prince, Miss D. E. B
Prince, Mrs
Prince, Mstr E. A
Prince, Mstr M. A. C
Prince, Prof. A. E
Raphael, Mrs
Raphael, Mstr C. M
Raphael, Prof. T
Reid, Miss M
Reid, Mrs. L
Reward, Mrs. C. V
Rigby, Mrs. I
Robinson, Mrs. C. E
Rumble, Mrs. M
Salvesen, Mr. E. C
Salvesen, Mrs
Scott, Mr. J. C
Scott, Mrs
Seright, Mr. S
Simmonds, Mrs. M
Smith, Mr. J. H
Steuart-Jones, Mr. E. W
Stewart, Mrs. A
Stillman, Miss C
Stillman, Mrs. M. A. T
Stirling, Mr. G. F
Stouffer, Miss J
Stouffer, Mr. S. A
Stouffer, Mrs
Stouffer, Mstr J. E
Tallamy, Miss D
Taylor, Dr. H. W. Y
Taylor, Miss J. C
Taylor, Mrs
Trotter, Miss J
Turnbull, Mr. T. A
Turnbull, Mrs
Tyner, Mrs. O. A
Uppadine, Miss V. A
Uppadine, Mrs. C
Wall, Mrs. S
Webber, Mr. W. J
West, Miss H. B
Wharton, Mr. F. A
Wharton, Mrs
Wilson, Miss M
Wilson, Mrs. A. E
Wood, Miss M
Wood, Mrs. E. V
Wood, Mstr L
Canadian Pacific Railway Traffic Office
Located on A Deck, Entrance Hail
Travel Information is always at your service. Will Passengers kindly present Train Tickets to be VALIDATED or STAMPED.
Rail Orders should be exchanged for train tickets.
Train tickets on sale to all destinations in Canada and the United States.
Tentative requests for Sleeping Car Reservations may be made early during the voyage, and tickets for same will be On SALE after ship has passed Quebec.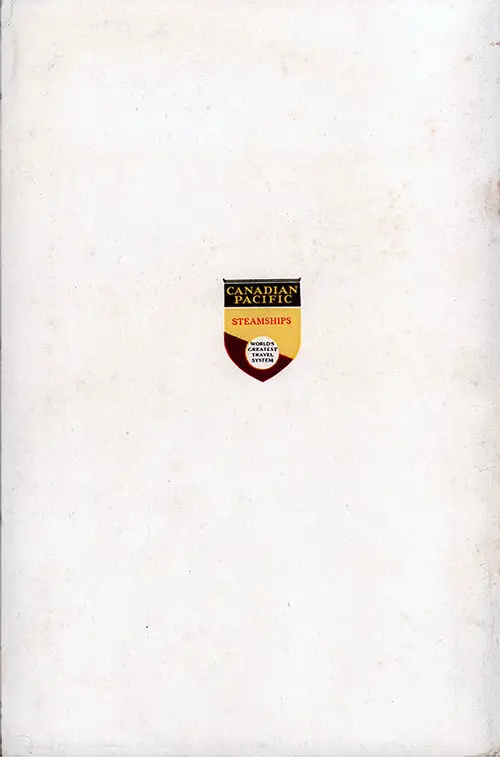 Back Cover of the Cabin and Tourist Passenger List for the 9 September 1932 Voyage of the SS Duchess of Atholl. GGA Image ID # 1585f97265