SS Montlaurier Passenger List - 13 July 1923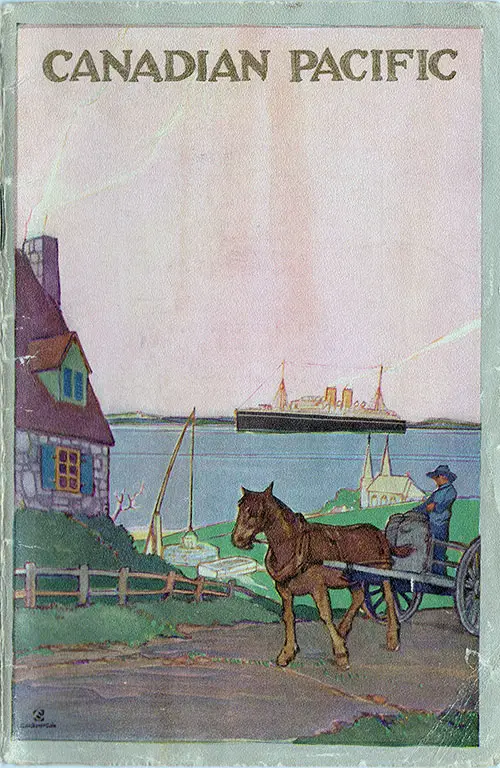 A Beautiful Illustration of a Canadian Pacific Line Ship in the St. Lawrence River Adorns this Second Cabin Passenger List from the SS Montlaurier of the Canadian Pacific Line (CPOS). The Ship Departed Friday, 13 July 1923 from Quebec to Liverpool, Commanded by Captain J. Turnbull. GGA Image ID # 157d917c19
Senior Officers and Staff
Commander: J. TURNBULL, C.B.E., R.D., R.N.R.
Chief Officer: A. ROTHWELL
Chief Engineer: J. E. THEARLE
Purser: G. D. FISHWICK
Surgeon: A. GIRVAN
Chief Steward: T. BURNES
Second Cabin Passengers
Bailey, Mr. R.
Baker, Mr. Howard
Baker, Miss Carrie
Balsdon, Mr. E. R.
Ballson. Miss E. W.
Bateman, Miss Irma
Baum, Mr. L. A.
Baum, Mrs.
Bell, Mrs. Russell
Bell, Master Melville and Nurse
Bosley, Mr. M.
Boone, Mr. H. S.
Boone, Mrs.
Brook, Mr. C.
Buchanan, Mrs. F.
Buckle, Mr. J. W.
Bullock, Miss L.
Burden, Mr. Eaton
Burgess, Mr. F. G.
Burke, Mr. Arthur
Burrington, Miss Stella
Burrington, Miss Carrie
Burrow. Mrs. E. M.
Burrow, Miss Margaret
Burrow, Master John A.
Burwell. Mrs. W. C.
Bush, Mrs. A
Bush, Master A 
Butler, Mr. D. C.
Cameron, Mr. J. P.
Cameron, Mrs.
Cameron, Miss M.
Carlson, Dr. A. J.
Carr, Mrs. S. E. 
Carr, Miss A.
Carr, Miss E.
Childe, Miss B. M.
Childe, Miss B
Churchill, Mr.
Churchill, Mrs.
Clark, Mr. J. M.
Clark, Mr. S A. P.
Clarke, Mr. A. L. R.
Clinton, Mrs. G. W.
Cohen, Mr. I.
Cosgrave, Rev. T. H.
Cottrell, Mr. Ivan R.
Cottrell, Miss Amy
Coyle, Mr. A. F.
Crosser, Mr. Robert
Crossley, Mr. J. H.
Danes. Dr. J. V.
Danes, Mrs.
Dathan, Mrs. J. E.
Dathan. Miss B.
Davidson, Miss E. F.
Davis, Dr. William L.
Davis, Mrs.
Davis, Mr. William L.
Davis. Miss Edwina G.
Davis. Miss Edwina L.
Dawes, Miss
de Flon, Miss Marie
Denlinger, Mr. F. D.
Denlinger, Mrs.
Donnelly, Mr. D. E.
Dyer, Dr. Frank 
Dyer, Mr. B.
Engelsman, Mr. A. B.
Engelsman, Mrs.
Escott, Mr. T. B.
Escott, Mrs.
Evans. Mrs. J. Morgan
Evans, Mr. A. Morgan
Ferguson, Mr. D. N.
Ferris, Mrs. Loretta H.
Fifield, Mr. L. M.
Fifield, Mrs.
Finch, Mr. John M.
Finch, Miss Sadie
Funk, Dr. Casimir
Funk. Mrs
Funk, Master Ran
Geary, Major G. R.
Gillan, Mis. E. H.
Goldie, Mr. Charles
Goldie, Mrs.
Goldman, Major C. S.
Goldsmith, Mr. Charles
Goldsmith, Mrs.
Greenhalgh, Mr. J.
Greenhalgh, Mrs.
Greenhalgh, Miss
Greer, Col. M.
Grider. Mr. Neal
Grider, Mrs.
Grinsley,Mr. A.
Guttridge, Mr. G. H.
Hall, Mr. J. G.
Hall, Mrs
Harrow, D.r. B
Helmer, Mr. R. H.
Helmer, Mrs.
Heuer, Dr. G. J.
Hickey, Mrs. Hannah H.
Hillier, Mr. T. P.
Hughes, Mr. Wm. F.
Hunnewell, Mr. W. B.
Hunnewell, Mrs.
Hunter, Mrs. Evelyn G.
Hussey, Mr. J. E.
Hutson, Mr. Frederick L.
Hutson, Mrs.
Jameson, Miss E. V.
Jankosky, Mr F.
Jankosky, Mrs.
Jankosky, Miss E.
Jones, Mrs. A. E.
Jones, Mrs. C. H.
Jones, Mrs. W. A.
Kempf, Mr. E .
King, Mrs. A. F.
King, Master Anthony
King, Miss Ruth
Koerber, Mr. Harry G.
Koerber, Mrs.
Koerber, Miss Katherine
Lambe, Mr. W. S.
Lambe, Mrs.
Leuba, Mr. James H.
Limeburner, Mrs. L.
Longhery, Mr. B.
Longhery, Mrs.
Macauly, Rev. J. C.
McClure, Mr. Wm
MacEwen, Brig. Gen. M. L.
MacEwen. Mrs.
MacEwen. Mr. R.
MacEwen, Miss M.
MacHold, Miss E. L.
Mangan, Mr. A. T.
Marler, Mr. Leonard
Marriner, Mr. J. M. S.
Marriner, Mr. G. T.
Marshall, Mrs. (Dr.) Clifford
Martin, Mr. M. C.
Matthews, Dr. S. A.
Martyn, Mr. George
Martyn, Mrs.
Marzen, Miss Louise
McCanles, Miss Lulu L.
 McDonald, Mr. R. O.
Melton, Mr. F.
Melton, Mr. T .
Millichamp, Mr. Reuben
Millichamp, Miss Olive
Moray, Mr. Norman R.
Moray, Mrs.
Morrill, Mr. Arthur F.
Murchie, Mr. Robert C.
Murlin, Dr. J. R.
Naylor, Mr. O. W.
Nazer, Mr. A. P.
Nazer, Mrs.
Nelson, Mr. A. L.
Norton, Mrs. P. D.
Nowell, Rev. Hugh Noel
Nowell, Mrs.
Odell, Mr. O. D.
Odell, Mrs.
Osborn, Miss Edna
Osier, Mr. Philip
Osmond, Mr. W. R.
Oxley, Mrs. A. E.
Palmer, Col. Frederick Longworthy
Palmer, Mrs.
Patterson, Mrs. R. D.
Patterson, Mr. J. H.
Patterson, Mrs.
Patterson, Miss Elizabeth
Patterson, Miss Kathleen
Patterson, Mr. William
Pauline, Mr. George C.
Pauline, Mr. George W.
Peet, Capt. T. M.
Pepper, Mr. Charles
Pepper, Mrs.
Pepper, Miss Eunice C.
Pereira, Mr. A.
Pereira, Mrs. Lyndwode
Peyton, Mr. A. J.
Peyton, Mrs.
Pote, Major. C. S.
Pote, Mrs.
Potter, Mr. R. F.
Potter, Mrs.
Prentice, Miss Mona
Puxon, Mrs. E.
Ray, Mr. Richard
Reid, Dr. Mont.
Reiland, Mrs. Karl
Richardson, Mr. H. A.
Rinehart, Miss L. M.
Rodriguev, Mrs. R.
Rohrer, Rev. Freeley
Roll, Miss M. E.
Root, Mr. J.
Rudolph, Mr. O. C. 
Russ, Mrs. J. D.
Ryan, Rt. Rev Bishop
Sadler, Miss Florence W.
Schell, Mrs Chas. Carroll
Schurman, Mr. C. H .
Schurman, Mrs.
Schurman, Miss Jane
Searing, Miss C.
Shatto, Mrs C. R.
Shee, Miss Louisa S.
Shenton, Mr. W. L. 
Simpson, Miss Alexander
Simpson, Miss Georgia
Smith, Miss B.
Small, Mrs. F. H.
Squires, Mrs. G. K. 
Stavers, Mr. J. H.
Stewart, Mr. Frank B.
Thiel, Mr. P. C.
Thiel, Mrs.
Thomas, Miss G.
Thomas, Mr. D. L.
Thomas Mrs.
Tuck-Hart, Mrs. H. M.
Tyrrell, Miss M.
Underhill, Mrs. S.
Underhill, Miss Aida
Underwood, Mr. J. C.
Vachon, Mr. Wm
Vachon, Mrs.
Vanslyke, Miss Lucile
Vanston, Mr. C. G.
Vanston, Mrs .
Wade, Mr. F. B.
Wade, Mrs. W. J.
Walker, Mrs. M. W.
Walters, Mrs. J
Welling, Mrs. Lillian C.
Welling, Miss Katherine
Whitaker, Mr. F.
Whitaker, Mrs.
Whitaker, Miss V.
Whitaker, Master F.
White, Mr. A. V.
White, Mrs. Infant and Maid
Whitmore, Mrs. F. J.
Whitney, Mr. E.
Whittiker, Mr. C. B.
Whittiker, Mrs.
Wiggers, Dr. C. J.
Williams, Miss F. E.
Wills, Mr. H. E .
Wills, Mrs.
Wilson, Mr. R. H.
Wright, Dr. Frederick T.
Wright,Mrs.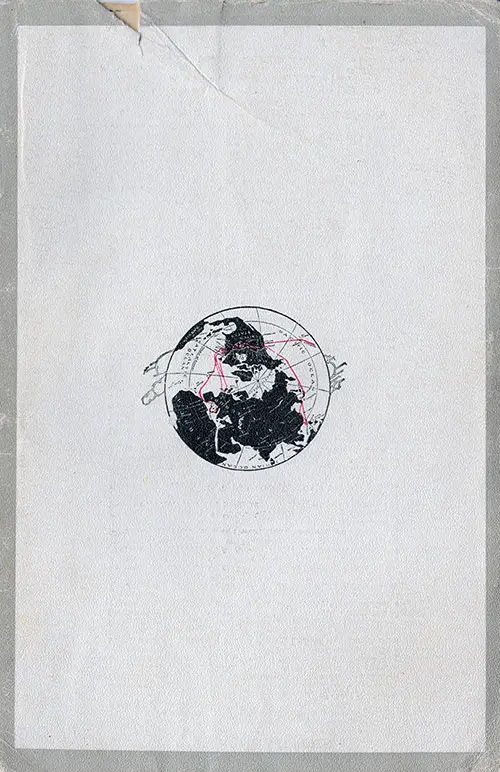 Small Globe is Displayed on the Back Cover of the SS Montlaurier Passenger List for 13 July 1923. GGA Image ID # 157d991a23
Information for Passengers
Purser and Assistant Pursers are always in attendance at the Bureau to deal with enquiries and matters affecting the comfort or interest of passengers. 
It is desired that passengers having cause for complaint will take the opportunity to report the matter, in order that it may be dealt with immediately. Passengers will appreciate that the Management cannot deal satisfactorily with complaints unless these can he investigated on the spot.
Return Atlantic Passages
Sailing dates. Steamer plans and rates may be obtained, and accommodation booked for return by any of the Canadian Pacific Liners. Apply to Ticket Agent on board.
Meal Times
When One Sitting Only
Breakfast: 8.30 am
Luncheon: 1.30 pm
Dinner: 7:00 pm
When Two Sittings
Breakfast: 8:00 am | 9.00 am
Luncheon: 12.30 pm | 1.30 pm
Dinner: 6.00 pm | 7.00 pm
Breakfast will not be served in the dining room after 10:00 am
Seats at Dinner arranged by Second Steward.
Children must dine at first sitting.
Afternoon tea will be served at 4.00 pm on Deck and in all Public Rooms, but children will be served in the Dining Saloon.
Lights are extinguished in Saloon at 11:00 pm, Music Room and Drawing Room at 11.30 pm and Smoke Room at midnight, Bar closes at 11:00 pm
Divine service in Saloon at 10.30 am Sunday.
Steamer Rugs rented at $1.50 each for the voyage, on application to the Deck Steward.
Deck chairs for hire, $1.00
British Railway Time Tables will be found in the Library or Drawing Room.
Representatives meet all steamships to give passengers information and assistance.
CANADIAN PACIFIC TEIEGRAPH connects with all points in Canada, and all important points in the United States via the Postal Telegraph Company. Direct connection with Great Britain and Europe via Commercial and Imperial cables, and Australasia via British Pacific Cable.
Wireless Telegrams. Steamships are equipped with Marconi Wireless System.  Information can be obtained from the Purser.
Valuables. A safe is provided in the office of the Purser, in which passengers may deposit money and valuables for safe keeping during the voyage, free of charge. Envelopes will be provided to be sealed and signed by the passenger. As no charge is made for this service the Company can accept no responsibility for loss or damage, however arising.
Money Exchanged. The Purser is authorized, for the convenience of passengers, to exchange a limited amount of Canadian and American money into English Currency.
Surgeon is authorized to make customary charges, subject to the approval of the Commander, for treating any passengers at their request for any illness not originating on board the ship. In the case of sickness contracted on board no charge will be made and medicine will be provided by the Surgeon.
Handbags and Trunks which will fit underneath the berths will be allowed in the Cabins, and no other. Passengers are requested to write their name and European address on the back of baggage checks and hand them to the Baggage Master as soon as possible after sailing. They must claim their own baggage in the Customs Baggage Examining Room at port of disembarkation, where it is placed under initial letters.
Forwarding of Baggage to Destination. The Canadian Pacific Railway and Dominion Express Co's Uniform Baggagemen meet steamers arriving at Liverpool to Collect Luggage and arrange forwarding to destination by Goods Train. Charges, which are payable C.O.D., include cost of transfer, porterage and rail forwarding. Baggage may also be delivered locally. Baggage labels may be secured from the Baggage Master on board.
Letters & Telegrams for passengers are brought on board at the ports and placed in alphabetical order in the letter case. To facilitate the delivery of letters and telegrams which may reach the Company after passengers disembark, they are invited to leave their address with the Purser, so that letters may be forwarded. When posting letters at sea, British or Canadian postage stamps may be used. These can be obtained from the Steward in the Drawing Room. Letter box will be closed one hour before arrival in port.
LONDON SPECIAL TRAIN (L. & N. W. Rly.) usually leaves Riverside Station (adjoining Liverpool Landing Stage) for Euston Station, London, within two hours of ship's arrival at Landing Stage. Time occupied on journey about 4 ½ hours.
Rail Tickets to London and other points obtainable at the Ticket Office on board.