SS Empress of Australia Passenger List - 16 June 1937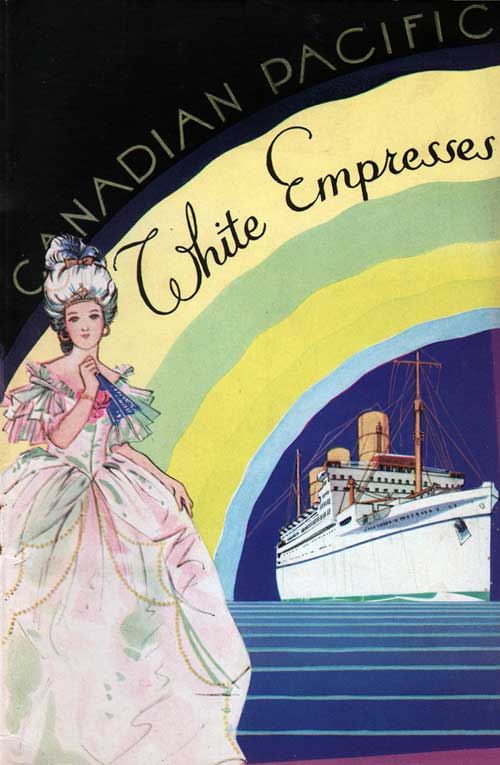 Front Cover of a Cabin and Tourist Class Passengers for the SS Empress of Australia of the Canadian Pacific Line (CPOS), Departing 16 June 1937 from Quebec to Southampton via Cherbourg, Commanded by Captain W. G. Busk-Wood. GGA Image ID # 173c55b229
Senior Officers and Staff
Captain W. G. Busk-Wood, R.D., R.N.R
Chief Officer W. Stanfield, R.N.R
Chief Engineer E. A. R. Jackson
Purser J. Walker Bartlet
Surgeon E. F. D. Owen, M.R.C.S., L.R.C.P
Chief Steward J. S. Herring
Rail Traffic Representative R. A. Pattison
List of Cabin Passengers
Mr. W. G. Abel
Mrs. Abel
Miss Dorothy I. Abel
Mr. Arnold J. Abrams
Mr. Abrams
Dr. W. W. Allison
Mrs. Allison
Elder Joseph Anderson
Mr. Nelson Baldwin
Mr. W. B. Beare
Mrs. Beare
Mr. Richard Bennett
Mrs. John F. Bennett
Mrs. D. F. Bowie
Miss Ann Bowie
Elder Hugh B. Brown
Mrs. Grace W. Burgis
Mr. Peter Caldwell
Mrs. Caldwell
Mr. A. L. Carroll
Mrs. Clarrissa G. Chapman
Mr. Eugene Chartier
Mrs. Chartier
Miss Chartier
Miss Chartier
Miss Kathleen N. Clayborn
Dean Arthur Collingwood
Mrs. Collingwood
Mr. Gordon R. Cowan
Mr. Arthur Cross
Miss Winifred M. Cross
Mr. Huntley R. Drummond
Mr. George E. Emery
Mrs. Emery
Mr. George I. Emery
Mrs. Constance Evers
Mr. Fraser
Mrs. F. H. Gage
Miss B. Gage
Mr. L. C. Gane
Mrs. Gane
Mrs. George J. Gannon
Prof. James M. Garner
Mrs. Garner
Mrs. R. C. Geddes
Miss M. R. Geddes
Miss Rose Granger
President Heber J. Grant
Mr. Thomas Harrison
Miss Patricia M. Hathaway
Mr. Ernest Heenan
Mr. Harry Howe
Mr. J. H. Jackson
Mr. Wilmer M. Jacoby
Mr. A. Jephcott
Mr. D. S. Johnston
Mrs. Johnston
The Hon. Justice A. Courtenay Kingstone
Mr. Courtenay Kingstone, Jr.
Mr. W. S. Lawson
Mrs. Lawson
Mr. Edward Lay
Mrs. Lay
Mr. Winslow H. Loveland
Dr. Alexander MacColl
Mrs. MacColl
Mr. Justice John A. McEvoy
Mr. Charles L: Marburg
Mrs. Marburg
Mr. F. Maurice Marcotte
Mrs. Marcotte
Ing. Guido Maroni
Miss Annie Martin
Mr. R. J. A. Massie
Miss Agnes Matthews
Miss Mary Mayer
Mrs. A. M. Mickles
Miss M. M. Mickles
Mrs. Stewart M. Neff
Mrs. Bessie Nickerson
Mr. J. B. Nottage
Mrs. Nottage
Lt-Col. R. C. Phelps
Mr. Sydney Pont
Mr. I. N. Randall
Mrs. Randall
Miss Winifred Randall
Mr. H. E. Rawlings
Capt. Fred H. Reid
Mrs. Anne W. Reive
Mr. Harold Reyman
Mr. H. T. Ripper
Mr. W. F. Robertson
Mr. Stuart Roussel
Mrs. Roussel
Miss Diane Roussel
Miss Patricia Roussel
Mr. John A. Rowland, K.C
Mrs. Rowland
Mr. W. C. Rundle
Miss E. B. Rundle
Mr. L. N. Sachs
Mr. M. St. Alphonse
Mrs. St. Alphonse
Miss E. J. St. Alphonse
Miss N. St. Alphonse
Mr. A. C. Sanderson
Mrs. Sanderson
Melle. C. Sarmiento
Mr. Harold J. Savoy
Mrs. Savoy
Mrs. Phyllis S. Scofield
Mrs. W. A. Shell
Mr. Field Sherman
Mrs. Sherman
Mr. L. S. B. Simeon
Mr. William F. Smith
Mrs. Smith
Mr. Daniel Steen
Mrs. Steen
Miss Jeanne Steen
Miss Madeleine Steen and Governess
Mr. A. J. Thomas
Mr. W. P. Trebilco
Miss M. Waldie
Mrs. Ellen Wallace
Mr. M. F. Wardlaugh
Mrs. Wardlaugh
Miss Shirley Wardlaugh
Mrs. E. L. Wilks
Miss Marion Wilks
Mr. O. H. Williams
Miss Dorothy Williams
Mr. M. E. Winn
Mrs. Winn
Sir George Wilson
Lady Wilson
Mr. J. Elmer Woods
List of Tourist Passengers
Mr. Edward A. Ackerman
Dr. Garn Clark
Miss Mary Archibald
Mrs. Clark
Miss Margaret Atwater
Mrs. Alberta W. Clarke
Miss Eva Austen
Miss Myrtle Clarke
Rev. F. W. Cobb
Mrs. J. Ball
Mr. Andre Croise
Dr. Louise Beamis-Hood
Mr. Clyde P. Crookston
Miss Margaret Becker
Mrs. J. R. Crozier
Miss Clarissa A. Beesley
Mrs. Diana Belais
Mr. Oswald Davies
Mrs. H. Benstead
Mr. Kenneth Day
Master Kenneth Benstead
Mrs. F. L. Day
Miss Mildred Berleman
Baronne I. de Plinval
Miss Elizabeth Bintz
Comte d'Arlot de St. Saud
Mrs. Lillian Blode
Mr. J. A. Deuxberry
Mr. L. Bodenheimer
Mrs. Deuxberry
Miss Beatrice Bollard
Miss Erma Dispaine
Mr. H. Bolton
Mrs. J. W. Dore
Mrs. Bolton
Miss Helen Dore
Mr. Morris Bolton
Miss Gertrude Doyle
Miss Irene Bolton
Dr. T. G. H. Drake
Mrs. G. D. Boothe
Mrs. Drake
Miss M. Bowman
Mrs. Alice Boyer
Dr. H. W. Fairbairn
Mr. P. Vanden Branden
Mrs. M. S. Fellowes
Miss F. M. Brigstocke
Miss Constance Fellowes
Mr. H. Bristow
Mr. Johnstone M. Fyvie
Mrs. Bristow Mrs. Fyvie
Mr. J. C. Bulk
Miss Audrey Fyvie
Miss Pearl Burchett
Miss Anna D. Glanert
Mrs. Elizabeth Cairns
Mrs. Ora Gledhill
Miss Marjorie R. Caley
Mr. Herbert A. Goldstein
Dr. Callison
Mrs. Rose Graham
Mrs. Callison
Mrs. W. Gordon Hatcher
Miss B. B. Cannon
Miss Juanita Hatcher
Mr. Charles H. Carter
Mrs. Harry G. Heaney
Miss Eleanor Cautley
Miss Patricia Heaney
Miss M. Chapman
Mr. K. M. Hearne
Mr. Phillip Chatterley
Mrs. Hearne
Mr. A. W. Churchill
Miss Myra Hearne
Mrs. Churchill
Mrs. Florence L. Heaslip
Mr. N. A. Hendrickson
Mrs. Hendrickson
Miss Dorothy L. Hendrickson
Mr. Walker Hickman
Miss Mary Hickman
Mrs. W. H. Hickok
Miss H. Hickok
Prof. J. P. Heironimus
Mrs. Heironimus
Miss Lois Heironimus
Mrs. E. S. Hinckley
Rev. Leslie W. Hodder
Mrs. Hodder
Miss Mary Holgate
Miss Ivy E. Hooper
Dr. F. J. Hosking
Mrs. Hosking
Mrs. Bert Hurst
Mrs. J. Hutchinson
Miss Jill Hutchinson
Master Julien Hutchinson
Captain T. H. Jacob
Mrs. Mary Jacobson
Mrs. Laura Johnson
Mrs. M. Johnson
Mrs. H. D. Johnston
Mr. James Judd
Mrs. Judd
Mr. Herman Kanter
Mrs. J. M. Keith
Mr. Harold S. Kemp
Mrs. Martha Kempton
Mrs. E. C. Kitchen
Mr. Max Kraemer
Miss Emma R. Kratzer
Miss Flora H. Kratzer
Miss P. LaBelle
Dr. Cornelius Lanczos
Mr. A. Lane
Mrs. Lane
Master A. Lane
Mrs. W. R. Lang
Miss Margaret Lang
Master Vernon Lang
Mr. L. V. Larson
Miss Jessie Larson
Miss L. E. Lea
Mrs. E. LeBel
Miss Agnes Lefort
Mrs. Cornelia Leverage
Mr. J. A. Loef
Mrs. Mamie Lovell
Mrs. B. Lumb
Mr. Fred M. Lyon
Mrs. Lyon
Mrs. Annabella McAllan
Miss Ruth M. McNally
Mr. G. S. Martin
Miss Jean Martin
Miss Sheila Milsom
Miss Mary A. Mostyn
Mrs. Eva Moyle
Miss Mary Murdoch
Mrs. R. F. Nicholls
Mrs. Laura P. Nicholson
Miss Emma Nielsen
Mr. E. Notrice
Mrs. John Novack
Miss Virginia O'Brien
Miss Oleno Olson
Mrs. Harriet Pack
Mr. E. T. Palmer
Mrs. Palmer
Miss Sarah Parker
Mr. Lewis J. Parsons
Mrs. Parsons
Mrs. Charles Parsons
Mrs. A. Parton
Mr. Le Roy Patten
Mrs. Ida Patten
Miss Helen R. Patten
Mrs. Nelle B. Peerson
Mrs. William O. Peterson
Mrs. Sydney Philbrook
Mrs. Hannah S. Pike
Miss Edith E. Pyke
Mr. J. B. Robbins
Mis. Robbins
W. R. Robinson
Mr. C. W. Ross
Mrs. Ross
Mr. John J. Rourke
Mrs. Rourke
Mrs. Eliz. Rowley
Mrs. Rosabel Ruby
Mrs. C. Ruscoe-Steele
Miss D. P. M. Ruscoe-Steele
Miss Anita Sallo
Mrs. Nellie M. Sandberg
Miss Sheila M. Sargent
Miss Melva Schade
Miss Schwartz
Mrs. J. W. Scott
Miss B. E. Scott
Mr. Arthur H. J. Searle
Mr. W. H. Sewell
Mrs. Sewell
Mrs. Alice Sleater
Miss Iris Sleater
Miss Phoebe Skater
Mr. W. A. Smith
Mrs. Smith
Miss Catherine Smith
Mrs. A. T. Smith
Miss Gwen Smith
Mrs. Alice G. Smith
Miss Josephine Smith
Miss Lillie Sorrenson
Prof. A. Eugene Staley
Mrs. Staley
Mrs. Lillian M. Thompson
Mrs. Jessie Turland
Miss Joan Turland
Mrs. E. M. Tyson
Miss Ardena Jewell Varner
Miss Marguerite Vickery
Miss Dawn Wainwright
Mrs. Thomas P. Walker
Miss Nancy Bee Walker
Mr. H. C. Wallich
Mr. Webley
Mrs. Webley
Mrs. R. N. Weeks
Miss Joyce Weeks
Miss Patricia Weeks
Miss Gertrude West
Miss Ivy Whitmore
Miss Mary Wilkinson
Mrs. J. L. Witherspoon
Miss Grace Clawson Woolley
Mrs. B. M. Wright
Miss Mabel Wright
Miss Dorothy Wright
Mr. C. F. Young
Mrs. L. Young
Mrs. T. F. Young
Mr. James Young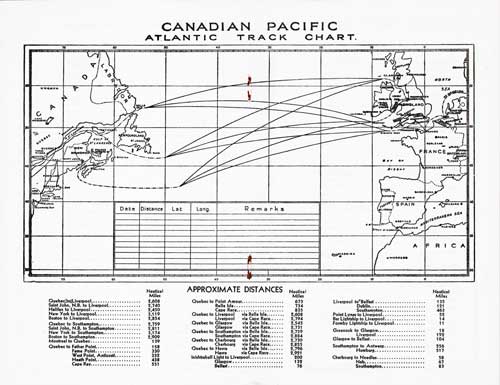 Canadian Pacific Atlantic Track Chart with Approximate Distances, 1937. GGA Image ID # 173cdaf265
Information for Passengers
Information Bureau is at your service
French-Speaking Staff—For the convenience of French-speaking Passengers, the ship's company includes stewards and stewardesses, who are conversant with the French language. These may be distinguished as Follows:—
Table Stewards—Red collar on their uniform jackets instead of a blue collar
Bedroom Stewards—Red collar fitted to their white jackets
Stewardesses—Red turn on cap
Chimes are sounded thirty minutes before dinner
Breakfast Chimes will not be sounded when only one sitting. Passengers should inform Bedroom Steward when they wish to be called
Smoking—For the general convenience of Passengers, smoking should be confined to the Smoking Room, Lounge and Verandah Cafe. It is not permitted in the Drawing Room and Writing Rooms
Swimming Pool—The swimming pool will be available for first class Passengers as follows:
Gentlemen only 6.30 am till 9.30 am
Ladies only 10.00 am till 1.00 pm
Mixed bathing 2.00 pm till 7:00 pm
Valuables and Money—In their own interests Passengers are advised not to leave articles of jewelry or other valuables lying about. For the convenience of Passengers the Purser will receive articles of value or money for custody in a special envelope provided for this purpose, which will be sealed in the presence of the passenger. A receipt will be given but as no charge is made for this facility the Company accepts no liability whatsoever.
Payments—Passengers should obtain a receipt from the Purser on the Company's form for any payments made on board for additional passage money, rugs, chairs, etc.
Change of Stateroom—Passengers who desire a transfer of accommodation should apply to the purser who alone is authorized to make changes. If higher graded accommodation is desired the difference in fare must be paid
Deck Chairs, Rugs and Cushions (with loose covers) may be rented on bOard for the voyage
Deck Games—Deck Quoits, Shuffleboard and other deck games will be furnished by the Deck Steward or Deck Sailor
Chess, Draughts, Dominoes, obtainable from Public Room Stewards
Books of Fiction and Reference are obtainable from the Library. Books lost by Passengers must be paid for
Stenographer—An experienced stenographer is available to undertake work for Passengers. Apply to Information Bureau for rates
Surgeon—The surgeon is authorized to make customary charges for his services, subject to the approval of the Commander
Nurses—The services of trained and qualified hospital nurses under the direction of the Surgeon, may be obtained
Divine Service is held on Sunday at 10:45 am am
Altars are carried for the religious services of Holy Mass and Holy Communion
Life Belts are in all staterooms. Bedroom Steward will explain method of attachment
Emergency Stations—Passengers are requested to consult plan and directions in alleyway
Rail Traffic Representative sells tickets to London and Paris. Railway time-tables available
London Steamship Special Train, Southern Railway, leaves Customs Shed, Southampton, about one and a half hours after landing. Running time to Waterloo Station, London, under two hours. Ask Baggage-master for London labels
Pullman Parlor Cars are available on this train. and seat tickets can be secured from the Purser on board at the rate of 4s. 6d. per seat
Money Exchange—Purser exchanges a limited amount of Currency. Travellers' Cheques cashed and sold at the Purser's office
The American Library, 10 Rue De L'Elysee, Paris—Above library is centrally situated near the Rond-Point des Champs-Elysees. Open daily from 10:00 am until 7:00 pm, except Sundays.
Use of books and magazines in the library is free of charge, while they may be borrowed for outside reading for a nominal sum. The large collection of over 45,000 volumes is being constantly increased.
The latest fiction, biography, and books of travel may be easily secured and Ihe large selection of American magazines is invaluable for those wh3 wish to keep in touch with current affairs at home
Baggage—All duplicate railway baggage checks should be endorsed with owner's name and European address, and handed to bedroom steward for delivery to Baggage Master
Trunks which Passengers do not require in their staterooms during the voyage may be stored in the baggage room
Baggage will be grouped alphabetically in Customs Shed on arrival at Southampton, and Passengers must attend personally to Customs examination
Baggage Delivery in London—Passengers to London, holding railway tickets by Southern Railway, may arrange with the ship's Baggage Master for through checking of their baggage for delivery to hotel or residence in London. If storage in London is desired, the Baggage Master will furnish particulars
Baggage for Paris—Passengers landing at Cherbourg or Havre, and proceeding to Paris or beyond Paris, must arrange with the Ship's Baggage Master for the through checking of their heavy baggage to that point. All baggage so checked is examined by the Customs in Paris.
Baggage Labels and Tags may be obtained upon application to the ship's Baggage Master.
Baggage Insurance—Passengers are recommended to insure their baggage, as the Company's liability is strictly limited in accordance with contract ticket. Baggage insurance can be arranged at any of the Company's offices or through Rail Traffic Representative on board.
Wardrobe Trunks—There is a Baggage Room for storage of trunks.
Stamps are on sale in the Shop and Library. English or Canadian postage stamps may be used for mail posted at sea
Mail, Cables and Wireless Telegrams—Passengers are requested to enquire for mail at the Information Bureau
Mail, cables and wireless messages are received at the Information Bureau for despatch. Cablegrams and telegrams should be handed in an hour before arrival at any port of call.
None of the ship's employees, other than those on duty in the information Bureau, are authorized to accept letters, cables and telegrams for despatch while the ship is at sea.
Passengers are invited to leave their addresses at the Information Bureau so that all undelivered mail, telegrams, etc., may be forwarded. Mail matter may be sent in care of any Canadian Pacific office—see list at end
Return Atlantic Passage—The Rail Traffic Representative is equipped to furnish full information concerning sailings and bookings on Canadian Pacific Steamships. Reservations should be secured from him and deposits to cover will be received
Cross Channel Services—The Company operates frequent Liner Service between Cherbourg, Southampton, Havre, Antwerp and Hamburg also Belfast and Glasgow. For information apply to Rail Traffic Representative
Aeroplane Service—Rail Traffic Representatives on all ships are now supplied with tickets and tariffs
U.S. Head Tax—Provided temporary visitors to, or Passengers in transit through, the United States of America, leave the U.S.A. within sixty days from date of entry, amount of Head Tax deposited with the Canadian Pacific will be refunded by the Purser or at the European office of the Company, upon presentation of alien in transit form 514, duly completed and certified
British Customs Duty—On arrival at British ports Passengers, including those in transit, are obliged to declare to the Customs Officials all dutiable articles however small the quantity.
The following is a list of the principal articles which must be declared : Tobacco, cigars, cigarettes, spirits, liqueurs, wine; silk and artificial silk in all forms; wearing apparel including hats, gloves and shoes; linen and cotton articles including household linen and handkerchiefs; toilet requisites and toilet preparations of all kinds including scent, soap, toilet waters, powder, etc.; clocks and watches, jewellery: cameras, field and opera glasses; wireless sets and valves, cinematograph films; magnetos and other parts of motor cars and motor cycles; musical instruments, gramophones and gramophone records, typewriters, saccharin; firearms, ammunition, explosives; opium, cocaine, morphine, heroin, hashish; plumage; merchandise in baggage.
Suggestions—Passengers having any suggestions or complaints to make regarding service are requested to submit them to the Commander, Purser or Chief Steward promptly, so that immediate attention may be given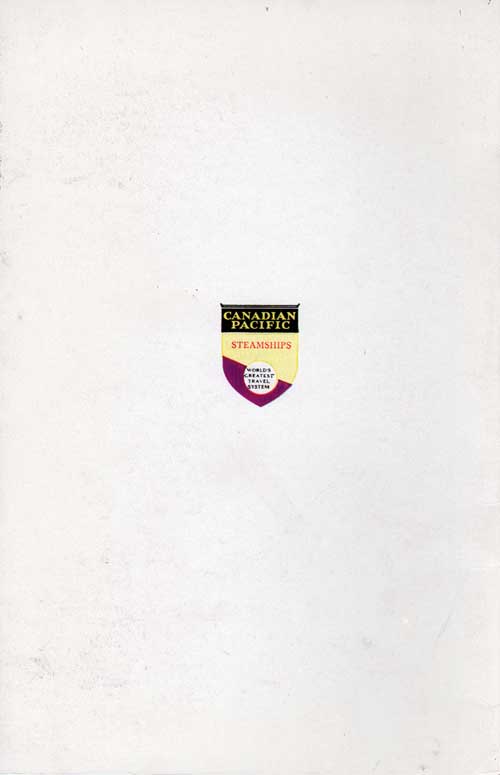 Back Cover of a Cabin and Tourist Class Passengers for the SS Empress of Australia of the Canadian Pacific Line (CPOS), Departing 16 June 1937 from Quebec to Southampton via Cherbourg. GGA Image ID # 173d026a54