SS Melita Passenger List - 30 June 1926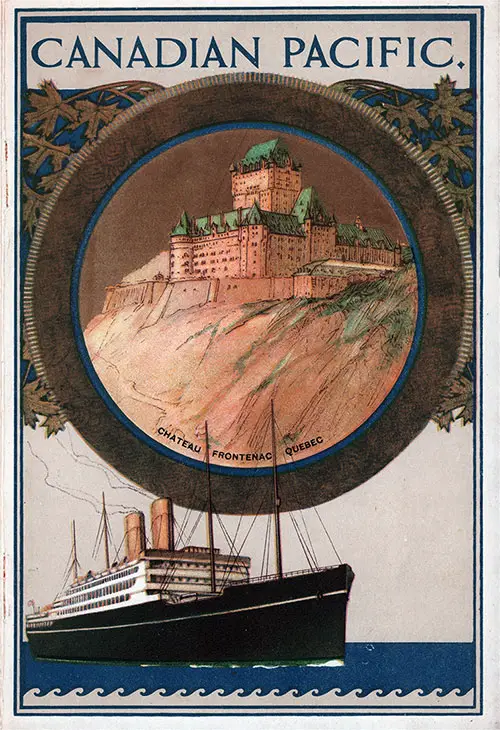 Front Cover of a Cabin Class Passenger List for the SS Melita of the Canadian Pacific Line (CPOS), Departing 30 June 1926 from Antwerp to Quebec and Montreal via Southampton and Cherbourg, Commanded by Captain A. H. Notley. GGA Image ID # 12f4591446.
Summary of Passenger List: 1926-06-30 List of Cabin Passengers, SS Melita, Antwerp, Southampton, and Cherbourg to Quebec and Montreal. Captain A. H. Notley. Photographs include: Empress of Canada, Observation Car Attached to Canadian Pacific Trains, Chateau Lake Louise, Alberta, View of St. Catherine Street, Montreal. Fold-Out Track Chart.
Senior Officers and Staff
Commander: A. H. Notley
Chief Officer: W. A. Hutcheon
Chief Engineer: B. R. Hood
Purser: W. S. Pearch
Surgeon: J. J. Benny
Chief Steward: F. Belton
Conductress: Mrs. J. B. Groshow
Rail Lines Ticket Agent: J. A. Dussault - Office on Deck, "B" Cabin Square
Cabin Passengers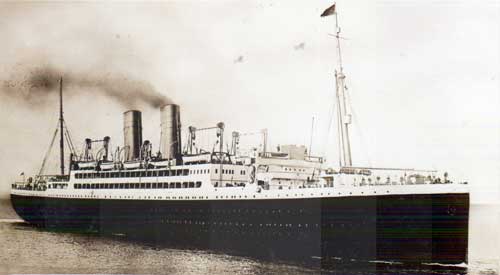 Photograph of the Canadian Pacific SS Melita from 1918. From the Gjenvick-Gjønvik Photographic Collection. GGA Image ID # 173ea3200e
Miss E. N. Adair-Hall
Mr. J. Adamson
Miss T. G. Adamson
Miss E. M. Ballantyne
Rev. A. W. Banfield
Mrs. A. A. Banfield
Master A. W. Banfield
Major R. W. Barker
Mrs. Barker
Miss P. C. Barker
Rev. Sebastian de Beaumont
Mrs. A. Bernard
Miss C. Bernard
Mr. Conrad Bernier
Miss B. Bingham
Mrs. Rachel Bonnard
Miss Andree Bonnard
Mr. J. Bouget
Mrs. J. Bouget
Miss M. Brand
Mrs. L. E. Brownsey
Rev. Wilfred Caille
Mrs. E. Carter
Rev. A. Chevalier
Mr. J. H. Davidson
Miss C. Davidson
Lady de Blaquiere
Miss Lucienne E. Desbarats
Mrs. Louise E. d'Hellencourt
Mr. J. Diepdael
Mr. Naoroz B. Doodha
Mrs. Jessie O. Donahue
Miss Gladys L. Donahue
Mrs. P. Donalda
Mrs. M. Edwards
Miss M. Edwards
Master G. Edwards
Mrs. F. N. Edwards
Miss Minnie L. Failing
Capt. S. F. Fisken
Mr. F. E. Forster
Mrs. D. G. Gath
Miss W. R. Gibb
Miss E. R. Gibb
Mr. W. Grigg
Mrs. Grigg
Mrs. L. Gysels
Mr. C. Hanbury-Williams
Mr. C. E. Hardic
Mrs. Hardie
Dr. R. R. Heim
Mrs. Heim
Mrs. H. Herbert
Mr. Charles Hetherington
Mrs. Bernarda Hetherington
Engr. Com. W. C. Horton, R.N. (Royal Navy)
Mrs. Horton
Mr. T. Howse
Mrs. Howse
Mr. B. Hutchinson
Mrs. Hutchinson
Mr. J. H.. Jarvis , R.N
Mr. H. F. King
Mrs. King
Mr. J. R. King
Mr. C. I. Kish
Mr. E. Kunz
Mrs. M. Kunz
Rev. Isidore de Lalberque
Mr. J. Lane
Dr. William E. Lee
Mrs. Wm. E. Lee
Miss Jean Gordon Lee
Mrs. Wm. E. Lee
Lesz, Mrs. M
Miss Janet MacDonald
Mr. J. Mahlstede
Mrs. J. Mahlstede
Mr. J. Marcer
Miss M. Matthews
Mrs. H. F. McColm
Miss M. McColm
Miss K. McColm
Miss H. McColm
Rev. Roy F. McDonald
Mrs. H. McDougal
Master C. R. McDougal
Miss Dorothy McGhee
Mrs. Georges Millen
Miss Ida Millen
Rev. J. H. Milligan
Miss H. Moriarta
Rev. de R. P. Moulins
Dr. Alfred Mousseau
Mrs. Mousseau
Mrs. F. M. Muir
Mrs. J. Nance
Miss E. Nance
Mrs, Charles A. Nelson
Miss Mary A. Nelson
Mr. H. H. Norris
Mr. A. F. Ormsbee
Miss G. H. Osment
Mrs. L. R. Pattison
Mr. F. F. Payne
Mr. H. V. Pennell
Mr. Rudolf Peukert
Mr. G. W. Pilkington
Mrs. Pilkington
Miss M. Pilkington
Mast. B. Pilkington
Mr. Thomas Poulin
Mr. D. M. Reid
Mrs. Margery Reid
Master Donald Reid
Rev. B. A. Resker
Rev. Marcel Rio
Miss Lily Ritter
Mr. D. S. Robertson
Mr. H. O. Roy
Miss M. A. C. Sander
Dr. J. Schmidel Von Seeberg
Mr. H. B. Spaulding
Mrs. Spaulding
Miss C. E. Spaulding
Master W. B. Spaulding
Master J. H. Spaulding
Mr. A. Spring
Mrs. Spring
Miss C. Sterns
Mr. A. Tenenbaum
Dr. W. B. Thistle
Mrs. Thistle
Miss P. Thistle
Miss Wessie Tipping
Mr. J. Tremeer
Miss K. A. V. Trewin
Master Guy Turgeon
Mrs. F. H. Walter
Miss F. H. Walter
Mr. A. C. Whitney
Miss M. L. Wightman
Mr. A. N. Paget Wilkes
Miss Mina E. Wood
Mrs. N. Woodcock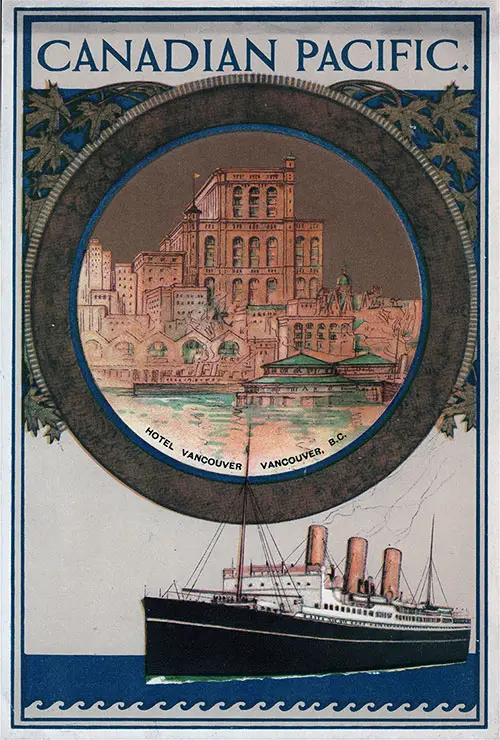 Back Cover, Canadian Pacific (CPOS) SS Melita Cabin Passenger List - 30 June 1926. GGA Image ID # 12f45a192e. Alamy