SS Duchess of Bedford Passenger List - 19 August 1938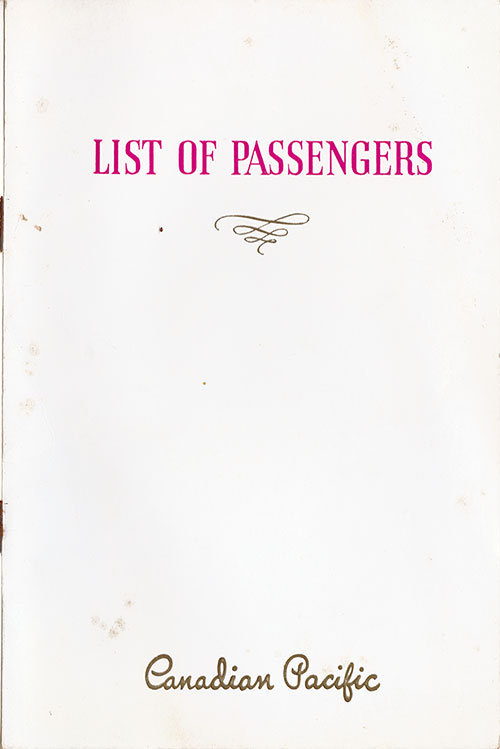 Front Cover of a Cabin and Tourist Passenger List from the SS Duchess of Bedford of the Canadian Pacific Line (CPOS), Departing 19 August 1938 from Liverpool to Quebec and Montreal via Belfast and Greenock, Commanded by Captain A. R. Meikle, R.D., R.N.R.. GGA Image ID # 114be9d8cd
Senior Officers and Staff
Captain: A. R. Meikle, R.D., R.N.R.
Chief Officer: T. Jones
Chief Engineer:  R. Walls
Purser: D. F. Armour
Junior Purser: A. M. Deas
Surgeon: J. J. Benny, M.D., G.M.
Chief Steward:  T. Burns
Rail Traffic Representative: M. C. Clayton
Tourist, Senior Assistant Purser: E. Trapp
Chief Tourist Stewart: W. Smith
Cabin Passengers
Mrs. J. B. M. Armour
Mr. F A. Bengough
Mr. H. W. Bevan
Mrs. Bevan
Miss M. J. Bevan
Miss B. Bevan
Mr. N. Bishell
Mr. W Blundell
Mrs. Blundell
Miss M. Bozzalla
Mrs. J. S. Bullimore
Miss J. Bullimore
Miss K. Bullimore
Mr. J. S. Bullimore
Mrs. E. Burns
Mrs. C. H. Carter
Miss F. K Chadwick
Mrs. F. W. Chambers
Mr. W. E. Costain
Mrs. Costain
Mr. P. H. Cronyn
Mr. J. B. Cronyn
Mrs. F. A. Cronyn
Mr. T. J. Cullen
Mr. W. F. Davidson
Mrs. M. C. Davies
Mrs. A. M. Divon
Mrs. D Doyle
Mr. J. Stanley Eccles
Miss E. Ferguson
Miss M. L Finley
Capt. C. Mel Fry
Mrs. Fry
Miss B. Fry
Mr. J. Giffel
Miss M. H. Glass
Miss H. Gordon
Mrs. C. E. Graham
Mr. W. E. Greenwood
Mrs. Greenwood
Master K. Greenwood
Miss B. J. Gurner
Hon. Justice A. Rives Hall
Miss E. G. Hall
Col. G. H. R. Halland, C.I.E.. O.B.E.
Mrs. R. W. Hannah
Miss M. Hannah
Mrs. R. Harvey
Mr. E. Heenan
Mrs. Heenan
Miss P. M. Heenan
Mstr. R. M. Heenan
Maj. F. E. Hogg
Mrs. Hogg
Rev. J. K. Holland
Mrs. Holland
Mrs. M. K. Hopkins
Miss J. T. Hopkins
Mr. Nelson Jost
Mrs. Jost
Miss B. Kempes
Mr. J. P. Kennedy
Mr. J. Kinigadner
Master T. Kneen
Mr. E. T. Larkins
Mr. E. Liersch
Mrs. Liersch
Mr. A. B. Lunan
Mr. T. B. Macaulay
Mrs. Macaulay
Mr. W. A. H. MacBrien
Mrs. MacBrien
Mstr. W. MacBrien
Mstr. J. MacBrien
Mr. N. G. McCulloch
Mrs. McCulloch
Miss A. Mackay
Mrs. M. K. Mackay
Mr. J. R. Mackay
Mr. J. A. Mclaren
Mrs. Mclaren
Mrs. J. D. McLauhn
Mr. E. B Macmin
Miss c M Marsland
Hon. Mr. Justice C. A. Masten
Hon. Mr. Justice W. E. Middleton
Mr. G. H. Montgomery, Junr.
Mrs. Montgomery. Junr.
Mr. A. A. Morris
Mrs. R. N. Murray
Mrs. C. Radford
Miss M. L. Rankin
Miss E. M. Rich
Mrs. H. J. Richardson
Mrs. H. Robertson
Miss C. H. Robertson
Master D. S. Robertson
Mr. P. M. Roy
Mrs. R. Rubin
Mr. J. O. Rudgard
Miss P. M. Russell
Mr. W J. Rutledge
Mr. A. A. Salzburg
Mrs. A. D. Sanders
Mr. R. H. Smyth
Lady Cecily W. Starmer
Mr. W. Stembridge
Mrs. Stembridge
Mr. W. Strang
Mrs. Strang
Mr. D. S. Thorburn
Mr. G. L Tillotson
Mrs. Tillotson
Miss M. Todd
Mr. G. R. Treble
Mrs. Treble
Mrs. A. E. Tregarneth
Miss B. Truesdale
Mr. H. G. Palmer
Mrs. Palmer
Mr. W. L Philips
Mrs. Philips
Miss A. C. Phillips
Mr. A. J. Porter
Mrs. Porter
Miss M. L. Porter
Master D. C. Porter
Mr. G. E. Pow
Mrs. D. E Wallace
Miss M B. Wallace
Mrs. C. B Wallbridge
Miss A K. Wallbridge
Mstr. J. Walling
Mr. J. G. Wallwork
Mr W. P. Wass
Mrs. W. E. Weld
Mrs. M. Murray Wilson
Mr. E. A. Yallop
Tourist Passengers
Mr. A. E. Adams
Miss M. Alexander
Mr. J. N. Andrus
Mrs. Andrus
Miss H. Atkinson
Mr. R. H. Babbage
Sister Mary Battista
Miss A. J. Billard
Miss B. M. Billing
Mrs. H. E. Birrell
Mr. J. A. Bishop
Mr. F. Bloch
Mr. A. Boddington
Mr. A. G. Bolton
Dr. R. Bolton
Miss E. G. Bond
Mr. J. D. Bowes
Miss F. P. Bowes
Miss E. Brett
Mr. J. A. Brooks
Miss E. E. Brooks
Mrs. J. Brydon
Miss B. Brydon
Miss H. B. Burgess
Mr. M. Campbell
Mr. W. J. Campbell
Miss I. Campbell
Mrs. J. E. Carmichael
Dr. H. R. Carton
Prof. C. A. Chant
Mrs. Chant
Mr. R. Chilcott
Mrs. B. Church
Miss H. D. Clarke
Mr. W. Cochrane
Miss M. H. Coleman
Miss H. Collier
Miss C. Connell
Mrs. G. W Cornell
Rev. J. R. Craig
Mrs. Craig
Mr. E. J. Cronin
Mrs. Cronin
Mr. J. Cumming
Miss J. Cumming
Miss A. B. Cummings
Mrs. J. H. Cunningham
Mr. R. D. Donaldson
Mrs. Donaldson
Miss A. L. Donovan
Sister Mary Druscilia
Mr. E. S. Duffield
Mrs. A. C. Eaton
Mrs. J. Eberhardt
Mstr. B. Eberhardt
Mrs. H. P. Edwards
Mrs K. A. Edwards
Mr. A J. Everman
Mr. C. Everman
Miss M. E. Fahey
Miss N. Fennell
Miss A. E. Fergy
Sister Mary Fintan
Mrs. J. H. Fletcher
Miss M. Fletcher
Mrs. A. C. Forrest
Miss C. M Fraser
Miss A. B. Fraser
Miss J. Fraser
Miss R. Freegard
Miss H. M. Fruth
Miss B. F. Fry
Mr. C. O. Fuller
Miss M. Gairns
Mr. R. J. Gill
Mrs. Gill
Mrs. A. Girdwood
Mr. F. G. Goddard
Mr. R. S. Gove
Mrs. Gove
Miss M. P. Grady
Mrs. I. S. Graham
Rev. E. Grigg
Miss S. Grimson
Mr. A. P. Grunberg
Mrs. Grunberg
Mstr. D. A. Grunberg
Mr. E. R. Haddon
Rev. L. P. Hagger
Mrs. Hagger
Mr. L. M. Hall
Mrs. Hall
Miss A. E. Hall
Miss R. F. Hall
Miss R. Halliday
Mrs. E. J. Hallworth
Mr. C. E. Hamilton
Miss M. M. Hanley
Mr. E. C. Harlow
Mrs. Harlow
Mr. E. C. Harlow, Junr.
Miss P. Harvey
Mr. E. H. Haydon
Mrs. Haydon
Mr. J. C. Hayes
Mrs. Hayes
Miss E. Heuman
Mr. R. E. Hillsinger
Mrs. Hillsinger
Mr. T. Hope
Miss M. V. Hopkins
Miss E. L. How
Mrs. M. A. Hyer
Miss E. Ide
Miss E. Jack
Mr. R. J. Jamieson
Miss H. M. Jamieson
Mrs. A. R. Jenks
Miss B. R. Jenks
Mr. C. Jones
Mrs. Jones
Miss H. E. Jones
Mr. W. D. Jordan
Miss N. Keane
Mrs. A. Keck
Mr. H. P. King
Mrs. King
Mrs. E. A. Klebart
Mr. J. Kneeshaw
Mrs. Kneeshaw
Mr. E. A. Knowles
Mrs. Knowles
Miss B. E. Knowles
Miss M. E. Knowles
Mr. G. B. Knox
Miss M. Lacarte
Miss M. Lamont
Mr. C. S. Lane
Mrs. Lane
Mr. H. W. Lane
Miss H. Leech
Miss A. Lenihane
Miss R. Lindblom
Mr. A. Lindsay
Miss W. Lindsay
Miss M. Linkiater
Miss A. A. Livingston
Miss M. Loane
Mrs. F. Lorimer
Mr. D. McBain
Miss A. McDonald
Miss F. MacDonald
Miss M. C. McGugan
Miss G. E. McGurl
Miss H. D. McIntosh
Miss A. McKeown
Mrs. F. I. McLachlan
Miss M. K. McLean
Miss M. McLellan
Mr. N. MacLeod
Mrs. MacLeod
Rev. L. McMurray
Mrs. McMurray
Mstr. J. McMurray
Miss N. McMurray
Mrs. M McNair
Mrs. F. J. McNeal
Miss J. G. Maitland
Miss H. S. Malcolm
Miss G. B. Manchester
Sister Josephine Marie
Mrs. M Mason
Miss P. L. Matthews
Mr. T. P. Miller
Mrs. Miller
Miss E. Miller
Mrs. C. T. Mitchell
Miss M. Mitchell
Miss D. Molloy
Mr. E. S Moore
Mrs. Moore
Mrs. M. Moore
Miss M. H. Moore
Miss J. Morris
Miss A. C. Morrison
Mr. A. E. Mortlock
Miss A. G. Mossman
Miss I. Mossman
Miss I. Mowat
Miss C. M Murison
Mrs. R. Stanley Murray
Mrs. G. Murray
Miss C. G. Murray
Miss I. A. Murray
Miss A. L. Neilson
Miss E. M. Nelson
Miss B. Neumann
Mr. T. Newton
Mrs. Newton
Miss I. Nicol
Miss G. Nicol
Miss M. Nicol
Miss E. G. Nunnelcy
Miss F. M. O'Brien
Dr. H. E. Oertel
Mr. L. Oppenheimer
Mrs. Oppenheimer
Miss E. Oppenheimer
Mr. E. Orff
Mrs. Orff
Mr. A. Orff
Miss A. Orr
Miss J. Orr
Miss D. F. Palmer
Miss M. Parslow
Dr. H. W. Peirce
Mrs. Peirce
Rev. H. C Perry
Mr. S. D. Perry
Miss D. C. Peterson
Mrs. M. F. Pickwick
Mr. G. Platt
Miss B. Porterfield
Mstr. T. A. I. Preshaw
Mr. Tracy R. Quick
Mrs. Quick
Mr. A. G. Rankin
Mr. D. R. J. Read
Miss L K Reid
Mr. R. Richardson
Mrs. Richardson
Miss C. A. Richardson
 Mr. W. Ritchie
Mrs. Ritchie
Mr. R. Robb
Miss M. Roberts
Miss H. Robertson
Miss B. Robertson
Miss E. M. Robinson
Miss P. M. Rockett
Miss M. Roger
Miss B. M. Ross
Miss B. A. Ross
Miss E. J. Ross
Mr. J. Russell
Mrs. Russell
Miss M. Ryan
Miss M. L Scott
Mr. S H. L. Shaw
Miss M. G. Sherman
Miss H. C. Siegen
Miss P. R. Simmons
Miss H. G. Simpson
Mr. H. A. Sinclair
Mrs. Sinclair
Miss G. E. Sivert
Mr. S. Smart
Miss J. Smart
Mrs. J. Smeeton
Mr. W. C. Smith
Mrs. M. Smith
Miss D. M. Smith
Miss M. A. Smith
Miss C. Smyth
Mr. T. Sommerville
Miss N. Squires
Mr. W. Stephenson
Mr. H. Stephenson
Miss C. Stephenson
Mr. F. Stockden
Mrs. E. H. Storms
Mr. H. H. Stowell
Miss M. Stuart
Mr. J. A. Tannahill
Mrs. Tannahill
Miss E. G. Tannahill
Miss M M. Tannahill
Miss C. Thomson
Mrs. A. Thorman
Dr. E. Tilley
Mr. H. A. Trombly
Mrs. Trombly
Mrs. K. Troyer
Mr. T. Turnball
Miss I. M. Valentine
Mr. A G. Vaughan
Mrs. Vaughan
Miss N. R. Vincent
Miss A. C. Vollmer
Mr. A. Walsh
Miss M. A Walsh
Miss J. S. Walton
Mrs. G. Watson
Miss M. Watson
Miss I. V. Wenzel
Miss E. Wenzel
Mr. W Howard Winne
Mrs. Winne
Miss H. L. Wheeler
Mr. G Wilsen
Mrs. Wilson
Miss G. Wilson
Miss E. E. Wood
Mr. C. Woods
Miss L. Woods
Mrs. J. Worrell
Mr. A. S. Wright
Mr. P. A. Wynd
Mr. A. C. Yale
Miss L. E. Zimmerman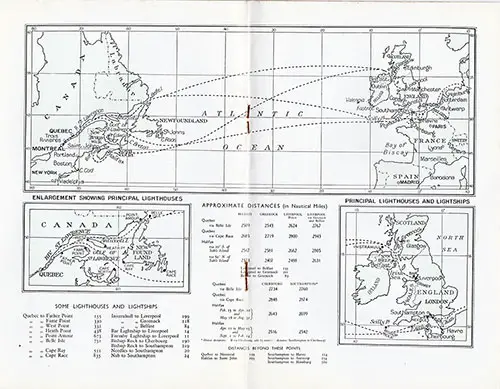 Canadian Pacific Track Chart and Supplemental Information - 1938. GGA Image ID # 114c2af84b
Information for Passengers
GENERAL INFORMATION
INFORMATION BUREAU - The Information Bureau is at your service. The Purser and Assistant Pursers are in attendance to deal with all matters affecting the comfort or interest of passengers.
MEAL TIMES - Breakfast Chimes will not be sounded when there is only one sitting. Passengers should inform Bedroom Steward when they wish to be called. Chimes are sounded thirty minutes before dinner.
TABLE SEATS - Passengers will obtain their table-seat numbers from the Second Steward in the Dining Saloon.
AFTERNOON TEA - Afternoon tea is served at 4 p.m. on deck, and in all the Public Rooms. Children will be served in the Dining Saloon.
PRIVATE DINNERS - Passengers who desire to arrange private dinner parties should apply to the Chief Steward. No charge is made for this service.
ORCHESTRA - The Orchestra plays at Tea and Dinner, and for dancing in the evening.
LIBRARY - Books of Fiction and Reference are obtained from the Library. The Library Steward sells stamps, and provides stationery, telegraph forms and railway timetables.
THE SHOP - A varied assortment of jewelry, dress goods, confectionery, photographic films, etc., are on sale. A wide range of fancy-dress costumes is available for sale or hire.
DECK CHAIRS, RUGS AND CUSHIONS - Deck Chairs, Rugs and Cushions (with loose covers) may be rented on board for the voyage. Apply to Deck Steward.
BATHS - The time that baths are desired should be arranged with the Bedroom Steward or Stewardess.
DIVINE SERVICE - Divine Service will be held in Dining Saloon on Sunday, at 10-45 a.m.  Altars are carried for the celebration of Holy Mass or Holy Communion.
THE SURGEON - The Surgeon is authorized to make customary charges for his services, subject to the approval of the Captain.
NURSES - The services of trained and qualified hospital nurses, under the direction of the Surgeon, may be obtained.
RETURN ATLANTIC PASSAGE - The Rail Traffic Office is equipped to furnish full information concerning sailings and bookings on Canadian Pacific Steamships. Reservations can be secured, and deposits to cover will be received.
VALUABLES AND MONEY - In their own interest passengers are advised not to leave articles of jewelry or other valuables lying about. For the convenience of passengers the Purser will receive articles of value or money, for custody in a special envelope which will be sealed in the presence of the passenger. A receipt will be given, but as no charge is made for this facility the Company accepts no liability whatsoever.
CHANGE OF ACCOMMODATION - Passengers who desire a transfer of accommodation should apply to the Purser, who alone is authorized to make changes. If higher graded accommodation is desired, the difference in fare must be paid, as the Purser is not permitted to deviate from the Company's tariffs. Passengers should obtain a receipt front the Purser, on the Company's form, for any payments made on board for additional passage money.
MONEY EXCHANGE - The Purser can exchange a limited amount of currency against Letters of Credit, or cash Travelers' Cheques. The latter are also on sale at his office.
CHEQUES - Passengers are respectfully advised that the Purser has no authority to accept private cheques in payment of accounts, or for exchange.
STENOGRAPHER - An experienced stenographer is available to undertake work for passengers. Apply to Information Bureau for rates.
LIFE BELTS - Life Belts are in all staterooms. Bedroom Stewards will explain method of attachment.
EMERGENCY STATIONS - Passengers are requested to consult plans and directions in alleyway for Emergency Stations,
PASSPORTS - Passengers travelling to or through the United States are requested to call at the Purser's Off.ee with their passports as soon as possible.
REFUND OF UNITED STATES HEAD TAX - Passengers who have paid United States Mead Tax and intend leaving the United States within sixty days of entry should so inform the U.S. Immigration Inspector at port of landing. That Officer will then, at his discretion, authorize the Purser to make immediate refund.
POSTAGE STAMPS - Postage stamps are on sale in The Shop. English or Canadian stamps may be used for mail posted at sea.
SUGGESTIONS - The Canadian Pacific invite suggestions for improvement of the service. Passengers are requested to make suggestions to the Captain. Purser or Chief Steward promptly, so that immediate attention may be given.
BAGGAGE, CABLES. MAIL. Etc.
STORING BAGGAGE - Trunks which passengers do not require in their staterooms during the voyage may be stored in the Baggage Room.
BAGGAGE LABELS, ETC.  - Labels and Tags may be obtained upon application to the Bedroom Steward. Baggage will be grouped alphabetically on arrival in the Customs Shed at the Canadian port, and passengers must attend personally to Customs examination. After passing Customs examination, baggage may then he checked, upon presentation of railway ticket, to inland destination.
BAGGAGE DELIVERY - Passengers who so desire may arrange prepaid delivery of their baggage direct to residences, hotels, railway stations and steamship wharves in or at the principal Canadian and United States cities. Application should be made to Baggage Checker in the Customs Shed.
BAGGAGE INSURANCE - Passengers are recommended to insure their baggage, as the Company's liability is strictly limited, in accordance with contract ticket. Baggage insurance can be arranged at any of the Company's offices or at Rail Traffic Office on board.
MAIL, CABLES AND TELEGRAMS EXPECTED - Passengers are requested to enquire for mail. They are also invited to leave their addresses at the Information Bureau, so that all undelivered mail, telegrams, etc., may be forwarded. Mad matter may be sent in care of any Canadian Pacific Office—see list on last page. Passengers are requested to note that the Company does not undertake to accept delivery of parcels in Great Britain and Northern Ireland, if the value of the contents is to be paid on delivery, unless prior arrangements are made. Mail and Tele- grants for Passengers at port of debarkation will be found in the Mail Booth in the Customs Shed.
MAIL. CABLES AND MESSAGES FOR DESPATCH - Mail, cables and wireless messages are accepted at the Information Bureau for despatch. Cablegrams and telegrams should be handed in at least an hour before arrival at any port of call. None of the ship's employees, other than those on duty in the Information Bureau, are authorized to accept letters, cables and telegrams for despatch.
WIRELESS TELEGRAMS - Information and rates will be furnished at the Purser's Bureau. The ship is fitted with wireless installation, permitting communication with both sides of the Atlantic at any time during the voyage. Attention is drawn to special facilities for cheap rates for ocean "poste" and ocean letters.
CUSTOMS REGULATIONS — CANADA
GENERAL - All baggage is subject to examination, and non-resident passengers are required to declare at port of landing all articles which do not constitute wearing apparel, articles of personal adornment, toilet articles or similar personal effects, in baggage, or on their persons, whether intended for own use or for others. When in doubt whether or not an article is liable to duty, it should be produced for examination.
RESIDENTS OF CANADA - Residents of Canada must declare all articles acquired abroad, contained in baggage, or on their persons, whether intended for personal or household use, or as souvenirs or gifts. Exemption will be allowed of such articles to the extent of $100 in value for each person, provided they are not bought on commission or as an accommodation for other persons or for sale, subject to the following:
A declaration form supplied by the Purser must be completed by each returning Canadian citizen, enumerating all articles acquired abroad on which it is the intention to claim exemption. In the case of a family travelling together each member must complete a separate declaration. Exemption will not be granted to any person under fourteen.
The declaration must be completed in duplicate.
A declaration need not be completed unless the total value of goods upon which exemption is to be chimed exceeds $5.
Important—For convenience, all new goods on which exemption is claimed should be packed in one receptacle, preferably a heavy piece of baggage.
All values should be shown in Canadian currency.
Declaration should be completed prior to arrival at port of landing and handed to officer at time of inspection.
TOURISTS' OUTFITS—TEMPORARY ADMISSION - Persons visiting Canada for a limited period of time, for health or pleasure, may bring with them such articles of tourists' outfits or sportsmen's equipment as they may require while in Canada for their own use and not for gain or hire, upon reporting same to the Customs Officer at the Canadian frontier port of entry.
THROUGH BAGGAGE - Passengers en route to destinations outside of (Canada may have their checked baggage forwarded "In Bond" to a frontier port under Customs Manifest, without examination.
SAMPLES - Samples such as carried by commercial travelers are required to be delivered to the Customs Officer for entry purpose, and invoice or statement in detail showing price—wholesale—of each sample as sold for home consumption. Such invoice or statement should be attested to by the traveler.
CUSTOMS REGULATIONS — UNITED STATES
UNITED STATES CUSTOMS - Inspectors are located at Canadian Atlantic Ports but are not permitted to collect dues. To avoid complications and payment of duties to Canadian Customs, citizens of U.S. returning from Europe should pack new goods purchased or otherwise acquired abroad in one or more receptacles which may be checked on landing and forwarded in bond to destination.
CHECKED BAGGAGE - Checked baggage not containing dutiable articles, or new goods in excess of the exemption to which the owners may be entitled, will be examined by the U.S. Customs Inspectors, and no further examination will be made at U.S. frontier or destination.
Such baggage is not examined by the Canadian Customs. Hand baggage should not contain dutiable articles, and will be examined by Canadian Customs on landing, and by U.S. Customs Inspectors on train at U.S. border.
Passengers for U.S. will be issued by Purser with U.S. Customs Baggage Declaration form for completion in duplicate, and for presenting to U.S. Customs Inspector at examination time. Values must be shown in U.S. currency.
RETURNING RESIDENTS - Returning residents of the U.S. must declare all articles acquired abroad, in baggage or on their persons, whether by purchase, gift, or otherwise, and whether dutiable or free of duty.
Exemption will be allowed by Customs Officers of articles aggregating not over fico in value, if for personal or household use or as souvenirs or curios, and whether intended for personal use of passengers or as gifts or presents to others, provided articles are not bought on commission for another person nor intended for sale.
Articles so exempt from duty must, nevertheless, be declared. Each member of family is entitled to exemption of $100 for articles purchased abroad, and when a husband and wife and minor and dependent children are travelling together articles may be grouped and allowance made to one member.
ARTICLES FROM ABROAD - Articles acquired abroad shipped from port of landing to destinations in U.S. by express, should be declared to U.S. Customs Inspector in charge at port of Landing, and also to Inspector on the train at U.S. border, for duty exemption to which owner may be entitled. Non-residents of United States destined to that country must declare all articles in baggage or on their persons which do not constitute wearing apparel, articles of personal adornment, toilet articles, or similar personal effects, WHETHER INTENDED FOR THEIR PERSONAL USE OR FOR OTHERS. THEY MUST ALSO declare all articles of wearing apparel, jewelry, and other articles of personal adornment, toilet articles and similar effects WHEN NOT OWNED BY THEM.
Professional books, implements, instruments, and tools of trade, occupation or employment, in actual possession of persons emigrating to United States, owned and used by them abroad, are admitted free of duty.