SS Empress of Scotland Passenger List - 14 August 1924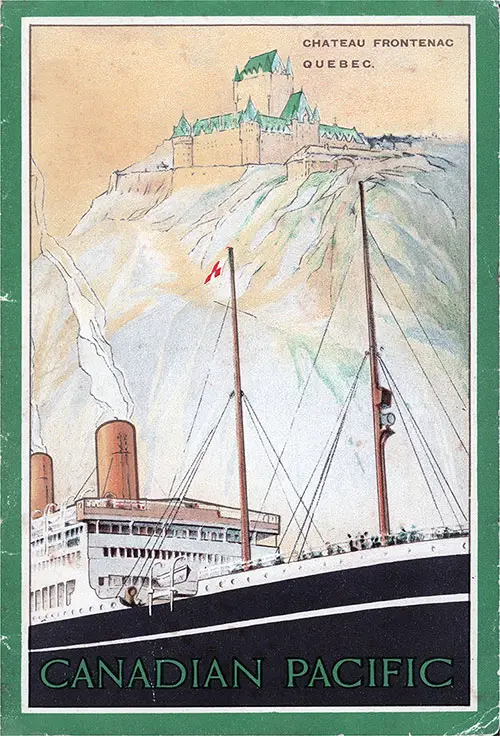 Front Cover of a Second Class Passenger List for SS Empress of Scotland of the Canadian Pacific Line (CPOS), Departing Thursday, 14 August 1924 from Hamburg to Quebec via Southampton and Cherbourg, Commanded by Captain J. Gillies. GGA Image ID # 158b567cef
Senior Officers and Staff
Captain J. GILLIES, C.B.E., Commander
Staff Captain R. N. Stuart, V.C., 0.5.0., R.N.R
Chief Officer C. H. SAPSWORTH
Chief Engineer A. E. PHILP
Purser J. Walker BARTLEE
Surgeon D. B. S. Jones
Chief Steward L. GEDDES
Conductress Miss K. M. RAVE
Rail Lines Ticket Agent GEO.,G. Graham
Second Class Passengers
Abercrombie, Mrs. Mary
Vancouver, B.C
Abercrombie, Miss Mildred
Vancouver, B.C
Abraham, Mr. John
Toronto, Ont
Ades, Mr. Saul
Cairo, Egypt
Ades, Mr. Nessim
Cairo, Egypt
Aladjadjian, Miss Isgouhi
Constantinople, Turk
Allen, Dr. John
Buffalo, N.Y
Anderson, Mrs. T.
Vancouver, B.C
Anderson, Mast. Conway
Vancouver, B.C
Anderson, Mast. Rex
Vancouver, B.C
Arscott, Mrs. Ethel
Crediton, Eng
Arscott, Miss Barbara
Crediton, Eng
Aubrey, Rev. Edwin
Dodgeville, Wis
Aubrey, Mrs.
Dodgeville, Wis

Bailey, Mrs. M.
London, Eng
Barling, Mr. F.
London, Eng
Barling, Mrs.
London, Eng
Barling, Mast, D.
London, Eng
Bastard, Miss Mary
St. Teath, Eng
Bennett, Mrs. Henry
---
Berman, Mr. M. E.
Aurora, III
Bingham, Mrs. E.
---
Bird, Mr. Charles
Toronto, Ont
Bird, Mrs.
Toronto, Ont
Bishop, Miss May
Stratton, Ont
Blostein, Mr. M.
Kovno, Lith
Bluzat, Mr. C.
Oak Park, Ill
Bluzat, Mrs.
Oak Park, Ill
Bonnice, Mr. Michael
Ottawa, Ont
Boden, Miss M.
London, Eng
Brickner, Rev William
Columbus, Ohio
Brickner, Mrs.
Columbus, Ohio
Brix, Mrs. Albert
Portland, Ore
Brown, Mrs. E.
Toronto, Ont
Brown, Miss Evelyn
Toronto, Ont
Brown, Mr. Samuel
Moose Jaw, Sask
Brownlow, Miss Edith
Toronto, Ont
Brunn, Mr. R.
St. Louis, Mo
Bryden, Miss Winona
London, Ont
Bryden, Miss Lydia
London, Ont
Burrage, Mrs.
Montreal, Que
Burrage, Mast Carroll
Montreal, Que
Butler, Mr. John
Lakewood, Ohio
Butler, Miss Dorothy
Lakewood, Ohio
Byrne, Miss S.
---
Calder, Miss Elizabeth
Drurnbo, Ont
Campbell, Dr. John
St. Paul, Minn
Candy, Mr. Kenneth
Vancouver, B.C
Candy, Mrs.
Vancouver, B.C
Candy, Mast. Richard
Vancouver, B.C
Candy, Miss Sheila
Vancouver, B.C
Carlsson, Miss Anna
Gothenburg, Sweden
Carey, Mr. Arnold
Marywood, Ill
Carey, Mrs.
Marywood, Ill
Carroll, Miss Winifred
Newcastle, Eng
Carson, Archdeacon Charles
Morrisburg, Ont
Carson, Mr. Thomas
Portadown, Ire
Carson, Mr. Thomas, Jr.
Portadown, Ire
Carson, Mr. Robert
Portadown, Ire
Carter, Miss Eva
Toronto, Ont
Centilli, Mrs. J.
Grand Rapids, Mich
Centilli, Miss R
Grand Rapids, Mich
Chamberlin, Miss E Merle
Toronto, Ont
Chamberlin Miss Florence
Toronto Ont
Champagne, Rev. Arsene
Colombiere, Fr
Chapolard, Mr. Pierre
Reyrieux, Ain, Fr
Chapolard, Mrs. Pierre
Reyrieux, Ain, Fr
Chapolard, Miss L.
Reyrieux, Ain, Fr
Christiansen, Mr. Carl
Aalborg, Den
Clark, Miss A.
London, Eng
Clarke, Miss Janet
Harriston, Ont
Clarke, Miss Katherine,
Moncton, N.B
Clements, Mrs. H.
---
Coffman, Mrs.
Omaha, Nebr
Coombs, Miss Winifred
London, Ont
Coster, Mrs. T.
Toronto, Ont
Coulthard, Mr. William
London, Eng
Cowan, Miss Freda
Birmingham, Eng
Cowling, Mr. D.
---
Creswell, Mrs.
Lachute, Que
Dacey, Mr. D.
---
Dacy, Mrs. K.
London, Eng
Dale, Mr. Frank
Winnipeg, Man
Dale, Mrs.
Winnipeg, Man
Dale, Mast. Allen
Winnipeg, Man
Dale, Mast. Munroe
Winnipeg, Man
Dale, Miss Cathleen
Winnipeg, Man
Dale, Mast Kenneth
Winnipeg, Man.

Dash, Mr. William
Calgary, Alta
Dash, Mrs.
Calgary, Alta
Dash, Miss Kathleen
Calgary, Alta
Dash, Mast. Stanley
Calgary, Alta
Davidson, Dr. Alexander
Buffalo, N.Y
Davy, Mr. Frederick
Toronto, Ont
Deflotriere, Rev. Abbe
Lyon, Fr
De Jaroszynski, Mr. Alexander
Warsovia, Pol
Dennis, Mrs. Annie
Moosomin, Sask
Dennis, Mast. Wilfred
Moosomin, Sask
Dennis, Mast. Leonard
Moosomin, Sask
Dill, Miss J.
---
Dobson, Mr. Frank M.
Philadelphia, Pa
Dorey, Mr. Joshua
Jersey, C.I
Dorey, Mrs.
Jersey, C.I
Doushkess, Mr. 1.
Montreal, Que
Dugre, Rev. Alexandre
Paray-le-Monial, Fr
Dunnet, Mr. George
Redcliffe, Alta
Dunnet, Miss Marion
Redcliffe, Alta
Dunstan, Mr. James
Wendthirst, Sask.

Eastes, Mr. Neville
Medicine Hat, Alta
Eastes, Mrs.
Medicine Hat, Alta
Eastes, Mast. Claude
Medicine Hat, Alta
Ehlers, Mr. Arnold
Salt Lake City, Utah
Elliott, Mr. F.
Toronto, Eng
Elliott, Mrs.
Toronto, Eng
Embden, Mr. Henri
Arnhem, Holl
Enright, Miss A.
---
Ferguson, Miss Mary
---
Floyd, Capt. Alfred
London, Eng
Forbes, Miss Jean
Detroit, Mich
Foley, Mr. R.
---
Foley, Mrs. R.
---
Fowler, Miss Alice
Toronto, Ont
Fraleux, Rev. Bro. P. Marie
Laprairie, Que
French, Miss Irene
Thedford, Ont
Friend, Mrs. Fredrick
Coburg, Ont
Fussell, Mr. Lewis
Swarthmore, Penna
Fussell, Mrs. Margaret L.
Swarthmore, Penna
Galoska, Mrs. Arthur
New Liskeard, Ont
Garland, Mr. Hamlin
New York, N.Y
Gauchat, Mr. P. M.
Cleveland, Ohio
Gear, Mrs. Jennie
Erin, Ont
George, Miss Annie
Toronto, Ont
Giles, Mr. John
Lachute, Que
Giles, Mrs.
Lachute, Que
Gould, Mrs. C.
North Bay, Ont
Gorcy, Mr. Emile
Montreal, Que
Gorcy, Mrs.
Montreal, Que
Gottenberg, Mr. J. S.
New York, N Y
Graham, Miss Vera
Winnipeg, Man
Grant, Miss Christina
Winnipeg, Man
Gaunt, Mr. John Win.
Montreal, Que
Grundy, Mr. Frank
London, Eng
Harris, Mrs. Alfred
Kenora, Ont
Hauser, Miss Anna
Roggwil, Switz
Hawker, Miss May
Sutton, Ont
Heiser, Mr. Benjamin
Richmond, Ind
Heyes, Miss Lorrie
London, Eng
Hillman, Mrs. C.
Cassel, Gmy.
Hillman, Miss M.
Cassel, Gmy
Hillman, Miss C
Cassel, Gmy
Hillman, Miss R.
Cassel, Gmy
Hipkin, Mr. Thomas
Earl Grey, Sask
Hockwood, Mrs. Eliza
Toronto. Ont
Hodges, Mr. Herbert
Detroit, Mich
Hodges, Mrs.
Detroit, Mich
Hoffman, Mrs
Calexico, Cal
Hofer, Mr. Henry
Salt Lake City, Utah
Hood, Mr. Francis
North Prairie, Wis
Hood, Miss Eva
North Prairie, Wis
Hoston, Miss Retta
Vancouver, B C
Huber, Mr. W. Villers
Suize, Fra
Hughes, Dr. James
---

Ivraite, Miss L.
Kovno, Lith
Jacklin, Mr' Ernest
Winnipeg, Man
Jacklin, Mrs.
Winnipeg, Man
Jackson, Mrs. Ada
Hull, Eng
Jackson, Mrs. Henrietta
London, Ont
Jackson, Miss Lillie
London, Ont
Jackson, Miss Annie
Toronto, Ont
Jakubiak, Miss Josepha
Hugoborz Lonna, Pol
Jamieson, Miss Jessie
Buffalo, N.Y
Jastrzebski, Rev. Michael
Noeux-les-Mines, Fr
Jenkins, Mr. Charles
Richmond, Incl
Jenkins, Mr. Russel
Richmond, Ind
Jones, Mrs. M.
San Jose, Cal
Jones, Miss Florence
Toronto, Ont
Jones, Mr. Caradoe
Chicago Heights, Ill
Jones, Mrs
Chicago Heights, Ill
Jones, Mast. Howard
London, Eng
Jones, Miss L
London, Eng
Joyce, Mr. Frederick
Detroit, Mich
Joyce, Mrs.
Detroit, Mich
Joyce, Mast. William
Detroit, Mich
Joyce, Mast. Harry
Detroit, Mich
Karppinen, Mr. O.
Helsingfors, Fin
Karppinen, Mr. M.
Helsingfors, Fin
Kaufmann, Miss Marie
Omaha, Nebr
Keith, Mrs. Lilian
Toronto, Ont
Kerr, Miss Jennie
Milverton, Out
Kerr, Miss Margaret
Milverton, Ont
Keyse, Mr. St. John
Los Angeles, Cal
Keyse, Mrs.
Los Angeles, Cal
King, Miss Mildred
Toronto, Ont
Knox, Miss Bertha
Toronto, Ont
Kopp, Miss Yvonne
Zurich, Switz
Koller, Mr. Anton
St. Gall, Switz
Kraft, Mr. F.
Bretzenheim, Gmy
Kuebler, Mr. Charles
Berne, Switz
Kuebler, Mrs. Gertrud
Berne, Switz
Laird, Mr. John
Kelowna, B C
Lansberry, Mrs. C.
Moose Jaw, Sask
Lansberry, Miss Reva
Moose Jaw, Sask
Lansberry, Miss Betty
Moose Jaw, Sask
Lanza, Mrs. V.
New York, N.Y
Lanza, Mr. V.
New York, N.Y
Latreille, Mr. Alfred
Saint Mande, Fr
Laughlin, Miss Ruby
Caledon, Out
Lefevre, Rev. Bro. Jules
Laprairie, Que
Leiblick, Miss Annie
London, Eng
Letourneau, Mr. Omer
Quebec, Que
Letourneau, Mrs. Omer
Quebec, Que
Lewis, Mr. E. B.
Aurora, Ill
Liddell, Miss I.
-----
Long, Mr. Frederick
Medicine Flat, Alta
Long, Mr. Arthur,
Hamilton Ont
Long, Mrs.
Hamilton, Ont
Low, Mrs. E.
Aulmdorf, Gmy
Low, Mr. Z.
Aulmdorf, Gmy
Low, Miss J.
Aulmdorf, Gmy
Lux, Mr. George
Detroit, Mich
Lux, Mrs.
Detroit, Mich
Lux, Mast. George
Detroit, Mich
Lyne, Miss Marion
St. Martin, Eng
MacDuffie, Miss B.
---
Mahmoud, Mr. C.
Lomard, Alta.

Mailloux, Mr. Donat
Tilbury, Ont
McAuley, Miss Lillie
Winnipeg, Man
McCartney, Miss Lila
Toronto, Ont
McClelland, Capt. Harold
Oceanport, N J
McCracken, Miss Carrie
Toronto, Ont
McEwen, Miss Mamie
Toronto, Ont
Merlo, Mr. Louis
Windsor, Ont
Merlo, Mrs.
Windsor, Ont
Merlo, Mast. Louis
Windsor, Ont
Metcalfe, Mr. Fred.
Burks Falls, Ont
Miller, Mrs. H.
Vancouver, B.C
Miller, Miss H. M.
Vancouver, B.C
Mitchell, Miss Mary
London, Ont
Molloy, Miss Lula
Thedford, Ont
Morin, Miss Jeannette
Toronto, Ont
Morin, Miss Lucy
Toronto, Ont
Muller, Mr. E.
Dietschweiler, Gmy
Murdoch, Mr. John
London, Eng
Murdoch, Miss Mary
London, Eng
Narbonne, Miss Juliette
Montreal, Que
Nelson, Miss H.
---
Norton, Mrs. Florence
Newton Centre, Mass
Norton, Miss Lucile
Newton Centre, Mass
O'Conner, Mr. T. J.
Calgary, Alta
O'Conner, Mrs.
Calgary, Alta
Orrett, Mr. C.
Sydney, N.S.W
Page, Miss H.
Toronto, Ont
Palluth, Mr. P.
Chicago, Ill
Palluth, Mrs. M.
Chicago, Ill
Parkin, Mr. George
Springfield, Ill
Parkin, Mrs.
Springfield, Ill
Patterson, Miss Elizabeth
Toronto, Ont
Patterson, Miss Joanna
Toronto, Ont
Perrett, Mr. William
Detroit, Mich
Patterson, Miss Annie
Toronto, Ont
Pettigrew, Miss M.
---
Pfeifer, Mr. John
Lemberg, Sask
Pfeifer, Mrs.
Lemberg. Sask
Plumbridge, Miss Annie
Quebec, Que
Prentice, Miss Jean
Toronto, Ont
Quick, Mr. Edward
Youngstown, Alta
Quick, Mrs.
Youngstown, Alta
Quick, Mast. Teddy
Youngstown, Alta
Quick, Mast. Victor
Youngstown, Alta
Quick, Miss Elsie
Youngstown, Alta
Rae, Mr. A.
Sydney, N'S.W
Rae, Mr. G.
Sydney, N.S.W
Ramsay, Miss Marjory
Glasgow, Scot
Retson, Mr. Charles
Winnipeg, Man
Roditti, Miss Rebeca
Cairo, Egypt
Roditti, Mast. Salamon
Cairo, Egypt
Roditti, Mast. Joseph
Cairo, Egypt
Royle, Mr. Eustace
Toronto, Ont
Royle, Mrs.
Toronto, Ont
Roy, Mr. Anthyne
Quebec, Que
Roy, Mr. Joseph
Quebec, Que
Ruthven, Mr. Harry
Toronto, Ont
Ruthven, Mrs.
Toronto, Ont
Saad, Mr. T.
Lomard, Alta
Saunders, Miss Grace
Toronto, Ont
Scheiflcy, Mr. W. H.
Bloomington, Indiana
Schreiler, Mr. A G.
Kitchener, Ont
Seagrove, Miss Beatrice
London, Eng
Shaw, Mrs. R.
---
Shephard, Mr. Sydney
Detroit, Mich
Shephard, Mrs.
Detroit, Mich
Shorney, Mr. John
Detroit, Mich
Shoult, Mr. William
Kennedy, Sask
Sibley, Mr. G.
London, Eng
Simpson, Mr. Ross
Philadelphia, Pa
Skuce, Mr. Lorne
Sundridge, Ont
Skues, Mr. Eric
Sowerby Bridge, Eng
Skues, Mrs.
Sowerby Bridge, Eng
Smart, Miss Helen
London, Eng
Smith, Mr. H.
---
Smith, Mrs. M.
Calgary, Alta
Smith, Miss D.
Calgary, Alta
Smith, Mrs. Elizabeth
Vancouver, B.C
Sonley, Miss Pearle
Whitby, Ont
Stacey, Mr. Aleck
Slough, Eng
Stacey, Mrs.
Slough, Eng
Steffen, Mr. H.
Hamburg, Gmy
Steffen, Mrs. M.
Hamburg, Gmy
Stevenson, Mr. Albert
Port Arthur, Ont
Stevenson, Mr. J.
Sydney, N.S.W
Stephenson, Mrs. Alfred
Moose Jaw, Sask
Stephenson, Miss Zena
Moose Jaw, Sask
Stephenson, Miss Thora
Moose Jaw, Sask
Stewart, Dr. James
Toronto, Ont
Swanson, Mr. Magnus
Chicago, Ill
Swanson, Mrs.
Chicago, Ill
Swanson, Miss Marion
Chicago, Ill
Sweet, Miss Sadie L.
Worcester, Mass
Tario, Miss Mattie
Pembroke, Ont
Tate, Mr. Daniel
Toronto, Ont
Tait, Mrs. Margaret
Toronto, Ont
Teskowitz, Mr. G.
Berlin, Gmy
Teskowitz, Mrs. A.
Berlin, Gmy
Teskowitz, Miss I.
Berlin, Gmy
Thomas, Mrs. A.
---
Thorne, Mr. Sydney
London, Ont
Thorne, Mrs.
London, Ont
Thorne, Miss Louise
London, Ont
Thrupp, Miss Clara
London, Eng
Tiley, Miss Mary
Winnipeg, Man
Titman. Mrs. E.
London, Eng
Trotman, Mr. Hubert
Sydney, N.S W
Upsall, Miss Mattie
London, Ont
Van Wagenen, Mr. G.
Provo, Utah
Vaughan, Mrs.
Magog, Que
Vaughan, Miss Myrtle
Magog, Que
Wandelmaier, Mrs. E.
Baden, Giny
Wandelmaier, Miss G.
Baden, Gmy
Wares, Mrs.
Toronto, Ont
Watkins, Mr. Ernest
London, Eng
Watkins, Mrs.
London, Eng
Watkins, Miss Sheila
London, Eng
Weeks, Mr. Edwin
Kansas City, Mo
Weeks, Mrs.
Kansas City, Mo
Weldon, Mr. Mark
Uxbridge, Ont
Weldon, Mrs.
Uxbridge, Ont
Whiteman, Mr. Hubert
San Jose, Cal
Whiteman, Mrs.
San Jose, Cal
Williams, Mr. G.
Shanawan, Man
Williams, Mrs.
Shanawan, Man
Williams, Mast George
Shanavkii, Man
Williams, Miss Grace
Toronto, Ont
Williams, Mrs. Phoebe
---
Williams, Miss Josephine
London, Eng
Williamson, Mrs. F.
Hamilton, Ont
Williamson; Mast. John
Hamilton, Ont
Wilson, Miss Edith
Exeter, Eng
Information for Passengers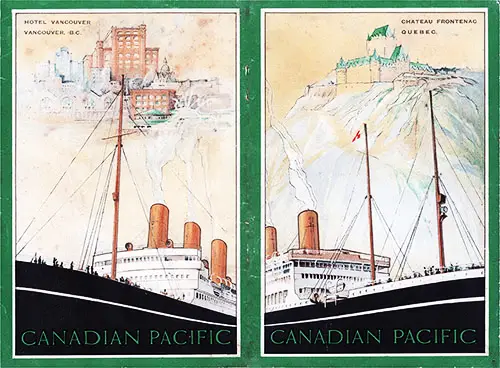 Front and Back Covers for the 14 August 1924 Second Class Passenger List of the SS Empress of Scotland. GGA Image ID # 158b84f334
Meal Times
When One Sitting Only
Breakfast: 8:30 am
Luncheon: 1.30 pm
Dinner: 7:00 pm
When Two Sittings
Breakfast: 8:00 am and 9:00 am
Luncheon: 12:30 pm and 1:30 pm
Dinner: 6:00 pm and 7:00 pm
Breakfast not served in the Dining Saloon after 10 o'clock.
Children served at first sitting only. Children not permitted in Public Rooms after 8:00 pm unless paying adult fare.
Table Seat Numbers.—Passengers obtain table seat numbers from Second Steward or Head Waiter in the Dining Saloon.
Breakfast bugle not sounded when only one sitting. Passengers should inform Bedroom Steward when they desire to be called.
Afternoon Tea is served at 4:00 pm on Deck and in Public Rooms; children served in the Dining Saloon.
Smoking is permitted in the Dining Saloon after the last sitting at Luncheon and Dinner, but not at Breakfast, the first sitting at Luncheon or the first sitting at Dinner.
Orchestra in the Lounge 10:30 am to 11:30 am
Lights extinguished in Dining Saloon 11:00 pm, Lounge 11:30 pm, Smoking Room at midnight.
Bar closes midnight Westbound, and 11:00 pm Eastbound.
Deck Chairs rented at $i.00; Rugs at $1.50. Apply to Deck Steward.
Baths.—Arrange with Bedroom Steward time desired.
Valuables and Money may be placed in the Purser's safe. Envelopes are provided which Passengers will seal and sign. As no charge is made, the Company assumes no responsibility for loss or damage, however arising.
Berthing of Passengers.—No alteration can be made except through Purser.
The Shop sells postal cards, stamps, candies, cigars, cigarettes, tobacco, pipes, magazines, toys and novelties.
Stamps.—British or Canadian postage stamps may be used.
Divine Service in Dining Saloon at 10:45 am Sunday.
Surgeon is authorized to make customary charges, subject to the approval of the Commander, for attending Passengers, at their request, for illness not originating on board. In case of sickness contracted on board no charge is made and medicine is provided free.
Money Exchanged.—Purser will exchange a limited amount of English, French, Belgian, Canadian and American money.
Wireless Telegrams.—Information and rates furnished at Purser's Office.
Telegrams and Cables.—Canadian Pacific Telegraph representatives meet all ships on arrival to ensure prompt transmission of Passengers' telegrams and cables.
Passengers' Mail.—Passengers are urgently requested to enquire for mail at Purser's Office on arrival and leave forwarding address.
Passengers traveling to or through the United States are requested to call at Purser's Office with their Passports as soon as possible.
Railway Ticket Ofllee.—To facilitate landing arrangements all Passengers should call at the Railway Ticket Office on board for railway tickets and sleeping car reservations.
Lifebelts.—In State Room; Bedroom Steward will explain method of attachment.
Emergency Stations.—Consult plan and directions in alley way.
French Speaking Staff.—For the convenience of French Speaking Passengers the Ship's Company includes Stenographers, Stewards and Stewardesses, who are conversant with the French Language. These may be- distinguished as follows :-
Stenographers.—Red shoulder tabs on dress.
Table Stewards.—Red collar on their uniform jackets instead of a blue collar.
Bedroom Stewards.—Red collar fitted to their white jackets.
Stewardesses.—Red turn back on cap.
Complaints.—Passengers are requested to report complaints to the Commander, Purser or Chief Steward promptly, so that immediate attention may be given.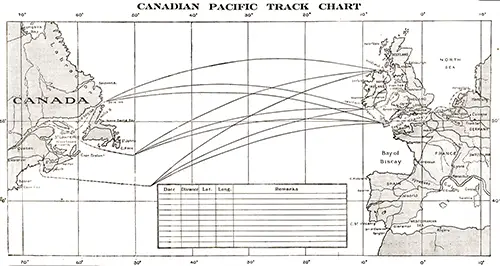 Railway Ticket Office.
A Railway Ticket Office is located on hoard this steamship. The Ticket Agent in charge is at the disposal of Passengers to i furnish every assistance in connection with inland rail journey.
To facilitate landing arrangements at port of arrival it would be appreciated if Passengers would kindly note the following information and call at the Ticket Office as early as possible during the voyage.
Orders issued in Europe and calling for railway transportation from port of landing or otherwise are not good on trains, but require to he exchanged at the ship's Ticket Office for actual railway tickets
If passenger already holds railway ticket issued in Europe, attention is particularly directed to the necessity of having same stamped on hack, in space provided, prior to arrival at port of landing, as train conductors are not authorized to honor any unstamped tickets
Railway Tickets to all destinations in Canada and the United States may be purchased at the Ticket Office at special fares
Reservation of sleeping or parlour car accommodation for railway journey may be made in advance, on application to the ticket agent
Canadian Pacific Telegraphs
The telegraph system of the C.P.R. extends along the entire length of the railway, and reaches every point of importance off the line of railway in the Dominion of Canada.
The Commercial Cable Co. (Mackay-Bennett system) gives the C.P.R. the most direct connection with Europe, Asia and Africa.
Direct connection with the British Pacific Cable to Australia, New Zealand, etc.; the Commercial Pacific Cable to the Hawaiian Islands, Philippine Islands, China and Japan; and the Commercial Havana Cable to Havana, etc.
The Postal Telegraph Co. of New York and San Francisco enables the C.P.R. to reach all important points in the United States.
The Halifax-Bermuda and DIRECT West Indies Cable Co. gives connection with Bermuda, Jamaica and points in the West Indies.
Direct connection with the Dominion Government Telegraph Line to the Yukon and points in Alaska.
A tariff of charges for Telegrams is posted at all Telegraph Offices, and is kept by all Sleeping and Parlor Car Porters for inspection. Senders of messages are requested to compare the charges made with the rates on tariff.
To ensure quick despatch to all points, see that your telegrams are written on C.P.R. Telegraph Blanks and are handed in at C.P.R. Offices.
Dominion Express Company of Canada
Operating on all lines of the Canadian Pacific Railway and Ocean Services and other Railway and Steamship Companies, FORWARDERS of Merchandise, Money, Valuables, etc., promptly, carefully and at reasonable rates.
Money Orders, Foreign Cheques and Travellers' Cheques issued. Money transferred by Telegraph and Cable.
There is no better way of carrying your funds than in Dominion Express Travellers' Cheques. They are issued in denominations of $10, $20, $50, $100 and $200, and show on the face of each the amount you will receive in foreign money. They identify you and protect you against loss, and are accepted by Express Agents, Banks, Railway Companies, Hotels, etc.
Full particulars on application to any C.P.R. or Dominion Express Office.
Canadian Pacific Trans-Continental Express
The Trans-Canada Limited
TICKETING, Arrangements and TRAIN Services
The line of the Canadian Pacific Railway extends across Canada from St. John, New Brunswick, on the Atlantic Ocean, to the City of Vancouver on the Pacific Ocean, and Passengers are carried without change of cars from tidewater to tidewater. There is a frequent service of express trains to all parts.
Ticket Offices at important stations are open 30 minutes before departure of trains, and Passengers are requested to purchase tickets before entering cars. Passengers should always procure tickets at regular railway ticket offices, and ask for them via the Canadian Pacific Railway.
Canadian Pacific Railway train services from Quebec and Montreal, reach all important points in Canada, and connections are made for all points in the United States. For the convenience of Passengers arriving at Quebec, special trains are operated from ship's side connecting with regular trains for all important centres in Canada and United States.
Time tables giving the schedules of all regular trains, and the equipment of the more important trains, may be obtained from Canadian Pacific Railway Ticket Agent on board.
The Ticket Agent on Ship will exchange passage ticket orders, sell railway tickets to all destinations, and stamp all railway tickets issued in Europe, make reservations in sleeping cars, and when requested will prepare itinerary for rail journey and make arrangements with the Shore staff to complete sleeping car and hotel reservations at desired stop-over points.
Department of Colonization and Development
The Canadian Pacific Railway has established a Bureau of Canadian Information as a branch of its Department of Colonization and Development, with the object of disseminating reliable and up-to-date information as to agricultural and industrial openings in all parts of Canada.
Western Canada Farm Lands.
The Company has yet for sale several million 'acres of choice farm lands in Western Canada, at low prices and on long terms of payment. In certain districts lands will be sold without settlement restrictions, but the Company is prepared to grant special concessions to those who will settle upon and develop their farms.
Eastern Canada Farm Lands.
Lists of selected improved farms available for settlement in Ontario, Quebec, and the Maritime Provinces, with the names and addresses of their owners, may be obtained on application at any office of the Department.
Industrial Investigation and Research.
Investigations, looking to the utilization of undeveloped natural resources and waste products and new industrial processes, are being carried on by the Research Section of the Department. Inquiries as to promising fields for investigation in this connection are invited.
Industrial Openings,
Reliable information as to sites for new industries in all parts of Canada, and of special business openings in the growing towns and cities along the lines of the Canadian Pacific Railway in both Eastern and Western Canada, will be gladly furnished on request.
Canadian Intelligence Service.
Well-equipped Canadian reference libraries have been established by the Department at Montreal, New York, Chicago, and London, England. These libraries contain the fullest information on all matters relating to Canada and her undeveloped resources, and are kept supplied with the latest information pertaining to new developments through the medium of a news service organized through the co-operation of the other departments of the Company's service. The information on hand in these libraries is available without charge to those interested, and inquiries addressed to any office of the Department will receive prompt attention,
Further information and particulars can be obtained from the Department of Colonization and Development, Canadian Pacific Railway, which maintains offices at Windsor Street Station, Montreal, P.Q., Winnipeg, Man., Calgary, Alta, and London, Eng.