SS Empress of France Passenger List - 18 August 1928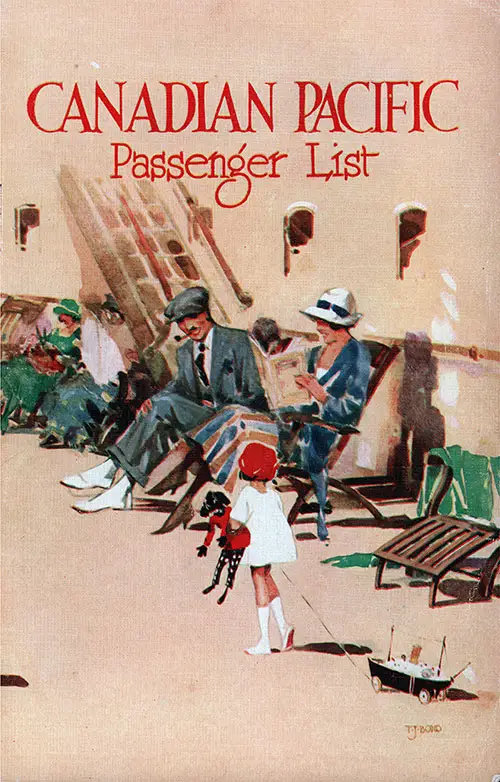 A Colorful Watercolor Painting of a Deck Scene Decorates This Front Cover of a Tourist Third Cabin Passenger List for the SS Empress of France of the Canadian Pacific Line (CPOS). The Ship Departed Saturday, 18 August 1928, From Southampton to Quebec via Cherbourg, Commanded by Captain E. Griffiths, RNR. GGA Image ID # 15832af4a9
Senior Officers and Staff
Commander: Capt. E. Griffiths, R.N.R.
Staff Captain: W. B. Coyle, R.N.R.
Chief Officer: A. C. Hague
Chief Engineer: R. G. Hughes
Purser: P. C. Owen Stanton
Surgeon: W. P. Peake, M.R.C.S., L.R.C.P.
Chief Steward: L. F. Moss
Conductress: Miss M. Stericker
Rail Lines Ticket Agent: K. H. Ott, Office on Deck E Square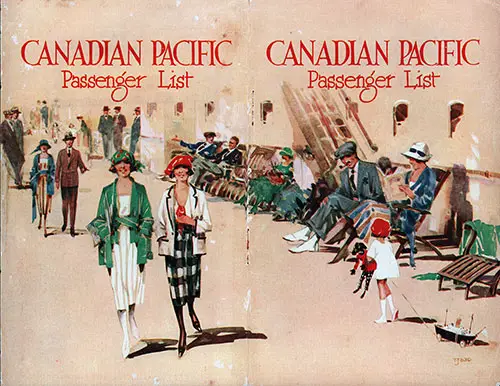 Front and Back Covers Combine for a Lively and Colorful Deck Scene Onboard the SS Empress of France. This Adorned the 18 August 1928 Passenger List for Tourist Third Cabin Passengers. GGA Image ID # 15839d80f5.
Tourist Third Cabin Passengers
Mr. H. Aldous
Miss Isabella M. Allen
Mr. H. T. Allison
Rev. G. F. Andree
Mr. M. Aronson
Mrs. Aronson
Master L. Aronson
Miss E. Aronson
Mr. O. W. Atkins
Miss A. E. Bain
Mr. John A. Balls
Mrs. Henriette Bally
Miss J. Banks
Mr. G. Barber
Mrs. Barber
Miss Susanne Bardou
Miss Yvonne Bardou
Mrs. Gertie Barley
Mr. C. G. Barrett
Mr. D. Basford
Mrs. Basford
Master B. Basford
Miss P. Basford
Miss V. Basford
Mr, Elmar Batchelor
Mr. E. N. Bergstrom
Mr. S. Biggs
Miss T. Bochek
Miss Helen Boer
Mde. J. Bogaert
Miss A. Bogaert
Mr. O. W. Boothman
Mrs. Boothman
Master O. Boothman
Miss Agnes Boss
Mr. E. A. Boyce
Miss Mary Bragington
Miss E. M. Braun
Miss Alma Braun
Miss E. Bray
Mr. W. Brendon
Mrs. Brendon
Master J. Brendon
Master K. Brendon
Mrs. Catherine Brennan
Miss Jessie M. Brewer
Mrs. A. M. Bright
Dr. A. H. Brown
Miss A. B. Brown
Miss Marguerite Brown
Miss R. Brown
Miss I. M. Bulley
Mrs. C. F. Burk
Mr. E. R. Caffyn
Ch. Jean Caisse
Miss Florence M. Cameron
Miss Mabel Cameron
Miss E. Cameron
Mr. Martin F. Carroll
Mr. William Neil Carter
Mrs. L. Casper
Miss G. M. Cavell
Sister Marguerite Cestron
Mr. G. V. Chapin
Mrs. Chapin
Mr. Guy S. Claire
Mrs. Claire
Mrs. C. B. Cliff
Miss D. J. Cliff
Miss R. J. Collis
Mrs. W. J. Cooper
Rev. Harold Cooper
Mrs. B. D. Corbett
Mr. A. A. Cordrey
Mrs. L. Courture
Rev. W. Cowans
Mrs. Mary Carpenter Craig
Miss E. Cranford
Miss M. Curtis
Miss I. M. Dale
Mr. jean David
Archdeacon G. F. Davidson
Mrs. A. Davis
Mrs. Lloyd Davis
Miss E. M. Day
Miss L. E. Deike
Miss V. Deike
Mrs. J. Dickison
Miss Helen S. Dignan
Mrs. E. Dieflenbacher
Mrs. L. K. Docter
Miss A. Docter
Mrs. M. H. Donnan
Master E. C. Donnan
Master B. C. Donnan
Mr. W. Douglas
Mrs. Douglas
Miss S. Douglas
Miss J. Douglas
Mrs. P. Drouin
Mast. P. Drouin
Mr. A. Dubuc
Prof. J. D. Dufour
Mrs. Dufour
Miss Josephine Dunbury
Mrs. A. Dupont
Miss Alice Dupont
Miss Francesde Percier Ebbitt
Mr. G. Edwards
Mrs. Edwards
Master G. Edwards
Miss Elise M. Edwards
Miss Ruth Efird
Mr. George Emeny
Mr. P. Empson
Mrs. C. Evans
Miss M. E. Evans
Dr. Roy A. Falles
Mrs. Falles
Dr. Arthur A. Feldman
Mrs. Feldman
Mr. Simon Feidman
Mrs. M. Fire
Miss J. Fire
Miss M. I. Folckemer
Miss E. Foster
Miss Marie L. Fowler
Miss Bonny Frankenberg
Mr. R. Frank
Mrs. Frank
Miss E. Fraser
Miss Harriette Freeman
Miss Helen K. Garry
Miss Margaret Garvey
Miss M. W. Gibbs
Mr. L. A. Gibson
Mrs. Mary C. Gildersleeve
Miss Wilma E. Gildersleeve
Mrs. May S. Gill
Mrs. Leola Gillespie
Mrs. Susanne Glenat
Miss G. Glover
Mr. A. Godwin
Mrs. Godwin
Mr. T. G. Gould
Mrs. Gould
Mr. S. R. Granger
Mr. Emil Granger
Mrs. Bertha Granger
Sister Emma Gratton
Miss M. Grayson-Smith
Mr. W. Greer
Miss Margery Griffith
Mrs. G. L. Gunsolly
Miss M. L. Gunsolly
Mr. E. Hallett
Mrs. Hallett
Mr. C. Hansen
Mrs. Hansen
Mrs. L. Harding
Miss R. Harnischmacher
Mr. Donald Harker
Mr. Ertle Leslie Harrington
Miss Elisabeth H. Haskell
Miss S. H. A. Hayward
Mrs. J. Hazlett
Mr. H. Heilyer
Mrs. Heilyer
Miss J. Hess
Miss Mary Hevenor
Miss E. M. Hick
Miss A. M. E. Hill
Mrs. Elisabeth Hoffmann
Miss E. Holgate
Dr. Paul E. Holubek
Mrs. Holubek
Mr. jack A. Huggett
Mr. W. M. Hughes
Miss Edna L. Hyneman
Miss B. Ingraham
Miss M. Izant
Miss K. L. Jacobus
Dr. G. James
Miss I. L. James
Miss Jeanette Jennings
Miss E. Jerrell
Dr. Josephine Kable
Miss Elfrieda Kastner
Mr. George H. Keeler
Mrs. Keeler
Miss Elisabeth Keeler
Mrs. J. W. Kellett
Miss F. J. Kellett
Miss Nancy F. Kennedy
Miss Nettie R. Kirsch
Mr. J. Knox
Mr. G. W. Kramer
Miss Dorothy Krause
Miss H. La Barriere
Sister Aurore Lagrandeur
Miss A. Langford
Mr. G. Larsen
Mrs. Larsen
Miss M. Lawrence
Rev. H. Lecoq
Mrs. J. A. Ledger
Miss Margary K. Lee
Mrs, Nellie Leehan
Miss Jeanne Le Moigne
Mr. R. Lenaerts
Mrs. Lenaerts
Master J. Lenaerts
Miss Sara E. Lewis
Mrs. W. J. Linford
Mr. Edgar S. Linton
Mrs. Henry Burrough Lloyd
Miss Helena Lukens
Mrs. U. N. MacDonnell
Mr. B. W. MacDonnell
Mrs. B. E. Machin
Miss H. Machin
Mr. Donat D. Mailloux
Mr. Sol. Marks
Mr. F. Marrington
Mrs. Marrington
Miss E. B. Matz
Mrs. Mary A. Mawby
Mr. G. R. McConvry
Mrs. Mary McCracken
Miss Elisabeth McCracken
Mr. John McCracken
Mr. G. McFarlane
Miss A. C. McGinnis
Miss M. McCubbin
Miss C. McKay
Miss E. McKee
Mrs. Lena D. McLain
Miss Ruth McNerney
Mr. Archibald H. McVicar
Mr. Robert A. McVicar
Mrs. McVicar
Miss Dorothy Mertz
Miss Dolores Mertz
Mrs. A. Messelin
Mrs. E. H. Mitchell
Mr. Victor C. Miller
Mrs. Miller
Mrs. Frank King Miller
Mrs. F. M. Mills
Miss G. A. Mills
Miss Nellie K. Mohr
Mr. R. H. Montgomery
Mr. A. J. Moore
Mr. J. F. Moore
Miss N. K. Morris
Mr. E. H. Morrison
Mr. Wm. Brown Morrison
Mr. H. Munro
Mrs. Munro
Mr. P. W. Murray
Mrs. Murray
Mrs. B. Musselman
Miss N. Musselman
Miss S. W. Neher
Mr. F. Newman
Mrs. H. Newman
Miss L. Newman
Miss B. M. Nichols
Mrs. W. R. Nichols
Miss F. C. Noble
Mrs. H. Norman
Miss Virginia Nunez
Miss O. Nye
Mrs. K. Oram
Miss E. M. Osborne
Mrs. H. W. Oxenham
Mr. B. Pagrotsky
Mr. J. Patterson Jr.
Miss L. A. Patterson
Miss Florence Pearson
Miss Esther Pearson
Miss Fannie G. Pease
Miss B. L. Pederson
Miss I. N. Pederson
Mrs. M. A. Perrin
Master B. Perrin
Master D. Perrin
Miss J. Perrin
Miss H. Perrin
Miss Georgia Perry
Mr. N. P. Petersen
Mrs. E. Phillips
Mrs. Kate Mc. Pickering
Mr. G. H. Pink
Mrs. M. E. E. Pink
Mr. B. A. Poulter
Mr. C. H. Powell
Mr. F. Powerman
Mrs. Martha K. Pratt
Miss Beatrice Preston
Mrs. S. Purser
Mrs. Sarah Quasser
Miss Judith Quasser
Sister Marie Raquin
Miss Agnes Reeda
Mr. C. Recs
Mrs. A. A. Reeves
Reeves, Mast. A.
Mr. J. D. Reinberg
Mr. R. C. Reinert
Mrs. Reinert
Master A. V. Reinert
Master B. O. Reinert
Miss E. Estella Reynolds
Miss D. Reynolds
Miss Roberta Riegel
Mrs. Ellena B. Riegel
Miss Ella Rebecca Riley
Mrs. Emma Ritter
Miss E. Roberts
Mr. A. Robertson
Mrs. Robertson
Mrs. N. Robertson
Miss Florence Robinson
Mr. Stephen J. Roche
Mrs. Roche
Miss Larene Roche
Miss D. Rodier
Miss M. L. Rodier
Miss Florence Roesch
Mrs. Mary E. Rohn
Miss Wilma Anita Rohn
Miss F. K. Root
Miss Florence Rosenheimer
Mrs. K. Roseveare
Miss M. Rudelius
Mrs. M. S. Rush
Miss M. J. Russell
Mrs. T. H. Ryder
Master Ryder
Miss C. J. S. Sandeman
Miss D. A. Sandes
Miss H. M. Sandys
Mr. Georges A. Sayers
Mr. R. Scott-Moncrieff
Mrs. F. A. Schmid
Mrs. L. Schmid
Mr. Russell Schunk
Mr. G. B. Selden
Mrs. Selden
Master G. B. Selden Jr.
Master H. W. Selden
Master S. W. Selden
Miss Ruth E. Semple
Miss Sidney M. Simmerman
Mrs. Cecil T. Simpsen
Sister Therese du Sacre Coeur
Sister Auguste de St. Joseph
Sister Clementine Soulard
Miss Adeline E. Skogmoe
Miss Margaret Smallpage
Mrs. Anne W. Smeltzer
Miss Clara K. Smith
Miss E. E. Smith
Mrs. K. C. Smith
Mrs. Dorothy Sorensen
Capt. H. Spooner
Mr. Robert Stafford
Mr. W. T. Stanley
Mrs. E. M. Stanley
Miss Constance Stem
Mrs. Grace R. Stem
Miss Mary Stem
Mrs. A. G. Stone
Miss A. F. Stone
Mr. J. Stotesbury
Mrs. Stotesbury
Miss M. Tait
Mr. R. T. Taylor
Mrs. Taylor
Miss Beula Taylor
Mrs. L. D. Terry
Miss Marie Thomas
Mrs. Kate A. Thomas
Mr. T. M. C. Thompson
Mr. J. W. Thomson
Mr. A. Thunaes
Miss J. M. Tiedtke
Mr. G. G. Treverton
Miss Evelyn Van Der Steeg
Mr. C. Van Elslande
Miss M. Van Elslande
Mr. C. C. Van Norman
Miss Ruth van Poole
Mrs. W. Vardon
Mr. A. G. Verdin
Mr. G. E. Verdin
Mrs. William de F. Voorhees
Mrs. W. J. Voorhees
Miss H. H. Walker
Dr. Helen T. Warner
Mr. E. G. Wassell
Mrs. Wassell
Master E. A. Wassell
Mrs. Neal Werwye
Miss S. M. Whinnery
Miss M. A. C. Whielden
Mr. Edwin J. Wigdale
Mr. J. W. Wilkins
Miss Alice E. Willard
Mr. H. S. Williams
Rev. R. C. G. Williams
Mrs. Williams
Miss D. Williams
Mrs. E. J. Williams
Mr. Robert W. Winters
Mr. A. L. Wolk
Mrs. Wolk
Miss Charlotte R. Wood
Mrs. A. Woods
Miss Esther Wyss
Mr. C. C. Young
Mrs. Young
Mr. M. Zaks
Mrs. Zaks
Miss Verna Zoller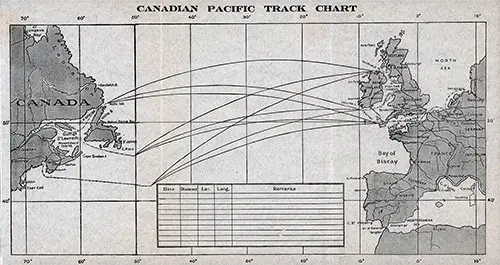 Transatlantic Canadian Pacific Track Chart, 1928. Map Shows the Various Routes Taken Between Europe and Canada. GGA Image ID # 1583a0c46d
Information for Passengers
Meals.—Meals will be served in the Dining Saloon at the following hours:—
Meal
First Sitting
Second Sitting
One Sitting Only
Breakfast
8:00 am
9.00 am
8:30 am
Luncheon
12:30 pm
1.30 pm
1.00 pm
Dinner
6:00 pm
7:00 pm
7:00 pm
Breakfast not served in the Dining Saloon after 10 o'clock, and bugle notsounded when only one sitting.
Afternoon Tea is served at 4:00 pm; children are served with tea in the Dining Saloon.
Table Seat Numbers.—Passengers obtain table seat numbers from Saloon Steward in the Dining Saloon.
Orchestra at Luncheon, Dinner, in the Lounge, and on Deck for Dancers.
Lights extinguished in Dining Saloon 11:00 pm, Lounge 11:30 pm. Smoking Room at midnight. Bar closes midnight Westbound, and 11:00 pm East-bound.
Deck Chairs rented at $1.00; Rugs at $1.50. Apply to Deck Steward.
Baths.—Arrange with Bedroom Steward time desired.
Valuables and Money may be placed in the Purser's safe. Envelopes are provided which passengers will seal and sign. As no charge is made, the Company assumes no responsibility for loss or damage, however arising.
Berthing of Passengers.—No alteration can be made except through Purser.
The Shop sells postal cards, stamps, candies, cigars, cigarettes, tobacco, pipes, magazines, toys and novelties.
Stamps.—British or Canadian postage stamps may be used.
Baggage.—Questions relating to Baggage should be referred to the Baggage Master on Board.
Deck Games and Amusements.—Deck Quoits, Shuffleboard,and other games are provided on deck. Chess, Draughts, Dominoes, etc., can be obtained on application to the Public Room Stewards.
Library.—An excellent selection of Novels by well-known authors is available for use of Passengers.
Divine Service in Dining Saloon at 10:45 ama.m. Sunday Altars are carried for the celebration of Holy Communion and Holy Mass.
Surgeon is authorized to make customary charges, subject to the approval of the Commander, for attending Passengers, at their request, for illness not originating on board. In case of sickness contracted on board no charge is made and medicine is provided free.
Nurses.—Trained and fully qualified Hospital Nurses are carried on our Passenger ships. Their services under the direction of the Surgeon are available to passengers who require nursing attention at sea. The Canadian Pacific provides a complete medical service afloat.
Money Exchanged.—Purser will exchange a limited amount of English, French, Belgian, Canadian and American money.
Wireless Telegrams.—Information and rates furnished at Purser's Office.
Telegrams and Cables.—Canadian Pacific Telegraph representatives meet all ships on arrival to ensure prompt transmission of Passengers' telegrams and cables.
Passengers' Mail.—Passengers are urgently requested to enquire for mail at Purser's Office on arrival and leave forwarding address.
Passengers are requested to note that the Company do not undortake to accept delivery of parcels in Great Britain and Ireland, if the value of the contents is to be paid on delivery, unless prior arrangements are made with the Company for the amount to be paid.
Passports.—Passengers traveling to or through the United States are requested to call at Purser's Office with their Passports as soon as possible.
United States Head Tax.—In order to obtain refund of United States Head Tax, temporary visitors to, or passengers in transit through, the United States, who intend to leave the United States within sixty davs from their date of entry, must give this information on the U.S. Declaration Form completed at time of booking.
It is also necessary that they inform the U.S. Immigration Inspector at the port of landing that they are leaving the United States within sixty days, and they should apply to him for certificate form 511, without which no refund of U.S. Head Tax will be considered by the U.S. authorities.
Lifebelts.—In State Rooms; Bedroom Steward will explain method of attachment.
Emergency Stations.—Consult plan and directions in alley way.
Rail Tloket Office.—To facilitate landing arrangements, all Passengers should call at the Rail Ticket Office on board for Railway tickets and Sleeping Gar reservations.
Return Atlantic Passage.—The Ticket Agent is equipped to furnish full information concerning sailings and bookings on Canadian Pacific steamships. Reservations can be secured and deposits to cover will be received.
Suggestions.—Passengers having suggestions to make regarding service are requested to file them with the Commander, Purser or Chief Steward promptly so that immediate attention may be given.
World's Greatest Travel System of Railways, Steamships, Hotels, and Telegraphs Under One Management Controls Canadian Pacific Express Company
Through Connections—Europe, Canada, Orient—over 12,500 miles straightaway—canadian pacific all the way
RAILWAY SERVICES—Mileage operated by the Canadian Pacific Railway—20,146 including 5,091 miles of affiliated lines in the United States. Serving all the important industrial, commercial and agricultural sections of Canada, as well as many parts of the United States. It reaches large cities, famous historic spots, wonderful vacation and sporting resorts, and some of the most magnificent scenery in the world.
STEAMSHIP SERVICES—Over 30,000 miles—74 steamships and 10 building. Gross tonnage of vessels in service and building over 510,000. Two passenger fleets—across the Atlantic Ocean to Europe and across the Pacific to China, Japan and Manila. Connection at Vancouver and Victoria with Canadian-Australasian Line to New Zealand and Australia* Inland and coastal steamships on the Great Lakes, Pacific Coast and Atlantic Coast.
HOTELS—Thirteen and one under construction—coast to coast. Nineteen Bungalow Camps and Rest Houses at convenient locations for tourists and sportsmen.
CRUISE SERVICES—Annual Cruises Round the World; to South America—Africa; to the Mediterranean and to the West Indies.
TELEGRAPH SYSTEM—Over 138,564 miles of wires and 248 miles of Cables extending the entire length of the railway, and reaching as well every point of importance away from it.
EXPRESS SYSTEM—31,336 miles—7,044 offices and correspondents. World-wide merchandise and financial service.
COLONIZATION—Canadian Pacific land-settlement policies, coupled with the large acreage of fertile agricultural land still for sale in the West, are helping to develop a richer and bigger Canada.
INDUSTRIAL DEPARTMENT—Manufacturers, wholesalers and others, who contemplate opening branch factories in Canada, can secure from this department full information regarding sites for industries, available buildings, power rates, etc.
CANADIAN PACIFIC—IT SPANS THE WORLD
TICKETING ARRANGEMENTS | TRAIN SERVICES
THE line of the Canadian Pacific Railway extends across Canada from Saint John, New Brunswick, On the Atlantic Ocean, to the City of Vancouver on the Pacific Ocean, and passengers are carried without change of cars from tidewater to tidewater. There is a frequent service of express trains to all parts.
TICKET OFFICES at important stations are open 30 minutes before departure of trains, and passengers are requested to purchase tickets before entering cars. Passengers should always procure tickets at regular railway ticket offices, and ask for them via the Canadian Pacific Railway.
CANADIAN Pacific Railway train services from Quebec aad Montreal reach all important points in Canada, and Connections are made for all points in the United States.
Time tables giving the schedules of alt regular trains, aad the equipment of the more important trains, may be obtained from Canadian Pacific Railway Ticket Agent on board.
The Ticket Agent on ship will exchange passage ticket orders, sell railway tickets to all destinations, and stamp all railway tickets issued in Europe, make reservations in sleeping cars, and when requested will prepare itinerary for rail journey and make arrangements with the shore staff to complete sleeping car and hotel reservations at desired stop-over points.
BAGGAGE AND CUSTOMS
CANADIAN Pacific Railway Baggage Agents, also Canadian and United States Customs Officers will be in attendance on arrival of the ship to arrange examination and checking of baggage through to rail destination.
On arrival of the ship and immediately after Government Immigration inspection, and tickets to inland destinations have been obtained, passengers must attend personally to the Customs examination of their baggage and arrange with the Railway Baggage Agents for its forwarding.
The Baggage Agent will issue a check for each piece of baggage to be forwarded. Unless baggage is checked out by passengers it will be held at owner's risk until claimed.
U.S. Customs Officers are at Quebec, Montreal, Ottawa, Toronto, London, Ont., Winnipeg, Man., Banff (during Summer) and Vancouver, B.C., stations to examine baggage destined for U.S. Passengers traveling to the U.S. via these points are recommended to have baggage inspected there and avoid examination at International Boundary.
Baggage to U.S. not examined at above places must be inspected at International Boundary, otherwise it will be held by Customs. Passengers should attend personally to Customs Examination of baggage.
SPECIAL DELIVERY OF BAGGAGE
Passengers for Quebec, Montreal, Ottawa, Toronto, Hamilton, Winnipeg, Vancouver, and Victoria, and the larger cities in the United Stales, may have their baggage checked through to any residence, hotel, steamship dock or railway depot in such cities; this is a convenience. The transfer charge is collected by the Baggage Agent at the time of checking the baggage.
CHECKING OF BAGGAGE
must have passenger's personal attention. It will not go beyond the dock until it has been checked or registered by passengers.
The railway baggage agents will give numbered Checks to destination of baggage.
Baggage left unchecked on the dock will be at passenger's risk.
BAGGAGE INSURANCE
Passengers are recommended to insure- their baggage, as the Company's liability it strictly limited in accordance with contract ticket. Baggage insurance can be arranged at any of tbe Company's offices or through the Purser on board.
NOTICE
Passengers are recommended to avail themselves of out Colonization Agent who meets steamers. Consult him for information as to farm lands or opportunities in Canada.
Passenger List Table of Contents
Front Cover
Title Page, Senior Officers and Staff
Passenger Information
Sailings from Europe to Quebec and Montreal
Sailings to Europe from Montreal and Quebec
Trans-Pacific Sailings 1928/1929
Canadian-Australasian Line Sailings 1928/1929
Canadian Pacific Cruises
Passenger Fleet and Canadian Pacific Hotels
Listing of Tourist Third Cabin Passengers
CPOS Services
Trans-Continental Train Service
Additional Passenger Information
Table of Distances
Additional Passenger Information
Time on Shipboard
Canadian Pacific Telegraphs and Canadian Pacific Express Company
Passenger Agencies
Department of Colonization and Development Information
Railway Ticke Office and List of Canadian Pacific Publications Available