Vintage Postcards from the Canadian Pacific Line
The GG Archives' collection of Vintage Canadian Pacific Line postcards featured illustrations and photographs of each vessel's exteriors. Ships included Empress of France, Melita, Minnedosa, and Montcalm.
CP Ships was a large Canadian shipping company established in the 19th century. From the late 1880s until after World War II, the company was Canada's largest operator of Atlantic and Pacific steamships. Many immigrants travelled on CP ships from Europe to Canada.
The sinking of the steamship RMS Empress of Ireland just before World War I was the largest maritime disaster in Canadian history. The company provided Canadian Merchant Navy vessels in World Wars I and II.
Twelve vessels were lost due to enemy action in World War II including the largest ship sunk by a German U-boat, RMS Empress of Britain.
The Atlantic and Pacific passenger liners of Canadian Pacific were always British-flagged and largely British-manned and were not part of the Canadian Merchant Marine, ownership being with the British-registered Canadian Pacific Steamships Ltd. subsidiary.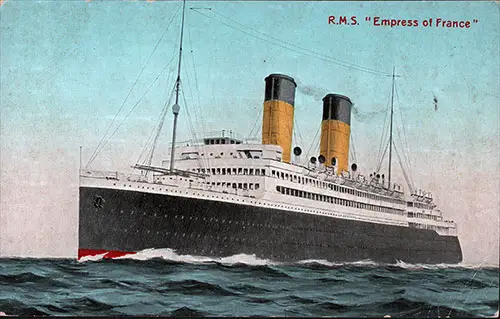 Vintage Postcard Features a Color Painting of the RMS Empress of France (1913) at Sea. The RMS Empress of France, formerly SS Alsatian, was an ocean liner built in 1913-1914 by William Beardmore and Company at Glasgow in Scotland for Allan Line. The ship's service history encompasses 99 trans-Atlantic voyages, 5 trans-Pacific voyages, and 8 other cruises in addition to her war service. This ship was the first North Atlantic liner with a cruiser stern. The vessel was an 18,481 gross tonnage ship, length 571.4 feet x beam 72.4 feet, two funnels, two masts, four propellers, and 18 knots. Her initial configuration provided accommodation for 287 1st class, 504 2nd class, and 848 3rd class passengers. GGA Image ID # 15b1c9249d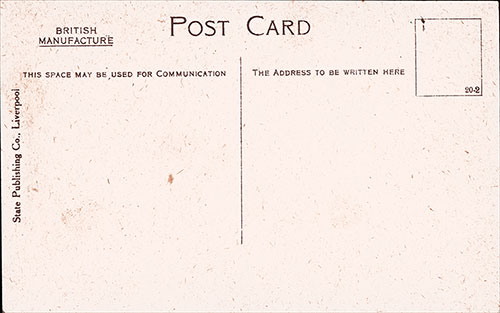 Back Side of the Vintage Postcard Features a Color Painting of the RMS Empress of France (1913) at Sea. Published by State Publishing Company of Liverpool. GGA Image ID # 15b1f6c403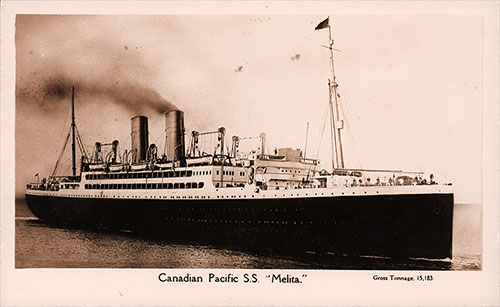 Postcard Features a Black and White Photograph of the Canadian Pacific SS Melita, Gross Tonnage 15,183, Built by Barclay Curle & Company, Glasgow in 1918. The ship was operated by the Canadian Pacific until sold in 1935 to Italia Societa. Most descriptions of the SS Melita state her tonnage as 13,967 GRT. GGA Image ID # 15b233c616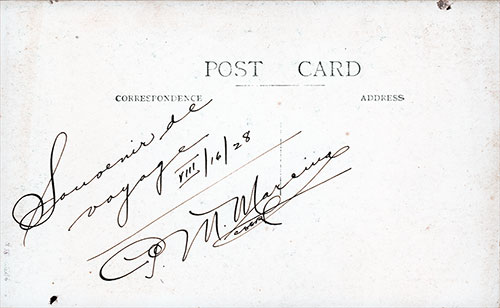 Back of Canadian Pacific Ss Melita, Gross Tonnage 15,183 Postcard With Hand Written Notation of Souvenir de Voyage 16 August 1928 and Signature of Passenger. GGA Image ID # 15b283552e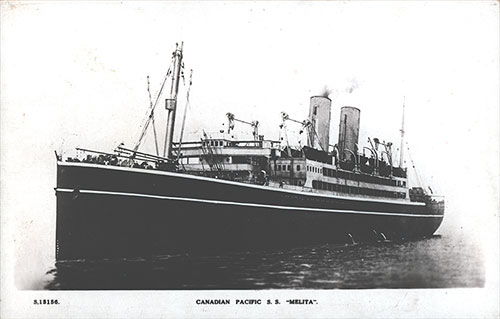 Vintage Postcard S,15156 Features a Black & White Photograph of the Canadian Pacific SS Melita. Passengers and Crew Are Visible on the Deck of This Two-Funnel Ship That Operated Between 1918 and 1935. GGA Image ID # 15b2a3d422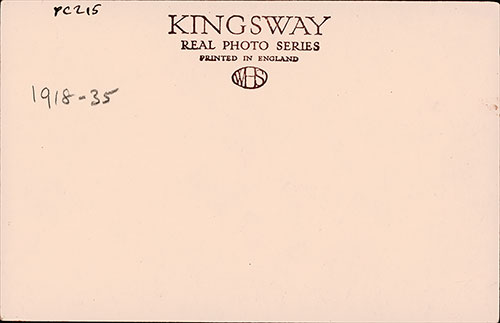 Back Side of Vintage SS Melita Postcard. Kingsway Real Photo Series S15156, nd circa 1918. GGA Image ID # 15b2c3e1a1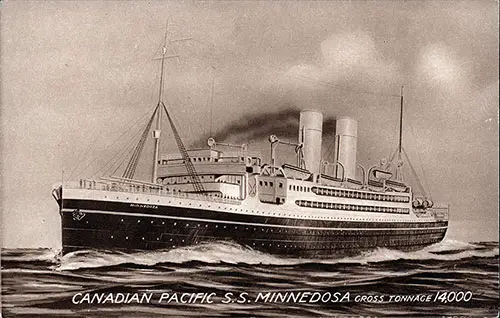 Black & White Painting of the Canadain Pacific SS Minnedosa is Featured on this Vintage Postcard. Her Gross Tonnage was 14,000. The SS Minnedosa was a 15,000-ton steam ocean liner the hull built in Glasgow on the River Clyde for the Canadian Pacific Shipping Line by Barclay Curle sub-contract to Harland and Wolff, in Belfast. The ship had been ordered by the Hamburg America Line. Still, when World War I broke out, the vessel was purchased by Canadian Pacific. It was launched in Glasgow on 17 October 1917 and towed to Belfast for completion, being handed over to Canadian Pacific on 21 November 1918. GGA Image ID # 15b3309bda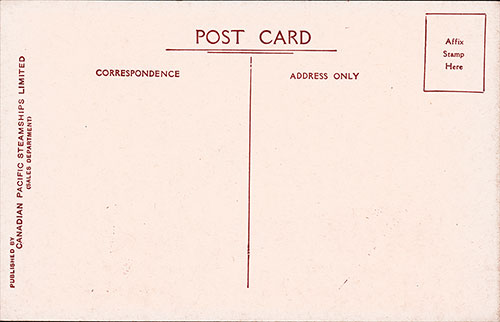 Back Side of Canadian Pacific SS Minnedosa Vintage Postcard Published by the Canadian Pacific Steamships Limited Sales Department. nd, circa 1920. GGA Image ID # 15b398838a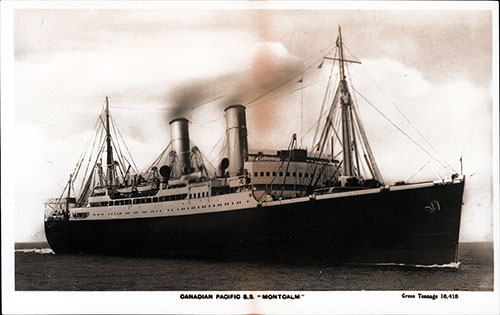 Black & White Photograph of the Canadian Pacific SS Montcalm Featured on a Vintage Postcard. The SS Montcalm was built in 1920 by John Brown & Co, Glasgow. She was 16,418 gross tons, length 576 feet, width 70 feet, two funnels, two masts, twin screw, and 16 1/2 knots. There was accommodation for 542 cabin class and 1,268 third-class passengers. GGA Image ID # 15b3bd94ea
Back Side of Vintage Postcard of SS Montcalm of the Canadian Pacific Line. Postally Unused, the Passenger Notated Their Cabin and Table Numbers, and a Few Facts About the Ship. The Steamship Was in Service for the CPOS From 1920 Through 1939. GGA Image ID # 15b42ae969