Vintage Postcards - Stiftsgården - Trondheim, Norway
This royal residence of Stiftsgården is Scandinavia's most massive wooden structure with an associated garden in central Trondheim, on the corner of Monk Street and Queen Street. It was the largest of the significant trepaléene town from the latter part of the 1700s. The structure was designed by General G F von Krogh and completed in 1778, and is among the most significant wooden buildings in Scandinavia.
Paléet was listed as a private residence in 1774-1778 by geheimerådinne Cecilie Christine Schøller in a style that was in transition between rococo and classicism.
The facade is characterized by a tight and straightforward neoclassicism, while rococo expressed in the details. The building consists of the main wing of 58 meters with two side wings listed traditional timber and dressed with alternating panels. The interior is mainly from coronations 1800s and in 1906. Building sum amounted 7400 riksdalers in our day value ca. 78 million. In 1800 Paléet sold to state and staple as well as man and staple across the court moved in.
Stiftsgården has been the center by several royal events, four coronations, two kongevelsignelser, and one princess wedding from 1818 to 2002. Stiftsgården serves today as the official royal residence in the city, and the King has the right. The managed by Public Construction Mid-Norway. When the building is not used by the royal house, selskaps værelsene (party rooms) are open to the public.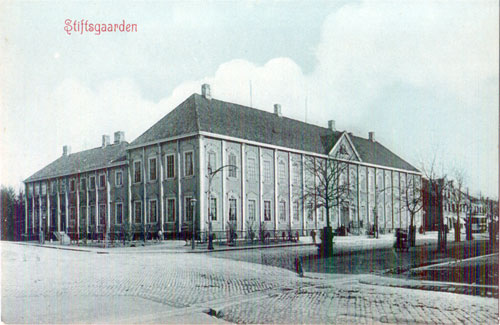 Title: Stiftsgaarden
PC Mfg. Nbr.: N/A
Manufacturer: J. Holbæk Eriksen & Co., Trondhjem
Date: Undated but circa 1906
Manufactured: Unknown
Photographer: Unknown
Archives Inventory Number: GGA-ATL 160306004