Vintage Postcards - Munkholmen - Trondheim, Norway
Munkholmen is a small island of 13 acres located about 2 km outside central Trondheim Trondheim Fjord. The island is now a popular destination in the summer season, with opportunities for swimming and sunbathing. There is also a café there and a small restaurant with outdoor seating. There is a boat from Ravnkloa in Trondheim. Munkholmen has a rich history and is protected.
One heard about Munkholmen Snorre, where it is called Nidarholm and was used as a place. Until the Reformation was Nidarholm Abbey on the island. In the 1600s, the name was Munkholmen adopted, and Munck fortress was built. Parts of the castle is today a landmark. The fort was used as a state prison, and the most famous prisoner sat was Peder Schumacher Griffenfeld. The French writer Victor Hugo wrote the novel The Prisoner of Munkholmen about his captivity here. During World War II, the Germans built permanent antiaircraft positions on Munkholmen.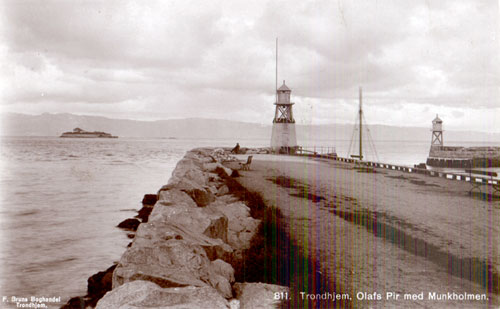 Title: Olafs Pir med Munkholmen, Trondhjem
PC Mfg. Nbr.: 811
Manufacturer: F. Bruns Boghandel, Trondhjem
Date: Undated but Circa 1910 (Correspondence dated 1914)
Manufactured: Unknown
Photographer: Unknown
Archives Inventory Number: GGA-ATL 160300811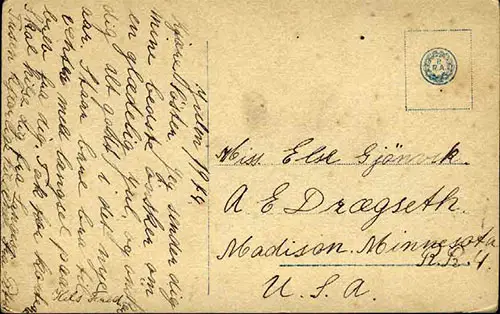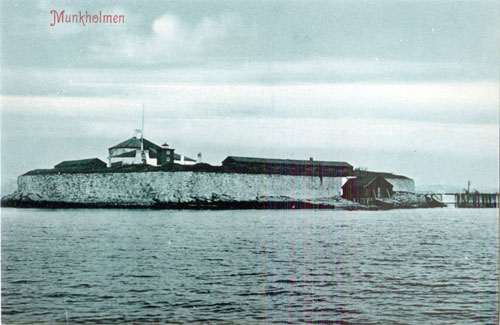 Title: Munkholmen
PC Mfg. Nbr.: N/A
Manufacturer: J. Holbæk Eriksen & Co., Trondhjem
Date: Undated but circa 1905
Manufactured: Unknown
Photographer: Unknown
Archives Inventory Number: GGA-ATL 160306001