Vintage Postcards - Elven med Søboder - Trondheim, Norway
Elven med Søboder now referred to as Elven med Sjøboder, refers to boathouses and warehouses located on the Nidelva River in Trondheim, Norway. This vintage postcard has an excellent view of the Nidelva River with shipping activity with warehouses lining the shoreline.
Nidelva (or Nidelven) is a river in the county Sør-Trøndelag, Norway. Elva or Elven is Norwegian for 'the river', so the name translates to "The River Nid".
Sjøboder literally means Boathouses and large or small warehouses by the sea. They are appropriate in connection with maritime transport and other activities at sea, such as fishing.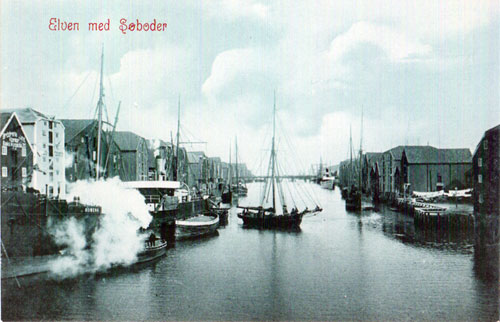 Title: Elven med Søboder
PC Mfg. Nbr.: N/A
Manufacturer: J. Holbæk Eriksen & Co., Trondhjem
Date: Undated but circa 1906
Manufactured: Unknown
Photographer: Unknown
Archives Inventory Number: GGA-ATL 160306008