Vintage Postcards - Torvet - Trondheim, Norway
Torvet is the central square in Trondheim. Torvet is a result of Johan Caspar Cicignons' urban plan from 1681. Torvet is located where King Street and Munkegata intersect.
The route for Ila Line, a tram line created by the Trondheim Tramway in 1901, originally went over and Torvet at Munkegata, but was moved to Prinsensgate in 1961.
In 1921 a statue of the city founder Olav Tryggvason was erected on a high shelf in the middle of the market square. Olav Tryggvason Monument was created by Wilhelm Rasmussen and was unveiled on 18 September 1921 in connection with the Dovre Railway opening. In connection with the 900 anniversary of St. Olav in 1930 was made a sundial on the ground around the statue, where the pillar shadow constitutes lang-viseren (long vision) in timer.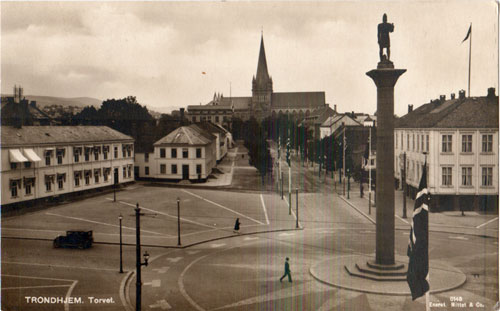 View of Trondhjem's Torvet with the statue of city founder Olav Tryggvason in the foreground
Title: Torvet, Trondhjem
PC Mfg. Nbr.: 0148
Manufacturer: Eneret Mittet & Co.
Date: Undated but circa 1922
Manufactured: Unknown
Photographer: Unknown
Archives Inventory Number: GGA-ATL 160300148