Vintage Postcards - Thomas Angels Gade - Trondheim, Norway
Thomas Angell (29 December 1692 - 19 September 1767) was a merchant and philanthropist in Trondheim. Together with his brother Lorentz Angell managed his wealth to the family Angell, who belonged to a wealthy trading family with roots in Southern Schleswig.
Thomas Angell was for a time, director of Røros Copper Works. As a result of family strife he bequeathed his share of the family fortune to charitable causes in Trondheim. Thomas Angell Trusts were created for the management of these funds.
Around the mid 1800s, a street was named after Thomas Angell. Thomas Angell Street follows earlier alleys which was extended after a town fire.
The runner from Cicignons space and Krambugata westward to Munkegata. In late 1800s, it was erected a monument to Thomas Angell, who stands vis-à-vis Thomas Angell foundation.
Two major fires in 1841 and 1842 and a minor in 1844 spawned the city got bricked enforcement through "Act in delivering Bygningsvæsenet in Trondheim" in 1845.
Fire considerations also meant that it was filed several new streets, like Thomas Angell Street, St. Olav street and Tordenskiolds gate.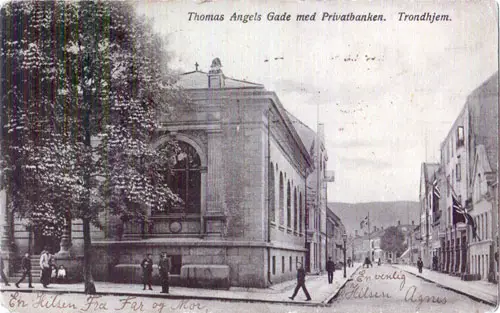 Privatbanken i Thomas Angells gate (1908)
Title: Thomas Angels Gade med Privatbanken, Trondhjem
PC Mfg. Nbr.: 7341, No. 744
Manufacturer: H Warners Kunstforlag, Trondhjem
Date: 1908
Manufactured: Unknown
Photographer: Eneberettiget
Archives Inventory Number: GGA-ATL 160307341