Canadian Pacific Line History and Ephemera
The Canadian Pacific (CPR) began operating transatlantic steamships in 1903 between Halifax and the United Kingdom until 1915 when it spun off the steamship portion of its business (which included the Allan Line) into the Canadian Pacific Steamships Ocean Services Ltd. (CPOS).
Canadian Pacific (CPOS) offered First Class (via their Empress Ocean Liners) and Cabin Service between Montreal and Quebec Canada and Southampton - Liverpool; Glasgow - Belfast; Cherbourg - Antwerp; and, Queenstown - Hamburg. During the winter, departures are from Saint John NB.
Our Canadian Pacific Line Ephemera Collection Features Passenger lists, Brochures, Immigrant Documents, Programs, and Menus.
Canadian Pacific Line Passenger Lists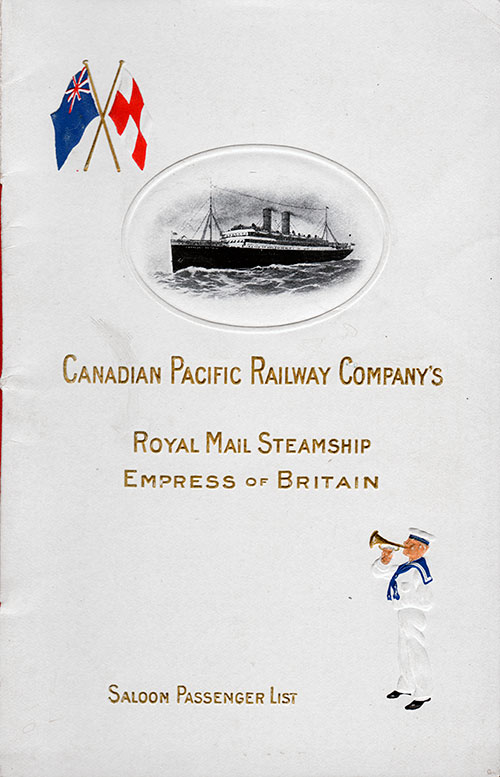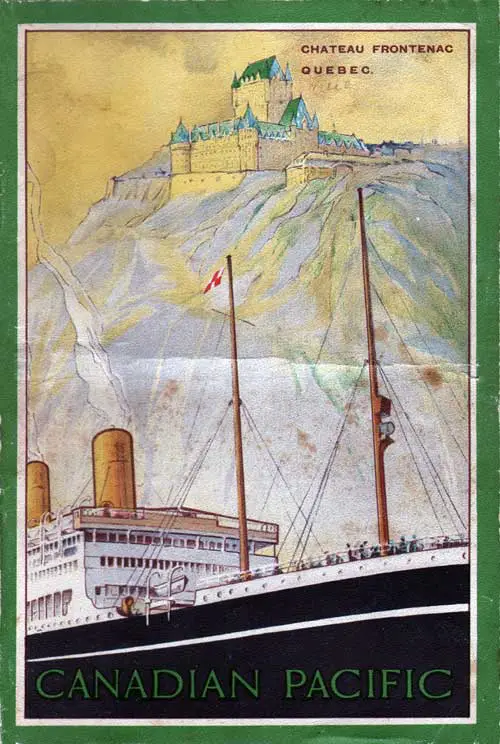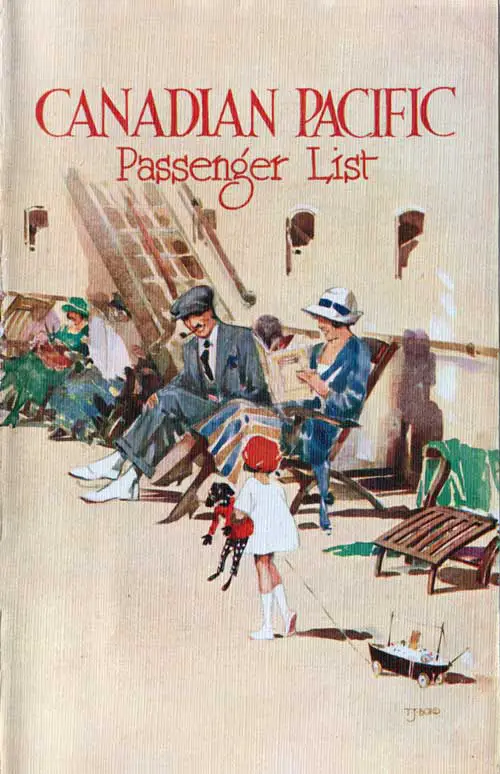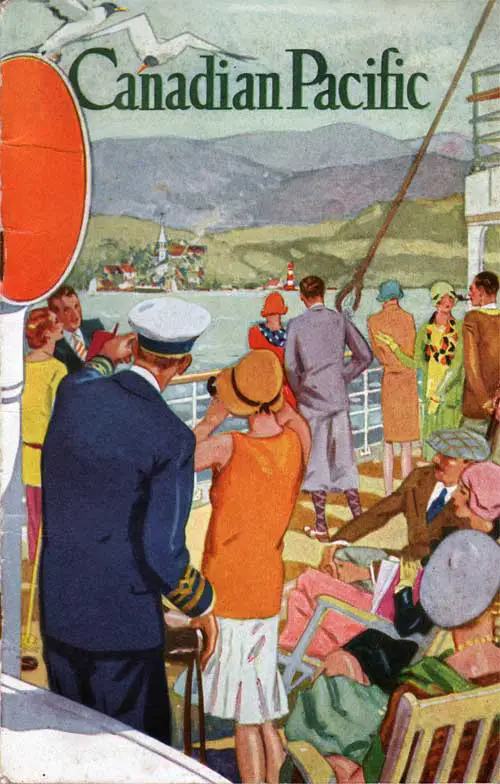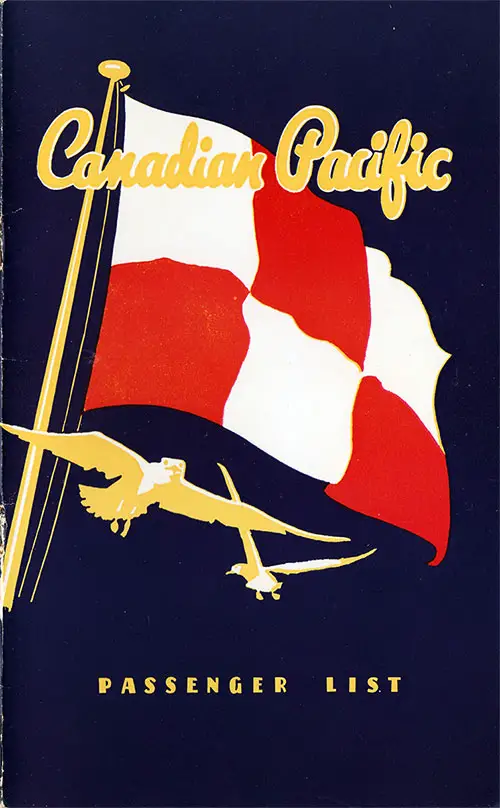 Canadian Pacific Line Brochures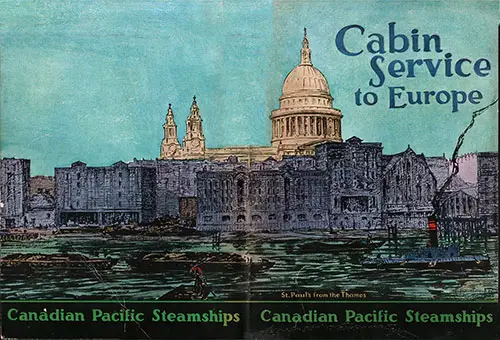 1927 Brochure - Canadian Pacific Cabin Service to Europe
To cross the ocean once on a Canadian Pacific Cabin Class Steamship is to realize that you have found the ideal way to travel. Many Interior and Exterior photographs help illustrate this exceptional brochure.
Canadian Pacific Line Immigrant Documents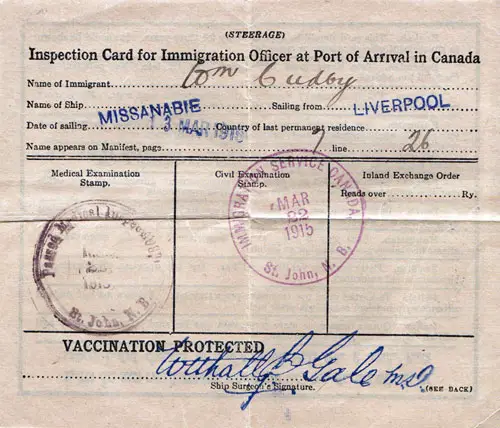 1915-03-13 Canadian Immigrant Inspection Card - SS Missanabie
Canadian Immigrant Inspection Card issued to a Steerage Passenger on board the Canadian Pacific steamship SS Missanabie departing from Liverpool 13 March 1915. This represents a very rare immigrant document from a ship in service less than four years.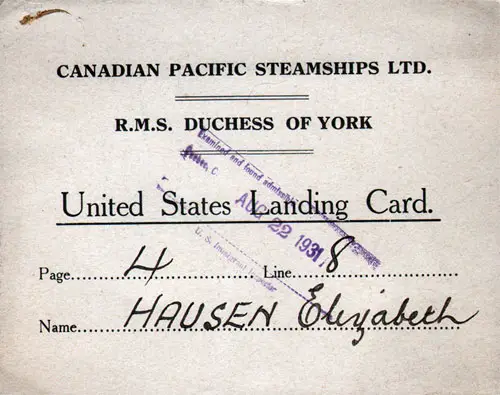 1931-08-22 United States Landing Card, Canadian Pacific Line
United States Landing Card issued to Elizabeth Hausen traveling on Canadian Pacific Steamship RMS Duchess of York, examined and found admissible by U.S. Immigration Inspector on 22 August 1931.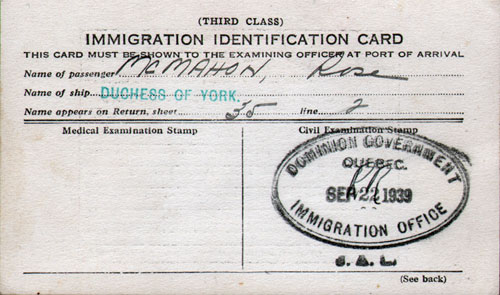 1939-09-22 Canadian Immigration Identification Card - Third Class Passenger
An example of a Third Class passengers' Immigration Identification Card for Canadian Immigrant Rose McMahon on board the Duchess of York of the Canadian Pacific Line. Stamped by Immigration Office 22 September 1939. Card provided information such as Name of Passenger, Steamship Name, Manifest No where individual appeared on and inspection stamp.
Canadian Pacific Line Sports & Entertainment Programs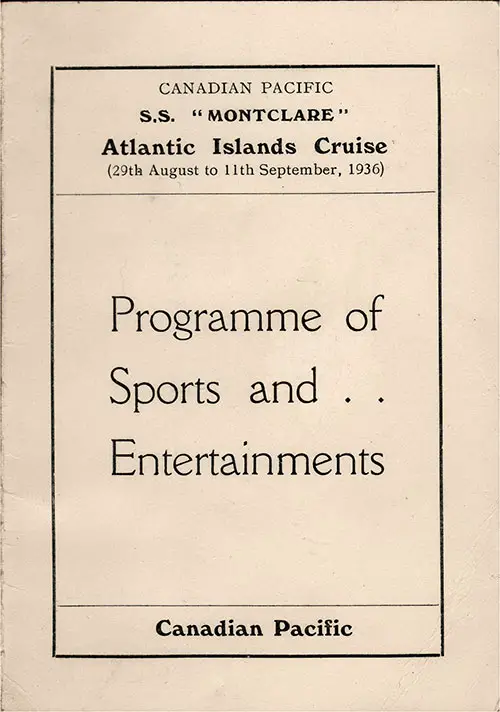 1936-08-29 Atlantic Islands Cruise Sports & Etertainment Program
Discover the startling differences between the cruise activities of 1936 compared to modern-day cruises. In the past, it was up to the passengers to figure out what to do with all the time spent onboard during the voyage.
Canadian Pacific Line Menus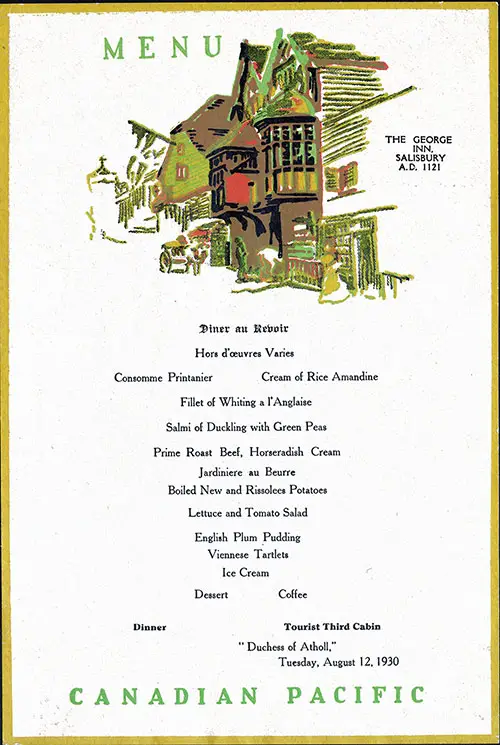 1930-08-12 SS Duchess of Atholl Farewell Dinner Menu Card
Vintage Bill of Fare from Tuesday, 12 August 1930 Tourist Third Cabin Passengers. Menu featured Fillet of Whiting, Salmi of Duckling and Prime Roast Beef.
1933-09-18 SS Montcalm Carnival Dinner Menu
Vintage Bill of Fare from 18 September 1933 featured Poached Turbot, Hollandaise Sauce, Prime Sirloin of Beef, Yorkshire Pudding, and Blueberry Pie for dessert.
1936-09-10 SS Montclare Farewell Dinner Menu
Vintage Bill of Fare from 10 September 1936 featured Fillet of Beef Roasted, Dubarry, Macedoine au Beurre, and Smyrna Pudding for dessert. The menu contained two pages of autographs from fellow passengers.
1949-08-05 SS Empress of France Dinner Menu Card
Vintage Tourist Class Bill of Fare from 5 August 1949 featured Poached Suprême of Turbot, Mousseline Sauce, Ribs of Beef Roasted, Horseradish Cream, and Pineapple Pudding for dessert.
1949-10-25 SS Empress of France Breakfast Menu Card
Tourist Class Bill of Fare from SS Empress of France for Tuesday, 25 October 1949 offered typical menu selections plus Fried Flounder, Smoked Cod and Broiled Streaky Bacon.
1949-10-25 SS Empress of France Dinner Menu
Vintage Tourist Class Bill of Fare from Tuesday, 25 October 1949 on board the SS Empress of France of the Canadian Pacific Ocean Services featured Aubergines, Sauté Italienne, Roast Brome Lake Duckling, Savory Sauce and Apple Sauce, and Bombe Vanille for dessert.
1953-05-19 SS Empress of France Luncheon Menu
Vintage Bill of Fare from 19 May 1953 featured Spaghetti Napolitaine, Potage Queue de Bœuf, and Apple Pie à la Mode for dessert.