Baltic America Line History and Ephemera

The Baltic America Line offered passenger steamship service between the ports of New York, Hamburg, Danzig, Libau and Halifax with a fleet of four ocean liners. The fleet consisted of the steamers Latvia, Polonia, Lituania, and Estonia.
They offered intermediate class accommodations for First Class, Cabin, Tourist and Third Class passengers. They were in operation for less than a decade during the 1920s. In 1930 the Baltic America Line was taken over by the Polish Transatlantic Shipping Company (Gdynia-Amerika Linje).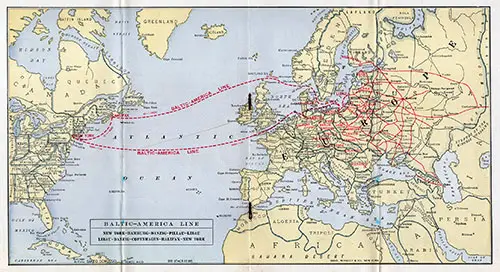 Route Map of the Baltic America Line (1920s)
The Baltic America Line was formed out of the former Russian East Asiatic Company's liners Czaar, Czaritza and Kursk which were renamed the Estonia, Lituania, and Polonia and operated under the Danish Flag. They provided service between Libau, Danzig and New York. They are often referred to as the Baltic America Line.
Baltic America Line Ephemera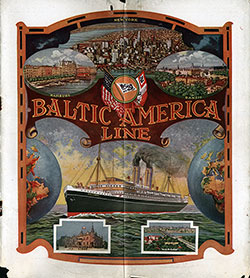 1920s Brochure - Baltic America Line Fleet and Services
The American Tourist seeking rest, recreation, study or new business connections in Europe can therefore not find a more opportune time to go than during next summer, using all the exceptional facilities offered by the "Baltic America Line"
Latvian Government Facilitates Emigration from Russia
Liban (J. T. A) The Latvian Government has granted a special license
to the Baltic America Line, in accordance with which all Latvian consuls located throughout Russia and Ukraine are authorized to grant to passengers holding Baltic America Line prepaid tickets a Transit Visa, which enables the passengers to proceed to Riga, where they can remain for a period of three months in order to complete their arrangements with the American Consul for an American visa.
Until this license was granted to the Baltic America Line it was very difficult for a passenger from Russia to go through Latvia in order to apply to the American Consul for a visa, but now this problem, which has been the greatest obstacle in the path of Russian passengers, has been solved.
The number of passengers from Russia going on the steamers of the Baltic America Line, direct from Liban, are increasing with the departure of each ship, and with the settling of this vexatious problem, the emigration from Russia will no doubt increase a great deal, more especially since the Russian quota is still open for 20,000 passengers.[1]
[1] "Cable and Telegraphic News," The Reform Advocate, 9 September 1922, Page 129