Yeoward Line History and Ephemera
The Yeoward Line, managed by Messrs. Yeoward Brothers, inaugurated their service in the year 1899, and were known world-wide for their Passenger tourist traffic from Liverpool to Lisbon, Madeira and the Canary Islands.
The progress of the Company had been phenomenal, they had developed the study of the comfort of their patrons to a fine art, whilst the inauguration of this Line has also been the means of providing the home markets with large regular supplies of Canary bananas and other produce.
The success of this Company is a good example of enterprise in Liverpool of the early twentieth century.
Yeoward Bros., of Liverpool, owned a fleet of three steamers that sailed every Wednesday from Liverpool for the Canaries. The outward route is by way of Lisbon, Santa Cruz de Teneriffe, or Las Palmas. and the journey occupies eight or nine days. The homeward journey direct to Liverpool occupies six or seven days.
Their Fleet consisted of the S.S. Ardeola, Avetoro, and the Avocet. (1908)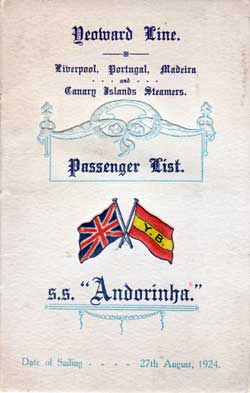 1924-08-27 SS Andorinha Passenger List
Steamship Line: Yeoward Line
Date of Voyage: 1924 August 27
Vessel: Andorinha
Class: Tourist Class Passengers
Route: Liverpool to Tenerife, Madeira, The Canary Islands, Return to Liverpool
Captain: G. F. Pope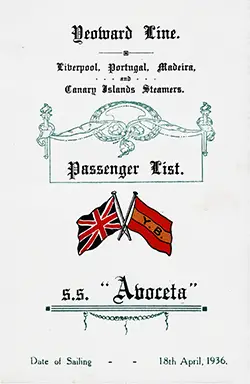 1936-04-18 SS Avoceta Passenger List
Steamship Line: Yeoward Line
Class of Passengers: Tourist
Date of Departure: 18 April 1936
Route: Liverpool to Tenerife, Madeira, and Return to Liverpool
Commander: Captain D. McPhee