SS Metagama Passenger List - 6 September 1921
Front Cover for a Cabin Passenger List for the SS Metagama of the Canadian Pacific Line (CPOS), Departing 6 September 1921 from Liverpool for Quebec and Montreal, Commanded by Captain J. Turnbull. GGA Image ID # 15884a0799
Senior Officers and Staff
Captain: J. TURNBULL, C.B.E., R.D., R.N. R
Chief Officer: A. ROTHWELL
Chief Engineer: J. E. THEARLE
Purser: H. Taylor
Surgeon: Dr. R. G. J. MCCULLAGH
Chief Steward: O. E. BENN
List of Cabin Passengers
Adams, Mr. J. Brantford, Ont
Adams, Mrs. A. Brantford, Ont
Adams, Mrs. E. J. Paris, France
Adnitt, Mr. W. C. Lethbridge, Alta
Adnitt, Mrs. Lethbridge, Alta
Adnitt, Miss L. E. Lethbridge, Alta
Adnitt, Mstr W. E. Lethbridge, Alta
Algie, Dr. J. Toronto, Ont
Anderson, Mr. A. Montreal, Que
Anderson, Mrs. R. Londonderry, Ire
Anderson, Miss L. Rome, N.Y
Andreasson, Mr. J. Chicago, Ills
Arkush, Mr. S. F. Toronto, Ont
Bach, Mr. J. E. Toronto, Ont
Bach, Mrs. j E. Toronto, Ont
Bach, Miss H. Toronto, Ont
Baker, Mrs. C. L. Torquay, Eng
Baldwin, Miss E. J. Toronto, Ont
Baldwin, Miss A. M. Toronto, Ont
Barker, Mr. J. Stockport, Eng
Barker, Mrs. E. Stockport, Eng
Barker, Miss A. Stockport, Eng
Banks, Miss J. Darlington, Eng
Barwick, Mrs. E. M. Leeds, Eng
Baufield, Miss C. Portland, Ore
Baxter, Mrs. M. Toronto, Ont
Baxter, Miss G. Toronto, Ont
Baynham, Mr. H. W. London, Eng
Bedborough, Miss A. London, Eng
Bedford, Mr. J. V. Campbillford, Ont
Beeforth, Mr. W. Harrogate, Eng
Beeforth, Mrs. H. M. Harrogate, Eng
Bell, Dr. J. H. Hamilton, Ont
Bell, Mrs. Hamilton, Ont
Bell, Mstr Hamilton, Ont
Bennett, Miss E. Boston, Mass
Bickersteth, Mr. J. Canterbury, Eng
Bigham, Dr. W. L. Anaheim, Cal
Bigham, Mrs. Anaheim, Cal
Billstein, Mr. N. Baltimore, Md
Birch, Mrs. H. W. Prince Rupert, B.C
Birch, Miss B. Prince Rupert, B.C
*Bishton, Miss A. Birmingham, Eng
Blackwood, Miss L. Calgary, Alta
Bolt, Mrs. E. Portland, Ore
Bonner, Mr. J. Montreal, Que
Booth, Mr. Plattsburgh Ave, N.Y
Boxall, Mrs. A. M London, Eng
Boyes, Miss I. Toronto, Ont
Bradshaw, Mrs. E. M . Birmingham, Eng
Bradshaw, Miss M. Birmingham, Eng
Brewer, Mrs. M. S. New York, N.Y
Brooks, Mrs. C. Auckland, N.Z
Brooks, Mr. W. J. Auckland, N.Z
Brookes, Mr. T. C. London, Eng
Brown, Mrs. R. B. ictoria, B.C
Brown, Mrs. R. Moronto, Ont
Brown, Mrs. J. A. London, Ont
Burrell, Mrs. J. Lachine, Que
Bush, Prof. S. H. Boston, Mass
Bush, Mrs. Boston, Mass
Bush, Miss M. E. Boston, Mass
Butchart, Mrs, I. Newmachar, Scot
Butchart, Mr. R. G. Newmachar, Scot
Butler, Mr. A. J. Nottingham, Eng
Butterworth, Mstr E . ' Regina, Sask
Calladine, Mrs. F. L. Toronto, Ont
Calladine, Miss E. A. Toronto, Ont
Calladine, Miss F. R. Toronto, Ont
Capel, Miss A. Sheffield, Eng
Chadwick, ivIr. W: Leeds, Eng
Chauncey, Mrs. H. R. Calgary, Alta
Chisholm, Mrs. F. A. Victoria, B.C
Christner, Miss F. Boston, Mass
Christner, Mr. G. Boston, Mass
Christner, Mrs. Boston, Mass
Chrystal, Mstr J. R. Mossbank, Sask
Clapperton, Mr. W. Wallsend-on-Tyne, Eng
Clark, Miss M. Darlington, Eng
Clark, M.P., Col. H. London, Eng
Clark, Jnr., Mr. H. S. London, Eng
Clarke, Mr. G. W. Calgary, Alta
Clarke, Mrs. Calgary, Alta
Clauson, Mrs, M. Omaha, Net
Colledge, Mrs. M. A. Lethbridge, Alta
Connell, Miss F. A. Toronto, Ont
Cook, Miss M. Amersham, Eng
Cooper, Mr. C. B. Pasadena, Mass
Corbould, Mrs. J. E. Victoria, B.C
Cosgrove, Miss M. M. Montreal, Que
Cousins, Miss D. E. London, Eng
Cox, Miss S. Boston, Mass
Craig, Mrs. A. Crewe, Eng
Craig, Miss E. Crewe, Eng
Cramp, Miss M. Montreal, Que
Cranston, Miss I. Galt, Ont
Crews, Dr. H. W. Windsor, Ont
Crosby, Mr. Rhinelander, Wis
Crowe, Miss B. C. Madison, Wisc
Cullinan, Mr. C. B. Ottawa:, Ont
Cunliffe, Mrs. E. London, Ont
Curr, Mr. H. S. Toronto, Ont
Cuthbert, Mrs. E. Y. Toronto, Ont
Daly, Mrs. R. O. Toronto, Ont
Daly, Mrs. M. F. Toronto, Ont
Daly, Miss K. Toronto, Ont
Day, Mr. G. W. Moosejaw, Sask
Davis, Mr. G.. Toronto, Ont
Davis, Mrs. Toronto, Ont
Decker, Mr. F. L. Los Angeles, Cal
Dewhurst, Mrs. T. E. Ottawa, Ont. and Infant Ottawa, Ont
Dewhurst, Miss R. Ottawa, Ont
Dey, Mr. C. R. Hamilton, Ont
Dey, Mrs. Hamilton, Ont
Dey, Mstr G. Hamilton, Ont
Dey, Mstr N. Hamilton, Ont
Dickinson, Mr. J. G. Toronto, Ont
Dickson, Mr. J. M. Toronto, Ont
Dickson, Mrs. Toronto, Ont
Dignan, Miss C. Boston, Mass
Doust, Mr. M. L. West Newton, Mass
Downs, Miss E. Toronto, Ont
Duckworth, Mrs. M. E. Chatburn, Eng
Duff, Mrs. F. Seacombe, Eng
Duffy, Miss B. R. London, Eng
Eccles, Mr. R. London, Ont
Eccles Mrs. London, Ont
Eriksen, Miss J. L. Newark, Ill
Essex, Miss E. Belfast, Ire
Evans. Miss E. R. Liverpool, Eng
Fairless, Mr. A. B. Bradford, Eng
Farrell, Mrs. L. Alconbury, Eng
Farthing, Dr. F. Detroit, Mich
Fee, Miss H. Ottawa, Ont
Fee, Miss A. Ottawa, Ont
Field, Mrs. M. A. London, Eng
Fieldhouse, Mr. J. W. London, Eng
Fieldhouse, Mrs. M. London, Eng
Finlay, Mr. H. G. Toronto, Ont
Fisher, Mrs. E. Viotoria, B.C
Fisher, Mrs. C. Sutherland, Sask
Fitzpatrick, Rev. J. Tompkins, Sask
Fitzpatrick, Mrs. Tompkins, Sask
Fitzpatrick, Miss E. M. Tompkins, Sask
Fleming, Mrs. R. Broken Bow, Neb
Fleming, Miss J. Broken Bow, Neb
Flenley, Mr. R. Toronto, Ont
Flenley, Mrs. Toronto, Ont
Flowers, Rev. J. F.. Louth, Eng
Flowers, Mrs. B. A. Louth, Eng
Flowers, Miss A. O. Louth, Eng
Forbes, Miss F. Aberdeen, Scot
Fossenden, Mr. F. J. West Newton, Mass
Frith, Mr. W. H. Desmoines, Iowa
Frith, Mrs. E. L. and Infant Desmoines, Iowa
French, Prof. R. D. Boston, Mass
French, Mrs. Boston, Mass
Gage, Mrs. E. J. Hamilton, Ont
Gardner, Dr. D. C. Santa Clara, Cal
Gardner, Mr. W. F. M. Liverpool, Eng
Gates, Miss N. Detroit, Mich
Geater, Miss A. H. Leiston, Eng
Gilmore, Mr. A. J. St. Catherine's, Ont
Gilmore, Mrs. St. Catherine's, Ont
Gocree, Mr. P. C. J. Grand Rapids, Mich
Godwin, Mrs. C. Calgary, Alta
Godwin, Miss L. Calgary, Alta
Goldstein, Dr. M. A. St. Louis, Mo
Goldstein, Mrs. St. Louis, Mo
Gooch, Mr. J. W. Toronto, Ont
Gooch, Mrs. Toronto, Ont
Gooch, Miss M. Toronto, Ont
Gooch, Mstr P. Toronto, Ont
Gooch, Mstr L. Toronto, Ont
Grant, Col. J. P. London, Eng
Grant, Mr. C. London, Eng
Grant, Mrs. C. London, Eng
Grayson, Miss M. J. Liverpool, Eng
Green, Mrs. F. Hamilton, Ont
Gregson, Mr. H. J. P. Hove, Eng
Grosett, Col. H. J. London, Eng
Grosett, Mrs. London, Eng
Gross, Mr. F. A. Chicago, Ill
Gwatkin, Miss G. Toronto, Ont
Hallett, Mrs. C. Winnipeg, Man
Hallum, Mr. R. A. Southampton, Eng
Hallutn, Mrs. Southampton, Eng
Hancock, Mrs. F. W. Toronto, Ont
Hancock, Miss H. Brighton, Eng
Hanks, Miss M. W. Birmingham, Eng
Harmer, Miss E. Toronto, Ont
Harrison, Miss D. Warrington, Eng
Harvey, Mrs. K. T. Woodstock, Ont
Hassall, Mrs. H. C. Chester, Eng
Hatcher, Mrs. E. A. Montreal, Que
Hay, Miss E. I. Toronto, Ont
Hayes, Mr. M. J. Montreal, Que
Hayes, Miss M. Montreal, Que
Hodge, Mr. A. G. Hamilton, Ont
Hodge, Mr. R. B. Hamilton, Ont
Hodges, Mrs. M. Folkestone, Eng
Hodges, Mstr R. Folkestone, Eng
Hodgkinson, Mr. O. J. Fort William, Ont
Holden, Rev. J. P. Toronto, Ont
Holden, Mrs. E. Accrington, Eng
Holloway, Mrs. L. Winnipeg, Man
Hooper, Miss I. Haddington, Scot
Horwood, Miss A. Toronto, Ont
Hossack, Mrs. J. A. Toronto, Ont
Hotson, Miss P. N. Detroit, Mich
Hotson, Mrs. J. A. Detroit, Mich
Hotson, Miss A. W. Detroit, Mich
Howard, Mr. N. J. Toronto, Ont
Howard, Mrs. N. J. Toronto, Ont
Howard, Miss M. A. Toronto, Ont
Howard, Mrs. C. Toronto, Ont
Howell, Mr. J. R. L. London, Eng
Hufford, Miss J. Boston, Mass
Hufford, Miss A. Boston, Mass
Hughes, Miss E. Toronto, Ont
Ireland, Mr. C. H. Ottawa, Ont
Ireland, Mrs. Ottawa, Ont
Jackson, Mr. J. R. Niagara, Ont
Jackson, Mr. G. S. London, Eng
Jackson, Mrs. J. London, Eng
Jackson, Mrs. J. H. London, Eng
Jackson, Miss M. London, Ont
Jahn, Mr. N. F. Seattle, Wash
Jamieson, Miss E. C. Morrisburg, Ont
Jeffrey, Mrs. J. G. Victoria, B.C
Jeffrey, Miss Victoria, B.C
Jenvy, Mr. Walsall, Eng
Jenvy, Mrs. Walsall, Eng
Jenvy, Mstr Walsall, Eng
Jenvy, Miss Walsall, Eng
Johnson, Miss G. Boston, Mass
Johnston, Mrs. R. H. Battersea, Eng
Johnston, Miss L. Battersea, Eng
Johnston, Miss J. Battersea, Eng
Jones, Rev. W. Morpeth, Ont
Jones, Mrs. Morpeth, Ont
Jones, Mstr L. Morpeth, Ont
Jones, Mr. L. C. New York, N.Y
Jones, Mr. F. C. Lachine, Que
Jones, Mrs. Lachine, Que
Jordan, Mrs. A. D. London, Eng
Julian, Mr. A. Grand Rapids, Mich
Kamovitch, Mrs. J. London, Eng
Kay, Miss M. J. Galt, Ont
Kelly, Mrs. P. B. Boston, Mass
Kelly, Miss R. Boston, Mass
Kern, Mr. G. London, Eng
Kerrigan, Miss A. H. Toronto, Ont
Kidd, Mrs. C. Buffalo, U.S
Kidd, Mstr J. Buffalo, U.S
Kier, Miss C. M. Chicago, Ills
Kiser, Mrs. C. M. Chicago, Ill
Kreutz, Mr. New York, N.Y
Kynoch, Mrs. H. Wingate, Eng
Land, Mrs. M. Vancouver, B.C
Land, Miss E. M. Vancouver, B.C
Larimer, Mrs. A. Boston, Mass
Larson, Mr. O. Lysirk, Sweden
Leger, Sister A. M. Riceville, Ont
Leonard, Mr. N. F. Worcester, Mass
Lester, Miss M. Hamilton, Ont
Lewis, Miss B. P. Toronto, Ont
Linham, Mr. C. Keynsham, Eng
Little, Rev. H. M. London, Eng
Love, Miss A. Belfast, Ire
Lovell, Mr. C. W. Victoria, B.C
Lovell, Mrs. Victoria, B.C
Lovell, Mstr W. A. Victoria, B.C
MacDonald, Miss B. Montreal, Que
Mackenzie, Mr. W. R. St. Louis, Mo
Mackenzie, Mrs. W. R. St. Louis, Mo
Mackie, Capt. W. B. Kingston, Ont
Mackie, Mr. J. Glasgow, Scot
Macleod, Mrs. G. Los Angeles, Cal
Malcomson, Mrs. A. H. St. Catherines, Ont
Malkin, Mrs. E. Toronto, Ont
Malkin, Miss C. Toronto, Ont
Malloy, Miss I. Boston, Mass
Marshall, Mrs. W. R. Halifax, Eng
Marshall, Mstr H. Halifax, Eng
Marshall, Mrs. H. M. Rochdale, Eng
Marshall, Mstr R. Rochdale, Eng
Marshall, Mstr T. Rochdale. Eng
Martin, Rev. W. G. Brantford, Ont
Martin, Mrs. Brantford, Ont
Martin, Mrs. J. K. Paris, Ont
Martin, Mr. W. G. Weston-super-Mare, Eng
Martin, Mrs. Weston-super-Mare, Eng
Martin, Mrs. E. Coventry, Eng
Matthews, Mr. R. Montreal, Que
Matthews, Mrs. Montreal, Que
Matthews, Miss A. Montreal, Que
Maughan, Mrs. D. Woodstock, Ont
Maycock, Mr. W. Mansfield, Eng
Maycock, Mrs. Mansfield, Eng
Maycock, Mstr Mansfield, Eng
Maycock, Miss Mansfield, Eng
Maycock, Mstr Mansfield, Eng
McCarter, Mr. G. Toronto, Ont
McFaul, Mr. Ed. Wellington, Ont
McGibbon, Dr. D. A. Medhurst, Eng
McHattie, Miss J. Newmachar, Scot
McIntyre, Miss K. E. Eastbourne, Eng
McKibben, Mrs. J. B. Boston, Mass
McLaughlin, Miss M. Oshawa, Ont
McMaster, B.A., Miss M. H. Windsor, Ont
McMillan, Mrs. J. M. Vancouver, B.C
McNabb, Miss B. Grand Rapids, Mich
McRae Mrs. J. B. Ottawa, Ont
Middleton, Miss E. Toronto, Ont
Miller, Mr. E. Liverpool, Eng
Milton, Miss M. A. E. Farnham, Eng
Mitchell, Mrs. J. W. Glasgow, Scot
Mockridge, Miss E. Philadelphia, Pa
Mockridge, Mstr J. B. Philadelphia, Pa
Moffat, Miss M. Toronto, Ont
Money, Mrs. E. London, Eng
Morava, Mr. J. H. Boston, Mass
Morava, Mrs. Boston, Mass
Morris, Mr. F. B. Derby, Eng
Morris, Mrs. and Infant Derby, Eng
Mountain, Miss E. Ottawa, Ont
Muirhead, Mr. R. J. Toronto, Ont
Muirhead, Mr. M. P. Toronto, Ont
Mulholland, Mr. T. W. Toronto, Ont
Mulholland, Mr. F. Toronto, Ont
Mundy, Mrs. J. O. Newdale, Man
Murray, Mr. F. W. Brandon, Man
Murray, Mrs. F. W. Brandon, Man
Murray, Mrs. J. Sioux City, Iowa
Murray, Miss J. Sioux City, Iowa
Murton, Miss L. Toronto, Ont
Myers, Mr. F. Boston, Mass
Myers, Mrs. Boston, Mass
Neill, Mr. J. A. Luton, Eng
Neill, Mrs. M. V. Luton, Eng
Neill, Miss M. M. Luton, Eng
Nelson, Miss F. London, Eng
Newing, Mr. W. E. Calgary, Alta
Newing, Mrs. Calgary, Alta
Nicoll; Mr. S. D. Dundee, Scot
Norcliffe, Mrs. A. C. Liverpool, Eng
Norman, Mrs. F. M. Leicester, Eng
Noteman, Miss M. Belfast, Ire
Noxon, Miss O. Toronto, Ont
O'Donnell, Mrs. H. and Infant London, Eng
O'Donnell, Mr. J. P. Mimico Beach, Ont
Orton, Miss M. E. Boston, Mass
Orton, Miss C. E. Boston, Mass
Osborne, Mrs. A. Toronto, Ont
Paillant, Mr. A. Liverpool, Eng
Park, Mrs. C. Aberdeen, Scot
Park, Miss E. Aberdeen, Scot
Park, Mr. W. Aberdeen, Scot
Park, Mr. J. Aberdeen, Scot
Pattison, Mr. L. M. London, Eng
Pattison, Mrs. London, Eng
Pearson, Miss G. Toronto, Ont
Pearson, Mrs. W. H. Toronto, Ont
Perkins, Miss M. London, Ont
Perry, Mr. P. J. Seattle, Wash
Perry, Mr. A. B. Cambridge, Mass
Porter, Miss M. N. Boston, Mass
Pottinger, Mrs. F. and Infant Blackie, Alta
Poulson, Mr. T. S. Edinburgh, Scot
Poulson, Mstr. E. Edinburgh, Scot
Pound, Miss D. L. London, Eng
Pratt, Prof. J. B. Williamstown, Mass
Pratt, Mrs. Williamstown, Mass
Price, Miss J. London, Eng
Price, Miss E. London, Eng
Procter, Mr. R. H. London, Eng
Ragland, Mr. H. S. Richmond, Va
Ramsey, Miss E. London, Eng
Read, Mr. A. P. Toronto, Ont
Read, Mrs. Toronto, Ont
Read, Miss Toronto, Ont
Reed, Miss H. M. Winnipeg, Man
Rees, Mrs. M. London, Eng
Rees, Miss P. London, Eng
Reid, Mr. J. London, Eng
Richards, Miss C. B. Sutherland, Sask
Riddle, Miss A. Toronto, Ont
Rigby, Miss K. London, Eng
Robson, Mr. F. E. London, Eng
Robson, Mrs. London, Eng
Rogers, Mrs. V. London, Eng
Rogers, Miss J. London, Eng
Rogers, Miss S. London, Eng
Rogers, Mr. V. London, Eng
Rogers, Mr. L. Boston, Mass
Rogers, Mrs. Boston, Mass
Rollett, Mr. W. Lincoln, Eng
Rosengarten, Miss C. Paris, France
Routzahn, Mrs. E. London, Eng
Routzahn, Mstr D. London, Eng
Rowan, Prof. W. Edmonton, Alta
Rowan, Mrs. and Infant Edmonton, Alta
Ryley, Miss I. M. Lindsay, Ont
Saunders, Mr. R. F. St. Leonards, Eng
Sauvain, Miss G. Z. Portland, Ore
Schell, Mr. M. S. Woodstock, Ont
Schell, Mrs. Woodstock, Ont
Schell, Miss H. C. Woodstock, Ont
Seale, Mr. O. Attanagh, Ire
Scott, Miss J. Perth, Scot
Shackleton, Mr. J. T. Toronto, Ont
Shackleton, Mrs. Toronto, Ont
Shaffer, Mrs. A. W. Pasadena, Cal
Shaffer; Mstr C. C. Pasadena, Cal
Shaffer, Mstr P. A. Pasadena, Cal
Shelford, Miss Birkenhead, Eng
Sherratt, Miss A. Manchester, Eng
Silburn, Miss L. Beverley, Eng
SiIver, Dr. R. H. Montreal, Que
Simson, Mr. J. D. Regina, Sask
Simson, Mrs. Regina, Sask
Simson, Miss J. Regina, Sask
Simpson, Mrs. J. B. Hamilton, Ont
Sligh, Mr. C. R. Grand Rapids, Mich
Sligh, Jnr., Mr. C. R. Grand Rapids, Mich
Sloan, Mr. S. B. Iowa City, Iowa
Smalley, Mr. E. Manchester, Eng
Smith, Miss J. M. Liverpool, Eng
Smith, Mrs. C. E. Wallasey, Eng
Smith, Miss J. Wallasey, Eng
Smith, Mstr D. J. Wallasey, Eng
Smith, Mrs. C. E. Calgary, Alta
Smith, Miss J. Calgary, Alta
Smith, Mstr D. J. Calgary, Alta
Smith, Mr. N. Montreal, Que
Smith, Miss M. J. Ottawa, Ont
Smith, Mrs. F. London, Eng
Smith, Miss E. London, Eng
Smith, Miss F. London, Eng
Smith, Mr. T. C. Toronto, Ont
Smith, Mrs. Toronto, Ont
Smith, Mrs. M. A. South Shields, Eng
Smith, Miss M. South Shields, Eng
Snow. Mr. C. W. Montreal, Que
Spencer, Miss E. Hove, Eng
Spitzer, Mr. S. C. Oak Park, Ill
Spitzer, Mrs. S. C. Minneapolis, Minn
Spitzer, Miss H. Minneapolis, Minn
Squire, Mr. W. Boston, Mass
Steirs, Mr. A. London, Eng
Steirs, Mrs. London, Eng
Stevens, Mr. E. W. London, Eng
Stewart, Mr. W. K. Hanover, N.H
Stewart, Mrs. Hanover, N.H
Stovel, Miss G. Toronto, Ont
Surgenor, Mr. W. J. Cornwall, Ont
Surgenor, Mrs. Cornwall, Ont
Sutcliffe, Miss E. Lindsay, Ont
Sweet, Mr. A. Winchester, Ont
Sweet, Mrs. Winchester, Ont
Switzer, Mrs. R. B. Victoria, B.C
Symons, Miss J. L. Montreal, Que
Tasigi, Mrs. A. Savannah, U.S.A
*Tasigi, Mstr P. Savannah, U.S.A
Taylor, Mr. G. E. Paris, France
'Taylor, Mrs. Paris, France
Taylor, Miss F. Paris, Ont
'Tedd, Miss W. E. Toronto, Ont
'Tegetmeier, Mr. M. London, Eng
'Tegetmeier, Mrs. London, Eng
'Thompson, Mrs. J. F. Victoria, B.C
Torkington, Mrs. C. Montreal, Que
Townsend, Mr. H. Boston, Mass
Trager, Miss L. C. Boston, Mass
Treherne; Mrs. A. and Infant Montreal, Que
Trigg, Mrs. G. M. Calgary, Alta
Trowbridge, Miss L. Worcester, Mass
Trumpour, Mr. H. B. Toronto, Ont
Udall, Mrs. C. A. Timmins, Ont. and Infant Timmins, Ont
Vaughan, Mrs. 0. Maidstone, Eng
Vevia, Miss A. C. Grand Rapids, Mich
Volkaerts, Miss M. New York, U.S
Wainwright, Mrs. A. Toronto, Ont
Walker, Mr. W. Montreal, Que
Walbridge, Mr. Milwaukee, Wis
Walser, Miss N. Hiblping, Minn
Warwick, Mrs. G. F. Pasadena, Cal
Warwick, Mstr F. Pasadena, Cal
Watt, Miss D. Toronto, Ont
Watt, Miss M. Toronto, Ont
Webster, Mr. F. St. Louis, Mo
Welch, Mr. H. Leicester, Eng
Welch, Mrs. Leicester, Eng
Welch, Miss A. Leicester, Eng
Welford, Dr. A. B. Woodstock, Ont
Wesely, Miss E. Boston, Mass
Wheelhouse, Mrs. S. Liverpool, Eng
Whiting, Miss J. Portland, Ore
Whyte, Mr. F. W. C. Glasgow, Scot
Whyte, Mrs. Glasgow, Scot
Whyte, Mr. K. Glasgow, Scot
Willits, Mr. L. J. St. Francis, Kan
Willits, Mrs. St. Francis, Kan
Wilson, Miss M. Montreal, Que
Wilson, Miss M. M. Winnipeg, Man
Wilson, Mr. H. W. Toronto, Ont
Wilson, Mrs. Toronto, Ont
Wilson, Mstr H. Toronto, Ont
Wiltshire, Mrs. N. F. Winchester, Eng
Winans, Miss J. Rochester, N.Y
Winnall, Miss S. Burnham, Eng
Wood, Miss F Montreal, Que
Worcester, Mr. A. W. London, Eng
Young, Mr. R. 0. Nottingham, Eng
Young, Miss M. Z. Boston, Mass
Information for Passengers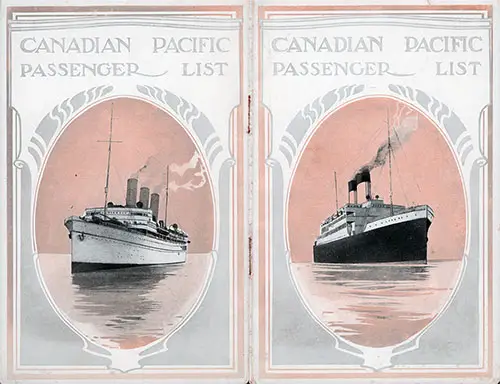 Front and Back Covers for the 6 September 1921 Cabin Passenger List of the SS Metagama. GGA Image ID # 15887c5744
Railway Ticket Office.
A Railway Ticket Office is located on board this steamer. The Ticket Agent in charge will be pleased to give Passengers every assistance in connection with their railway journey.
It would be much appreciated if Passengers would visit the Ticket Office for the purpose of facilitating landing arrangements by having the following matters attended to before arrival at the Canadian port of landing :—
Rail tickets are not good on trains unless stamped. This can be done at the Ticket
Agent's Office
Orders calling for inland transportation can be exchanged at the Ticket Office for railway ticket good on train
Inland rail tickets to all destinations in Canada and the United States may be purchased at the Ticket Office
Reservation of sleeping car accommodation can be made in advance by the Ticket Agent
Seats at Table—Arranged by Second Steward.
WHEN
First Sitting, Second Sitting, One Sitting ONLY
Breakfast 8:00 am 9.00 am 8:30 am
Luncheon 12.30 PM 1.30 PM 1.30 pm
Dinner 6:00 pm 7.00 PM 7:00 pm
After 10:00 am Breakfast is not served in the Saloon.
Children served with meals at only the first sitting.
Afternoon Tea is served at 4 o'clock. Tea served to children in the Dining Saloon only.
Lights extinguished in Saloon 11:00 pm, Café and Music Room 11:30 pm, Smoking Room 12:00 pm.
Bar closes 11:30 pm.
Public Rooms—Children are not admitted into the Drawing Room, Smoking Room or Card Room, after 8:00 pm
Deck Chairs for hire 3/-. Steamer Rugs rented at 3/-. Divine Service in Saloon 10:30 am Sunday.
Money Exchange—Purser exchanges a limited amount of English, Canadian, and American money.
Berthing of Passengers—No alteration can be made except officially through the Purser.
The Surgeon is authorized to make customary charges, subject to the approval of the Commander, for attending Passengers at their request for illness not originating on board. In case of sickness contracted on board no charge is made and medicine is provided free.
Valuables—A safe is provided in the office of the Purser, in which Passengers may deposit money and valuables for safe keeping during the voyage, free of charge. Envelopes will be provided to be sealed and signed by the Passenger.
As no charge is made for this service the Company can accept no responsibility for loss or damage, however arising. Wireless Telegrams—Information obtainable from Purser.
Passengers' Letters and Telegrams—Inquire for mail on arrival.
Bookstall—Books, Magazines, Candies, Toys, Novelties, etc., can,i be purchased from the Bookstall.
Passengers are requested to furnish their name and address to the Purser in order to facilitate delivery of letters and telegrams which reach. the Company after debarkation.
Passengers traveling to or through the United States must have Visa of American Consul on passports. They should report to Purser as early as possible.
Railway Ticket Office, C Deck—To facilitate landing arrangements all Passengers should call at the Company's Railway. Ticket Office on board, for Railway and Sleeping Car Reservations.
The Canadian Pacific Telegraph Company have a representative on Canadian Pacific ships on arrival to handle Passengers' telegrams,
Posting Letters at Sea—The Canadian Government notify that the Postal Administration of the United Kingdom and Canada have entered' into an agreement whereby either British or Canadian postage stamps may be used for prepayment of correspondence posted on the high seas on board contract mail steamers between Canada and the United Kingdom, whether such correspondence be posted on the Eastbound or Westbound passage of the mail steamers.
Customs and Baggage
Canadian Pacific baggage officials and Canadian Government Customs officials meet steamers on arrival, and arrange examination and checking of baggage through to the rail destination.
On arrival in port, immediately after Government inspection, and tickets to inland destinations have been obtained, Passengers should attend to the Customs examination of their baggage and arrange with the Railway Agent for its forwarding; the Railway Agent will issue a check for each piece of ' baggage to be forwarded. Unless baggage be checked out by Passengers it will be held at their risk until claimed.
U.S. Customs Officers are at Quebec, Montreal, Ottawa, Toronto, London, Ont., Winnipeg, Man., Banff and Vancouver, B.C., Stations to examine baggage destined for U.S. Passengers traveling to the U.S. via these points are recommended to have baggage inspected there and avoid examination at International Boundary. Baggage to U.S. not examined at above places must be inspected at International Boundary, otherwise it will be held by Customs.
Passengers should attend personally to Customs Examination of baggage.
Special Delivery of Baggage
Passengers for Quebec, Montreal, Ottawa, Toronto, Hamilton, Winnipeg, Vancouver, or Victoria, and the larger cities in the Eastern United States, may have baggage checked by any agent of this Company through to any residence, hotel, steamship dock, or railway depot, in such cities. This is a convenience. The transfer charge is collected by, the Baggage Agent at time of checking.
Checking of Baggage
must have Passengers personal attention. It will not go beyond the dock until it has been checked or registered By Passengers.
The railway baggage agents will give numbered Checks to destination of Baggage.
Baggage left unchecked on the dock will be at passenger's risk.
Notice
The Services of our Colonization Agent, who will board this steamer at Father Point, about 12 hours before arrival at Quebec, is at the dispozal of Passengers. Consult him for information as to farm lands or opportunities in Canada.
Department of Colonization and Development
C.P.R. Trans-Canada Limited LEAVING Montreal TRAIN Services
The line of the Canadian Pacific Railway extends across Canada from St. John, New Brunswick, on the Atlantic Ocean, to the City of Vancouver on the Pacific Ocean, and Passengers are carried without change of cars from tidewater to tidewater. There is a frequent service of express trains to all parts.
Ticket Offices at important stations are open 30 minutes before departure of trains, and Passengers are requested to purchase tickets before entering cars. Passengers should always procure tickets at regular railway ticket offices, and ask for them via the Canadian Pacific Railway.
MILEAGE Books, good on New Brunswick, Quebec, Ontario, and Algoma Districts, but not locally in the State of Main, are sold at principal stations, $34.10 for 1,000 miles. These books are valid for one year from date of issue, for purchaser only, whose signature they must bear, and are not transferable. Mileage book coupons are not . good on trains, but must be exchanged at the ticket office for passage ticket before entering cars.
Sport in Canada
The great forests of the Dominion of Canada have long been recognized as the home of big game. The prairies are the favorite hiding places of the quail, partridge, chicken, woodcock, etc. The marshes are the haunts of the wild water fowl, and the great waterways the habitat of many species of fish.
The transportation facilities to this great land of fur, feather and fin are excellent. The sportsman is placed by the Canadian Pacific Railway within easy reach of the desired game. Owing to the immense area covered by this railway from Atlantic to Pacific, a great variety of sport of all kinds is rendered easily accessible in all Provinces of the Dominion.
Good reliable guides can generally be had at reasonable wages, but this should be arranged well in advance of the trip. The. Tourist Department of the Canadian Pacific at Montreal is always ready to give advice to enquirers on this as on other points connected with camping, fishing and hunting trips.
Particular attention is paid to the wants and requests of sportsmen and lists of outfitters and guides, information regarding any special districts, game laws, etc., will be supplied promptly on application to A. O. Smdsioux, General Tourist Agent, Canadian Pacific Railway, Montreal.
Department of Colonization and Development
The Canadian Pacific Railway has established a Bureau of Canadian Information as a branch of its Department of Colonization and Development, with the object of disseminating reliable and up-to-date information as to agricultural and industrial openings in all parts of Canada.
Western Canada Farm Lands
The Company has yet for sale several million acres of choice farm lands in Western Canada, at low prices and on long terms of payment. In certain districts lands will be sold without settlement restrictions, but the Company is prepared to grant special concessions to those who will settle upon and develop their farms.
Eastern Canada Farm Lands
Lists of selected improved farms, available for settlement in Ontario, Quebec and the Maritime Provinces, with the names and addresses of their owners, may be obtained on application at any office of the Department.
Industrial Investigation and Research Investigations, looking to the utilization of undeveloped natural resources and waste products and new industrial processes, are being carried on by the Research Section of the Department. Inquiries" as to promising fields for investigation in this connection are invited.
Industrial Openings
Reliable information as to sites for new industries in all parts of Canada, and of special business openings in the growing towns and cities along the lines of the Canadian Pacific Railway in both Eastern and Western Canada, will be gladly furnished on request.
Canadian Intelligence Service
Well equipped Canadian reference libraries have been established by the Department at Montreal, New York, Chicago, and London, England. These libraries contain the fullest information on all matters relating to Canada and her undeveloped resources, and are kept supplied with the latest information pertaining to new developments through the medium of a news service organized through the Co-operation of the other departments of the Company's service.
The information on hand in these libraries is available without charge to those interested, and inquiries addressed to any office of the Department will receive prompt attention.
Further information and particulars can be obtained from the Department of Colonization and Development, Canadian Pacific Railway, which maintains offices at Windsor Street Station, Montreal, P.Q., Winnipeg, Man., Calgary Alta., and London, Eng.
Canadian Pacific Telegraphs
The telegraph system of the C.P.R. extends along the entire length of the railway, and reaches every point of importance off the line of railway in the Dominion of Canada.
The Commercial Cable Co. (Mackay-Bennett system) gives the C.P.R. the most direct connection with Europe, Asia and Africa.
Direct connection with the British Pacific Cable to Australia, New Zealand, etc.; the COMMERCIAI, Pacific Cable to the Hawaiian Islands, Philippine Islands, China and Japan; and the Commercial Havana Cable to Havana, etc.
The Postal Telegraph Co. of New York and San Francisco, enables the C.P.R. to reach all important points in the United States.
The Halifax-Bermuda and DIRECT West Indies Cable Co. gives connection with Bermuda, Jamaica endpoints in the West Indies.
Direct connection with the Dominion Government Telegraph Line to the Yukon and points in Alaska.
A tariff of charges for Telegrams is posted at all Telegraph Offices, and is kept by all Sleeping and Parlor Car Porters for inspection. Senders of messages are requested to compare the charges made with the rates on tariff.
To ensure quick despatch to all points see that your telegrams are written on C.P.R. Telegraph Blanks and are handed in at C.P.R. Offices.
Dominion Express Company of Canada
Operating on all lines of the Canadian Pacific Railway and Ocean Services and other Railway and Steamship Companies, FORWARDERS OP Merchandise, Money, Valuables, &c.; promptly, carefully and at reasonable rates.
Money Orders, Foreign Cheques and Travellers' Cheques issued. Money transferred by Telegraph and Cable.
When traveling the best way to carry your funds is in Dominion Express Travellers' Cheques. They are issued in convenient denominations of $1o, $20, $50, $100 and $200, are self-identifying, protect you against loss, and are accepted by Express Railway and Steamship Agents, Banks, Stores. Hotels, etc., throughout the world.
Full particulars on application to any C.P.R. or Dominion Express Office.
Purser and Assistant Pursers are always in attendance at the Bureau to deal with enquiries and mattets affecting the comfort or interest of Passengers.
It is desired that Passengers having cause for complaint will take the opportunity to report the matter, in order that it may be dealt with immediately. Passengers will appieciate that the Management cannot deal satisfactorily with complaints unless these can be investigated on the spot.
The Company invite suggestions for improvements, and request that these be addressed to the General Manager, Canadian Pacific Ocean Services, a Waterloo Place, London, Eng.