SS Melita Passenger List - 28 May 1921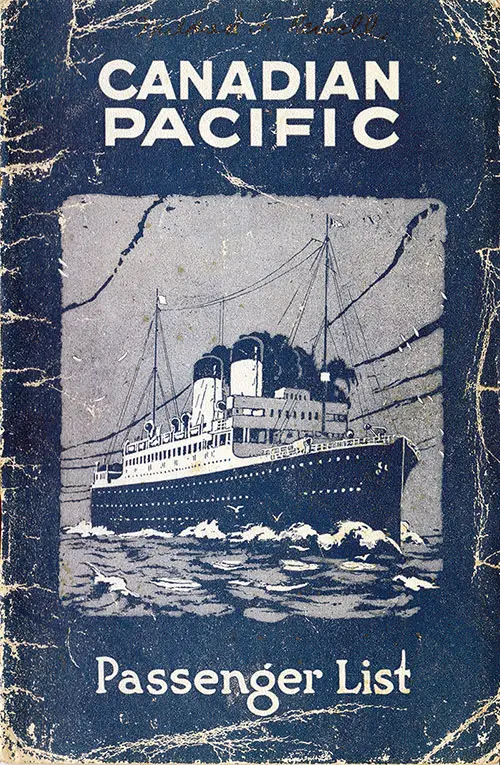 Front Cover of a Second Cabin Passenger List from the SS Melita of the Canadian Pacific Line (CPOS), Departing Saturday, 28 May 1921 from Montreal to Liverpool, Commanded by Captain H. Parry. GGA Image ID # 173e573784
Senior Officers and Staff
Commander: H. PARRY
Chief Officer:  A. H. NOTLEY
Chief Engineer:  E. MACFADYEN
Purser: G D. FISHWICK, R.N.R.
Surgeon: G. S. KEARNEY
Chief Steward:  R. H. KIRKPATRICK
Second Cabin Passengers
A'Béar, Mrs. A. R.
A'Bear, Miss E. M .
A'Bear, Miss D. W.
Almen, Mr. J. S.
Allardice, Mrs. E. A.
Allen. Dr. George H.
Allen, Mrs.
Allen, Master George Edm. M.
Allen, Miss E.
Anderson, Mr. G. L.
Anderson, Mrs. D. J and two Children
Anderson. Miss E.
Armour. Miss W. M.
Armstrong, Rev. R. A.
Ashbrook, Miss Artie
Barker. Mrs. H.
Barker, Master Geo
Barker, Mr. H. H.
Barnes, Mr. E. H.
Barnes, Mrs.
Bassett, Miss H. J.
Bassett, Miss P.
 Bath, Mr. John
Bath, Mrs.
Bath, Master Russell
Bayly. Mr. H. W.
Bazin, Miss Eleanor
Beaudry, Mrs. Jos. E.
Beaumont, Mrs. E. S.
Bell, Miss A.
Berliner, Miss
Berry, Mrs. G. E.
Berry. Miss Doreen
Bevans, Miss Mary M.
Bishop, Miss A. S.
Blanchard, Mr. C. R.
Blanchard, Mrs.
Blanchard, Miss
Blanchard, Master
Blaxall, Mrs. K. W.
Bonsor, Mr. E. J.
Borlace, Mr. W.
Bowman, Mrs. D.
Bowman, Mr. M.
Bradley, Miss Y.
Brand, Mrs. J.
Brand, Miss N.
Brand, Master A.
Brannon, Mr. Henry
Brannon, Mrs.
Bridge, Mrs. M. F.
Bridge, Miss Eileen
Bridges, Mr. Granby
Bridges, Mrs.
Bunn. Mr. Leonard
Bush. Mr. S.
Bush. Mrs.
Bush. Master Francis
Bush. Master William
Burton, Mr. V. F.
Calder, Mr. John
Calder, Mrs.
Callander, Mrs. Mary
Cantley, Col. C.
Campbell, Mr. F. A.
Campbell, Mrs. 
Carpenter, Mrs. D.
Carter, Mr. E. J. C.
Causton, Mrs. A.
Causton, Miss Hilda
Chaddock, Mrs. Jane
Chamberlain, Mr. S. F.
Chamberlain, Mrs.
Chamberlain, Master L.
Chapman, Mr. C.
Chapman, Mrs. 
Chilman, Mr. E. E.
Chilman, Mrs     .
Christian, Miss M.
Clarke, Mr. W.
Clarke, Mrs.
Cole. Miss A. K.
Collette, Sister M.
Collins, Mr. C. V.
Collins, Mr. William
Collins, Mrs.
Collins, Miss H.
Cook, Mrs. M.
Cook, Miss Alice
Cooke, Dr. E. H.
Cooke, Prof. Wilbur R.
Cooper, Mr. D.
Cooper, Mr. J. G.
Cooper. Miss J. N.
Copeland, Mr. Jos.
Copeland, Mrs.
Cormack, Mr. J.
Cormack, Mrs. L.
Croffley, Mr. A
Cross, Dr. Albert J.
Cross, Mrs
Cross, Miss
Cross, Miss
Davis, Mr. G. C.
Davis, Mrs.
Davies, Mrs. L.
Dawson, Mrs. W. B
Dawson, Miss Cristall
Day, Mrs. F. A.
DeGruchy, Mr P. M.
DeGruchy, Mrs.
Detrait, Mr. Oscar
Detrait, Mrs.
Detrait, Miss Raymond
Dickinson, Mrs. A. E.
Donkin, Mrs. K. D.
Donkin, Miss G. W.
Dorward, Mr. Irwin P.
Doxsee, Mr. J. W.
Doxsee, Mrs.
Drummond, Miss Mary
Duckworth, Rev. E.
Dyke, Mr. Fred
Earle, Mrs. B. A.
Edgar, Miss A.
Edwards, Mr. Jas
Edwards, Mrs.
Ellis, Mrs. J.
Emery, Mr. C. W.
Fairburn, Mrs. J.
Falk, Capt. E.
Fellowes, Mr. C. M.
Fillingham, Mr. W. J.
Fillingham, Mrs.
Fillingham, Miss M.
Fish, Mrs. Carl R.
Fisher, Mrs. S.
Francis, Mrs. A.
Franks, Mr. F. W.
Franks. Mr. F. A.
Fretwell. Mr. R. J
Fretwell. Mrs.
Fritsch, Mrs. H. P.
Fritsch, Miss Susan
Fritsch, Miss
Forest, Mrs. Janet
Forest, Master Robt
Forest, Master James
Foss, Miss E
Fost, Mr. George S.
Fothergill, Mrs. and Infant 
Fothergill, Master Clifford
Fothergill, Master Ernest
Fuer, Mrs. R.
Fuller, Mrs. M.
Fuller, Miss A. S.
Gale, Mrs. A. E.
Gascoygn, Miss J.
Gates, Mr. F. W.
Gates, Mrs.
Gates, Miss G. M.
Geary, Mrs. Mary
Geary, Miss Mary
Geary, Miss Jessie
Gemmill, Major James D.
Gemmill, Mrs.
Gibb, Mrs. F. J. and Infant
Gibson, Mr. F. H.
Gill, Miss E.
Gillespie, Mr. T. W.
Goddard, Mrs. M.
Gover, Mrs. C.
Gover, Master Robert
Grand, Mrs. A.
Graves. Miss K.
Gray, Mr. Chas G.
Gray, Mrs.
Gray, Master C. A.
Gray, Master J. A.
Greenop, Mr. Wm
Gregg, Mrs. G. A.
Grice, Mrs. R.
Grice, Miss Edna
Grosevenor, Mr. Chas
Grosevenor, Mrs.
Hadley, Mrs. F.
Hadley, Master
Hales, Mr. Wm
Hales, Miss M. A.
Halloway, Mrs. A. F.
Harding, Dr. V. J
Harrison, Mr. H. A.
Harrison, Mrs.
Hartland, Mr. J. T.
Hartzheim, Mr. Herman
Haswell, Miss V.
Haywood, Mrs. E.
Head, Mr. Alden S.
Henderson,Mr. Chas
Henderson, Miss E. C.
Henderson, Mrs. J. A.
Henderson, Miss Jean
Hetherington, Miss Jean
Higgins, Mrs. E. I.
Hillier, Mr. T. W.               
Hobb, Mrs. F.
Holbrook, Mr. R.H.
Holbrook, Mrs. and Infant
Holbrook, Miss Elsie
Holditch., Mr. C. J.  
Horne, Mrs. H.
Howe, Mr. T.
Hughes, Mr. Spencer
Hughes, Miss Ethel G.
Hughes, Miss Gertrude E.
Hughes, Miss Florence A.
Hulme, Mr. G. R.
Hulme. Mrs.
Hyatt, Miss M.
Imlach, Miss G. H.
Imrham, Mrs I.
Irving, Mr. James
Irving, Mrs.
Jamieson, Mr. C. V.
Jamieson, Mrs.
Jamieson, Miss Jane
Jamieson, Mr. Robert
Jarvis. Mr. Frank D
Johnston, Mr. P. G.
Johnston, Mrs.
Johnston, Mr. N.
Johnson, Master Mervin
Johnson, Miss Annie
Jones, Mr. W. R.
Jones, Mrs.
Kean, Mrs. J.
Kearney, Miss Annie
Kimberly, Mrs. E.
Kinnear, Mr. W.
Kirchner, Mrs. Julius
Kirsch, Mr. David
Kittels, Miss E. S.
Knox, Mr. R. S.
Kurtz, Mr. Ed .
Laing, Rev. J. M
Laing, Miss M. F. Okanagan
LaRue, Mr. W. F.
LaRue, Mrs. 
Lawrence, Mrs. S. A..
Lawrie, Captain T.
Lawrie, Mrs. 
Leese, Mr. H.
Leese, Mrs. 
Lloyd, Mr. S.
Lock, Mr. A. E
Lock, Mrs.   
Lomax, Miss M.
Long, Miss M .
Loree, Mrs. G. F.
Lothian, Mrs. S. G. 
Lothian, Master
Lothian, Miss Margaret
Lovett, Mr. Chas
Lovett, Mrs.
Lowe, Mr. A.
Luther, Mr. H. B.
MacDougall, Mr. A. Roy
MacDuff, Mr. Thos
MacDuff, Mrs .
Machado, Mr. J. Z.
Machado, Miss Angelo A.
MacKay, Mr. D.
MacKay, Mrs .
MacKay, Miss Rose
MacLean, Miss Kate
Magnusson, Mr. Charles
Mallinson, Mr. Arthur
Marriott, Mr. T. H.   
Marsh, Mrs. J.
Marshall, Mr. John  
Marshall, Miss Ivy V .
Martin, Miss Flossie M
Maughan, Mrs. Cuthbert
McDowell, Mr. John
McDowell, Miss Ella R.
McEwen, Mr. J.
Mclnnes, Mr. John M.
McMullen, Mr. T.
McMullen, Mrs.
McNeilly, Miss M.
McNeilly, Miss L.
McRae, Mrs J. B.
McTavish, Mrs. J.
Medhurst, Miss M.
Mees, Mrs. Eva
Mees, Master Jack
Mees, Master Robert
Mees, Master Donald
Melvin, Prof. G. S.
Melvin, Mrs. and Infant
Mendez, Mrs. C.
Mendez, Jr. Mr. Charles
Michaels, Mr. A. E.
Michaels, Mrs.
Miller, Mr.
Minn, Mr. H. J.
Moon, Miss A.
Moon, Miss L.
Moore, Mrs. W. G.
Moorhead, Mr. I. M.
Moorhead, Mrs.
Moorhead, Miss Amy
Moorhead, Miss Lily
Moorhead, Miss Eileen
Morgan, Miss Elsie 
Morledge, Mrs. G. P.
Morris, Mrs. A.
Morrison, Mrs. Mary
Morrison, Miss Mary
Morrison, Master John
Morrison, Master James
Morrison, Master Russell
Morrison, Miss M.
Mort, Mis. E. H.
Mort, Miss Freda
Mott, Mrs. and Infant
Newell, Mr. Bertram
Newell, Mrs.
Newell, Miss Mildred F.
Niblett, Mr. A. B.
Parkes, Mr. J. S.
Parkes, Mrs.
Parsons, Mr. H. W.
Paton, Mrs. E. S.
Pearce, Mr. H. P.
Pearce, Mrs.
Pearce, Master Roland
Pearce, Miss Doris
Peake, Mr. A.
Pidgeon, Dr. E Leslie
Pidgeon, Mrs.
Phillips, Mr. J.
Plumridge, Mr. F.
Plumridge, Mrs.
Porteous, Mrs. A.
Porteous, Master Robert
Quehen, Miss B.
Ragg, Miss F. M.
Randall, Miss M. G.
Rawnsley, Mr. S.
Ray, Mrs. A. H.
Richardson, Mrs. B. and Infant    
Richardson, Miss E.
Richardson, Mr. H. E.
Richardson, Mrs.
Richardson, Mr. R.
Riche, Mr. A.
Ridler, Mr. L. C.
Ridout, Mr. George L.
Riley, Mrs. M.
Riley, Master Bert
Riley, Master Jack.
Robertson, Mrs. G. R.
Robertson, Mr. W. B.
Robertson, Mrs.
Robertson, Miss Irene
Robins, Mr. E.
Rogers, Mr. Harvey B.
Rowlands, Mrs. S.  
Royton. Miss Elma
Sach, Mrs. L. S.
Scott, Mr. C. S.
Scott, Mrs.
Scott, Miss E. M.
Scott, Miss I.
Scoular, Mr. George W.
Scoular, Mr. Robt. M.
Seelman, Jr. Mr. Geo
Seelman, Mrs.
Service, Miss Helen
Shand, Capt. P. K.
Shand, Mrs. 
Shankland, Rev Dean
Shaw, Mr. H. J.
Shaw, Mrs.
Shaw, Mr. W .
Sheppard, Mr. A.
Sheppard, Mrs.
Siddall, Mrs. O. L.
Siemens, Miss F .
Sinclair, Mrs. G.
Sinclair, Mr. W.
Smith, Mr. E J.
Smith, Mrs. H. P. W.
Smith, Mrs. S. G.
Smith, Master George
Smith, Mrs. H.
Speakman, Prof. H. B.
Spowart, Miss Mary
Stephens, Miss Elizabeth
Stewart, Miss E.
Stewart, Mr. James
Stewart, Mr. P. D.   
St Jacques. Dr. Eugenr
Storey. Mr.
Stow, Mrs.
Sutherland, Mr. J. B .
Sutherland, Mrs.
Sutherland, Master James
Tait, Miss Jaqueline
Tarrant, Mr. F. W.
Tarry, Mr. E. 
Taylor, Mr. H.
Taylor, Mrs.
Taylor, Master James
Taylor, Master Bernard
Taylor, Master John
Taylor, Mrs. W.
Tennent, Mrs. Marie
Tennent, Miss Rebecca
Terroux, Miss M.
Terroux, Miss L.
Thompson, Mrs. M.
Thompson, Miss I.  
Todd, Sr. Mrs. M
Todd, Dr. T. Wingate
Todd, Mrs.
Todd, Master Arthur
Todd, Master Donald
Todd, Miss M.
Tomlinson, Mr. A.
Tomlinson, Mrs.
Tough, M. W.
Tough, Master Campbell
Tulloch, Mr. Donald
Tulloch, Mrs.
Tulloch, Miss Maude
Turner, Mr. Wm
Turner, Mrs. 
Van Buskirk, Mrs. F.
Walker, Mrs. G. B.
Waterson, Mr. J.
Waterson, Mrs.
Webster, Dr. A. G.
White, Mrs.  A. G.
White, Mrs. C. L.
Whiting, Mrs. J. L.
Wier, Mrs. E  .
Williams, Miss Florence B.
Williams, Mrs. F. E.
Wilson, Miss Violet
Wilson, Mr. N. C.
Wimberley, Miss B.
Wylie, Mr. A.
Information for Passengers
Purser and Assistant Pursers are always in attendance at the Bureau to deal with enquiries and matters affecting the comfort or interest of passengers.  It is desired that passengers having cause for complaint will take the opportunity to report the matter, in order that it may be dealt with immediately.
Passengers will appreciate that the Management cannot deal satisfactorily with complaints unless these can he investigated on the spot. The Canadian Pacific invite suggestions for improvements.
Meal Times
When One Sitting Only
Breakfast: 8.30 am
Luncheon: 1.30 pm
Dinner: 7:00 pm
When Two Sittings
Breakfast: 8:00 am | 9.00 am
Luncheon: 12.30 pm | 1.30 pm
Dinner: 6.00 pm | 7.00 pm
Breakfast will not be served in the dining room after 10:00 am
Seats at Dinner arranged by Second Steward.
Children must dine at first sitting.
Afternoon tea will be served at 4.00 p. m. on Deck and in all Public Rooms, but children will be served in the Dining Saloon.
Lights are extinguished in Saloon at 11:00 pm., Music Room and Drawing Room at 11.30 p.m. and Smoke Room at midnight, Bar closes at 11:00 pm.
Divine service in Saloon at 10:30 am Sunday.
Steamer Rugs rented at $1.00 each for the voyage, on application to the Deck Steward.
Deck chairs for hire, $1.00
British Railway Time Tables will be found in the Library or Drawing Room.
Representatives meet all steamships to give passengers information and assistance.
Wireless Telegrams. Steamships are equipped with Marconi Wireless System.  Information can be obtained from the Purser.
Valuables. A safe is provided in the office of the Purser, in which passengers may deposit money and valuables for safe keeping during the voyage, free of charge. Envelopes will be provided to be sealed and signed by the passenger. As no charge is made for this service the Company can accept no responsibility for loss or damage, however arising.
Money Exchanged. The Purser is authorized, for the convenience of passengers, to exchange a limited amount of Canadian and American money into English Currency.
Surgeon is authorized to make customary charges, subject to the approval of the Commander, for treating any passengers at their request for any illness not originating on board the ship. In the case of sickness contracted on board no charge will be made and medicine will be provided by the Surgeon.
BRITISH IMMIGRATION EXAMINATION- Every passenger is required to complete a Declaration which must be delivered to the Purser or Bedroom Steward immediately on embarkation. This is required for manifesting purposes.
Handbags and Trunks which will fit underneath the berths will be allowed in the cabins, and no other. Passengers are requested to write their name and European address on the back of baggage checks and hand them to the Baggage Master as soon as possible after sailing. They must claim their own baggage in the Customs Baggage Examining Room at port of disembarkation, where it is placed under initial letters.
Letters & Telegrams for passengers are brought on board at the ports and placed in alphabetical order in the letter case. To facilitate the delivery of letters and telegrams which may reach the Company after passengers disembark, they are invited to leave their address with the Purser, so that letters may be forwarded. When posting letters at sea, British or Canadian postage stamps may be used. These can be obtained from the Steward in the Drawing Room. Letter box will be closed one hour before arrival in port.
LONDON SPECIAL TRAIN (L. & N. W. Rly.) usually leaves Riverside Station (adjoining Liverpool Landing Stage) for Euston Station, London, within two hours of ship's arrival at landing Stage. Time occupied on journey about 4'A hours. Passengers obtain on board ship labels marked "London," which should be affixed to all baggage to facilitate Customs Examination.
BRITISH MAIL TICKETS via London & North Western Railway obtainable on board to the following points, LONDON, GLASGOW. BRISTOL and BIRMINGHAM. The ticket agent exchanges Canadian forwarding orders Form A3 for British rail ticket. Passengers can also purchase London & North Western rail tickets to above points.
Tickets are only available on Day of Issue and for London by special train. Apply at Ticket Agent's Office on board.