SS Empress of Australia Passenger List - 12 June 1935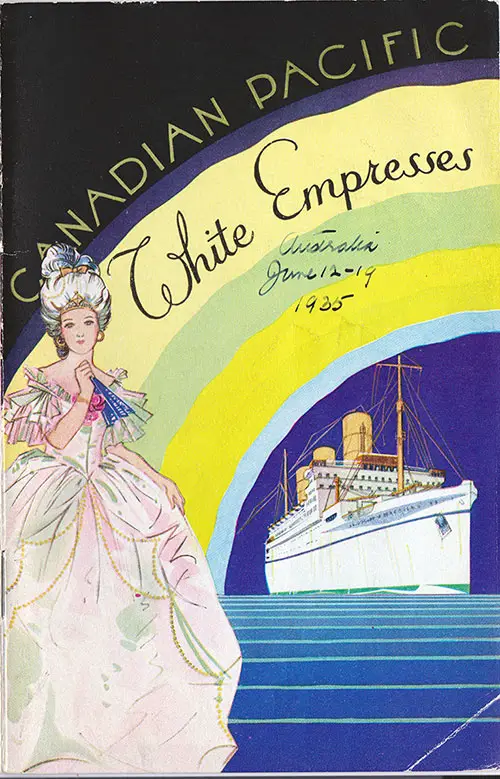 Front Cover of a First Class Passenger List from the SS Empress of Australia of the Canadian Pacific Line (CPOS), Departing Wednesday, 12 June 1935 from Southampton to Quebec, Commanded by Captain A. Rothwell. GGA Image ID # 1590c88a2f
Senior Officers and Staff
Commander: A. ROTHWELL
Staff Captain: E. J. JONES
Chief Officer: R. H. WOOD
Purser: J. W. BARTLET
Surgeon: E. F. D. OWEN, M.R.C.S., L.R.C.P.
Chief Engineer: G. HALBERT
Chief Steward:  J. CUNNIAM
Conductress: MRS. G. SWENSON
RAILWAY TICKET OFFICE.
Rail Traffic Representative: R.S. HENRY – Office on "A" Deck, Amidships
First Class Passengers
Mr. Wilfred Astles
Mrs. Henry B. Binsse
Miss Grace Bone
Miss Eleanor Bone
Mrs. George Philip Buck
Miss Phyllis Buck
Miss Edith Burrows
Mr. R. Carman
Mrs. Henry Cockeshutt
Mr. R. W. R. Cowie
Mrs. Cowie
Master Robert Cowie
Miss Marjorie Foreman
Mr. Gus Francq
Mr. Frank Hayman
Mr. G. N. Irwin
Mrs. Irwin
Mr. G. W. Ivey
Mr. Henry Knell
Miss Annie Knell
Mrs. L. Lockhart
Mr. R. Ray McLaughlin
Mrs. McLaughlin
Mrs. S. Beatrice Marani
Mrs. W. B. Meikle
Mrs. James C. Middleton
Mrs. Cleveland Mitchell
Miss Catherine F. Mitchell
Miss Mary A. Mitchell and Nurse
Mrs. William Muloch
Mrs. E. B. Ridsdel
Miss K. Ridsdel
Dr. S. Allan Shiach
Mrs. Shiach
Mr. G. L. K. Shiach
Mr. O. H. J. Snider
Miss P. Templeman
Miss Margaret C. Templeton
Miss Qnbrlelle Vuichoud
Mr. William Leslie Warren
Mr. Charles Wasson
Mrs. Wasson
Mr. Charles L. Wilson
Mr. R. H. Young
Mrs. Young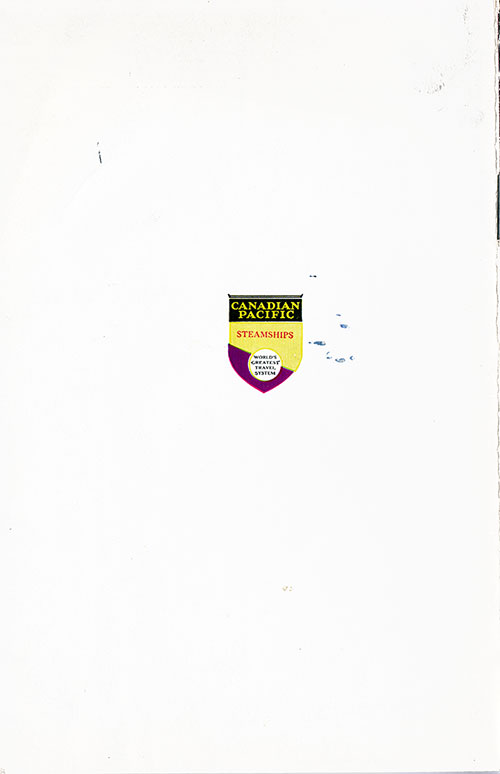 Back Cover, SS Empress of Australia Passenger List - 12 June 1935. GGA Image ID # 173c432f81
Information for Passengers
Meals Breakfast - Breakfasts not served in Dining Saloon after 10:00 am.  Breakfast bugle will not be sounded when only one sitting. Passengers should notify Bedroom Steward when they wish to be called.
Table Seat Numbers—Passengers obtain table seat numbers from Second Steward or Head Waiter in the Dining Saloon.
Afternoon Tea is served at 4 p.m. on Deck and in all Public Room;children served in the Dining Saloon.
Bugle is sounded thirty minutes before dinner.
Smoking – For the general convenience of passengers smoking should be confined to the Smoking Room, Lounge and Card Room. It is not permitted in the Drawing Room.
Children are not entitled to table seats at meal hours for adults unless paying adult fare.
Orchestra at Luncheon, Dinner and for dancing in the evening.
Private Dinners - Passengers who desire to arrange private dinner parties should apply to the Chief Steward or Head Waiter. No charge is made for this service.
Baths Arrange with Bedroom Steward time desired.
Valuables and Money—For the convenience of passengers the Purser will receive articles or money for custody in a special envelope provided for the purpose. As no charge is made for this facility the Company accepts no liability whatsoever.
Change of Accommodation - Passengers who desire a transfer of accommodation should apply to the Purser, who alone is authorized to make changes. If higher graded accommodation is desired the difference in fare must be paid, as the Purser is not permitted to deviate from the Company's tariffs.
Deck Chairs rented at $1.50 each;  Rugs $1.50 each; Cushions $1.50 each. Apply to Deck Steward.
The Shop is situated on "B" Deck, in the Entrance Hall Jewelry, Dress Goods, Confectionery, Photographs, Films, etc., are on sale. A wide range of Fancy Dress Costumes is available for sale or hire.
Library Steward sells stamps and provides stationery, telegraph forms, books of reference and railway time tables.
Stamps are on sale in The Shop, Library and Bureau. English and American postage stamps may be used for mail posted at sea.
Books of Fiction and Reference are obtainable from the Library. Books lost by passengers must be paid for.
Stenographer - An experienced Stenographer is available to undertake work for passengers. Apply to Information Bureau for rates.
Surgeon - The Surgeon is authorized to make customary charges for his services, subject to the approval of the Commander.
Nurses -The services of trained and qualified Hospital Nurses, under the direction of the Surgeon, may be obtained.
Rail Ticket Office - To facilitate landing arrangements, all passengers should call at the Rail Ticket Office on board for railway tickets and sleeping car reservations.
Return Atlantic Passage—The Rail Traffic Representative is equipped to furnish full Information concerning sailings and bookings on Canadian Pacific Steamships. Reservations should be secured from him and deposits to cover will be received.
Divine Service Divine Service in Dining Saloon at 10.45 a.m., Sunday. Altars are carried for Holy Mass and for the celebration of Holy Communion.
Money Exchanged - Money can be exchanged, advances made on Letters of Credit, Travelers' Cheques cashed and on sale at the Purser's Office.
Cheques - Passengers are respectfully advised that the Purser has no authority to accept private cheques in payment of accounts, or for exchange.
Wireless Telegrams information and rates furnished at Purser's Bureau. The ship is fitted with wireless installation permitting communication with both sides of the Atlantic at any time during the voyage. Attention is drawn to special facilities for cheap rates for ocean " poste " and ocean letters.
Mail, Cables and Wireless Telegrams - Passengers are requested to enquire for mail at the Information Bureau.
Mail, cables and wireless messages are received at the Information Bureau for despatch. Cablegrams and telegrams should be handed in an hour before arrival at any port of call.
None of the ship's employees, other than those on duty in the Information Bureau, are authorized to accept letters, cables and telegrams for despatch while the ship is at sea.
Passengers are invited to leave their addresses at the Information Bureau, so that all undelivered mail, telegrams, etc., may be forwarded. Mail matter may be sent in care of any Canadian Pacific office—see list at end.
Passengers are requested to note that the Company do not undertake to accept delivery of parcels in Great Britain and Ireland, if the value of the contents is to be paid on delivery, unless prior arrangements are made with the Company for the amount to be paid.
Lifebelts are in State-Rooms / Bedroom Steward will explain method of attachment.
Emergency Stations - An exercise will be carried out the day after sailing, weather permitting. Passengers will don lifebelts and proceed to Muster Station, in accordance with arrow direction signs and framed plans in alleyways.
Deck Games - Deck Quoits, Shuffleboard and other Deck Games will be furnished by Deck Sailor or the Deck Steward. Chess, Draughts, Dominoes, etc., obtainable from Public Room Stewards.
Gymnasium - A fully equipped Gymnasium is on the Promenade Deck. Entrance by Stairway adjoining Smoke Room on Promenade Deck.
Swimming Pool Hours:
Gentlemen only: 6.30 a.m. till 9:30 am
Ladies only: 10.00 a.m. till 1:00 pm
Mixed Bathing: 2:00 pm till 5.00 p.m.
Gentlemen only: 5.00 p.m. till 7:00 pm.
Passports - Passengers travelling to or through the United States are requested to call at Purser's Office with their passports as soon as possible.
Baggage - Baggage will be grouped alphabetically in the Customs Shed on arrival, and Passengers must attend personally to Customs examinations.
Baggage Insurance - Passengers are recommended to insure their baggage, as the Company's liability is strictly limited in accordance with contract ticket. Baggage insurance can be arranged at any of the Company's offices or through Rail Traffic Representative on board.
United States Head Tax - In order to obtain refund of United States Head Tax, temporary visitors to, or passengers in transit through, the United States, who intend to leave the United States within sixty days from their date of entry, must give this information on the U.S. Declaration Form completed at time of booking.
It is also necessary that they inform the U.S. Immigration Inspector at the port of landing that they are leaving the United States within sixty days, and they should apply to him for certificate form 514, without which no refund of U.S. Head Tax will be considered by the U.S. authorities.
French speaking Staff - For the convenience of French speaking Passengers the Ship's Company includes Stenographers, Stewards and Stewardesses, who are conversant with the French Language. These may be distinguished as follows :
Stenographers: Red shoulder tabs on dress.
Table Stewards: Red collar on their uniform jackets instead of a blue collar.
Bedroom Stewards: Red collar fitted to their white jackets.
Stewardesses: Red turn back on cap.
Suggestions - Passengers having any suggestions or complaints to make regarding service are requested to submit them to the Commander, Purser or Chief Steward promptly, so that immediate attention may be given.