SS Duchess of Richmond Passenger List - 17 August 1937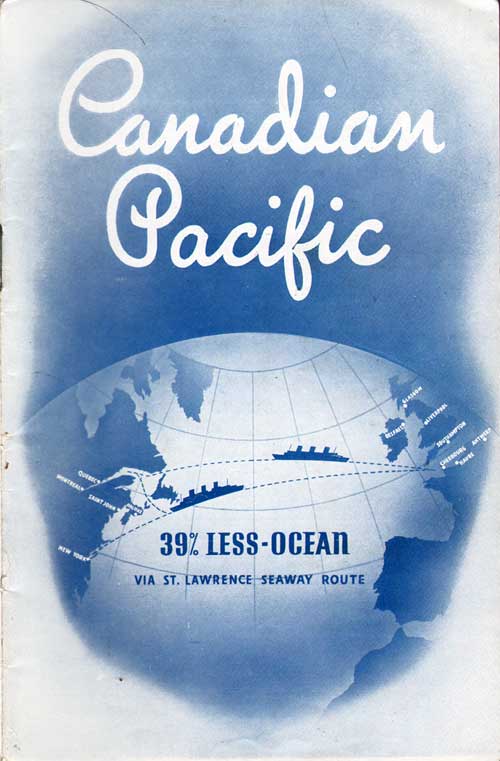 Front Cover of a Cabin and Tourist Class Passenger List for the SS Duchess of Richmond of the Canadian Pacific Line (CPOS), Departing 17 August 1937 from Southampton to Quebec and Montreal via Cherbourg, Commanded by Captain H. A. Moore. GGA Image ID # 173ac21bc7
Senior Officers and Staff
Captain H. A. Moore, R.D., R.N.R., Commander
Chief Officer B. L. Leslie
Chief Engineer H. Pratt
Purser G. Crawford
Surgeon E. W. Drury, M.B., Ch.B
Chief Steward H. Monkhouse
Rail Traffic Representative M. Mulroney
Office : "A " Deck Square
List of Cabin Passengers
Mr. W. G. Abel
Dr. C. K. Allen
Mrs. Allen
Mr. K. W. C. Andrews
Dr. E. Archibald
Miss Isabel C. Armstrong
Miss G. Atkin
Mrs. A. J. Auchterlonie
Mr. C. C. Brinton
Miss C. C. Brinton
Mr. E. Bristol
Mrs. Bristol
Mrs. M. E. Brown
Mr. L. A. Burleigh
Mrs. Burleigh
Miss S. L. Bushe
Rev. Joseph Butler
Miss Jeannine Baillargeon
Miss M. Bartlett
Miss Ruth Beach
Mr. Charles N. Beard
Mrs. Beard
Mrs. Martha H. Berger
Dr. A. W. F. Blunt
Mrs. Blunt
Mr. A. J. Bolton
Miss Claire Bourassa
Mr. W. H. Box
Mr. P. S. Bradford
Mrs. Bradford
Mr. P. S. Bradford, Jr.
Miss C. M. Bradford
Mr. J. Brazier
Dr. J. P. Brennan
Mr. W. Cannell
Mrs. Cannell
Mrs. P. Chandler
Dr. F. G. S. Christie
Mrs. Christie
Mast. E. A. Christie
Miss M. J. Clancy
Mr. J. Colyer
Miss Kathryne Corbin
Miss A. Coats
Mr. M. E. F. Coutelier
Mrs. Coutelier
Miss S. Coutelier
Prof. R. W. Crowell
Mrs. Crowell
Miss C. Cruickshank
Mr. Arthur Dausereau
Miss M. L. De Candt
Miss G. de Lorimer
Miss M. de Lorimer
Mr. W. H. Deblois
Mrs. Deblois
Mr. W. H. Despard
Mrs. Despard
Dr. Gustave Desrochers
Mr. F. G. Dewey
Mrs. Dewey
Mr. R. B. Dewey
Miss W. Dowson
Mrs. W. H. Dreis
Miss G. Dreis
Mrs. David O. Dunbar
Mr. George B. Dunbar
Mr. Jules Dupre
Mrs. Dupre
Miss Ruth Edwards
Miss Catherine Eisaman
Mr. V. A. A. Elgood
Mrs. Elgood
Mr. J. L. A. Elgood
Mrs. Marie W. Farrar
Mr. R. Featherstone
Mrs. Louis M. Fleisher
Mr. John Duncan Forsythe
Mr. Raoul Foure
Mrs. F. H. Gage
Mrs. F. W. Galbraith
Mrs. B. Ginsberg
Mr. Napoleon Godin
Miss Francoise Godin
Miss Therese Godin
Mr. A. S. Gracie
Miss Fanny Graddon
Miss H. Grange
Mr. C. Granville
Mrs. W. J. Green
Mr. E. C. Harris
Mr. T. Harrison
Miss J. V. M. Hawdon
Mrs. C. F. Hayes
Mr. Edward A. Hellmund
Mrs. Hellmund
Miss B. Hemphill
Mr. M. A. Hemsing
Mr. W. C. Hewitt
Mrs. Hewitt
Miss F. A. Hodgins
Mr. H. Holder
Miss Sylvia Holt
Mr. W. I. Hogg
The Hon. Mr. Justice Hope
Mrs. Hope
Miss J. Hughes
Mr. G. W. Humphreys
Mr. N. Ingram
Dr. J. I. Kearney
Mr. Bernhard Keller
Mrs. E. H. Kenerson
Miss M. Kenerson
Miss E. M. Kent
Mrs. Edna Kincaid
Mr. E. C. Kirby
Mr. C. E. Kirby
Miss V. Kirby
Miss E. L. La Cour
Mr. T. M. C. Lance
Miss A. Learoyd
Miss E. LeMay
Mrs. S. A. Lister
Rabbi Meyer Lovitt
Mrs. Lovitt
Dr. T. H. McColl
Mrs. McColl
Mr. Edward F. McGinnis
Mr. 1/ D. McGoun
Mrs. C. Magee
Mrs. A. Mahony
Mr. J. A. Mallette
Miss Mabel Martin
Miss I. G. Martin
Mr. A. Martin
Mrs. Martin
Mr. P. Martin
Mrs. Madeleine Meier
Miss C. Mellinger
Miss Suzy Michel
Dr. T. Mill, C.M.G., C.B.E., F.R.C.S
Mrs. Mill
Mr. Gray W. Miller
Mr. S. W. Mount
Miss M. K. Mount
Mr. Denis Mousseau
Miss Madeleine Mousseau
Mr. Romeo Mousseau
Mrs. Mousseau
Mr. Paul Mousseau
Mrs. Mousseau
Capt. D. P. F. Mulvany, R.A.M.C
Mrs. Mulvany
Miss N. Neilson
Miss J. L. Neilson
Mast. W. A. Nelles
Miss Evelyn F. Nelson
Major F. J. Ney, M.C
Mr. B. Norton
Mrs. Norton
Mrs. A. G. Nutter
Miss Cornelia Osborne
Miss P. H. Perron
Mr. T. N. Phelan, K.C
Mrs. Phelan
Mr. R. G. Phelan
Miss M. J. Phelan
Dr. S. M. Poison
Mr. E. Powers
Mrs. F. B. Quinby
Mr. J. C. Rawlinson
Mr. G. Renaud
Mrs. H. E. Richardson
Mr. A. F. Rinker
Mr. S. Rivers-Smith
Mrs. Rivers-Smith
Miss Marie Anna Louisa Robillard
Mr. P. W. Rolleston
Mrs. George Rose
Mrs. W. Russell
Mr. H. C. Schmucker
Mrs. Schmucker
Mr. Elbert E. Scott
Mrs. Scott
Miss Emilie Setzler
Miss Edie Setzler
Miss M. Silverman
Mr. Arthur Simard
Mr. Jacques Simard
Mr. Jean Simard
Mr. Leon Simard
Mr. J. W. Simpson
Mrs. Simpson
Mrs. E. D. Sinclair
Mr. L. L. Sloss
Mrs. Sloss
Mr. C. L. Smart
Mrs. F. Snively
Mr. J. McL. Stephen
Mr. F. G. Stevens
Mrs. Stevens
Miss M. Stewart
Mr. D. Stewart
Mr. W. A. Stewart
Mr. D. W. Stewart
Mrs. Stewart
Miss M. Sansfacon
Mrs. Walter Saul
Miss Florence Saul
Mr. S. R. Saunders
Miss D. Saunders
Mr. W. R. Tayler
Mr. I. R. Tait
Mrs. Tait
Miss M. L. Thompson
Mr. Ladislav S. Tichy
Miss P. K. Tinkler
Mr. A. Tortillia
Mrs. Tortillia
Mr. Sophie Treves
Mrs. Treves
Miss E. M. True
Mr. Yvan Versailles
Mr. Alfred Versailles
Mrs. Joseph Versailles
Mr. Paul Versiiilles
Miss R. Verspreet
Miss Janet Vincent
Miss Helen Vincent
Mr. Walker
Mrs. Walker
Mr. Arthur J. Walters
Mrs. Walters
Miss L. M. Warman
Mrs. H. Watts
Mr. G. Webb
Mrs. E. S. West
Mr. H. H. Whitlock
Mr. F. H. N. Willey
Mr. C. G. Willson
Mrs. Willson
Mrs. E. Wollaston
Miss A. Wood
Mr. R. A. Wright
Mrs. La Rue Yeoman
Miss Joyce Yeoman
Mr. E. C. Young
Mrs. Young
Mr. A. J. Young
List of Tourist Passengers
Mr. Joseph Atkins
Miss Mary Atkins
Miss Honora Atkins
Mr. T. A. Aiers
Mrs. Aiers
Miss F. G. Aiers
Miss Y. M. Aiers
Miss R. Allcock
Mr. J. M. Anderson
Mrs. Anderson
Miss F. Anderson
Rev. Father F. E. Banim
Mr. H. M. Bazett
Mrs. Bazett
Mrs. W. Beaumont
Miss A. Bell
Miss D. M. Bennett
Miss M. L. Bennett
Miss Elizabeth Bingey
Miss J. Birnie
Miss D. M. A. Birrell
Mr. G. Blencoe
Miss I. Bock
Miss Mary E. Bowen
Mr. T. Bowman
Mrs. Bowman
Miss M. Bowman
Mr. E. Bradley
Mr. J. R. Breed
Mr. R. B. Breed
Mrs. D. E. Briggs
Dr. A. T. Brooks
Mr. D. C. Brown
Mrs. Brown
Miss Ruth Brunke
Mrs. M. R. Bunting
Mr. A. Bussiere
Mrs. Bussiere
Mrs. G. Butterworth
Mast. L. Butterworth
Mr. L. D Caldecott
Mrs. Caldecott
Mr. R. Caldecott
Miss G. Caldecott
Miss I. M. Campbell
Miss M. E. Carpenter
Miss F. H. Carter
Miss C. Casey
Miss M. Casey
Mr. J. J. Cassan
Prof. Carroll Champlin
Mrs. Champlin
Miss Carolyn Champlin
Mrs. G. Collins
Miss M. Collins
Mrs. A. A. Collins
Miss Catherine Connell
Mr. W. G Comford
Mrs. C. M. Cotterill
Miss D. Coughtry
Mr. E. B. Crudge
Mrs. Crudge
Mr. F. J. Day
Mrs. Day
Mrs. Richard De Greef
Mr. Antoine Descamps
Mr. Frederick Dickinson
Mrs. Dickinson
Miss Judith Dickinson
Mr. F. M. Dickson
Mrs. Dickson
Mrs. F. Dony
Rev. H. Dubuc
Miss D. Dufeu
Miss W. Duncan
Rev. G. H. Eastman
Mrs. Eastman
Miss V. E. Eddy
Dr. F. M. Eliot
Mrs. Eliot
Miss K. Ellis
Miss Minnie Ettleson
Miss M. Eustace
Mr. Victor Fafard
Mrs. Fafard
Mr. John Filteau
Mr. Joseph Foeller
Mrs. Foeller
Mr. Henry A. Foeller
Mrs. Foeller
Miss Margaret J. Forgie
Dr. Alexander Frederick
Prof. G. D. Frost
Mr. l'Abbe Maurice Gagnon
Mr. W. B. Garlick
Mr. G. E. Gauvin
Mr. J. Gerry
Mrs. Gerry
Miss Ann Goulding
Mr. H. H. Graham
Mr. A. W. Graham
Mrs. E. Greig
Miss D. L. Grenhall
Mrs. J. R. Hallman
Mr. R. L. Hampton
Mr. C. Hancock
Mr. G. Harding
Mr. T. Hassel
Mr. S. I. Hayakawa
Mrs. Hayakawa
Miss M. J. Hanna
Mrs. Maria Hanulick
Master Imrich Hanulick
Miss Barbara Hepburn
Mrs. E. A. Hillier
Mrs. A. M. Hill
Mr. H. A. Hooker
Mrs. Hooker
Miss G. M. Hornabrook
Miss B. S. Hornabrook
Sister E. F. Howis
Mr. G. How
Miss R. A. How
Miss M. M. James
Mr. J. D. G. Jewitt
Mrs. Jewitt
Mrs. M. R. Johnson
Mrs. A. Jolliffe
Miss B. Jolliffe
Miss L. R. Jones
Miss T. B. Jordan
Mr. E. Kelland
Mrs. Kelland
Mr. J. A. Kent
Mrs. W. Knatchbull
Mrs. F. Knight
Miss C. E. Knight
Miss N. Larocque
Miss L. Larocque
Mr. R. T. Langdon
Mrs. Langdon
Miss H. Laurens
Mrs. S. Lee
Miss Roberta Lee
Dr. F. A. Levy
Mrs. Levy
Miss R. Lewis
Mr. R. M. Leighton
Mr. W. A. Lindley
Mr. E. Lindley-Jones
Miss D. L. Ling
Miss J. T. MacKenzie
Miss Betty MacKinley
Miss F. MacLennan
Mr. R. J. McDonald
Mrs. McDonald
Miss I. McLeod
Mr. M. McNicol
Miss M. G. McPhedran
Miss Lilian Manberg
Miss E. Manning
Mrs. C. Matson
Miss M. Matson
Dr. Frederick G. Maurer
Mrs. Maurer
Mrs. T. Maxfield
Miss Fleurette Meloche
Miss G. E. Miller
Mrs. E. Millington
Mr. K. Minassian
Miss A. Minassian
Miss Alice M. Montgomery
Miss Patricia Mortimer
Miss Anne Murray
Mr. R. Nash
Mrs. Nash
Miss C. G. Nash
Miss J. Nicol
Miss M. Nicol
Mr. H. North
Mrs. North
Dr. George Oblatt
Mrs. Oblatt
Rev. M. O'Bready
Archbishop D. T. Owen
Mrs. Owen
Mr. D. D. Owen
Miss F. M. Papps
Mr. Archibald Park
Mr. R. M. B. Parks
F./O. H. H. Peck
Miss M. B. Penney
Mr. J. F. Phillips
Mr. J. Plumridge
Mr. E.W. Quinlan
Dr. H. E. Randall
Dr. Annie E. Reynolds
Mr. E. M. Richmond
Mrs. Richmond
Miss Vila Robinson
Mr. L. Rodda
Mrs. L. R. Rogers
Mr. O. H. Roper
Mrs. Roper
Miss E. M. Roper
Miss H. E. Rose
Dr. A. E. Runnells
Miss J. Saunders
Miss Suzanne Schwartz
Miss E. Selwood
Miss M. G. Sewall
Mr. A. J. Sims
Mr. J. Smart
Mr. G. Smart
Miss G. A. M. Smith
Miss E. K. Smith
Miss Bertha Smith
Mrs. J. W. Snowden
Mr. Donald A. Spence
Mr. L. B. Stainton
Mrs. Stainton
Miss E. Steele
Mrs. Ruth Stein Kuh
Miss Peggy Stein
Miss M. E. Stewart
Miss M. Steinkopf
Miss M. W. Sutherland
Miss R. Swanson
Miss Margaret E. B. Taylor
Miss Charlotte Thomson
Mrs. Josephine Tomasko
Master Josef Tomasko
Mr. A. Tressley
Miss E. F. Trench
Miss Gertrude Vermillion
Miss E. Wallace
Miss Elizabeth Walker
Miss M. Walsh
Mr. S. Watson
Miss A. Watt
Miss J. Webster
Miss Annie Pearl Wemp
Miss H. Whale
Miss K. S. Whittier
Mr. W. Whittingham
Mr. J. Whitwill
Miss K. Woodruff
Miss M. E. Young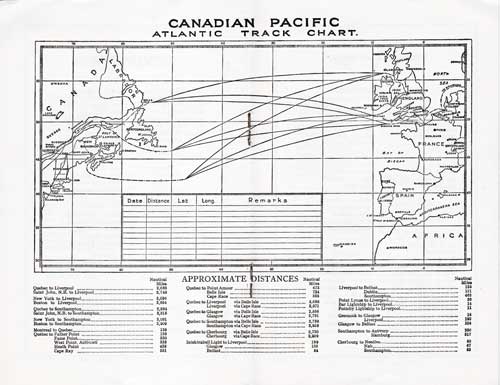 Track Chart Included With the SS Duchess of Richmond 17 August 1937 Passenger List. GGA Image ID # 173af078fe
Information for Passengers
Information Bureau—An Information Bureau is provided for the convenience of Passengers.
The Purser and Assistant Pursers are in attendance to deal with matters affecting the comfort or interest of Passengers.
Meals—Breakfast—Breakfast is not served in Dining Saloon after 10:00 am Breakfast chimes will not be sounded when only one sitting. Passengers should notify Bedroom Steward when they
wish to be called.
Children served at first sitting only. Children not permitted in Public Rooms after 8:00 pm unless paying adult fare.
Smoking is permitted in the Dining Saloon after the last sitting at luncheon and dinner, but not at the first sitting at luncheon or the first sitting at dinner.
Private Dinners—Passengers who desire to arrange private dinner parties should apply to the Chief Steward or Head Waiter. No charge is made for this service.
Change of Accommodation—Passengers who desire a transfer of accommodation should apply to the Purser, who alone is authorized to make changes. If higher graded accommodation is desired the difference in fare must be paid, as the Purser is not permitted to deviate from the Company's tariffs.
Deck Games—Deck Quoits, Shuffleboard and other Deck Games will be furnished by Deck Sailor or the Deck Steward. Chess, Draughts, Dominoes, etc., obtainable from Public Room Stewards.
Valuables and Money—For the convenience of Passengers the Purser will receive articles or money for custody in a special envelope provided for the purpose. As no charge is made for this facility the Company accepts no liability whatsoever.
Money Exchanged—Money can be exchanged, advances made on Letters of Credit, Travellers' Cheques cashed and on sale at the Purser's Office.
Library Steward provides stationery, telegraph forms, books of reference, etc.
Stamps—Stamps are on sale in The Shop, Library and Bureau. English and Canadian postage stamps may be used for mail posted at sea.
Divine Service—Divine Service in Dining Saloon at 10:45 am Sunday. Altars are carried for Holy Mass and for the celebration of Holy Communion.
Surgeon—The Surgeon is authorized to make customary charges for his services subject to the approval of the Commander.
Nurses—The services of trained and qualified Hospital Nurses, under the direction of the Surgeon, may be obtained.
Wireless Telegrams—Information and rates furnished at Purser's Office.
Telegrams and Cables—Canadian Pacific Telegraph representatives meet all ships on arrival to ensure prompt transmission of Passengers' telegrams and cables.
Passengers' Mail—Passengers are urgently requested to enquire for mail at Purser's Office on arrival and leave forwarding address.
Passengers are requested to note that the Company do not undertake to accept delivery of parcels in Great Britain and Ireland, if the value of the contents is to be paid on delivery, unless prior arrangements are made with the Company for the amount to be paid.
Passports—Passengers traveling to or through the United States are requested to call at Purser's Office with their passports as soon as possible.
Baggage—Trunks which Passengers do not require in their State Rooms during the voyage may be stored in the Baggage Rocm. Baggage will be grouped alphabetically in the Customs Shed on arrival at Canadian port, and Passengers must attend personally to Customs examination.
United States Head Tax—Visitors to the United States who have paid United States Head Tax and who intend to leave the United States within sixty days from their date of entry should give this information on the U.S. Declaration Form completed at the time of booking in order to obtain eventual refund.
Passengers who have not given this information on the United States Declaration Form and desire to do so should call at the Purser's Office.
Return Atlantic Passage—The Purser is equipped to furnish full information concerning sailings and bookings on Canadian Pacific steamships. Reservations can be secured and deposits to cover will be received.
Lifebelts—In State Rooms. Bedroom Steward will explain method of attachment. Emergency Stations—Consult plan and directions in alleyway.
French speaking Staff—For the convenience of French speaking Passengers the Ship's Company includes Stenographers, Stewards and Stewardesses, who are conversant with the French language. These may be distinguished as follows :-
Stenographers—Red shoulder tabs on dress.
Table Stewards—Red collar on their uniform jackets instead of a blue collar.
Bedroom Stewards—Red collar fitted to their white jackets. Stewardesses—Red turn-back on cap.
Suggestions—The Canadian Pacific invite suggestions for improvement of the service.
Passengers are requested to make suggestions to the Commander or Purser so that immediate attention may be given. Suggestions may also be addressed to the General Manager, Canadian Pacific Steamships, 8, Waterloo Place, London, England.
Repas—Petit Rejeuner— On ne sert plus de petit dejeuner dans la Salle a Manger apres 10 heures du matin. Lorsqu'il n'y a qu'un service, le carillon n'annonce pas le petit dejeuner. Les passagers doivent prevenir leur garcon de cabine de l'heure a laquelle ils desirent etre reveilles.
Les Children ne sont servis qu'au premier service, Its ne sont pas admis dans les salles communes apres 8 heures du soir, a moins qu'ils ne paient plein tarif.
Les Places a table sont designees par le Second Maitre d'HOtel qui Ion voudra bien s'adresser a cette fin.
Le The de l'apres-midi est servi a4 heures. Les enfants le prennent dans la salle a manger.
II est expressement.defendu de fumer dans la salle a manger pendant le petit dejeuner et pendant le premier service du lunch et du diner.
Diners Particuliers—MM les passagers desirant des diners partiticuliers peuvent les obtenir sans paiement de supplement. S'adresser au maitre d'hôtel.
Les valeurs et bijoux peuvent etre deposees dans le coffre-fort du Steward. Des enveloppes sont fournies a cet effet, qui doivent etre cachetees et signees par les passagers. Ceci etant fait a titre purement gracieux, la Compagnie ne pourra etre tenue responsable en aucun cas des pertes ou dommages, quelle qu'en soit la cause,
Office Religieux—Le Service religieux est celebre dans la Salle a Manger a 10 heures 45 le Dimanche matin. Des autels sont a Ia disposition des passagers pour la celebration de la Sainte Messe et pour la Sainte Communion.
Medecin du Bord—Medecin du Bord a l'autorisation de demander pour ses soins des honoraires soumis a l'approbation du Captain
Personnel parlant le Francais—Pour rendre service aux passagers de langue frangaise, on trouve, sur tous nos navires, stenographes, femmes de chambre, garcons de cabine et de table parlant le francais, Vous les reconnaitrez aux signes distinctifs suivants :—
Stenographes—Epaulettes rouges sur Ia robe. Garcons de table—Col d'uniforme rouge.
Garcons de Cabine—Ccl rouge a leui veston blanc. Femmes de chambre—Revers rouge au bonnet.
Speedway to the ORIENT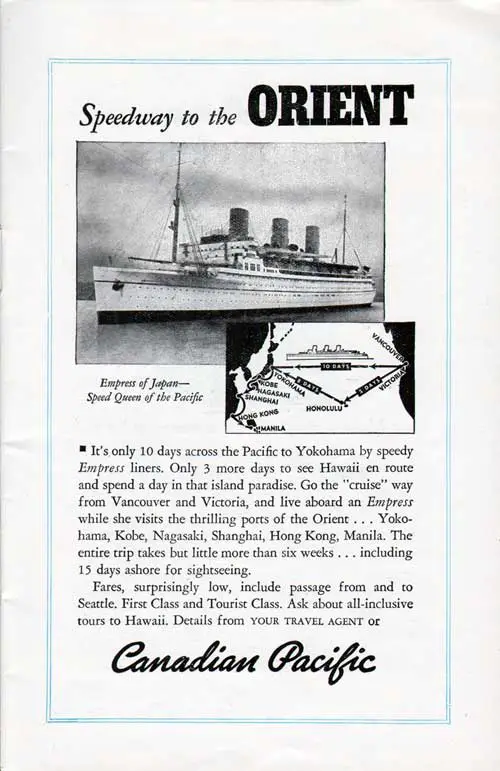 It's only 10 days across the Pacific to Yokohama by speedy Empress liners. Only 3 more days to see Hawaii en route and spend a day in that island paradise. Go the "cruise" way from Vancouver and Victoria, and live aboard an Empress while she visits the thrilling ports of the Orient . . . Yokohama, Kobe, Nagasaki, Shanghai, Hong Kong, Manila. The entire trip takes but little more than six weeks . . . including 15 days ashore for sightseeing.
Fares, surprisingly low, include passage from and to Seattle. First Class and Tourist Class. Ask about all-inclusive tours to Hawaii. Details from Your Travel AGENT

Empress of Japan—
Speed Queen of the Pacific
Duchess of Richmond
Canadian Pacific Express Company
Forwards Merchandise, Money, Valuables To ALL PARTS of The World
Issues Money Orders, Foreign Cheques and Travellers' Cheques, PAYABLE EVERYWHERE
Canadian Pacific Express Travellers' Cheques are spendable everywhere. They are issued in Canadian and United States Dollars in denominations of $10, $20, $50 and $100, and in Sterling in denominations of g2, g5, g10 and g20.
No personal identification is required—your counter-signature on the cheque identifies you.
They insure you against loss, are cashed by thousands of banks and all express companies, and accepted in payment of tickets and accounts by railway, steamship and sleeping-car companies, tourist agencies, first-class stores and hotels, wherever you happen to be, which insures you against delay and inconvenience.
For sale by all Canadian Pacific Agents and by Pursers on shipboard.
Customs Notice To Passengers
Canada
General—All baggage is subject to examination and non-resident Passengers are required to declare to the Customs Officer at port of landing all articles which do not constitute wearing apparel, articles of personal adornment, toilet articles or similar personal effects, in their baggage, or on their persons, whether intended for their personal use or for others. Passengers are warned when in doubt as to whether or not an article is liable to duty, it should be produced for examination by the Customs Officer.
Residents of Canada must declare all articles acquired abroad, contained in their baggage, or on their persons, whether intended for personal or household use, or as souvenirs or gifts. Exemption will be allowed by Customs Officers of such articles to the extent of $100.00 in value for each person over 14 years of age, provided they are not bought on commission or as an accommodation for other persons or for sale, subject to the following requirements :-
A declaration form supplied by the Purser must be completed by each returning Canadian citizen, enumerating all articles acquired abroad on which it is the intention to claim exemption. In the case of a family traveling together each member must complete a separate declaration
The declaration must be completed in duplicate
A declaration need not by.completed unless the total value of the goods upon which exemption is to be claimed exceeds $5.00
Important. For convenience, all new goods on which exemption is to be claimed should be packed in one receptacle, preferably a heavy piece of baggage, to be checked
All values should be shown in Canadian currency
Declaration should be completed prior to arrival of ship at Quebec or Montreal, and handed to Officer at time of Customs inspection
Tourists' Outfits—Temporary Admission—Persons visiting Canada for a limited period of time, for health or pleasure, may bring with them such articles of tourists' outfits or sportsmen's equipment as they may require while in Canada for their own use and not for gain or hire, upon reporting same to the Customs Officer at the Canadian frontier port of entry, subject to departmental regulations.
Bribery—Any person giving, offering or promising any bribe, recompense, reward or tip to an Officer is liable to severe penalties.
Through Baggage—Passengers en route to destinations outside of Canada may have their checked baggage forwarded " In Bond " to a frontier port under Customs Manifest without examination of same by a Customs Officer.
Samples (such as carried by commercial travelers) are required to be delivered to the Customs Officer for entry purpose, and invoice or statement in detail showing the price—wholesale—of each sample as sold for home consumption. Such invoice or statement should be attested to by the traveller.
Settlers' Effects—Free, if actually in use for six months before removal to Canada, but are required to be produced upon landing to Customs Officer for examination and entry.
United States
United States Customs Inspectors are located at Canadian Atlantic Ports; but they are not permitted to collect duties; therefore, in order to avoid complications and payment of duties to the Canadian Customs, citizens of the United States returning from Europe should pack all new goods purchased or otherwise acquired abroad in one or more receptacles which may be checked to destination and forwarded in bond.
All checked baggage not containing dutiable articles, or new goods in excess of the exemption to which the owners may be entitled, will be examined and passed by the United States Customs Inspectors, and will not be subject to re-examination at the United States frontier or at destination.
Baggage checked to destinations in the United States is not examined by the Canadian Customs.
Baggage carried by Passengers by hand, which should not contain dutiable articles, will be examined by the Canadian Customs at the landing port, and by the United States Customs Inspectors on the train at the United States border.
Passengers destined to the United States will be issued by the Purser on the voyage a form of United States Customs Baggage Declaration, which must be completed in duplicate and presented to the United States Customs Inspector at the time of Customs examination. All values must be shown in United States currency,
Returning residents of the United States must declare all articles acquired abroad, in their baggage or on their persons, whether by purchase, by gift or otherwise, and whether dutiable or free of duty. Exemption, however, will be allowed by Customs Officers of articles aggregating not over $100 in value, if suitable for personal or household use or as souvenirs or curios, and whether intended for the personal use of the Passengers or as gifts or presents to others, provided the articles are not bought on commission for another person nor intended for sale. Articles so exempt from duty must, nevertheless, be declared. Each member of the family is entitled to the exemption of $100 for articles purchased abroad, and when a husband and wife and minor and dependent children are traveling together the articles included within such exemption may be grouped and allowance made without regard to which member they belong.
Non-residents of the United States destined to that country must declare all articles in their baggage or on their persons which do not constitute wearing apparel, articles of personal adornment, toilet articles or similar personal effects, whether intended for their personal use or for others.
They must also declare all articles of wearing apparel, jewellery and other articles of personal adornment, toilet articles and similar effects when not owned by them, or when intended for other persons or for sale.
Professional books, implements, instruments and tools of trade, occupation or employment, in the actual possession of persons emigrating to the United States, owned and used by them abroad, are admitted free of duty.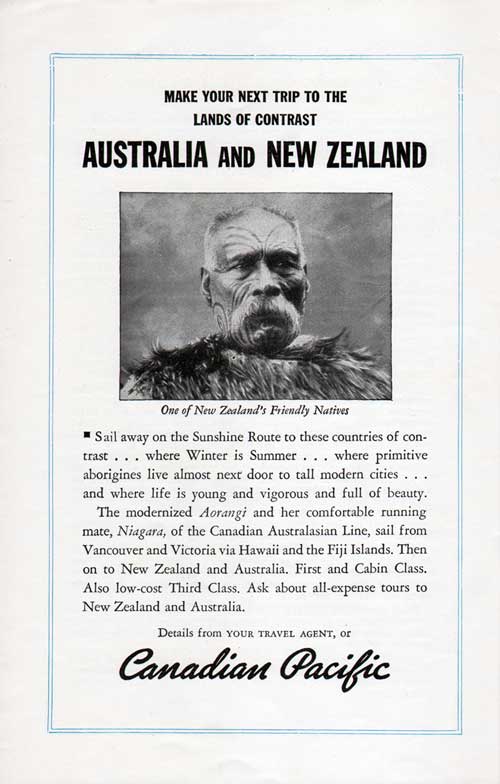 Make Your NEXT Trip To The Lands of CONTRAST -- Australia and New Zealand
One of New Zealand's Friendly Natives
Sail away on the Sunshine Route to these countries of contrast . . . where Winter is Summer . . . where primitive aborigines live almost next door to tall modern cities . . . and where life is young and vigorous and full of beauty.
The modernized Aorangi and her comfortable running mate, Niagara, of the Canadian Australasian Line, sail from Vancouver and Victoria via Hawaii and the Fiji Islands. Then on to New Zealand and Australia. First and Cabin Class. Also low-cost Third Class. Ask about all-expense tours to New Zealand and Australia.
Details from Your Travel AGENT,
Department of IMMIGRATION and Colonization
The Canadian Pacific Railway has established a Bureau of Canadian Information for the dissemination of reliable information on phases of industrial and agricultural development in Canada. Libraries are maintained at Montreal, London and Chicago. No charge or obligation attaches to this service and business organizations are invited to make use of it.
Western Canada Farm Lands
The Company has yet for sale several million acres of farm lands in Western Canada, at low prices and on long terms of payment.
Eastern Canada Farm Lands
Lists of selected improved farms, available for settlement in Ontario, Quebec and the Maritime Provinces, with the names and addresses of their owners, may be obtained on application at any office of the Department.
Canada Colonization Association
The Canada Colonization Association is maintained as a subsidiary by the Department to be of service to new settlers in aiding them to obtain on easy terms fully or partially improved, privately owned farms. Head Office, 460, Main Street, Winnipeg.
Further information and particulars can be obtained from the Department of Immigration and Colonization, Canadian Pacific Railway, Montreal, P.Q.; London, England; and Chicago, U.S.A.
Industrial Department
Manufacturers, wholesalers and others who are thinking of opening branch factories in Canada to take care of Canadian and export business can secure from this Department full information in connection with locations for new industries, warehouse sites with sidings, empty factories available, labour costs, electric power rates, etc. Interesting pamphlets on business and industrial opportunities in Western Canada will be forwarded on request. Industrial Department offices are maintained at Montreal, Toronto, Winnipeg, Vancouver and London, England.