SS Montcalm Passenger List - 18 June 1938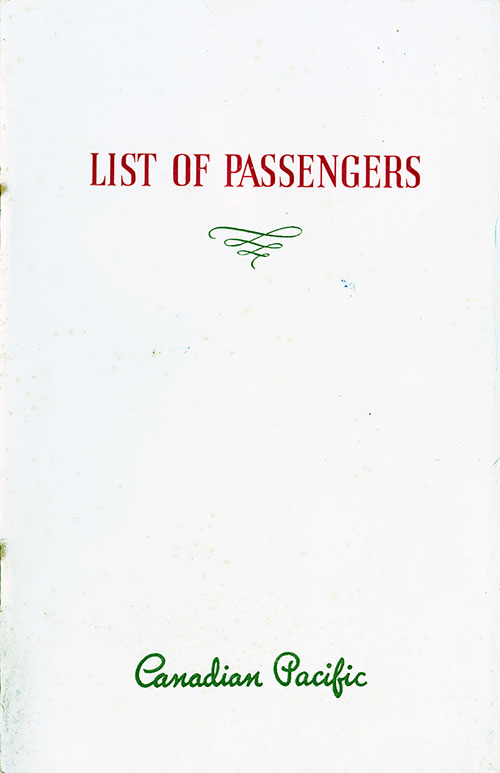 Front Cover for an Atlantic Isles and Seaboard Cruise Cabin Passenger List from the SS Montcalm of the Canadian Pacific Line (CPOS). The Ship Departed Saturday, 18 June 1938, from London for Gibraltar, Casablanca, Madeira, Lisbon, and Back to London. Commanded by Captain D. Pert. GGA Image ID # 114be23ceb
Cabin Passenger List from the SS Montcalm of the Canadian Pacific Line (CPOS), Departing Saturday, 18 June 1938 from London - Gibraltar - Casablanca - Madeira - Lisbon - London, Commanded by Captain D. Pert.
Senior Officers and Staff
Captain: D. Pert
Chief Officer: E. Castley
Chief Engineer:  D. K. Gilmour
Purser: G. F. PHILPORT
Surgeon: R. S. Ninian, L.R.C.P., L.R.D.P.S., F.R.C.S.
Chief Steward:  F. C. Newbold
Sports Officer: W. E. Halbert
Cruise Director: A. Le Vesconte
Shore Excursion Representative: R. W. H. King
Shore Excursion Representative: A. Anderson
List of Cruise Passengers
Mr. K. S. Aldam
Mrs. Aldam
Miss I. Allan
Mr. L. N. Allen
Mr. G. R. Allison
Mr. W. Ashford
Miss P. E. Atwell
Mr. G. A. Austin
Mr. B. Austin
Mrs. Austin
Mr. C. H. Awford
Mrs. Awford
Mr. A. W. Ayliffe
Mrs. Ayliffe
Mr. P. Bacon
Mrs. Bacon
Mrs. V. Banks
Mr. H. G. Barling
Mrs. Barling
Mrs. Y. Barraclough
Mr. L. T. Base
Mrs. H. L. Bawn
Mr. T. Bell
Miss F. V. Bingham
Miss F. M. Bingham
Mr. P. C. Bingham
Miss E. Birkenhead
Mr. L. J. Blyth
Miss R. Boam
Miss J. M. Bolton
Mr. E. Booth
Miss A. Booth
Miss R. Bowen
Miss W. T. Boyd
Miss I. E. Branch
Mr. P. Brangan
Mrs. Brangan
Mr. E. H. Brewer
Mrs. M. F. Brewster
Mr. M. J. Brewster
Miss I. F. M. Brightwell
Mr. R. H. Brooks
Mrs. E. R. Brown
Miss K. E. R. Brown
Mr. H. O. Brown
Mrs. Brown
Miss D. Brown
Miss H. H. W. Brown
Miss E. H. Brown
Miss J. A. Brown
Miss D. A. Brownlee
Miss H. U. Brun
Mrs. K. A. Brunsden
Mr. A. J. Brunsden
Miss J. C. Brunton
Miss M. A. Bryant
Miss E. V. Buckle
Mr. A. E. Budd
Mrs. Budd
Miss L. M. Budd
Miss R. M. Budd
Mrs. E. Bullivant
Mr. E. G. Burnham
Miss D. Bush
Miss J. E. Butchart
Mr. H. P. Button
Mrs. Button
Miss E. C. Byrne
Miss J. M. Carlisle
Miss F. Carter
Miss J. A. Cartwright
Mr. D. D. Castell
Mrs. Castell
Miss E. L Chandler
Mrs. L. Chapman
Mr. S. B. Chapman
Mr. J. V. Charles
Mrs. Charles
Mr. E. C. Chidley
Miss R. Child
Mr. F. W. Clark
Miss E. Clarke
Miss W. Clarke
Mrs. A. Clarke
Mr. H. J. Clutterbuck
Mrs. Clutterbuck
Mr. W. J. Coales
Miss M. Cockcroft
Miss D. L. Cocker
Mr. S. W. T. Cole
Mrs. Cole
Mr. L. E. H. Collier
Mrs. M. M. Colwell
Mrs. F. Coomes
Mr. E. Cooper
Miss E. Cooper
Miss V. Cooper
Mr. R. D. Cooper
Mr. F. A. Coppin
Mrs. Coppin
Miss E. M. Coppin
Mr. M. Cornfield
Mrs. Cornfield
Miss V. M. Cowan
Mr. H. Cowell
Mrs. Cowell
Master H. Cowell
Mrs. J. T. Crawford
Mr. G. R. Croskell
Mrs. Croskell
Mr. H. J. Croydon
Mrs. Croydon
Miss E. F. Culpitt
Mrs. F. Cundey
Mr. D. Curwood
Mrs. M. B. Curwood
Mrs. M. E. Dadson
Mr. A. G. Davies
Mr. G. E. Davies
Miss G. I. Davies
Miss P. B. Davies
Mr. G. H. Davis
Mrs. Davis
Mr. R. E. Davison
Mr. H. J. Dawe
Mrs. Dawe
Miss S. Dawe
Mr. C. Day
Mrs. Day
Mrs. M. T. Dennis
Mr. G. R. Dixon
Miss J. Donovan
Mr. T. H. Douglas
Mrs. C. S. J. Dove
Mr. E. H. Dovey
Miss H. Doyle
Miss H. Dunn
Miss E. L Dunsworth
Mr. S. E. Dvorjetz
Mrs. M. Elliot
Miss M. Estill
Mr. J. Eva
Miss N. Eva
Miss S. M. Evans
Mr. C. J. Everett
Miss J. Farwig
Mrs. E. M. Fearnley
Miss P. Fearnley
Master R. J. Fearnley
Mr. J. M. Fenwick
Miss I. R. B. Fergusson
Mr. T. C. Finnimore
Mr. J. B. Fisher
Mr. J. Flahavan
Miss E. Fletcher
Mr. J. Fletcher
Mrs. M. E. Forbes
Mr. M. Forster
Mr. F. E. Foster
Mrs. Foster
Mr. W. F. Francis
Mrs. Francis
Miss D. French
Mrs. O. B. Frith
Mr. W. F. Fulker
Mrs. M. Fulker
Mr. H. Gersons
Mrs. Gersons
Mr. W. E. Gibbs
Mrs. J. Gilbert
Mr. L Gill
Miss C. Gladdle
Mr. A. Polwhele-Godfrey
Mrs. Polwhele-Godfrcy
Mr. A. Golding
Mrs. G. Golding
Mrs. N. Goldstraw
Mr. C. Grant
Mrs. Grant
Miss M. H. Grave
Miss D. M. Grave
Miss J. C. Gray
Mrs. M. Green
Miss M. A. Green
Mr. H. G. Gregory
Mrs. Gregory
Miss D. Grimstead
Miss G. Guest
Mr. B. L. Hadley
Captain W. Hammond
Mrs. Hammond
Miss J. M. Hammond
Mr. J. Hammond
Mrs. Hammond
Miss M. D. Happold
Mr. A. H. Harniman
Mr. D. Harper
Mrs. E. Harper
Mr. R. H. Harris
Mrs. Harris
Mrs. H. J. Harris
Mr. P. Harrison
Mr. L. C. Hart
Mrs. Hart
Miss M. Hartill
Mr. J. Harty
Mr. R. W. Harvey
Mr. E. G. Hawes
Mr. L. A. Hawes
Miss D. M. Hawes
Mrs. E. Hedges
Mrs. M. Helman
Miss L. A. Hemsley
Mr. W. L. Herington
Mr. F. G. Hewitt
Miss M. Hewitt
Miss J. B. Hickling
Miss P. Hickman
Miss E. Hignett
Mr. S. T. Hill
Mrs. Hill
Mr. R. J. Hill
Mr. A. D. Hill
Mrs. Hill
Mr. J. M. Hillock
Miss G. Hockaday
Miss E. N. Hodson
Mrs. P. E. Hollingsworth
Miss M. C. Hollington
Miss I. G. Holmes
Miss O. M. Holmes
Mr. E. Hopkins
Mrs. Hopkins
Mr. G. F. Howell
Mrs. Howell
Mr. F. Huggins
Mr. W. Hughes
Mr. E. A. Hunter
Mr. S. Hyman
Mrs. Hyman
Mrs. L. E. Hyslop
Mr. J. A. N. Jackson
Mrs. E. James
Mr. S. J. Jeffrey
Mrs. Jeffrey
Mr. H. Jenkerson
Mrs. Jenkerson
Miss F. E. Jenkins
Mr. C. E. Jenkins
Mrs. Jenkins
Miss W. M. Jenkins
Miss E. F. Johnson
Mr. H. Johnson
Mrs. Johnson
Mr. E. Johnson
Mr. A. W. Johnson
Mrs. Johnson
Miss D. Johnston
Mr. J. C. Johnston
Miss E. M. Jones
Miss C. J. Jones
Mr. H. Keay
Mrs. Keay
Comdr. Keeley
Mrs. Keeley
Mr. L. C. Kentish
Mrs. Kentish
Mr. R. S. S. Kershaw
Mrs. Kershaw
Miss E. D. Keylock
Mr. F. W. King
Mrs. King
Miss M. E. Kippen
Mr. J. Korijn
Mr. E. G. Korijn
Lt. Col. W. F. R. Kyngdon
Mrs. Kyngdon
Mr. A. O. Lacey
Mrs. Lacey
Miss J. B. Lack
Mr. D. J. Langner
Mr. B. A. H. Lansdell
Mrs. F. R. Leach
Mr. A. W. Lees
Mr. D. Lewis
Miss A. M. Locke
Mr. G. O. Lowe
Mr. N. S. Lummus
Mr. E. D. Lush
Mrs. E. A. McHoul
Miss E. M. McHoul
Master A. G. McHoul
Miss S. W. Macmillan
Miss C L C. Mallinson
Miss M. C. F. Mallinson
Mrs. A. M. Mantle
Mr. W. F. Marples
Mrs. Marples
Mr. H. H. Marshall
Mr. J. Mayo
Mrs. Mayo
Miss E. Mellish
Mrs. A. E. Merchant
Miss P. Merchant
Mrs. D. M. Middleton
Mrs. L. Millman
Miss D. Moase
Mr. T. R. Montague
Mrs. Montague
Miss L. Montague
Mr. G. H. Morgan
Miss E. A. Morphy
Mr. A. J. Moseley
Miss J. Munro
Mrs. M. Murphy
Mr. H. Myers
Mrs. Myers
Miss A. F. Neerdaels
Mrs. H. G. Neider
Miss R. M. Newby
Miss G. Nicholson
Mr. W. E. Noël
Mrs. Noël
Mr. F. J. O'Connell
Mrs. M. L. A. Oggier
Mr. W. B. Oglesby
Mrs. Oglesby
Dr. A. B. Olsen
Mr. H. D. Orr
Mr. W. Orton
Mr. S. Papworth
Mr. E. F. Parker
Mrs. Parker
Mr. W. Parker
Mrs. Parker
Mr. H. E. S. Parkes
Miss E. Parlour
Mrs. E. A. Paterson
Mr. G. F. W. Peck
Mrs. Peck
Mr. C. C. Perks
Mrs. Perks
Miss A. M. Perry-Sharp
Mrs. J. Peters
Mr. T. Petrie
Miss R. Petrie
Miss M. Phillips
Mr. B. A. R. Powell
Mrs. Powell
Mr. T. H. Poyser
Mrs. Poyser
Mr. T. J. Prangley
Mrs. Prangley
Mrs. R. Prendergast
Miss H. A. Prior
Mr. R. Prior
Mr. A. E. Proctor
Mrs. Proctor
Mr. C. F. D. Pullen
Mrs. D. M. Quest
Miss E. Ramsay
Mr. E. T. Rice Mrs. Rice
Mr. S. E. Richardson
Mrs. Richardson
Mr. K. W. Richardson
Mrs. V. A. Roberts
Mrs. A. D. Rogers
Mrs. I. Rogers
Mr. E. J. P. Rowland
Miss N. E. Rudderforth
Mrs. A. M. Russell
Mr. H. Salmon
Mr. C. Salvage
Mrs. Salvage
Mr. J. W. Sanders
Mrs. Sanders
Mr. B. G. Sawer
Mrs. Sawer
Mr. E. J. Sawyer
Mrs. Sawyer
Mr. N. Serlin
Mr. W. H. Sharples
Mr. C. G. Shipton
Mr. B. Silverman
Mrs. Silverman
Mr. C. A. Simmonds
Mrs. Simmonds
Mr. H. Slinger
Mr. H. Smallpeice
Mrs. E. Smart
Miss I. Smart
Miss L. G. Smith
Miss J. E. Smith
Miss V. F. Smith
Mr. T. Smith
Mrs. W. Smith
Mr. S. Socol
Miss R. Spence
Mr. R. Spencer
Miss A. Stephens
Miss D. A. Stokoe
Mrs. M. Talbot
Mr. A. C. Taylor
Mrs. Taylor
Miss E. M. Taylor
Mr. J. Taylor
Mrs. E. Thomas
Miss D. N. Thorn
Mrs. F. Thornley
Mrs. G. Thornton
Mr. W. G. Todd
Mr. R. J. Tooley
Mrs. Tooley
 Mr. E. G. Trucked
Mrs. Trucked
Mrs. A. D. Turner
Mrs. C. E. Verden
Miss P. D. Verden
Mrs. D. Verden
Mr. P. D. Vernon
Miss G. C. Vinall
Miss G. B. Walker
Miss L. Walker
Miss P. Wallace
Miss A. H. Ward
Mr. F. W. Wareham
Mrs. Wareham
Mr. J. Watherston
Mrs. Watherston
Miss P. Watherston
Miss P. Watkinson
Mrs. S. A. Walling
Miss J. G. Wailing
Mrs. S. Watson
Mr. R. Weaver
Mrs. M. Weil
Miss M. E. Welch
Mr. W. Wells
Dr. S. Whalley
Mrs. M. Whalley
Mr. V. W. White
Mrs. A. E. Whyte
Miss M. A. Whyte
Miss I. K. Wigham
Miss I. E. Wilder
Miss V. Williams
Mr. H. H. Williams
Mrs. Williams
Miss M. A. Williams
Mr. D. C. Williams
Miss G. F. Williams
Mr. J. C. Williams
Miss M. Williams
Mr. S. C. Williams
Mrs. Williams
Mrs. M. M. Willison
Mr. P. Wilson
Mrs. Wilson
Miss J. Wilson
Mrs. E. Wilson
Mrs. L. Wilson
Mr. E. Window
Mrs. Window
Miss M. O. Window
Mr. A. C. Woolf
Mrs. Woolf
Miss A. J. N. Woolf
Miss C. W. Wrigley
 Mr. V. A. Wyman
Mr. J. Young
Mrs. Young
Mr. J. I. Zane
Information for Passengers
Cruise Office is on Deck "A" Square, where all business relating to Stateroom Reservations, etc. is transacted; also information can be obtained relating to other Cruises and Canadian Pacific Services.
Shore Excursion Office - Programs and full information can be obtained from the Shore Excursions Office, situated on the Promenade Deck. Those members desiring to participate in the Shore Excursions are requested to give early notice at the Office.
The Cruise and Shore Excursion Offices are open daily, from 9:00 am to 1:00 pm. and from 2 p.m. to 5:00 pm, except in port, when the staff is engaged with Shore Excursion duties.
Baggage is handled by the ship's Baggage Master who is stationed in the Baggage Room, Forward on Deck "E", to which members have access daily. The attention of members is called to the fact that wardrobe trunks may be stored in the Baggage Room during the cruise. It is not always possible to have large trunks placed in an accessible position in the Stateroom.
Baggage Insurance - The Company takes every reasonable care of baggage, but their liability is limited, and members are recommended to fully protect themselves against possible loss, damage or pilferage by insuring baggage (or a sufficient period of time to cover journey. Baggage insurance can be arranged at any of the Company's offices, or with the Purser.
Meals will be served in the Dining Saloons at the following hours (Subject to change), one or two sittings according to requirements:
First/One Sitting
BREAKFAST : 8:00 am
LUNCHEON: 12.30 pm
7.00 pm
Second Sitting
BREAKFAST : 9.00 am
LUNCHEON: 1.30 pm
DINNER: 8.15:00 pm
Breakfast will not be served in the Dining Saloon after 10:00 am  Members should inform Bedroom Stewart when they wish to be called
Afternoon tea will be served at 4.00 pm on Deck and in all Public Rooms, with the exception of the Smoking Room.
Dressing Chimes will be sounded thirty minutes before dinner.
Seats at Table - Members should confirm reservations of seats at table with the Second Steward in the Dining Saloon.
Orchestra plays at Luncheon, Dinner, and also in the Lounge as arranged.
Divine Service in Dining Saloon at 10.45 a.m., Sunday, except when the ship is in port. Altars are carried for Holy Mass and for the celebration of Holy Communion.
Deck Chairs Free. Cushions and Rugs may be hired on board at reasonable charges.
Deck Games and Amusements - Deck Quoits, Deck Bowls, Shuffleboard and other deck games are provided and will be furnished by the Deck Steward.
Library - Books of fiction and reference are obtainable on application to the Library Steward. Books lost by members must be paid for.
Smoking - For the general convenience of members, smoking should be confined to the Smoking Room and Lounge. Members are requested not to smoke in the Drawing Room.
Facilities - The ship will carry stenographer, barber,  ladies' hairdresser, novelty shop, etc., and is equipped with long-range radio capable of maintaining communication with land at all times.
Mail and Telegrams - All mail and land telegrams should be handed in at the Purser's Bureau for transmission. Members are requested to enquire for mail, etc.  Stamps may be purchased at the Purser's Bureau. Members should leave their addresses in order that all undelivered mail, telegrams, etc., may be forwarded. Mail matter may be sent in care of any Canadian Pacific Office—see list on last pages.
Ship's employees, other than those on duty in the Purser's Bureau, are not authorized to accept letters, cables and telegrams for despatch.
Wireless Telegrams are accepted for transmission to any part of the world, or to passing ships. Rates may be obtained at the Purser's Bureau and messages should be filed there.
Valuables and Money – Members are warned against leaving articles of value in apartments or elsewhere and are invited to deposit these at the Purser's Bureau. Safety envelopes will be sealed in the presence of the members, and receipt given. As no charge is made, the Company cannot accept any responsibility for loss or damage however arising.
Money Exchanged - Money can be exchanged and Travelers' Cheques cashed at the Purser's Bureau on Deck "A."
Cheques - Members are respectfully advised that the Purser has no authority to accept private cheques in payment of accounts, or for exchange.
Stenographer - An experienced stenographer is prepared to undertake work for members. Schedule of rates on application to the Purser's Bureau.
The Shop - A varied assortment of Jewelry, Dress Goods, Confectionery, Photographic Films, etc., is on sale. A range of Fancy Dress Costumes s available for hire.
Photographs - A competent staff is carried for developing and printing. Films may be purchased at the shop aboard ship.
Valet Service may be had on application to Bedroom Steward.
Boots and Shoes will be cleaned if left outside Stateroom.
Baths - Members should arrange with Bedroom Steward or Stewardess for time desired.
Life Belts are in all Staterooms. Bedroom Steward will explain method of attachment.
Emergency Stations - Consult plan and directions in alleyway.
Medical Staff - This includes Surgeon, Trained Nurse, Dispenser, and Hospital Attendant.
The Surgeon's Consulting Room is on Deck " B." Consultation hours: 10.00—10.45 a.m., 5.00—5:30 pm, or when required in cases of emergency. The Surgeon is authorized to make customary charges for his services subject to the approval of the Captain.
Nurse - There is a trained and qualified hospital nurse on board. Her services, under the direction of the surgeon, may be obtained.
Suggestions - Members having any suggestions or complaints to make regarding service on board ship are requested to submit them to the Captain, Cruise Director, Purser or Chief Steward promptly, so that immediate attention may be given. They are also asked to report any special attention shown by any member of the staff, as it is the wish of the management to recognize efficiency.
SOME INTERESTING SEA FACTS
DISTANCES VISIBLE AT SEA
At an elevation of 5 feet, one can see 2.6 nautical miles; at 20 feet 5.1 miles; at 35 feet, 6.8 miles; at 50 feet, 8.2 miles; and at 100 feet, 11.5 miles.
DISTANCES MEASURED BY SOUND
If the steam from a distant ship's whistle is seen, and if ten seconds elapse before the sound is heard, the ship is just 2 1/10 miles off. If one second elapses, she is distant slightly more than one-fifth of a mile; if five seconds, a little more than 1 mile; if twenty seconds, 4 1/5 miles.
WATCH AS A COMPASS
Point the hour hand of the watch to the sun. The south is then exactly half-way between the hour hand and the 12 on the watch.  For example, assuming it is 9 o'clock, point the hour hand (indicating 9) to the sun, and due south is then exactly half-way between the figures 10 and 11.   Similarly, at 4 o'clock, south lies over the figure 2.  For a.m. times, of course, you should read forwards to 12—for p.m. times, backwards.
NAUTICAL MILES
The statute mile is 5,280 feet.  The nautical mile is one sixtieth of a degree of latitude and varies from 6046 feet at the Equator to 6092 feet at latitude 60. It is generally interpreted at 6080 feet, which is the Admiralty "measured mile" for speed trials.
6 feet = 1 fathom
600 feet (approx.) = 1 cable
10 cables = 1 nautical mile
1 nautical mile = 1.15 statute mile.
WHAT IS A KNOT ?
The " knot " is not a measurement of distance, but of speed. "One knot" means one nautical mile per hour.
TONNAGE
There are three kinds of measurements of ships by tonnage: GROSS tonnage, NET tonnage and DISPLACEMENT tonnage.
GROSS tonnage is the total internal capacity below the upper deck, and also of all enclosed deck houses above it, measured in tons of 100 cubic feet. For example —4,250,000 cubic feet equal 42,500 Gross tons.
NET tonnage is obtained by subtracting from the gross tonnage all spaces used for the accommodation of the officers and crew, for gear necessary for the working of the ship, and for the machinery, including boilers and engines.
DISPLACEMENT tonnage is the total weight of water displaced by a ship when loaded to its utmost capacity.