RMS Pretorian Passenger List - 16 August 1919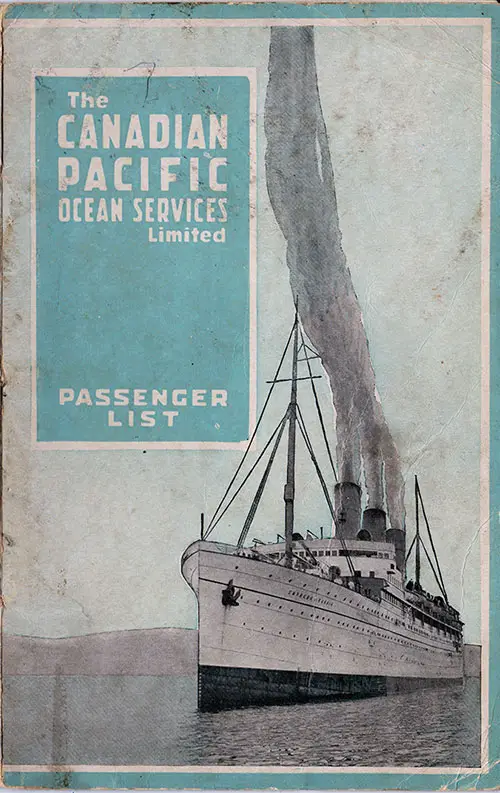 Front Cover of a Cabin Passenger List for the RMS Pretorian of the Canadian Pacific Line (CPOS), Departing 16 August 1919 from Liverpool for Quebec and Montreal, Commanded by Captain J. Hall. GGA Image ID # 157d869098
Senior Officers and Staff
Captain: J. Hall, Commander
Chief Officer: J. THORBURN
Chief Engineer: A. CUMMING
Purser: I. Alexander
Doctor: J. F. Brown
Chief Steward: D. MCINTOSH
Cabin Passengers
Mrs. M. J. Adair - Melfort, Sask
Miss M. Adair and Infant - Melfort, Sask
Mrs. I. M. Adam - Montreal, Que
Miss A. E. Aitken - Rhynie, Scot
Mrs. J. Aitken - Montreal, Que
Mr. I. F. Anderson - Glasgow, Scot
Mr. W. Ashworth - Manchester, Eng
Mr. J. S. Barclay - St. John, N.B
Mrs. A. Barclay - St. John, N.B
Miss H. Barclay - St. John, N.B
Mrs. G. J. Barker - London, Eng
Mr. T. Barker and Infant - London, Eng
Mr. R. Beatson - London, Eng
Miss. A. Bennett - Preston, Eng
Mr. E. Bliss - Winnipeg, Man
Miss M. Briant - Waterford, Ont
Mrs. C. Burroughs - Liverpool, Eng
Mr. E. Butcher - Grenfell, Sask
Mrs. Camblin - Edinburgh, Scot
Mrs. W. Carr - London, Eng
Mrs. B. Chandler - Vermillion, Alta
Mrs. C. Chapman - London, Eng
Mr. H. Chapman - Holden, Arta
Miss M. Chapman - Holden, Alta
Miss M. Chatterton - Regina, Sask
Mr. E. D. Clarton - London, Eng
Mrs. Clarton - London, Eng
Miss R. S. M. Clements - Winnipeg. Man
Miss S. M. Clements - Winnipeg, Man
Mr. J. Coe - London, Eng
Mrs. Coe - London, Eng
Mrs. L. Edwards - Warrington, Eng
Mr. J. Ewart - Glasgow, Scot
Mr. J. W. Fisher - Blackpool, Eng
Master W. Fisher - Blackpool, Eng
Mr. R. E. Fowler - Liverpool, Eng
Miss B. Frazer - Winnipeg, Man
Miss R. J. Gablonsky - Sydney, N.S.W
Miss J. Gale - Winnipeg, Man
Mr. A. Gallancher - Gourock, Scot
Mrs. J. Garden - Edinburgh, Scot
Miss L. Gibbons - Liverpool, Eng
Miss E. Coe - London, Eng
Master R. Coe - London, Eng
Miss A. Coldman - London, Eng
Mr. W. Compton - London, Eng
Miss E. Cossins - London, Eng
Mr. C. Coulston - London, Eng
Mr. C. C. Davis - Vancouver, B.C
Mrs. H. M. Davis - Vancouver, B.C
Mrs. C. M. M., Deane - Saskatoon, Sask
Miss W. M. Deane - Saskatoon, Sask
Miss S. M. Deane - Saskatoon, Sask
Mrs. C. Dewar - Winnipeg, Man
Mr. H. Dixon - Cobalt, Ont
Mrs. M. Dixon - Cobalt, Ont
Miss M. Douglas - Toronto, Ont
Mr. J. Dowdell - London, Eng
Mrs. Drew - London, Eng
Miss. Drew - London, Eng
Mr. F. L. Godfrey - Oldham, Eng
Miss A. Gonny - Toronto, Ont
Miss L. Gordon - South Shields, Eng
Master M. Gordon - South Shields, Eng
Master Wm. Gordon - South Shields, Eng
Master W. Gordon - South Shields, Eng
Mr. A. E. Gorton - Manchester, Eng
Mrs. M. A. Gorton - Manchester, Eng
Gorton, Miss J. - Manchester, Eng
Gossett, Mr. M. P. - London, Eng
Gott, Mr. J. A. Hull, Eng
Gott, Mrs. E. - Hull, Eng
Goulds, Mr. J. A. - London, Eng
Gray, Miss A. - Montreal, Que
Greenalgh, Mrs. - London, Eng
Greenalgh, Miss M. - London, Eng
Greenalgh, Miss E. - London, Eng
Griffiths, Mrs. - Toronto, Ont
Griffiths, Miss A. - Toronto, Ont
Griffiths, Miss M. - Toronto, Ont
Guthbridge, Mrs. M. - Liverpool, Eng
Dr. A. Ham - London, Eng
Mr. G. V. Hammond - Belfast, Ire
Mr. J. H. Hammond - Belfast, Ire
Mr. J. Hay - Nelson, B.C
Mrs. B. Hay - Nelson, B.C
Mr. H. H. Haynes, Cork, Ire
Mrs. H. Henderson - London, Eng
Master Henderson - London, Eng
Miss A. Hindson - Hull, Eng
Miss B. Hughes - Sharman, Sask
Mrs. E. Hunt - Toronto, Ont
Mr. J. Hutty - Liverpool, Eng
Mr. J. A. Ingle - . London, Eng
Mrs. E. Isom - Toronto, Ont
Master W. Isom - . Toronto, Ont
Miss I. Izard - London, Eng
Mr. H. Jack - Inverness, Scot
Mrs. H. Johnson - Saskatoon, Sask
Mr. T. Jones - Vancouver, B.C
Mr. G. F. Kirby - Montreal, Que
Mrs. E. L. Kirby - Montreal, Que
Mr. A. F. Knight - London, Eng
Mr. F. E. W. Lake - Manchester, Eng
Mr. P. E. Lingham - Hamilton, Ont
Mr. H. Lumsden - Aberdeen, Scot
Mr. J. Mackenzie - ..Winnipeg, Man
Mrs. C. Mackenzie - ..Winnipeg, Man
Miss N. Mackenzie - ..Winnipeg, Man
Miss R. Mackenzie - ..Winnipeg, Man
Mr. J. Macpherson - Toronto, Ont
Mrs. Macpherson - Toronto, Ont
Miss F. M. Marston - London, Eng
Mrs. A. Matthews - Montreal, Que
Mr. H. Matthews - Montreal, Que
Mrs. M. McAdam - Toronto, Ont
Miss M. L. McCrone - Southampton, Eng
Mr. McDonald - Glasgow, Scot
M. P. Mcllvride - Welland, Ont
Mr. P. McNaughton - Pitman, Sask
Mrs. M. McQuaker - Glasgow, Scot
Miss C. McQuaker - Glasgow, Scot
Mr. Wm. Moat - London, Eng
Miss Miller - Manchester, Eng
Mr. J. Mingary - London, Eng
Mrs. Mingary - London, Eng
Mingary, Miss - London, Eng
Miss D. Mingary - London, Eng
Miss P. Mingary - London, Eng
Mr. H. Mingary - London, Eng
Mr. W. Mingary - London, Eng
Mr. G. Mitchell - London, Eng
Miss M. S. Mitchell - London, Eng
Miss. E. Morrey - Wakefield, Eng
Mr. R. Nicholson - London, Eng
Mrs. E. Norris - Edmonton, Alta
Mr. R. B. Oliver - Oldham, Eng
Mrs. Orrell - Manchester, Eng
Mrs. L. Paterson - Brighton, Eng
Miss H. L. Paterson - Brighton, Eng
Miss E. Pescott - London, Eng
Miss M. Pescott - London, Eng
Mrs. M. A. Pike - Victoria, B.C
Miss M. Preston - Toronto, Ont
Mr. W. S. Porteous - London, Eng
Mrs. E. Prosser - Toronto, Ont
Mr. C. Pryce - Hong Kong, China
Mrs. Pryce - Hong Kong, China
Miss E. Pybus - Toronto, Ont
Mrs. E. Pyke - Toronto, Ont
Mr. A. J. Quelch - . London, Eng
Mr. J. Ralph - Toronto, Ont
Mrs. Ralph - Toronto, Ont
Mr. F. Ramsden - Regina, Sask
Mr. J. Ridgway - Manchester, Eng
Miss E. Roberts - Liverpool, Eng
Miss Robinson - Manchester, Eng
Mrs. Royle - Manchester, Eng
Mr. J. H. Senior - London, Eng
Mr. D. Senior - Toronto, Ont
Miss M. Stephen - Calgary, Alta
Miss E. M. Stephens - London, Eng
Miss L. E. Stewart - London, Eng
Miss R. L. Stewart - London, Eng
Mrs. E. Strute - London, Eng
Mrs. G. Sutherland - Ceylon, Sask
Master G. Sutherland - Ceylon, Sask
Mr. J. Sutherland - Ceylon, Sask
Miss B. E. Sutton - Hull, Eng
Dr. E. F. Taylor - Holden, Alta
Miss M. Taylor - Holden, Alta
Mr. R. S. Taylor - London, Eng
Mr. J. Taylor - Toronto, Ont
Mrs. J. Taylor - Toronto, Ont
Miss E. Taylor - Toronto, Ont
Miss C. Taylor - Toronto, Ont
Master C. Taylor - Toronto, Ont
Mr. H. Teal - Vancouver, B.C
Mrs. Teal - Vancouver, B.C
Mrs. E. Thorne - London, Eng
Mrs. A. Tickle - Warrington, Eng
Miss E. Turner - London, Eng
Mrs. E. Vivian - Hamilton, Ont
Miss M. Vivian - Hamilton, Ont
Mr. A. F. Ward - Liverpool, Eng
Mr. J. Watson - Glasgow, Scot
Mr. J. Waugh - Toronto, Ont
Mr. J. Westholme - London, Eng
Miss P. Whitehead - Bolton, Eng
Master J. Whitehead - Bolton, Eng
Master G. Whitehead - Bolton, Eng
Mr. F. J. Whittan - Liverpool, Eng
Mrs. M. Williams - Saskatoon, Sask
Mr. J. R.. Williams - Holyhead, N. Wales
Rev. E. Wyle - Toronto, Ont
Mr. T. Yates - Liverpool, Eng
Mrs. L. Yeadon - Liverpool, Eng
Miss E. Yeadon - Liverpool, Eng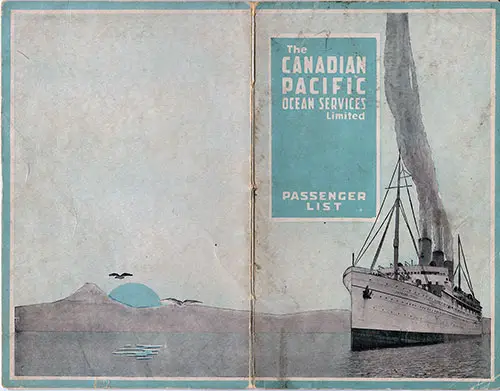 Full Back and Front Cover for the 16 August 1919 Cabin Class Passenger Lists of the SS Pretorian for the Canadian Pacific Line (CPOS). GGA Image ID # 157d88df9d
Information for Passengers
Seats at Table—Arranged by Second Steward.
Meal
First Sitting
Second Sitting
Breakfast
7:30 am
8:30 am
Luncheon
12-00 noon
1-00 pm
Lights extinguished in Saloon at 11:00 pm, Cale and Music Room 11-50 pm, and Smoking Room midnight.
Bar closes at 11:00 pm
Divine Service in Saloon 10:30 am Sunday.
Deck Chairs provided free for use of Cabin Passengers.
Steamer Rugs may be rented at 4./- per voyage.
Money Exchange—The Purser will exchange a limited amount of English, Canadian, and American money.
The Surgeon is authorized to make customary charges, subject to the approval of the Commander, for attending Passengers at their request for illness not originating on board. In the case of sickness contracted on board no charge is made and medicine is provided free.
Valuables—A safe is provided in the Purser's 'Office for Passengers to deposit money and valuables for safe keeping, free of charge.
Montreal Debarkation—C.P.O.S. Ships dock at Sheds Nos. 7, 8, 9, to and ix.
Wireless Telegrams—Information can be obtained from the Purser. Passengers' Letters and Telegrams—Inquire for mail on arrival
Passengers are requested to give the Purser their name and address on the card provided for the purpose to facilitate the delivery of letters and telegrams which reach the Company after arrival.
Passengers traveling to or through the United States must have Visa of American Consul on passports. They should report to Purser as early as possible.
Canadian Rail Ticket Agents board steamers at Rimouski to exchange and issue rail orders.
The Canadian Pacific Telegraph Company have a representative on C.P.O.S. ships between Rimouski and Quebec to handle Passengers' telegrams.
Posting Letters at Sea—The Canadian Government notify that the Postal Administration of the United Kingdom and Canada have entered into an agreement whereby either British or Canadian postage stamps may be used for prepayment of correspondence posted on the high seas on board contract mail steamers between Canada and the United Kingdom, whether such correspondence be posted on the Eastbound or Westbound passage of the mail steamers.
Customs and Baggage
Special Delivery of Baggage
Canadian Pacific baggage officials and Canadian Government Customs officials meet Steamers on arrival, and arrange examination and checking of baggage through to the rail destination.
Immediately after Government inspection on arrival in port and tickets to inland destinations are obtained, Passengers should attend to the Customs examination of their baggage and forwarding by the Railway Agent who will give checks for same. Unless baggage is checked out by Passengers it will be held at their risk until claimed.
U.S. Customs. Officers are at Quebec, Montreal, Ottawa, Toronto, London, Ont., Winnipeg, Man., Banff (during Summer) and Vancouver, B.C., Stations to examine baggage destined for U.S. Passengers traveling to the U.S. via those points are recommended to have baggage examined at either place and avoid examination at International Boundary. Baggage from U.S. to. Canada, and vice versa, not examined at places named above must be examined at International Boundary, otherwise it will be held by Customs Passengers should attend personally to having their baggage examined by Customs. Officers.
Passengers for Quebec, Montreal, Ottawa, Toronto, Hamilton, Winnipeg, Vancouver, or Victoria, and the larger cities in the Eastern United States, may have baggage checked by any agent of this Company through to any residence, hotel, steamship dock, or railway depot, in such cities. This is a convenience. The transfer charge is collected by the baggage master at time of checking.
The Canadian Pacific Ocean Services Limited
Passenger Agencies
Passengers ARE CORDIALLY INVITED To Make The C. P. O. S. Offices Their HEADQUARTERS and Have Mail and Telegrams Addressed in OUR CARE
EUROPE
Liverpool Wm. Baird Pier Head.
London G Gribbon 14 Cockspur St. S.W.
London C E. Rutter 103 Lead enh all St. E.C.
Bristol A S. Ray 18 St Augustine's Par.
Glasgow W. McK. Rodan 25 Bothwell Street.
Dundee R Ferguson 88 Commercial Street.
Londonderry J A. Grant 50 Foyle Street.
Canada and United States
Montreal Wm. Webber 141 St. James Street.
Quebec L J. Fontaine 138 St. Peter Street.
Toronto H M. MacCallum 1 King Street East
Winnipeg W. C. Casey 364 Main Street.
Vancouver J J. Forster C P. R. Station.
Atlanta, Ga. E G. Chesbrough 220 Healey Building.
Boston, Mass. L R. Hart 332 Washington St.
Buffalo, N.Y. G O. Walton 11 South Division St.
Chicago, Ill R S. Elworthy 140 South Clark St.
Cincinnati, Ohio M. E. Malone 430 Walnut Street.
Cleveland, Ohio G A. Clifford 2033 East Ninth St.
Detroit, Mich. M. G. Murphy 199 Griswold Street.
Los Angeles, Cal. A A. Polhamus 605 South Spring St.
Minneapolis, Minn. A G. Albertsen 611 Second Ave South.
New York, N.Y General Agent 1231 Broadway.
Philadelphia, Pa. R C. Clayton 629 Chesnut Street.
Pittsburgh, Pa. C L. Williams 340 Sixth Avenue.
Portland, Ore E E. Penn 55 Third Street.
San Francisco, Cal. F L. Nason 645 Market Street.
Seattle, Wash. E F. L. Sturdee 608 Second Avenue.
St. Louis, Mo. E L. Sheehan 418 Locust Street.
Washington, D.0 C E. Phelps 1419 New York Ave.
ORIENT
Yokohama Edward Stone 14 Bund.
Kobe J A. Graham 1 Bund.
Nagasaki Holme, Ringer & Co.
Shanghai F E. Weiss Palace Hotel Building.
Manila G M. Jackson 18 Escolta.
Hong-Kong P D. Sutherland Opposite Blake Pier.
Mon Wuriu Shokai Holme Ringer & Co.
The Canadian Pacific Ocean Services Limited
Department of Colonization and Development
The Canadian Pacific Railway has some six million acres of choice farm lands for sale in Western Canada at low prices, and on long terms of payment. These lands are sold under the following plans :—
SETTLEMENT PLAN
To purchasers who will agree to settle upon and develop their farms, lands will be sold on special terms of one-tenth down with the balance extended over twenty years, and special concessions as to payments during first three years.
IRRIGATED Lands
In the famous Irrigation Block east of Calgary, and in the Lethbridge Irrigation District in Southern Alberta, irrigated lands are sold at prices ranging from fifty dollars .an acre, terms one-tenth down with balance extended over twenty years.
Loan To Settlers
To purchasers of irrigated lands, under certain conditions, a loan in improvements not exceeding two thousand dollars will be granted. Amount of loan to be paid off with land payments.
NON-SETTLEMENT PLAN
Extended to lands in certain districts only. Terms one-tenth down with balance extended over ten years. Interest is charged on deferred payments under this and all other plans at the rate of six per cent.
TOWN SITES
Lots in towns along the line of the Canadian Pacific are open for sale on terms of one-third cash with balance in six and twelve months. Information as to industrial opportunities in any of these towns will be supplied on request.
Further information and particulars can be obtained from the Department of Colonization and Development, Canadian Pacific Railway, which maintains offices at Windsor-Street Station, Montreal, P.Q., Winnipeg, Man , Calgary, Alta., Saskatoon, Sask., and London, Eng.
Canadian Pacific
The EMPIRE'S Greatest Railway
Operating over 18,500 miles of railway, the Canadian Pacific has the most complete and far-reaching service, not only in Canada itself, but also for the Western States of America. The finest fishing and shooting in Canada are along its lines. No railway in the world passes through country so picturesque or so varied in its character. Canadian Pacific hotels of the first rank are to be found in the chief commercial and tourist centres. Ask the Purser for illustrated pamphlets or write to:—
Sir GEO. MCLAREN Brown, K.B.E., European General Manager,
H. G. Dr.NG, European Passenger Manager, or
T. J. Smith, European Freight Manager, Canadian Pacific Railway, 62-65, CHARING Cross, London, S.W.I, or local agents everywhere
WINDSOR STREET. STATION. ACROSS Dominion SQUARE. Montreal
The Canadian Pacific Ocean Services Limited
The CHATEAU FRONTENAC. Quebec
C. P.R. Trans-Continental Express
The line of the Canadian Pacific Railway extends across Canada from St. John, New Brunswick, on the Atlantic Ocean, to the City of Vancouver on the Pacific Ocean, and it is the only transcontinental railway in America whose Passengers are carried without change of cars from tidewater to tidewater. It is the only system of Railway " from Ocean to Ocean" under one management.
Ticket Offices at important stations are open 30 minutes before departure of trains,and Passengers are requested to purchase tickets before entering cars. Passengers should always procure tickets at regular railway ticket offices, and ask for them via the Canadian Pacific Railway.
MILEAGE Books, good on New Brunswick, Quebec, Ontario, and Algoma Districts, but not locally in the State of Maine, are sold at principal stations, $23.73 for r,000 miles. These books are valid for one year from date of issue, for purchaser oniy, whose signature they must, bear, and are not transferable. Mileage book coupons are not good on trains, but must be exchanged at the ticket office for passage ticket before entering cars.
The great forests of the Dominion of Canada have long been recognized as the home of big game. The prairies are the favorite hiding places of the quail, partridge, chicken, woodcock, etc. The marshes are the haunts of the wild water fowl, and the great waterways the home of many species of fish. The transportation facilities to this great land of fur, feather and fin are excellent. The sportsman is placed by the Canadian Pacific Railway within easy reach of the desired game. Owing to the immense area covered by this railway from Atlantic to Pacific, a great variety of sport of all kinds is rendered easily accessible in all Provinces of the Dominion.
Good reliable guides can be had in all parts of Canada at reasonable wages, but this must be arranged well in advance of the trip. The Tourist and Colonisation Agents of the Canadian Pacific at Montreal are always ready to give advice to enquirers on this point as on other points connected with camping trips.
Particular attention is paid to the wants and requests of sportsmen, and lists of guides, information regarding any special district, game laws, outfits and supplies will be promptly obtained on applicationito A. O. SEYMOUR, General Tourist Agent, Canadian Pacific Railway, Montreal
Train Service
Sport in Canada
Canadian Pacific Hotels BANFF Hotel and BOW RIVER VALLEY, ALBERTA
WHILE the perfect sleeping and dining car services of the Canadian Pacific Railway provide every comfort and luxury for travelers making the continuous overland through trip, it has been found necessary to provide hotel accommodation at points of interest among the mountains and elsewhere, from Atlantic to Pacific.
The telegraph system of the C.P.R. extends along the entire length of the ,railway, and reaches every point of importance off the line of railway in the Dominion of Canada.
The Commercial Cable Co. (Mackay-Bennett system) °aives the C.P.R. the most direct connec tion with Europe, Asia and Africa.
Direct connection with the British Pacific Cable to Australia, New Zealand, etc.; the Commercial Pacific Cable to the Hawaiian Islands, Philippine Islands, China and Japan; and the Commercial Havana Cable to Havana, etc.
The Postal Telegraph Co. of New York and San Francisco, enables the C.P.R. to reach all important points in the United States.
The Halifax-Bermuda and DIRECT West Indies
Cable Co. gives connection with Bermuda, Jamaica and points in the West Indies.
Direct connection with the Dominion Government Telegraph Line to the Yukon and points in Alaska.
A tariff of charges for Telegrams is posted at all Telegraph Offices, and is kept by all Sleeping and Parlor Car Porters for inspection. Senders of messages are requested to compare the charges made with the rates on tariff.
To ensure quick despatch to all points, see that your telegrams are written on C.P.R. Telegraph Blanks and are handed in at C.P.R. Offices.
Dominion Express Company of Canada Operating on all lines of the Canadian Pacific
Railway, Canadian Pacific Ocean Services and
other Railway and Steamship Companies.
FORWARDERS of Merchandise, Money, Valuables, &C., promptly, carefully and at reasonable rates.
Money Orders, Foreign Cheques and Travellers Cheques issued. Money transferred' by Telegraph and Cable.
There is no better way to carry your funds than in Dominion Express Travellers Cheques. They are issued in denominations f $io, $20, $50, $ ioo and $200, and show on the face of each the amount you will receive in foreign money. They identify you and protect you against loss, and are accepted by Express Agents, Banks, Railway Companies, Hotels, etc.
Full particulars on application to any C.P.R., C.P.O.S. or
Dominion Express Office, Or Sir GEO. MCLAREN Brown,
K.B.E., European General Manager, 62/65, Charing Cross, London, S.W I.
Canadian Pacific Telegraphs