SS Duchess of Atholl Passenger List - 12 May 1933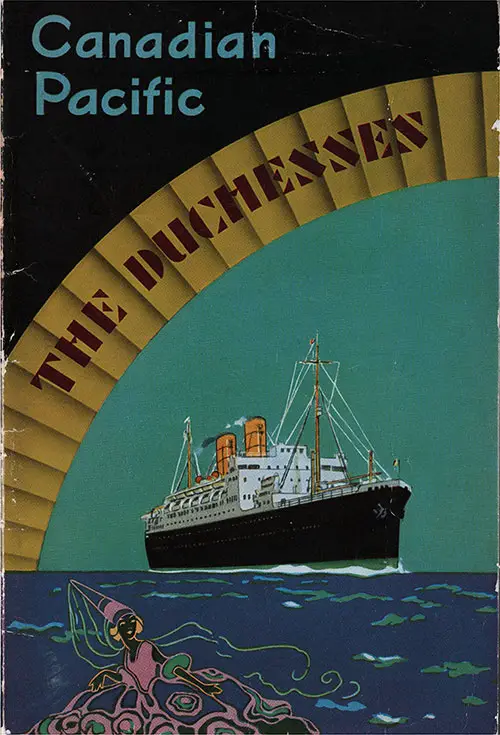 Front Cover of a Cabin and Tourist Class Passenger List for the SS Duchess of Atholl of the Canadian Pacific Line (CPOS), Departing 12 May 1933 from Liverpool to Quebec and Montreal via Belfast and Greenock, Commanded by Captain D. S. McQueen. GGA Image ID # 173a0b16d5
Senior Officers and Staff
Captain D. S. McQueen, Commander
Chief Officer H A. Moore
Chief Engineer R G. Cragg
Purser D. F. Armour
Surgeon C. P. Miller, M.B., B.Sc., M.R.C.S., L.R.C.P
Chief Steward T Burns
Rail Traffic Represencative J. SAMSON
Office on A Deck Entrance Hall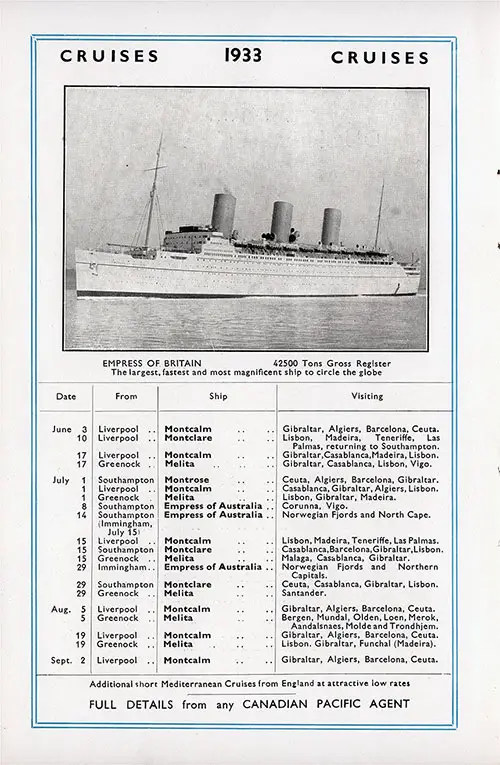 Cruise Schedule for the Canadian Pacific Line for 3 June through 2 September, 1933. Photograph of the Empress of Britain, 42,500 Tons Gross Register. The Largest, Fastes, and Most Magnificent Ship to Circle the Globe. GGA Image ID # 1586a5eaa3
List of Cabin Passengers
Mr. R. B. Anderson
Miss M. Aspinall
Dr. F. W. Atack
Mrs. M. Benson
Dr. E. Boyd
Miss M. G. Brock
Miss M. L. Brock
Mr. L. Browne
Mrs. Browne
Miss C. S. Hagarty
Miss F. Haigh
Mr. O. Hunter
Mrs. Hunter
Mrs. J. Hutchison
Mrs. M. C. Huxley
Miss K. Huxley
Mr. Wm. Johnston
Mr. J. C. Callaghan
Mrs. Callaghan
Miss M. K. Lampson
Miss L. P. Leatham
Mr. A. C. Lennon
Miss Eleanor Callaghan
The Hon. John G. Colville
Dr. Ford Connell
Mr. F. F. Dailey
Mrs. Dailey
Mr. F. F. Dailey, Jnr
Mr. W. S. G. Dailey
Mr. A. R. Davidson
Mrs. J. R. M. Dixon
Mr. A. D. MacTier
Mrs. MacTier
Miss D. McTavish
Mr. W. Miller
Mr. E. B. Moulsdale
Mr. A. E. Francis
Mrs. Francis
Sir Robert Garran, K.C.M.G
Lady Garran
Mr. C. E. Gausden
Mrs. L. George
Mrs. C. E. Gray
Mr. J. Greer
Mr. H. L. Ormiston
Miss B. L. Ormiston
Mr. W. Preston
Mrs. Preston
Mr. F. L. Ryan
Mrs. E. M. G. Thomas
Miss P. H. Ryan
Mr. M. B. Toklas
Mrs. A. W. Scripture
Miss N. Scripture
Miss B. Scripture
Miss E. H. Sheppard
Mr. H. N. Skelton
Mr. C. A. G. Slater
Mrs. A. C. Stead
Miss M. Waugh
Mrs. C. Wilmot
Mrs. J. McN. Wilson
Miss E. McN. Wilson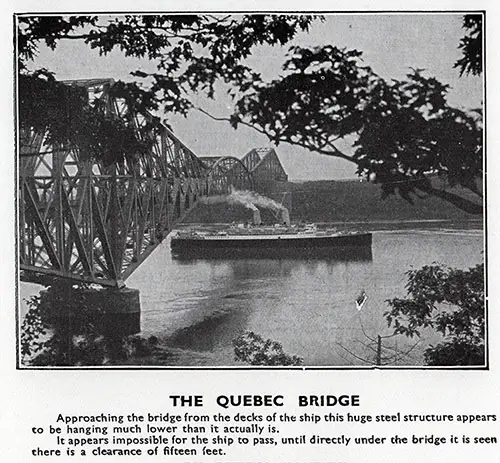 The Quebec Bridge, Approaching the bridge from the decks of the ship, this huge steel stucture appears to be hanging much lower than it actually is. It appears impossible for the ship to pass, untill directly under the bridge it is seen there is a clearance of fifteen feet. GGA Image ID # 1586c66be6
List of Tourist Passengers
Mrs. R. Alexander
Mrs. P. Archer
Miss Mary Barbour
Miss H. Barnfield
Miss E. J. Bidmead
Miss Edith Bond
Dr. J. C. Bradley
Mr. A. V. Cameron
Mrs. Cameron
Miss C. Cameron
Miss A. Corbett
Mrs. E. Dawson
Miss S. Deruyter
Mrs. Annie Dumican
Mr. A. Dunslow
Dr. W. G. Dustan
Mr. H. Edwards
Mrs. A. Fisher
Mrs. E. Fleming
Mrs. E. M. Galloway
Miss P. Galloway
Miss H. L. Galloway
Mr. F. T. Gardner
Mrs. Gardner
Rev. W. W. Gibson
Mrs. Gibson
Rev. A. R. Gibson
Mr. V. W. Gibson
Mrs. Gibson
Miss J. L. Gibson
Miss D. J. Gibson
Mrs. Mary Gilbert
Mr. C. W. Grime
Miss D. Groves
Mrs. M. A. Hall
Mr. F. Hellegards
Mrs. S. T. Hellyer
Mrs. E. Holt
Miss E. Howarth
Mrs. A. M. Ingram
Mr. G. V. Jacks
Miss M. C. Johnston
Mrs. M. A. Kay
Mr. T. Keeley
Miss J. Mainland
Miss A. Malkin
Miss M. E. Malkin
Mr. E. V. Marquis
Mr. J. Marsh
Mrs. Marsh
Mrs. E. D. Martin
Miss C. J. McDonald
Mr. Samuel McGladery
Mr. J. R. McKinley
Mrs. J. Morgan
Mr. J. C. Morton
Mr. J. Mulliner
Mrs. Mulliner
Mr. C. Mumby
Miss E. H. Negus
Mrs. M. Nicol
Mrs. J. Robb
Master I. Robb
Miss E. M. Rolfe
Mr. A. Rutherford
Miss I. C. Scott
Miss A. Shalicross
Mr. J. Smith
Mr. W. J. Snook
Mrs. Snook
Miss I. Stansfield
Miss Anna D. Sutcliffe
Miss J. M. Sutherland
Mr. C. W. Swan
Mr. J. Thomas
Mrs. Thomas
Mrs. A. M. Tilforth
Mr. V. E. Veary
Mrs. Veary
Mrs. T. Wain
Mrs. A. J. Wass
Mrs. M. E. Williams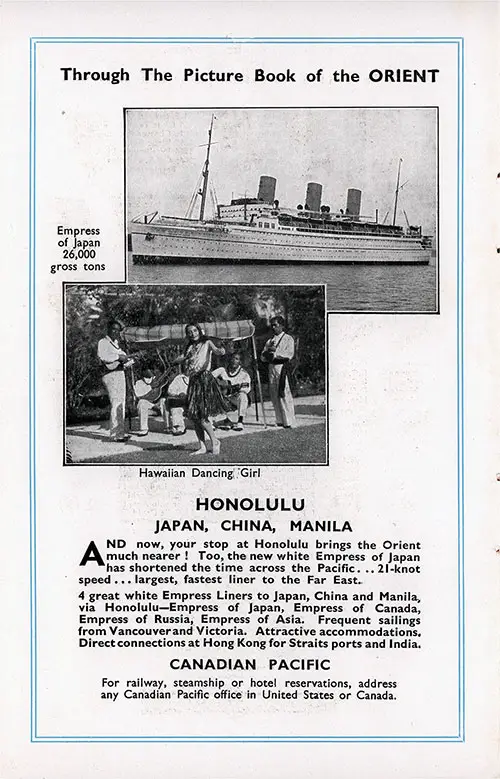 Through The Picture Book of the Orient. Honolulu, Japan, China, Manila. Top Photo: Empress of Japan - 36,000 Gross Tons. Bottom Photo: Hawaiian Dancing Girl. GGA Image ID # 15870f57a5
Customs Regulations Canada
Residents of Canada—Are required to declare to the Customs Officer at the Port of Landing in Canada, all articles purchased or obtained abroad whether as gifts or otherwise. Failure to declare goods leaves same liable to seizure.
All goods, whether liable to duty or not, are required to be presented for Customs examination, and Passengers are warned when in doubt as to whether or not an article is liable to duty, it should be produced for examination by the Customs Officer.
Tourists' Outfits.—" Temporary Admission—Persons visiting Canada for a limited period of time, for health or pleasure, may bring with them such articles of tourists' outfits or sportsmen's equipment as they may require while in Canada for their own use and not for gain or hire, upon reporting same to the Customs Officer at the Canadian frontier port of entry, subject to departmental regulations."
The Customs Officer may require all packages of baggage to be opened for his examination; and responsibility for opening, unpacking and repacking the packages rests with the passenger or his agent.
Bribery—Any person giving, offering or promising any bribe, recompense, reward or tip to an Officer is liable to severe penalties.
Through Baggage—Passengers en route to destinations outside of Canada may have their checked baggage forwarded " In Bond " to a frontier port under Customs Manifest without examination of same by a Customs Officer.
Samples—Such as carried by commercial travelers, are required to be delivered to the Customs Officer for entry purposes, and invoice or statement in detail showing the price,—wholesale, of each sample as sold for home consumption, such invoice or statement should be attested to by the traveller.
Settlers' Effects—Free, if actually in use for six months before removal to Canada, but are required to be produced upon landing to Customs Officer for examination and entry.
United States
United States Customs Inspectors are located at Canadian Atlantic Ports, but they are not permitted to collect duties; therefore, in order to avoid complications and payment of duties to the Canadian Customs, citizens of the United States returning from Europe should pack all new goods purchased or otherwise acquired abroad in one or more receptacles which may be checked at destination and forwarded in bond.
Customs Regulations United States
All checked baggage not containing dutiable articles, or new goods In excess of the exemption to which the owners may be entitled, will be examined and passed by the United States Customs Inspectors, and will not be subject to re-examination at the United States frontier or at destination.
Baggage checked to destinations In the United States is not examined by the Canadian Customs.
Baggage carried by Passengers by hand, which should not contain dutiable articles, will be examined by the Canadian Customs at the landing port, and by the United States Customs Inspectors on the train at the United States border.
Passengers destined to the United States will be issued by the Purser on the voyage a form of United States Customs Baggage Declaration which must be completed in duplicate and presented to the United States Customs Inspector at the time of Customs examination. All values must be shown in United States currency.
Returning residents of the United States must declare all articles acquired abroad, in their baggage or on their persons, whether by purchase, by gift, or otherwise, and whether dutiable or free of duty. Exemption, however, will be allowed by Customs Officers of articles aggregating not over $100 in value, if suitable for personal or household use or as souvenirs or curios, and whether intended for the personal use of the Passengers or as gifts or presents to others, provided the articles are not bought on commission for another person nor intended for sale. Articles so exempt from duty must, nevertheless, be declared.
Each member of the family is entitled to the exemption of $100 for articles purchased abroad, and when a husband and wife and minor and dependent children are traveling together the articles included within such exemption may be grouped and allowance made without regard to which member they belong.
Articles acquired abroad shipped from port of landing to destinations in the United States by express, should be declared to the United States Customs Inspector in charge at port of Landing, and also to the Inspector on the train at the United States border, in order to secure duty exemption to which owner may be entitled.
Non-residents of the united states destined to that country must declare all articles in their baggage or on their persons which do not constitute wearing apparel, articles of personal adornment, toilet articles, or similar personal effects, whether intended for their personal use or for others. They must also declare all articles of wearing apparel, jewelry, and other articles of personal adornment, toilet articles and similar effects when not owned by them, or when intended for other persons or for sale.
Professional books, implements, instruments, and tools of trade, occupation or employment, in the actual possession of persons emigrating to the United States, owned and used by them abroad, are admitted free of duty.
Canadian Pacific Railway Traffic Office
Located on A Deck, Entrance Hall
Travel Information is always at your service. Will Passengers kindly present Train Tickets to be VALIDATED or STAMPED.
Rail Orders should be exchanged for train tickets.
Train tickets on sale to all destinations in Canada and the United States.
Tentative requests for Sleeping Car Reservations may be made early during the voyage, and tickets for same will be On SALE after Ship has passed Quebec.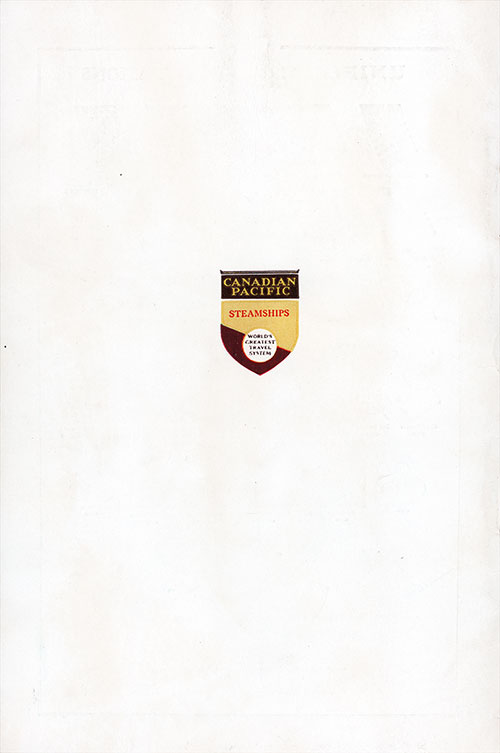 Back Cover of the Cabin and Tourist Passenger List for the 12 May 1933 Voyage of the Duchess of Atholl. GGA Image ID # 1587343338