SS Montcalm Passenger List - 13 July 1923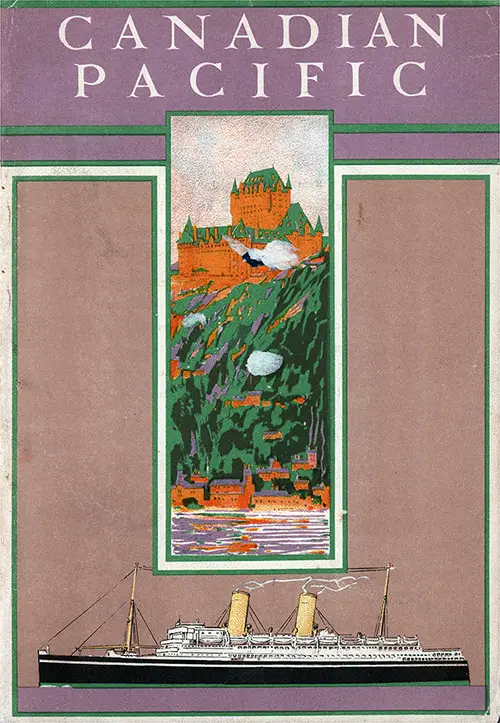 Front Cover of a Cabin Passenger List for the SS Montcalm of the Canadian Pacific Line (CPOS), Departing Friday, 13 July 1923 from Liverpool for Quebec and Montreal via Greenock, Commanded by Captain A. Rennie. GGA Image ID # 1589a2e620
Senior Officers and Staff
Captain: A. RENNIE O.B.E. Commander
Chief Officer: P. A. Lancaster
Chief Engineer: R. Wilson, D.S.O., R.N.R
Purser: W. I. Paddock
Surgeon: J. O. HAMILTON
Chief Steward: A. W GAADE
Rail Lines Ticket Agent: J. M. KEEFFE
Office on Deck "B" Cabin Square

Receipt No. 32893 Dated 5 July 1923 Issued for Passage, etc. of £30 4s. 9d. on the SS Montcalm of the Canadian Pacific Line. GGA Image ID # 1589f87571
List of Cabin Passengers
Abbey, Mr. T.
Port Colborne, Ont
Ainslie, Mr. J. R.
London, Eng
Alexander, Rev. D.
Grundy Center, Iowa
Allan, Mr. J. B.
Edinburgh, Scot
Allen, Mrs. H.
Toronto, Ont
Appelbee, Mr. F. B.
London, Eng
Appelbee, Mrs.
London, Eng
Appleby, Mr. J. R.
Estevan, Sask
Appleby, Mrs.
Estevan, Sask
Appleby, Mr. J. R.
Estevan, Sask
Armstrong, Mr. C. F.
Manchester, Eng
Astrof, Dr. S.
Ottawa, Ont
Atkinson, Major G. B.
London, Eng
Back, Mr. E.
Rangsly, Finland
Back, Mrs.
Rangsly, Finland
Balfour, Mr. W. G.
Manchester, Eng
Barlow, Mr. F
Barnett, Mrs. E.
Toronto, Ont
Barrett, Miss E.
London, Eng
Bartlet, Miss E.
Detroit, Mich
Bassett, Mr. A. R.
Stewart, B.C
Bassett, Mrs.
Stewart, B.C
Battiscombe, Mr. E. H.
Hereford, Eng
Baxter, Mr. S. W.
Bellville, Ill
Baxter, Mrs.
Bellville, III
Beith, Miss M.
Rothesay, Scot
Bell, Mrs. E. B.
Vancouver, B.C
Bizzey, Mr. G. M.
Montreal, Que
Booth, Mrs. M. E.
Revelstoke, B.C
Borthwick, 0.B.E.. D.SC. Mr. A. W.
London, Eng
Bowler, Mrs. C.
Toronto, Ont
Boyd, Mr. R. J. L.
Ottawa, Ont
Brand, Mr. J. A.
Toronto, Ont
Brand; Mrs.
Toronto, Ont
Brayshay, Mr. J.
Dallas, Texas
Brorniley, Mr. A.
Bolton, Eng
Bromiley, Mrs.
Bolton, Eng
Bruce, Mr. T.
Juniper Green, Scot
Buffum, Mrs. C. G
Buffum, Miss M
Bulman, Miss A. F.
Montreal,,Que
Calder, Sir J. C.
Edinburgh, Scot
Cantley, Mr. C. L.
New Glasgow, N.S
Caroe, Mr. J. F.
Elsinore, Denmark
Cartwright, Wr. E. B.
Birmingham, Eng
Cathleugh, Miss E. M.
Detroit, Mich
Chapin, Mr. H.
Washington, Con
Chapin, Mrs.
Washington, Con
Chapin, Miss C.
Washington, Con
Cheyne, Mr. W.
Fraserburgh, Scot
Cheyne, Mrs.
Fraserburgh, Scot
Cleland, Mr. W.
Glasgow, Scot
Cleland, Mrs.
Glasgow. Scot
Clements, Dr. C. G.
Montreal, Que
Clueit, Mr. N.
Douglas, I.O.M
Clueit, Mrs.
Douglas, I.O.M
Cochrane, Mr. G.
Glasgow, Scot
Cochrane, Miss V.
Glasgow, Scot
Cochrane, Miss C.
Glasgow, Scot
Collison, Mr. W.
Stalybridge, Eng
Collison, Mrs.
Stalybridge, Eng
Collison, Mstr A.
Stalybridge, Eng
Collison, Mstr K.
Stalybridge, Eng
Cooper, Mrs. G. H.
London, Eng
Cooper, Miss
London, Eng
Cork, Miss M.
London. Eng
Cornish, Miss A.
Steeton, Eng
Coulter, Mr. J. R.
Detroit, Mich
Coulter, Mrs. C.
Detroit, Mich
Courthope, m.c., M. P., Lt.-Col. G. L.,
London, Eng
Courthope, Mrs.
London, Eng
Courthope, Miss
London, Eng
Courthope, Miss E. D.
London, Eng
Crane, Miss F. N.
Toronto, Ont
Crea, Rev. J. R.
Birmingham, Eng
Criddle, Mr. A.
Liverpool, Eng
Cunliffe, Mr. J.
Burnley. Eng
Cuthbert, Miss A. B.
Greenlaw, Scot
Davis, Mr. H. E.
Montreal, Que
De Marco, Mr. A.
Palermo, Italy
Dennes, Mr. W. R.
Healdsburg, Cal
Dennes, Mrs.
Healdsburg, Cal
Derrer, Mrs. T. M.
Sault Ste. Marie, Ont
Dickinson, Mr. C.
Oakville, Ont
Dixon, Miss M. J. C.
Sunderland, Eng
Dragonas, Mrs. O.
Montreal, Que
Duncan, Mr. G.
Broxburn, Scot
Dunn, Mr. J. W.
Calgary, Alta
Dunn, Mrs.
Calgary, Alta
Dunnington- Jefferson, Miss H.
London, Eng
Duval, Mr. L. M.
St. Johns, P.Q
Ellen, Mrs. A.
Sunderland, Eng
Elliott, Dr. C. C.
London, Eng
Elliott, Mrs. E. P.
Greenock, Scot
Esten, Mr. G. H.
Bury, Eng
Esten, Mrs.
Bury, Eng
Esten, Mr. H. L.
Bury, Eng
Esten, Mrs.
Bury, Eng
Fairley, Miss G. M.
Hamilton,. Ont
Fenner,. Miss E. H.
Toronto, Ont
Ferns; Mr. J.
Glasgow, Scot
Findlay, Mr. D.
Glasgow, Scot
Fleming, Mr. R. J.
Toronto, Ont
Fleming, Miss S.
Toronto, Ont
Forbes, Mr. A. C.
Dublin, Ire
Franklin, Miss R. O.
Hull, Eng
Fulton, Miss M.
Glasgow, Scot
Furse, D.S.O., Major R. D.
London, Eng
Garden, Mr. G.
Aberdeen, Scot
Garden, Mrs.
Aberdeen, Scot
Garner, Miss M. M.
Leicester, Eng
Garner, Mr. W. H.
Leicester, Eng
Garner, Mrs.
Leicester, Eng
Garrard, Mr. A. S.
Northampton, Eng
Gaw, Miss S.
Toronto, Ont
Goodall, Miss I. C.
Glasgow, Scot
Gould, Mrs. E. L.
Montreal, Que
Govan, Mr. R. G.
Glasgow. Scot
Graham. Mr. A.
Cranbrook, B.C
Graham, Mrs.
Cranbrook, B.C
Greaves, Mrs. C.
Leeds, Eng
Greengrass, Mr. C. H.
Liverpool, Eng
Griffin, Miss O. M.
Rugby, Eng
Grimmond, Mr. W.
Glasgow, Scot
Hague, Mrs. H. J.
Montreal, Que
Hague, Miss R.
Montreal, Que
Hague, Miss H. S.
Montreal, Que
Hair, Mr. D.
Paisley, Scot
Hair, Mr. G.
Paisley, Scot
Hamilton, Lord C. N.
London, Eng
Hanly, Mrs. K.
St. Helens, Eng
Hanly, Miss M.
St. Helens, Eng
Hanly, Mstr L.
St. Helens, Eng
Hanly, Mstr B.
St. Helens, Eng
Harper, Mr. T.
Hamilton, Aust
Harper, Mrs.
Hamilton, Aust
Harris, Mr. F.
Montreal, Que
Harris, Mr. S.
Brighouse, Eng
Harris, Mrs.
Brighouse, Eng
Harrison, Mr. C. F.
Norwich, Eng
Harrison, Miss J.
Norwich, Eng
Harrison, Miss M.
Birkenhead, Eng
Harvey, v.c., m.c., Capt. F. M. W.
Kingston, Ont
Harvey, Mrs. W. L.
Kingston, Ont
Harvey, Mstr D. F.
Kingston, Ont
Hegge. Mr. C.
Christiania, Norway
Hewitt, Mr. J.
Liverpool, Eng
Holmes, Mrs. G.
London, Eng
Holmes, Mrs. E.
Hamilton, Ont
Horrocks, Mr. N. W.
Chorley, Eng
Horrocks, Mr. J.
Bolton, Eng
Horrocks, Mrs.
Bolton, Eng
Inglis, Mrs. J. T.
Methil, Scot
Inglis, Miss E.
Methil, Scot
Inglis, Mr. J. C.
Winnipeg. Man
Inglis, Mrs.
Winnipeg, Man
Inglis, Master R. J.
Winnipeg, Man
Inglis, Master G. W.
Winnipeg, Man
Ingrham, Mr. A.
Calgary, Alta
Jagger, Mr. S.
Huddersfield, Eng
Johnson, Mr. A. C.
Copenhagen, Denmark
Johnstone, Mr. W. F.
London, Eng
Jureidini, Mr. A. N.
Manila
Kelman, Mr. A.
Altyre, Scot
Kerry, Mr. A. J.
Toronto, Ont
Laing, Mrs. M.
Toronto, Ont
Lang, Mr. M.
London, Eng
Latham, Miss A.
Toronto, Ont
Lawski, Mr. L.
Stockholm, Sweden
Leak, Mrs. M. L.
London, Eng
Legat, Mr. C. E.
London, Eng
Le Maiste, Mr. E
Winnipeg, Man
Lillie, Mr. F. P.
Toronto, Ont
Livingston, Mrs. V.
Toronto, Ont
Lohman,. Miss C. M.
New York, N.Y
Lovat, K.T., K.C.M.G., Maj.-Gen. Lord,
Beauly, Scot
Lucas, Mr. H. L.
Ottawa, Ont
Luke, Mr. A.
Winnipeg, Man
Luke, Mrs.
Winnipeg, Man
Luke, Miss C.
Winnipeg, Man
Lyall, Mr. J.
Glasgow, Scot
Lynch, Miss W.
Pontypridd, Wales
MacCrimmon, Mrs. A. B. and Infant
Williamstown, Ont
MacCNone, Mr. I. D. D.
Oxford, Eng
Macdonald, Miss A.
Ullapool, Scot
Macdougall, Mr. J. S.
Oban, Scot
Macrae, Miss D.
Ullapool, Scot
Marshall, Mrs. J. K.
Glasgow, Scot
May, Mr. G. A.
Wenatchee, Wash
May, Mrs.
Wenatchee, Wash
McGloy, Miss F. B.
Greenock, Scot
McDonald, Mr. F.
Winnipeg, Man
McDonald, Mr. C.
Greenock, Scot
McDonald, Mrs.
Greenock, Scot
McEwan, Mrs. C.
Glasgow, Scot
Meldrum, Mr. H. H.
London, Eng
Melrose, Miss E.
Hawick, Scot
Metcalfe, Mr. T.
Calgary, Alta
Metcalfe, Mrs.
Calgary, Alta
Mitchell, Mr. W. A.
Glasgow, Scot
Mochrio, Mr. R. M.
Montreal, Que
Mochrie, Mrs.
Montreal, Que
Mowforth, Mr. F. P.
Beverley, Eng
Mdwforth, Mrs.
Beverley, Eng
Mowforth, Mstr A. H.
Beverley, Eng
Munn, Miss L. M.
London, Eng
Munro, D.SC., Mr. J. W.
London, Eng
Munro, Mr. N. L.
Wayne, Alta
Murrian, Mr. W. S.
Knoxville, Tenn
Musgrove, Mr. W.
Vancouver, B.C
Nestos, Dr. P. A.
Minot, N.D
Nestos, Mrs.
Minot, N.D
Neville, Miss J. R.
Nottingham, Eng
Olsson, Miss H. M.
Stockholm, Sweden
Parker, Mr. H.
Winnipeg, Man
Parker, Mr. D. W.
Ottawa, Ont
Pascal, Mr. H. A
Powell, Mr. W. E.
Hamilton, Ont
Prentice, Mr. R.
Rothesay, Scot
Price, Mr. T.
London, Eng
Price, Mr. G. L.
London, Eng
Quigley, Mrs. M.
Glasgow, Scot
Quigley, Miss J.
Glasgow, Scot
Reside, Mrs. M. C.
Carnlough, Ire
Reside,. Miss M. W.
Camlough, Ire
Reside, Mstr J. W.
Camlough, Ire
Rhodes, Jnr., Mr. C. E.
Buffalo, N.Y
Rcbertson, Miss H. M.
Westmount, Que
Robertson, Miss E. McD.
Westmount, Que
Robertson, VII. W. A.
London, Eng
Robinson, Mr. A. W.
Renfrew, Scot
Robinson, Mr. J. E.
Bishop Auckland, Eng
Robinson, Mrs. M.
St. Catherines, Ont
Rodgers, Miss J.
Glasgow, Scot
Rodgers, Miss M. N
Glasgow, Scot
Rorholt, Miss M. K.
Porsgrund, Norway
Roulston, Mrs. S.
Montreal, Que
Sandie, Mr. R.
Glasgow, Scot
Sandie, Mrs.
Glasgow, Scot
Sandie, Miss M.
Glasgow, Scot
Schleicher, Mr. H. C.
New York, N.Y
Scott, Mrs. J.
Hawick, Scot
Shand, Mrs. J.
Glasgow, Scot
Shaw, Mr. G. H.
San Francisco, Cal
Short, Mr. A.
Bridge of Earn, Scot
Short, Mrs.
Bridge of Earn, Scot
Short, Miss J.
Bridge of Earn, Scot
Short, Miss C.
Ottawa, Ont
Silkestone, Mr. F.
Llantrissant, Wales
Smith, Mr. H. C.
Montreal, Que
Smith, Mrs. M. A.
Glasgow, Scot
Smith, Miss M.
Glasgow, Scot
Somervell, Mr. H. A.
Kendal, Eng
Sparrow, Mrs. B.
Gravesend, Eng
Stephens, Mr. E. E.
Calgary, Alta
Storer, Mrs. C.
San Francisco, Cal
Strong, Miss M.
Toronto, Ont
Strong, Miss M.
Toronto, Ont
Stubbs, Mr. A. S.
Sheffield, Eng
Suter, Mr. G. A.
Slough, Eng
Taylor, Mr. K.
Kingston, Ont
Taylor, Mr. E. S.
Medicine Hat, Alta
Thompson, Mr. N.
Vancouver, B.C
Thomson, Mr. J. B.
Vancouver, B.C
Thornton, Miss H.
Leeds, Eng
Trevor, Mr. C. G.
London, Eng
Troup, C.I.E., M.A., Prof. R. S.
London, Eng
Tutty, Mr. G.
Knockanargan, Ire
Tweedley, Miss E.
Glasgow, Scot
Tweedley, Miss M.
Glasgow, Scot
Ward, Miss D.
London, Eng
Watson, Dr. E. M.
Sheffield, Eng
Watson, Mrs.
Sheffield, Eng
Watson, Mr. W.
Nottingham, Eng
Watson, Mrs.
Nottingham, Eng
Watson, Mstr W. S.
Nottingham, Eng
Watson, Miss G.
Nottingham, Eng
Watson, Mrs. A. E. and Child
London, Eng
Webb, Mr. J. H.
Montreal, Que
Webb, Mrs.
Montreal, Que
Webb, Miss A.
Lancaster, Eng
White, Mr. H. W.
Vancouver, B.C
White, Mr. P. A.
Vancouver, B.C
White, Mr. R.M.
London, Eng
Wilhjelm, Mrs. E.
Lyngby, Denmark
Wilson, Mr. W.
Dunfermline, Scot
Wilson, Mrs.
Dunfermline, Scot
Wilson, Miss E.
Dunfermline, Scot
Wolfe, Miss I. M.
Berwick-on-Tweed, Eng
Wood, Mrs. F. M.
Toronto, Ont
Wood, Mstr J. H.
Toronto, Ont
Wright, Mr. R.
Dedham, Mass
Wright, Miss S.
Los Altas, Cal
Yeo, Mr. F.
Calgary, Alta
Young, Mrs. A. E.
Grand Coulee, Sask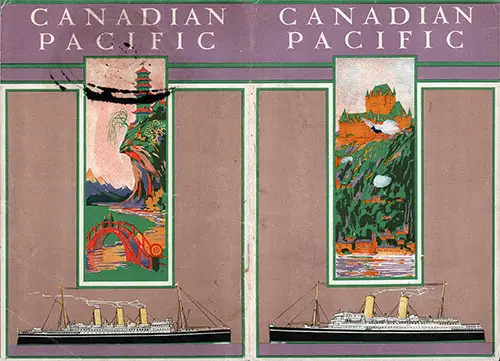 Front and Back Covers for the SS Montcalm Cabin Passenger List for 13 July 1923. GGA Image ID # 1589f66f39
Information for Passengers
Railway Ticket Office.
A Railway Ticket Office is located on board this steamship. The Ticket Agent in charge is at the disposal of Passengers to furnish every assistance in connection with inland rail journey.
To facilitate landing arrangements at port of arrival it would be appreciated if Passengers would kindly note the following information and call at the ticket office as early as possible during the voyage.
Orders issued in Europe and calling for railway transportation from port of landing or otherwise are not good on trains, but require to be exchanged at the ship's Ticket Office for actual railway tickets
If passenger already holds railway ticket issued in Europe, attention is particularly directed to the necessity of having same stamped on back, in space provided, prior to arrival at port of landing, as train conductors are not authorized to honor any unstamped tickets
Railway Tickets to all destinations in Canada and the United States may be purchased at the Ticket Office at special fares
Reservation of sleeping or parlour car accommodation for railway journey may be made in advance, on application to the Ticket Agent