SS Teutonic Passenger List - 4 February 1903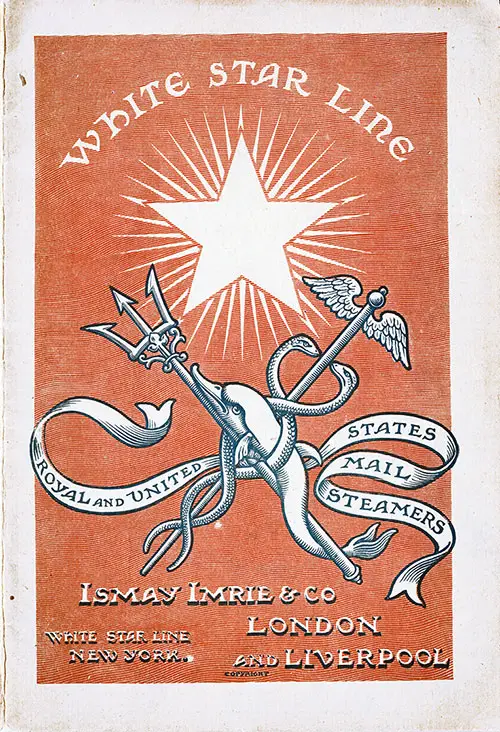 Front Cover, White Star Line RMS Teutonic Saloon Class Passenger List - 4 February 1903. GGA Image ID # 13ccbd66b2
Saloon Passenger List for the RMS Teutonic of the White Star Line, Departing Wednesday, 4 February 1903 from New York to Liverpool, Commanded by Captain Edward R. McKinstry.
Notable Passengers: John J. Cone, Blair Fairchild, Moses A. Gunst, Clarence Wayland Watson
Senior Officers and Staff
Captain: Captain Edward R. McKinstry, R.N.R.
Surgeon: T. T. Bark
Purser: C. B. Lancaster

Saloon Passengers
Mr. Walter Ainslie
Mrs. A. Copeland
Mrs. Altemus
Mr. E. O. Cornish
Mr. Cleo. A. Armour
Mr. Percy Cradock
Mr. J. P. Atherton
Mrs. Cradock
Mrs. Atherton
Mr. Jas. A. Cunningham
Col. A. Barry
Mrs. Jacob H. Bauland
Mr. E. J. Bonette
Mr. James P. Bradt
Mrs. Bradt
Mrs. A. M. Burke
Mr. W. C. Burton
Mr. C. Emo Capodilista
Mrs. M. E. Carey
Hon. T. Chase Casgraiu
Mr. Nap Charbonneau
Mrs. Charbonneau
Mr. Samuel Chew
Mr. John J. Cone
John J. Cone was the fourth Supreme Knight of the Knights of Columbus from 1898 to 1899 and Fire Commissioner of Jersey City, New Jersey. Cone was a founding member of Jersey City Council #137 of the Knights of Columbus on November 3, 1895. In less than three years was elected Supreme Knight after Supreme Knight Hayes died suddenly frlom complications from peritonitis
Mr. H. P. Daley
Miss K. Delaney
Miss Kate Dodd
Mr. Blair Fairchild and manservant
Blair Fairchild (June 23, 1877 - April 23, 1933) was an American composer and diplomat. Along with Charles Wakefield Cadman, Charles Sanford Skilton, Arthur Nevin, and Arthur Farwell, among others, he is sometimes grouped among the Indianists, although he had only a marginal association with their work
Mrs. Fairchild and Maid
Mr. S. Finck
Mrs. Finck
Miss Virginia Fleming
Miss A. A. Fox
Miss A. E. Fox
Mr. Ivan Frank
Miss Gibson
Mr. V. Gandil
Mr. M. A. Gunst
Moses A. Gunst (1853-1928) of San Francisco was engaged in the retail and wholesale trade of Cigars that eventually became the United Cigar Store
Mrs. William Hayden
Mr. Arthur Hayden
Mr. K. Imaizumi
Mr. R. B. Jarvie
Master Lewis M. Johnstone
Miss Nora M. Johnstone
Mr. Parry Jones
Mr. J. J. Jubert
Mr. Jaromir J. Justice
Mrs. G. Kennedy
Mr. Fred'k E. Kip
Mr. George M. Kneuper
Mr. W. B. Krebs
Mrs. Krebs
Mr. John Lamb
Mr. Thos. Law
Mr. C. Seton Lindsay
Mrs. Lindsay
Mrs. A. L. Little
Mr. Herbert Lockwood
Dr. R. J. Marshall
Dr. Masujima
Capt. H. Mowatt
Mr. P. S. Muller
Mr. James Munroe
Master Munroe
Mrs. McMullan
Mr. W. H. Nisbet
Mr. F. C. Overbury
Mrs. Overbury
Miss Sara L. Owen
Mr. W. J. K. Pearson
Mrs. Pearson
Mr. W. H. Peech
Mrs. Peech, Infant, and Nurse
Mr. Russell Perkins
Mr. J. F. Sherman
Mr. C. J. Pershouse
Mr. Cleo. H. Stewart
Mr. Elmer Phillips
Mr. J. Suckling
Miss E. C. Pierce
Mr. S. P. Sutton
Miss Jeanie Preston
Mr. Wm. Price
Mrs. Price
Miss Price
Mr. L. D. Tandy and two children
Mr. Morris Terker
Mr. Evan Thomas
Mr. W. A. Tipping
Mr. H. W. Troth
Mr. A. J. Quanz
Mrs. Troth
Mr. M. deQuesada
Master Raymond H. Troth
Mr. Frank Turner
Mr. S. Raunheim
Mr. E. A. Raymond
Mr. R. Walker
Miss M. L. Reilly
Dr. W. D. Waller
Mr. J. A. Roach
Mr. Nat. M. Waslier
Mr. John H. Ross
Mr. C. W. Watson
Clarence Wayland Watson (May 8, 1864 – May 24, 1940) was a coal mining "baron" from West Virginia. Watson organized several coal companies that became the Consolidation Coal and Mining Companies in West Virginia, Maryland, Pennsylvania, and Kentucky. Watson was president of the company until 1911, then became its chairman. Later in life, he became President of Elk Horn Coal Company and served as trustee of various corporations, railroads, and banks across the United States
Mr. S. B. Ross and manservant
Mr. J. Rymer-Jones
Mrs. Watson, two Maids
Miss Ida M. Watson
Miss Lucy L. Watson
Mr. B. Saenz
Miss Elizabeth Watson
Miss Jessie M. Sandifor
Mrs. Arthur Welman
Mr. Henry Schafer and Maid
Mr. D. Schoenfeld
Mr. Jas. H. White
Mr. M. Sessenwein
Mrs. White
Mr. J. Sessenwein
Mr. A. White
Mr. F. M. Williams
Mr. A. Wimpfheimer
Mrs. Williams
Mr. Chas. G. Winslow
Miss E. A. Willis
Mr. Archibald Wright
Information for Passengers
Breakfast from 8.30 until 10 o'clock.
Luncheon at 1.30
Dinner at 7.00 o'clock.
The Bar closes at 11 P. as., and the Smoking Room at 11.30 P. M.
Divine Service In the Saloon on Sundays at 10:30 am
Please apply to the Second Steward for Seating Accommodation at Table. Children under ten years of age are not entitled to seats in the Saloon unless lull fare is paid. Cablegrams and Telegrams should be handed to the Saloon Steward an hour before arrival at Queenstown.
The Saloon and Library Stewards will supply Stamps, Telegraph Forms, Books of Reterence and Railway Time 1ables of the principal Companies.
Questions relating to Baggage should be referred to the Second Steward, who is the Ship's baggage Master. Trunks, Chairs, or Rugs which Passengers may desire to leave in charge of the Company, should be appropriately labeled and handed to the Second Steward with the keys. such Baggage will be stored entirely at owners risk.
Deck Chairs can be hired at a charge of $t each for the voyage; 12 hours' notice being necessary, at the Office, 9 Broadway.
It is desirable that Valuables or Money should be placed in charge of the Purser for deposit in his sate, and a receipt tor same will be given on the Company's tom. As no charge is made for carriage, the Company can accept no responsibility for loss or damage, how • ever arising, but Passengers can protect themselves by insurance. Passengers are requested to ask for a Receipt on the Company's Form for any additional Passage Money, Chair Hire or hreight paid on board.
Saloon Passengers joining the White Star Mail Steamers Westbound at Queenstown (Cobh) must be at that port not later than 10 15 am Tursday.
Tobacco, Cigars, Cigarettes, Snuff, Scents.
Vv INF,s, Spirits (of Any soRT0).
Extracts of Tea, Coffee, L.HICORY, or Tobacco.
The smallest quantity of any of the articles must be produced.
A person Smuggling is liable to imprisonment for a term not exceeding aix Months in default of payment of a fine of Treble the Duty Paid value of the goods or £100 (500 Dols.)
N. B.—Passengers will please note that no dogs will be admitted from America into Great Britain without a license from the Boar a of Agriculture.
The White Star Line have opened a West End Office for the convenience of Passengers at 17 Cockspnr Street London, S. W.
The premises include a Reading and Writing Room, and latest editions of the leading American and English Papers are kept on file.
Letters can be addressed there to await the arrival of Passengers. and baggage can be stored, if desired, at owner's risk.
Registered Telegraphic and Cable Address—"Vessels," London. Telephone No. "2313 Gerard," London.