RMS Homeric Passenger List - 8 August 1928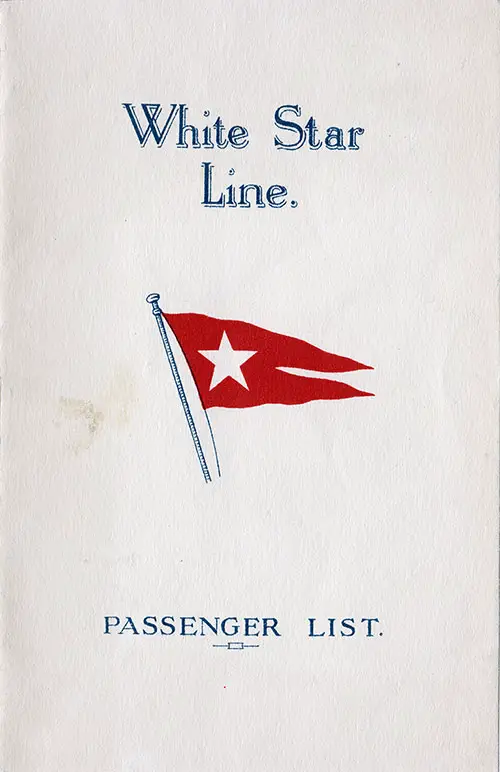 Front Cover, White Star Line RMS Homeric Tourist Third Cabin Passenger List - 8 August 1928. GGA Image ID # 13c5189994
List of Tourist Third Cabin Passengers for the RMS Homeric of the White Star Line, Departing Wednesday, 8 August 1928 from Southampton to New York via Cherbourg, Commanded by Captain W. H. Parker.
Senior Officers and Staff
Commander : W. H. Parker, C.B.E., R.D., R.N.R., F.R.G.S
Chief Engineer: J. W. DUFFIN
Surgeon: G. G. FLEMYNG, M.D., B.CH., N.A.O. (Dub.)
Assistant Surgeon : P. F. ALDERSON, M.R.C.S. (Eng.), L.R.C.P. (Loud.), D.P.H. (Lond.)
Purser: W. GREENSLADE
Assistant. PURSERS : S. H. Cook; R. S, COX
Chief Steward: W. Jones
Chief Tourist Steward : F. BULBROOK
Tourist Third Cabin Passengers
Abbott, Mr. J
Allen, Mr. Stuart
Ames, Mr. J. Ellis
Anderson, Miss Elisabeth
Armstrong, Mr. Arthur
Armstrong, Mrs. G
Bader, Miss Mary
Baird, Miss Dorothy
Barry, Mr. Clay
Basset, Mr. C
Beach, Mrs. Nettie
Bechtlof, Miss Ruth
Becker, Mr. Stewart
Beesley, Mr. Frederick
Beesley, Mrs. Frances K
Beesley, Master Edward
Belfield, Mr. Russell
Bennett, Mr. Cliff
Bentley, Rev. Walter
Berkson, Mr. William
Berkson, Mrs. Charlotte
Berry, Miss Ruth
Bisson, Mr. T. A
Blain, Mr. Samuel
Blain, Mr. George
Blake, Miss Edith
Blank, Miss V
Boach, Miss Lula
Bosley, Miss Jane
Boyd, Miss Margaret
Bradham, Miss Jane A
Brennan, Miss Muriel
Brewster, Miss Eli nore
Britsch, Mr. Webster
Britsch, Mrs. Gladys
Britsch, Miss Gladys
Brown, Mr. Frank
Brown, Mrs. Sarah
Bunyan, Miss Elizabeth
Burdette, Mrs. Elizabeth
Busey, Mrs. Blanche
Busey, Miss Patricia
Busey, Master Matthew
Carew, Miss May
Carroll, Mr. James
Carter, Mr. Sidney
Carter, Mrs. Eleanor
Carter, Miss Mildred
Carter, Miss Eleanor
Case, Mr. C. P
Case, Mrs
Cavin, Miss Evelyn
Chace, Miss Dorothy
Chamberlain, Miss Ann
Chapman, Mrs. Ethel
Chapman, Master Arthur
Cody, Miss Virginia
Collins, Mr. Wilfred
Collins, Mrs. Dorothy
Collins, Miss Dorothy
Collins, Miss Lily
Collins, Master Martin
Cone, Mr. John
Cone, Mr. James
Cook, Mr. Edward
Cook, Mrs
Cook, Mr. Allen T
Coskery, Mr. Eugene C
Cox, Jr., Mr. Hugh
Cox, Mr. Daniel
Craighead, Miss Julia
Crawford, Mr. J. A
Crawford, Mrs. A
Crawford, Mr. W. A
Crawford, Master J. A
Crawford, Miss Mary
Crum, Mr. William
Cullinan, Miss Marie
Currier, Miss C. G
Darn, Mr. Tharkel
Davies, Miss R
Davis, Mrs. Josephine
Deasy, Mr. Percy
Deasy, Mrs. Lucy J
Denslow, Mr. Frank
De Selm, Miss M. L
Dowding, Mr. Henry
Driver, Mr. John
Duncan, Miss Mildred
Eastman, Miss Alfreda
Elder, Mr. Garrison
Eldredge, Miss Nina
Elliott, Miss Lona
Ellsworth, Miss D
Fahy, Mr. A
Farwell, Rev. H. C. V
Farwell, Miss
Farwell, Miss E
Farwell, Miss
Faunce, Miss Elizabeth
Ferrandon, Miss Ordette
Ferrall, Miss M. E
Field, Mr. J ames
Fisoier, Miss R
Fisher, Mr. Robert
Fisher, Mrs
Fletcher, Miss Frances R
Ford, Miss Louise P
Forsberg, Miss L
Forshow, Miss Mary
Gant, Mr. Henry
Gardiner, Mr. William
Gardiner, Mrs. Anne
Gass, Miss Lillian
Gee, Miss Stella
Gehne, Mr. W
Gibson, Mrs
Gibson, Miss Mabel
Glantz, Mr. Arthur
Glantz, Mrs. Cissie
Glaysher, Mrs. Constance
Gold, Miss R
Goldin, Miss Frances
Golelik, Miss Anna
Golelik, Miss R
Goodman, Mr. Morris
Goodman, Mrs. Mollie
Gottshall, Mr. L. B
Gottshall, Mrs
Graham, Miss Anne
Grey, Mr. Alexander
Groenewegen, Mr
Hallworth, Miss M. Y
Harvey, Mr. Rolfe
Hawthorne, Mr. Paul
Heflin, Miss Isabelle
Henderson, Mrs. Ida
Henderson, Mrs. Dorothy
Heizer, Rev. George
Hertel, Mrs. Blanche
Hill, Miss Marguarite
Hirsch, Mr. L
Holmes, Mrs. Marion
Hooper, Miss Flora
Hopper, Miss Leila C
Horghkirk, Mrs. Frances
Horner, Miss Alena
Horvat, Mr. William
Horvat, Mrs. Rosa
Hosley, Mrs. C. Winthrop
Hosley, Miss Esther A
Hough, Miss C. E
Houghton, Miss Mary
Houghton, Miss Adeline
Houghton, Miss Eleanor
Hulliger, Miss M
Hulme, Mr. Edward M
Ivens, Lt. Charles
Ivens, Mrs
James, Miss Helen
James, Mr. Charles
James, Mrs. Amy
Johnsen, Mr. C. J
Jones, Mrs. A. C
Jutsum, Miss Kathleen
Jutsum, Miss Annie
Kaufman, Mr. Donald
Kelly, Miss Susanne
Kerslake, Mrs. Mina
King, Mr. Reginald
King, Mrs. Emily
Kingston-McCloughry, Capt. Edgar J
Kiser, Mr. Howard
Knudsen, Mr. Niels
Knudsen, Mrs. Ella
Kochersperger, Miss Gladys
Kochersperger, Miss Patricia
Kroger, Mrs. Mary
Krogmann, Mrs. Antonia
Kustin, Mr. Saloman
Laming, Mr. William
Lang, Miss Anna
Lanpher, Miss Bernice
Layton, Miss H
Lee, Mr. Arthur
Leeper, Miss Mary
Lempert, Miss Anne
Lempert, Mr. O. H
Levine, Dr. Maurice
Lieke, Miss Ethel
Liem, Miss Mae
Lincoln, Mr. Sanford
Lockyer, Mrs. Lydia S
McClosky, Miss Mary
McCurry, Miss M
McGough, Miss Rosemary
McMillen, Miss Eleanor
Merkel, Mr. George
Moase, Mr. Harold
Moase, Mrs. Emma
Morgan, Mr. William
Morgan, Mrs. Margaret
Morris, Mr. Emanuel
Mose, Mr. Carl C
Mose, Mrs. R
Mueller, Miss Viola
Naw, Miss Holda
Nice, Dr. G. W. I
Nicholl, Mrs. C. A
Nicholson, Miss Vera
Noch, Miss Anna
O'Brien, Mr. William
Owen, Mrs. K. M
Martin, Miss Martha
Martin, Miss Lillie
Maurice, Mrs. S
Maurice, Miss Lilian
McAuliffe, Miss Jane
McAuliffe, Miss Lucille
McCall, Mr. Howard
McCash, Mr. Arthur
Pellew, Miss Marion
Plow e, Miss Emily L
Poe, Miss Anna
Poindexter, Mr. J
Pryjina, Mr. George
Ransom, Miss Genevieve
Ray, Miss Elise
Raysor, Mr. Thomas
Reeves, Miss Laura
Renno, Mrs. Elenore
Reynolds, Rev. C. W
Reynolds, Mrs
Richmond, Miss Elizabeth
Robbins, Miss Evelyn J
Roca, Mr. Edmonds
Rogers, Mrs. Anne
Rosamond, Miss Dorothy
Rosemurgy, Rev. Joseph
Rosemurgy, Mrs. P
Rosemurgy, Miss P
Rosemurgy, Master R
Rosenfield, Mr. Stanley
Sampson, Mrs
Sampson, Miss K
Sand, Mr. M
Saxe, Mr. Leonard
Saxe, Mrs
Scanlon, Mrs. A
Schlatter, Mr. Robert
Schweichardt, Mr. Anton
Schweichardt, Mrs
Scott, Mrs. Maude
Sedrick, Miss Louise
Sedrick, Miss M
Sharar, Mr. Walter
Shelvez, Mr. John
Shelvez, Miss Bernice
Sherley, Miss Elizabeth
Short, Mr. W. E
Simpson, Miss G. B
Skidmore, Mr. James
Skidmore, Mrs
Smith, Miss Mildred
Smith, Mr. Sidney
Smith, Mrs. Florence
Snitzer, Miss Jennie
Snitzer, Miss Ruth
Souffront, Mrs. Miriam
Spafford, Miss Phyllis E
Spillman, Mr. Julius
Spillman, Miss Elizabeth
Starke, Mrs. Lilian
Starke, Miss Evelyn
Steffenburg, Mr. Gustaf
Stephen, Rev. George
Stephen, Mrs. Wilhemina
Stoltz, Miss Martha
Straub, Miss Laura
Streit, Mr. William
Suhr, Mr. Ferdinand
Swoboda, Miss Vera
Taub, Mr. Victor
Taub, Mr. Simon f
Taylor, Miss Frances
Thomas, Mrs. Annie
Thompson, Miss Mildred
Trantner, Mr. W
Trantner, Mrs. R
Travis, Miss Elisa
Trimble, Mr. Guy
Trotter, Mr. Robert
Tucker, Mr. Ralph
Tucker, Mrs. Elisabeth
Urmston, Mr. T. H
Vale, Miss Anna
Vandiver, Miss O
Van Iderstine, Mr. R
Waldron, Mr. William
Waldron, Mr. Edward L
Walker, Miss Adelaide M
Walker, Miss Isabelle R
Walsh, Mr. David
Wangenstein, Mr. Owen
Wangenstein, Mrs. Helen
Wangenstein, Miss Mary
Warms, Mrs. Marie
Way, Miss Marjorie
Weber, Mr. Walter
Weber, Mrs. Elizabeth
Weeks, Mr. Orville
Weissmann, Miss Bessie
Wetherall, Mr. Richard
Wetherall, Mrs
Wetmore, Miss Doris
Whalen, Miss Julia
Whatmore, Mrs. Louise
Wheeler, Mr. Clyde
Wheeler, Mrs. Ellen
White, Miss Daisy
White, Miss Violet
White, Miss Lily
White, Mr. E. D
Whitney, Miss Pauline
Wier, Mr. H. E
Wier, Mrs
Wildes, Miss Blanche
Wilkie, Miss Isabelle
Wilkinson, Miss Pearl
Willett, Mrs. W. E
Willett, Miss G
Williams, Miss Alice
Winkelman, Mr. Emanuel
Wiseman, Miss Mae
Wogan, Miss Ann
Wolfenson, Mr. Louis
Woods, Mr. George E
Worth, Miss Esabel
Younger, Mrs. Catherine
General Information for Passengers
When One Sitting | When Two Sittings
Breakfast: 8:00 am | 8:00 am and 9:00 am
Luncheon: 12 Noon | 12 Noon and 1:00 pm
Dinner: 7:00 pm | 6-0 pm and 7-15:00 pm
The Bar opens at 8:00 am and closes at 11:00 pm
Lights are extinguished in the Dining Saloon at 11:00 pm, Reading and Writing Room and Smoking Room at 11:30 pm
Divine Service will be held on Sundays at 11:00 am
Smoking.-Passengers are kindly requested not to smoke in the Dining Saloon, or in the Reading and Writing Room.
It is also desired that ladies should refrain from using the Smoking Room.
Seats at Table. Passengers should apply to the Chief Tourist Steward for reservation of seats.
Upper Berths. Passengers occupying upper berths can obtain steps for getting in or • Gut of same on applying to the Steward or Stewardess.
The Purser's Office. Letters, Cables, Telegrams and Marconi-grams are received or delivered, and Postage Stamps can be purchased.
None of the ship's staff other than those on duty in the Purser's Office are authorized to accept Letters or Telegrams for despatch.
Charges Collected on Board. Passengers are requested to ask for a Receipt on the Company's Form for any additional Passage Money, Chair or Steamer Rug Hire, charges collected for Marconigrams, Cablegrams or Telegrams or Freight paid on board.
Passengers' Addresses should be left at the Purser's Office, in order that any letters received after Passengers have left the steamer may be forwarded.
Library. Books can be obtained on applying to the Library Steward.
Deck Chairs and Steamer Rugs can be hired on application to the Deck Steward, at a charge of 4/- (or $1) each for the voyage.
Medical Attendance. The Surgeon is authorized to make customary charges, subject in each case to the approval of the Commander, for treating Passengers at their request for any illness Not Originating On The VOYAG PI. In the case of sickness originating on the voyage no charge will be made, and medicine will be provided free in all circumstances.
Valuables. For the convenience of Passengers, the Line has provided in the Purser's Office, a safe in which money, jewels, ornaments, documents or other valuables may be deposited by Passengers. A receipt for any articles so deposited will be issued by the Purser, but the Line does not, having regard to the ticket conditions and to the provisions of Section 502 of the Merchant Shipping Act, 1894, and of Section 4281 of the Revised Statutes of the United States, accept any responsibility for the safe custody of any such articles. Passengers are accordingly advised to protect themselves by insurance.
Exchange of Money. The Purser is prepared, for the convenience of Passengers, to exchange a limited amount of English, American and Canadian money, at rates which will be advised on application.
Travellers' Cheques, payable in all parts of Europe, can be purchased at all the principal offices of the Company. These Cheques are accepted on board steamers in payment of accounts, but the Pursers do not carry funds to enable them to cash same.
Baggage. Questions relating to Baggage should be referred to the Ship's Baggage Master.
Wardrobe Trunks. Passengers are advised that it is not always possible to arrange for the placing of Wardrobe Trunks in the passenger accommodation in a position where they are easily accessible, also that there is frequently difficulty with regard to the landing of such packages owing to their exceptional size.
Dogs. Passengers are notified that dogs must be handed over to the care of the butcher.
Deck Games and Amusements. Deck Quoits, Shuffleboard, Bull Board and other games are provided on deck and under the charge of the Deck Steward.
Chess, Draughts, Dominoes, etc.. can be obtained on application to the Public Room Stewards.
LECTURES. For the purposes of private lectures the White Star Line will be pleased to loan sets of slides as well as a printed lecture in cases where desired by Tourist Passengers who may wish to lecture in Great Britain and Ireland upon their experiences and visits to the United States and Canada.
Notice
Landing Cards. Before leaving the vessel the holder must present his or her Landing Card to a U.S. Immigrant inspector for endorsement.
Wireless Telegram Rates
This Steamer is fitted with 5arconi's system of Wireless Telegraphy and also with Submarine Signalling Apparatus.
The Following Rates DO Not INCLUDE The Forwarding Charges BEYOND The Coast STATION, WHICH ARE Additional.
Every word in the address, text, and signature is counted. All charges must be prepaid arid a receipt should be requested.
Long Range Wireless Service
This vessel is fitted with special long range wireless apparatus which will enable Passengers to communicate with their friends or business connections on shore at any time during the voyage across the North Atlantic Ocean.
The Wireless charge for messages directed through the long distance wireless station at Devizes, England, is 10d. or 20.29 cts. per word; through Louisbourg, Nova Scotia Or Chatham, Mass., Is 9d. or 18.27 cts. per word.
The ship is constantly in touch with one or other of these stations.
Ship To Ship. The general rate for messages exchanged between British ships is 8d. or 16.23 cts. per word. For messages exchanged with ships of other nationalities, the general rate is Bid. or 17.25 cts. per word, but as Dutch, Belgian and certain other vessels apply a Wireless ship charge with a minimum of 10 words, the charge for messages addressed to the vessels will be calculated as follows :-
For less than 10 words ... 3/6 or 85 cts. plus a charge of 4d. or 8.12 cts. per word.
For 10 words or more ... /lid. or 17.25 cts. per word.
Special Rate Messages
Ocean Letters. The Marconi Company have inaugurated an " Ocean Letter" service by which messages may be sent from one ship to another going in an opposite direction for delivery by Registered Post from the first port of call of the latter vessel. For an " Ocean Letter " sent to a British ship controlled by the Marconi Company, the rate is (inclusive of wireless, postage and registration) 5s. or $1.22 for 20 words, plus 2d. or 4 cts. for each additional word up to a maximum of 100 words. For an " Ocean Letter " sent to a foreign ship, the rate is 5/6 or $1.34 for the first 20 words, plus 24d. or 5.08 cts. for each additional word, up to a maximum of 100 words. This class of message must contain full postal address.
Poste Radiotelegrams. These messages are accepted for transmission to a selected vessel for mailing on arrival in port. This service provides a most economical channel of communication with friends and relatives on shore when full rate facilities are not desired.
Poste Radiotelegrams should preferably be handed in during the early part of the voyage and should be addressed in a manner similar to the following example :—
Poste—New York Brown 2464 Quincy Avenue
Boston Majestic
Arriving Tuesday Well
The inclusive cost of the above message would be 2/101 or 70 cts.
For particulars regarding Wireless communications established or expected, please consult the Wireless notice board, where full information is posted daily throughout the voyage.
Postal Information .
High Seas Mail.—On all British steamers British Postage Stamps and rates are used when mailing letters for European points, and such letters should be posted in the ship's letter box in the ordinary way.
The mail bag is closed a few hours previous to arrival. Full particulars can be obtained at the Enquiry Office upon application.
for Letters Mailed in The United States
Rates on letters to points in the United States, Canada and British Colonies and to Great Britain and Ireland, two cents an ounce or fraction thereof.
The above rates apply to letters to England, Ireland, Scotland and Wales; the Bahamas, the Barbados, British Guiana, British Honduras, the Dominican Republic, the Dutch West Indies, the Leeward Islands. Newfoundland, Trinidad (including Tobago), New Zealand; and the Windward Islands (including Grenada, St. Vincent, the Grenadines, and St. Lucia).
Rates on letters to all other countries—five cents for the first ounce, and three cents for each additional ounce or fraction.
Rates on postal cards to all countries (except United States, Canada, Cuba, Mexico and Panama, one cent. to each)—two cents each; on return or reply cards, four cents each.
Canadian Postal Rates
Letters to points in Canada, United States and Mexico, three cents for the first ounce, two cents for each additional ounce (War Tax included); rates to points in Great Britain and all other places within the Empire, four cents for the first ounce, three cents for each additional ounce, (War Tax included); rates to other countries, ten cents for the first ounce, five cents for each additional ounce.
Postal Cards to points in Canada, Great Britain and all other places within the Empire, United States and Mexico, two cents each (War Tax included); rates to other Countries six cents each.
Canadian Newspapers to points in Canada, Great Britain and certain plates within the Empire, United States and Mexico, one cent for four ounces.
Printed Matter to points in Canada, United States and Mexico, one cent for two ounces; rates to other countries two cents for two ounces.
Literature for the Blind to points in Canada, United States, Mexico and Newfoundland free; rates to all other countries one cent per lb.
Commercial Papers to all countries other than. Canada, ten cents for the first ten ounces, two cents for every additional two ounces.
Samples to points in Canada, United States and Mexico, one cent per two ounces; rates to all other countries four cents for the first four ounces, two cents every additional two ounces.
Acknowledgment of Receipt of Registered Articles to points in Canada and all other countries, ten cents if requested at the time of posting the article, twenty cents if requested after posting the article.
Special Notice for Round Trip Tourist Passengerss
Passengers holding return tickets who are undecided about their United States and Canadian addresses should advise same to our nearest office in United States or Canada by mail or in persons as soon as possible after arrival abroad. If this is done by letter, please mention sailing on which you will return and accommodation reserved for you.
All Passengers holding return tickets are requested to communicate with our nearest office at least a week in advance of their sailing from United States or Canada, so that necessary formalities may be arranged in connection with their return passage.