SS Laurentic Passenger List 27 February 1930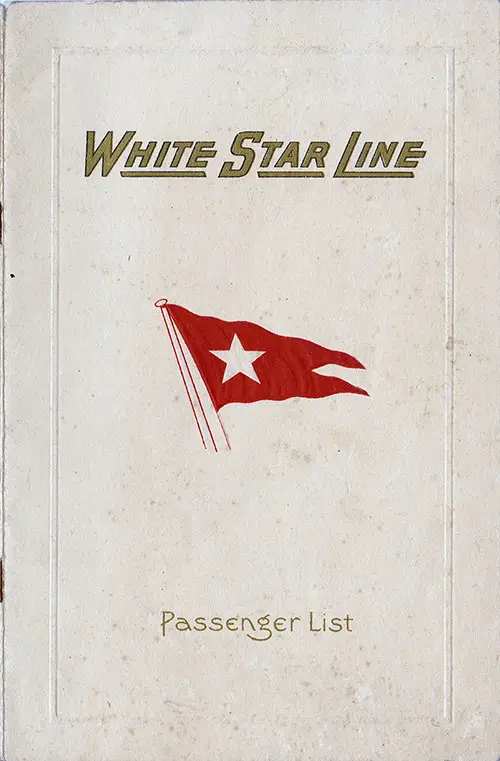 Front Cover, White Star Line SS Laurentic Tourist Third Cabin Passenger List - 27 February 1930. GGA Image ID # 13c6cc8bb1
Tourist Third Cabin Passenger List from the SS Laurentic of the White Star Line, Departing Thursday, 27 February 1930 from New York to Madeira, Gibraltar, Algiers, Monaco, Naples, Athens, Constantinople (Istanbul), Haifa, Alexandria, Syracuse, Naples, Monaco, Gibraltar, Cherbourg, and Southampton, Commanded by Captain E. L. Trant, R.D., Cmdr. R.N.R. (Retd.).
Senior Officers and Staff
Commander: Captain E. L. Trant, R.D., Cmdr. R.N.R. (Retd.)
Chief Engineer: D. Horsburgh
Senior Second Engineer: G. F. Lees
Senior Third Engineer: K. S. Lawson
Senior Fourth Engineer: R. B. Jeffray
Chief Officer: J. Evans
First Officer: A. Tyrer, R.D., Cmdr. R.N.R. (Retd.)
Second Officer: F. M. Murphy
Extra Second Officer: J. Quaile, R.D., Lt. Cmdr. R.N.R.
Purser: B. O. Bartlett
Assistant Purser: G. B. Carter
Assistant Purser: W. L. Green
Chief Steward: F. C. Carroll
Chief Tourist Steward: G. Johnson
Surgeon: Dr. L. H. Woods, L.R.C.P. (London), M.R.C.S. (England)
Assistant Surgeon: Dr. R. Evans, M.D., B.Ch., B.A.O
Company's Passenger Department
On Board the SS Laurentic on "B" Deck
Supervisor: E. Seymour-Bell
Cruise Director: G. W. McHugh
Assistant Cruise Director: D H. Jones
Thos. Cook & Son Staff Members:
S. F. White
R. W. H. King
A. W. James
G. P. Harris
Tourist Third Cabin Passengers
Aasrud, Miss Gena K.
Beauford, Miss D. M.
Beeson, Mrs. J. W.
Best, Miss F.
Bisinger, Miss Emma
Blish, Miss Elizabeth
Blish, Miss Florence
Blish, Miss Julia
Bragdon, Mr. Clifford
Bragdon, Mrs.
Brantingham, Miss R.
Burghold, Mr. Reinhard
Burkart, Mr. Edwin H.
Burkart, Mrs.
Burley, Mr. S. G.
Campbell, Mr. W. B.
Campbell, Mrs.
Caracciolo, Mrs. D.
Clark, Mr. Arthur
Clark, Mrs.
Coonrod, Rev. Nell
Culver, Miss Ida
Cummings, Miss Anna
Daley, Miss Annie J.
Davenport, Miss Grace
Day, Mr. Charles J.
de Merchant, Rev. Gideon O.
De Velle, Mr. R.
Devine, Mrs. Julia
Dienfield, Mr. Jozef
Doenges, Mr. Simon
Fassett, Mrs. R. J.
Fedderkein, Miss Marie
Fenner, Miss Martha P.
Fisher, Mr. J. C.
Forry, Mrs. Nellie H.
Francis, Mr. Paul
Fuller, Mr. Harvey B.
Fuller, Mrs.
Galbraith, Rev. J. A.
Galbraith, Mrs.
Galbraith, Miss Ruth
Gartman, Mrs. Maud W.
Gilbert, Mr. Allan H.
Gilbert, Mrs. Katherine
Gilbert, Master Creighton
Green, Mrs. H. R.
Hackett, Dr. Martha
Harmon, Rev, William M.
Harmon, Mrs.
Harmon. Miss Louise
Henderson, Miss Frances B.
Hennessy, Miss Nora P.
Henry, Miss Rose Mary
Hopkins, Dr. W. A.
Howe, Rev. Roy F.
Howe, Mrs.
Johnson, Mr. Albert G.
Johnson, Mrs. Suzanne
Johnson, Mr. Clifford T.
Johnson, Mrs.
Jones, Mr. R. H.
Jones, Mrs.
Kitchen, Mr. Robert
Kitchen, Mrs.
Koch, Mrs. Elsa
Kohler, Mr. Alfred J.
Larson, Rev. A. R.
Lawrence, Mr. E. R.
Leverett, Rev. Theodore L.
Line, Mrs. Genevieve M. M.
Locke, Miss Emma Louise
Loux, Dr. Dubois H.
Ludlow, Mr. Walter S.
Ludlow, Mrs.
McAllister, Mr. J. J.
McCoig, Miss Jessie
McChire, Mr. R. O.
McClure, Mrs.
McDonald, Miss Ruth
Mcllwraith, Mr. W. H.
Mann, Miss Mary
Marks, Miss Ethel
Mason, Miss Estelle
Melamede, Mrs. Matia
Mentzer, Dr. J. A.
Mentzer, Mrs.
Middleton, Dr. William J.
Mills, Rev. J. Raymond
Nesrine, Miss A.
Newmann, Mrs. James W.
Oddy, Mr. Miles
Oddy, Mrs.
Parrott, Mr. A. C.
Perkins, Mrs. T. W.
Pinkerton, Mrs. E. B.
Pinkerton, Miss Eleanor
Poe, Mrs. James G.
Pusateri, Mrs. Ethel Johnston
Raber, Mr. C. K.
Raber, Mrs,
Rankin, Mr. Andrew H.
Remmelkam, Miss Rhoda
Ringold, Rev. A. T.
Ringold, Mrs.
Rittenhouse, Mrs. Janet E.
Roach, Mr. Arno L.
Roach, Mrs.
Rober, Mr. Joseph
Roberts, Miss Marinda
Rosa, Mr. L. B.
Rosa, Mrs.
Rosenbaum, Mr. M. M.
Ross, Miss Emma J.
Ruby, Mrs. William
Rudisill, Rev. B. F.
Sanford, Miss Ann Putman
Sauppe, Mrs. Mary L.
Sedlaczek, Miss L.
Sedlaczek, Miss Clara
Scholz, Mr. Fred
Shafer, Mr. J.
Small, Mrs. Mary A.
Smith, Rev. Will
Smith, Miss Ina V.
Smith, Miss Cornelia
Smith, Mrs. Ida B. Wise
Spornhauer, Rev. F. Leo
Stommel, Mr. Rudi
Sudiha, Miss Nazla
Tate, Dr. Louis N.
Tate, Mrs.
Terry, Prof. Daniel W.
Thompson, Miss Kate
Van Cleve, Mrs. R.
Van der Veer. Mrs. Mary
Walton, Miss A.
Watrous, Mrs, Clark E.
Information for Passengers
Meal
When One Sitting
When Two Sittings
BREAKFAST
8:00 am to 10:00 am
8:00 am and 9:00 am
LUNCHEON
l pm
12 Noon and 1:00 pm
DINNER
7:00 pm
6:00 pm and 7:15:00 pm
Divine Service will be held on Sundays at 11:30 am
ASSISTANT CRUISE DIRECTOR, whose special care will be the Tourist Third Cabin passengers, is located in the Cruise Office on B Deck.
SEATS AT TABLE. Passengers should apply to the Chief Tourist Steward for reservation of seats.
UPPER BERTHS. Passengers occupying upper berths can obtain steps for getting in or out of same on applying to the Steward or Stewardess.
PORTHOLES. As it is dangerous for passengers to handle the Ports, they are requested to ask the Bedroom Steward to open and close the Portholes in the staterooms as required.
VALUABLES. For the convenience of Passengers, the Line has provided in the Purser's Office, a Safe in which money, jewels, ornaments, documents or other valuables may be deposited by Passengers.
A receipt for any article so deposited will be issued by the Purser, but the Line does not, having regard to the ticket conditions and to the provisions of Section 502 of the Merchant Shipping Act 1894 and of Section 4281 of the Revised Statutes of the United States, accept any responsibility for the safe custody of any such articles. Passengers are accordingly advised to protect themselves by insurance.
THE PURSER'S OFFICE. Letters, Cables, Telegrams and Marconigrams are received or delivered, and Postage Stamps can be purchased.
None of the ship's staff other than those on duty in the Purser's Office are authorized to accept Letters or Telegrams for despatch.
CHARGES COLLECTED ON BOARD. Passengers are requested to ask for a Receipt on the Company's form for any additional Passage Money, Chair or Steamer Rug Hire, charges collected for Marconigrams, Cablegrams or Telegrams or Freight paid on board.
PASSENGERS' MAIL. On the steamer's arrival passengers should enquire personally whether there is any mail for them, and before disembarking they are invited to leave their addresses at the Purser's office in order that later despatches may be redirected.
SHORE EXCURSION TICKETS may be obtained at the Cruise Office situated on Deck B. The Cruise staff will be glad to give information pertaining to the excursions.
DECK CHAIRS AND STEAMER RUGS can be hired on application to the Deck Steward, at a charge of $1.50 each to Monaco or Naples, first call; $2.00 to Alexandria; $2.50 to Monaco or Naples, second call; $3.50 for the full cruise.
BAGGAGE. Questions relating to Baggage should be referred to the Chief Tourist Steward.
BAGGAGE should bear initial label of surname and also label with owner's name and address. On arrival, baggage will be grouped alphabetically in Customs shed. Passengers are required to attend personally to Customs examination.
TRAVELERS CHECKS, payable in all parts of Europe can be purchased at all principal offices of the Company. These Checks are accepted on hoard steamers in payment of accounts, but the Pursers have not sufficient funds to enable them to cash these Checks except in a very limited amount.
MEDICAL ATTENDANCE. The Surgeon is authorized to make customary charges, subject in each case to the approval of the Commander, for treating passengers at their request for any illness not originating on the voyage. In the case of sickness originating on the voyage no charge will be made, and medicine will be provided free in all circumstances.
EXCHANGE OF MONEY. The Purser is prepared, for the convenience of passengers, to exchange a limited amount of English and American money, at rates which will be advised on application.
DOGS AND CATS. Passengers are notified that dogs and cats must be handed over to the care of the live-stock attendant, and cannot be landed in Great Britain unless a license has previously been procured from the Board of Agriculture, London. Forms of license must be obtained by direct application to the Department before the animals are taken on board.
CINEMATOGRAPH PERFORMANCES will be given in the Tourist Third Cabin Dining Saloon as notified from time to time.
PHOTOGRAPHER. An expert professional photographer is carried by the steamer for the purpose of taking passengers' photographs and assisting them in their photographic work. For charges and appointments apply to Enquiry Office or Barbers' Shop.
LIBRARY. Books can be obtained on applying to the Library Steward.
RAILWAY TIME TABLES of the various Companies can be obtained on applying to the Library Steward.
AN ORCHESTRA OF SKILLED MUSICIANS will play regularly throughout the voyage.
MEALS ON BOARD FOR PASSENGERS' FRIENDS.
The following charges wall be made for meals served on board to the friends of Tourist passengers: Breakfast 2/; Lunch 3/; Dinner 4/6d.
A CHARGE OF 12/6d PER DAY will be made in the event that passengers booked to sail fram Alexandria desire to embark prior to the advertised sailing day.
BARBER. The Barber is authorized to make the following charges:—

* Shampoos and Massages of a special character as per prices displayed in the Hairdressmg Rooms.
The Barber's hours are 7:00 am to 7 p. rn., but for the general convenience of the greater number, passengers are requested not to apply for hair-cutting or shampooing except between the hours of noon and 5:00 p. m.
The Barber is allowed the privilege of selling various souvenirs and small articles on his own account.
WHITE STAR LINE OFFICES—NICE, NAPLES, CAIRO
Passengers landing at Monaco or Naples or those going to Cairo are cordially invited to make their headquarters at our Locat Offices there.
MAIL FORWARDING ARRANGEMENTS
Passengers who are having their mail sent to our offices at Nice, Naples and Cairo and desire to have it forwarded to some subsequent address, are invited to call at the Purser's Office for a forwarding card which should be completed and returned to the Purser not later than day before leaving steamer.
RETURN ACCOMMODATION
Passengers holding return tickets are requested to communicate with our nearest European office upon arrival abroad, so that necessary formalities may be arranged in connection with their return passage. If this is done by letter, the sailing on which return has been booked and accommodation reserved should be specifically mentioned.
Passengers holding return tickets who are undecided about their European addresses should advise same to our nearest office in Europe by mail or in person as soon as possible after arrival abroad.
For those passengers who may be returning from Europe to the United States or Canada and who have not yet made the necessary reservations, the Purser will be pleased to radio our European Offices for any accommodation required. This will enable passengers to complete their arrangements before leaving the steamer, and will, consequently, save them time and trouble after landing.
Full Details and Tickets for the Conducted Shore Excursions may be secured at the Cruise Office.
Independent Tours in Palestine and Egypt and across Europe may also be arranged at this office.
LECTURER
As an added feature Mr. James Parton will deliver a aeries of illustrated lectures on the Mediterranean and Egypt, the dates for which will be announced.