New York Passenger List Collection 1877-1960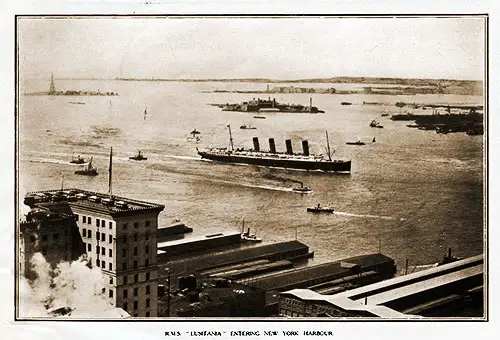 The RMS Lusitania of the Cunard Line in New York Harbor. GGA Image ID # 1541c290d7
These are Passenger Lists of ships with a destination of New York with immigrants landing at Castle Garden or Ellis Island for processing. Organized by Date, Steamship Line, Steamship or Ocean Liner, Class of Passengers (Saloon, First, Second, Cabin, Single Class, Tourist, Third or Steerage) and the route of the voyage.
Due to page size constraints, we have arbitrarily paginated our New York / Ellis Island Passenger Lists Listings into 12 Pages
The listing may also contain other voyages that originated or stopped at the Port of New York (or Ellis Island).
Each Passenger List contains Steamship Line, Steamship, Class of Passengers, Date of Departure, Route and Commander,
Some Ships Lists also contain Notes.
Learn More About the Port of New York -- Pre World War 2 or the Port of New York -- Post World War 2
Important Dates in Ellis Island History
11 April 1890: Congress appropriates $75,000 to build an immigration station at Ellis Island.
1 January 1892: The immigration station at Ellis Island officially opens.
14-15 June, 1897: Fire destroys Ellis Island Buildings, including records of immigrants dating back to 1840. All personds were safely evacuated.
17 December 1900: The new and currently standing main building opens at a cost of $1.5 million.
1907: Ellis Island has peak number of immigrants arrive (Approximately 1.25 million).
1917-1919: Ellis Island serves as a detention center for enemy aliens, a way station for US Navy personnel, and as a hospital for the US Army.
1919-1954: Serves as a deportation center in addition to it core purpose as an immigration station.
1920: After WWI, Ellis Island Reopened processing 225,206 immigrants.
1924: Mass migration ended. Immigrants are now inspected in their countries of origin.
1932: Ellis Island Station Stopped Receiving Steerage-Class Immigrants
1939-1949: Portion of Ellis Island was used as a Coast Guard Station.
1941-1954: Portion of Ellis Island served as a detention center for enemy aliens.
29 November 1954: Norwegian Merchant Seaman Arne Peterssen, the last immigrant is processed at Ellis Island.
Castle Garden
During its lifetime as an immigrant depot (1855-1890), Castle Garden had welcomed 8,280,917 of the total 10,956,910 aliens to arrive in this country during that period.
Barge Office
Immigrants landed at the Barge Office from 1890 until the opening of Ellis Island in 1892.