RMS Lusitania Passenger List - 6 June 1908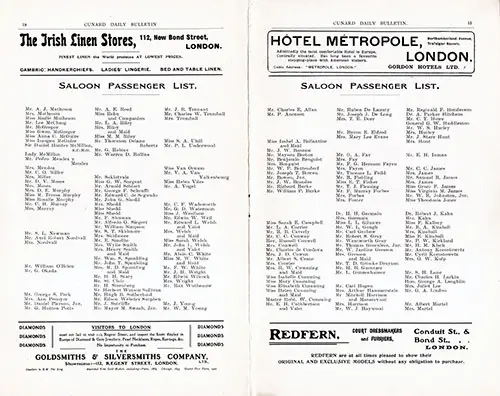 Saloon Passenger List from the RMS Lusitania of the Cunard Line, Departing Saturday, 6 June 1908 from Liverpool to New York via Queenstown (Cobh), Commanded by Captain James B. Watt. Published in the Cunard Daily Bulletin, Lusitania Edition, 10 June 1908. GGA Image ID # 131ff6c130
The RMS Lusitania of the Cunard Line, departed Saturday, 6 June 1908 at 6:00 pm from Liverpool for New York, arriving in New York on Friday, 12 June 1908 at 8:00 am.
The Lusitania record for crossing the Atlantic is 4 days 15 hours.
On this voyage, the Lusitania made another record-breaking trip, during which the long route of 2.890 nautical miles was covered in four days 20 hours and 8 minutes, the average speed for the entire trip having been 24.88 knots.
The best day's run during this trip was 641 nautical miles, the actual steaming period having been 25 hours 16 minutes (this variation from the 24 hours in a "land" day having been caused by the difference in longitude between the points of departure and conclusion of the day's run). The speed for this day figured out at 25.37 knots. (International Marine Engineering, August 1908, p. 362)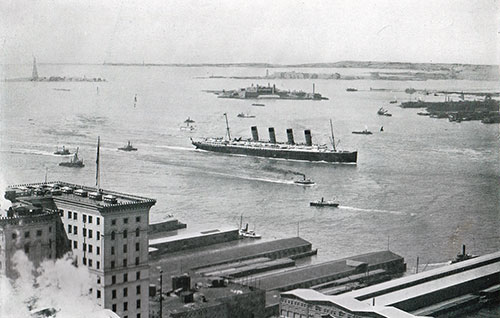 The RMS Lusitania Entering New York Harbor. GGA Image ID # 174c92b7ba
Listing of Saloon Passengers contained within the Cunard Daily Bulletin, Lusitania Edition for Wednesday, 10 June 1908. Passenger provided an insert with handwritten notes about the Passengers. primarily where they were from or what they did.
Cunard Daily BULLETIN. 15
Saloon Passengers
Mr. Charles E. Allan
Mr. P. Anensen
Miss Isabel A. Ballantine and Maid
Mr. J. W. Bannon
Mr. Mayson Beeton
Mr. Benjamin Benguist
Mrs. Benguist
Mr. W. P. Bettendorf
Mr. Joseph T. Bowen
Mr. Bowen, Jr.
Mr. J. W. Brandes
Mr. Richard Burke
Mr. William P. Burke
Miss Sarah E. Campbell
Mr. L. A. Carrier
Mr. R. B. Caverly
Mr. C. C. Conway
Rev. Russell Conwell
Mrs. Conwell
Mr. Charles de Cordova
Mrs. J, D. Cowan
Mr. Albert S. Crane
Mrs. Crozier
Mrs. R. W. Cumming and Maid
Miss Isabelle Cumming
Miss Mary Cumming
Miss Elizabeth Cumming
Miss Helen Cumming and Maid
Master Robt. W. Cumming
Mr. E.H. Cutlibertson and Valet
Mr. Ruben De Launty
Mr. Joseph J. De Long
Mrs. T. E. Dorr
Mr. Byron E. Eldred
Mrs. Mary Lee Evans
Mr. G. A. Fay
Mrs. Fay
Mr. F. G. Herman Fayen
Mrs. Fayen
Mr. Thomas L. Feild
Mr. R. Fielding
Miss E. T. Fisher
Mr. T. J. Fleming
Mr. F. Murray Forbes
Mrs. Forbes
Mrs. Foster
Dr. H. H. Germain
Mrs. Germain
Miss L L. Gilmore
Mr. W. L. Gough
Mr. Carl Grabow
Mr. Robert S. Gray
Mr. Wentworth Gray
Mr. Thomas Greenlees, Jr.
Mr. W. Jardine Gresson
Mrs. Gresson and Maid
Mr. T. D. Grimke-Drayton
Mr. H. B. Guentzer
Mr. L. Gunzenhauser
Mr. Carl Hagen
Mrs. Arthur Hammerstein
Mr. Mitchell Harrison and Manservant
Mrs. Harrison
Mr. W. J. Haywood
Mr. Reginald F. Henderson
Dr. A. Parker Hitchens
Mr. C. T. Howe
General G. W. Huddleston
Mr. W. S. Hurley
Mrs. Hurley
Mr. J. Starr Hunt
Mrs. Hunt
Mr. E. H. Inman
Mr. C. C. James
Mrs. James
Mr. Samuel R. James
Mrs. James
Miss Grace F. James
Miss Virginia M. James
Mr. W. R. Johnston, Jr.
Miss Theodosia Jones
Dr. Robert J. Kahn
Mrs. Kahn
Miss F. Kallery
Mr. E. A. Kimball
Mrs. Kimball
Miss E. Kimball
Mr. P. W. Kirkland
Mr. H. M. Kisch
Mr. Antony Korostowetz
Mr. Cyril Korostowetz
Mrs. O. W. Kulp
Mr. S. H. Lane
Mr. Charles H. Larkin
Hon. George A. Laughlin
Mrs. Juliet Lee
Mr. G. A. Lindon
Mr. Albert Martel
Mrs. Martel
Mr. A. J. Matheson
Mrs. Matheson
Miss Madie Matheson
Mr. Lee McClung
Mr. McGregor
Miss Gwen McGregor
Miss Anna C. McGuire
Miss Irnogen 'McGuire
Sir Daniel Hunter McMillan, K.C.M.G
Lady McMillan
Mr. Pedro Mendez y Mendez
Mrs. Mendez
Mr. C. O. Miller
Mrs. Miller
Mr. D. V. Moses
Alm. Moses
Mrs. D. E. Murphy
Miss M. Teresa Murphy
Miss Rosalie Murphy
Mr. C. Murray
Mrs. Murray
Mr. S. L. Newman
Mr. Axel Robert Nordvall
Mrs. Nordvall
Mr. William O'Brien
Mr. G. Okada
Mr. George S. Peck
Mrs. Ann Penoyer
Mr. Daniel Pierson, Jr.
Mr. G. Hutton Potts
Mr. A. E. Reed
Miss Rehn and Companion
Mr. L. A. Riley
Mrs. Riley and Maid
Miss M. M Riley
Mr. Thornton Delano Roberts
Mr. G. Robins
Mr. Warren D. Rollins
Mr..Saklatvala
Miss G. W. Sargent
Mr. Arnold Schlaet
Mr. George F. Schrafft
Mr. Edward C. de Segundo
Mr. John U. Shedd
Mrs. Shedd
Miss Shedd
Miss Shedd
Mr. F. Shuman
Mr. Alfredo G. Siegert
Mr. William Simpson
Mr. S. T. Skidmore
Mrs. Skidmore
Mr. E. Smellie
Mrs. Wylie Smith
Mrs. Henry Smith and Maid
Mr. Wm. S. Spaulding
Mr. John T. Spaulding
Mrs. M. D. Spaulding and Maid
Mr. H. H. Stacy
Mr. St. Clair
Mr. H. Sternberg
Mr. Herbert Watson Sullivan
Mr. Hugh B. Sutherland
Mr. Edson Webster Sutphen
Mr. J. Sutcliffe
Mr. Mayer M. Swaab, Jr.
Mr. J. R. Tennant
Mr. Charles W. Trumball
Mrs. Trumball
Miss S. A. Ubill
Mr. P. L. Underwood
Miss Van Ornum
Mr. V. A. Van Valkenbourg
Miss Helen Viles
Mr. A. Vogel
Mr. C. F. Wadsworth
Mr. G. D. Waterman
Miss J. Weallson
Mr. Edwin W. Weil
Mr. Edward L. Welsh and Valet
Mrs. Welsh and Maid
Miss Sarah Welsh
Mr. John L. Welsh and Valet
Mr. Alain C. White
Miss M. W. White and Maid
Mr. F. W. White
Mr. J. H. Wright
Mr. Edwin Wilcock
Mrs. Wright
Mr. Max Wuthenow
Mr. J. Young
Mr. W. M. Young
Additional Passengers
Mr. E. F. Child
Mrs. C. C. Conway
Miss N. L. Covington
Mr. Perey Daniels
Mr. T. C. Dawson
Mrs. Von Glehn
Mrs. G. A. Lindon
Col. and Mrs. J. R. Moodie
Mr. Bernard Weiler