RMS Campania Passenger List - 3 September 1898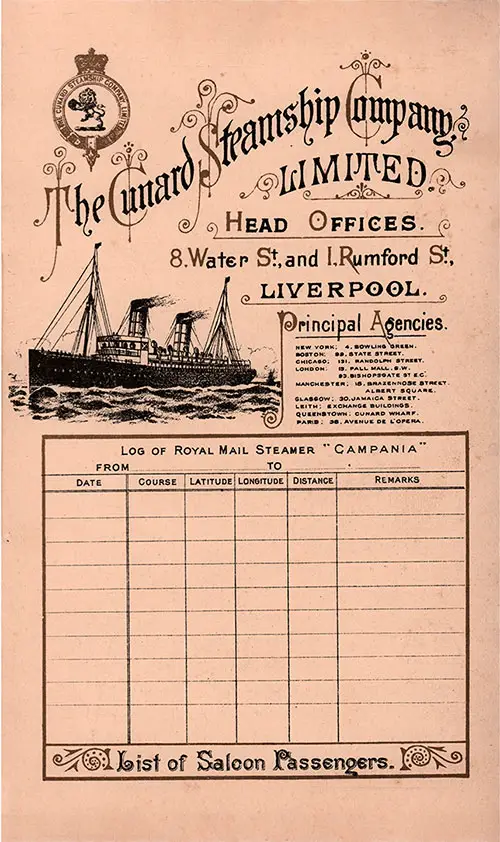 Front Cover of a Saloon Passenger List from the RMS Campania of the Cunard Line, Departing Saturday, 3 September 1898 from Liverpool to New York, Commanded by Captain H. Walker. GGA Image ID # 1598a91bb5
Notable Passengers: George Augustus Frederick Cavendish-Bentinck PC, JP,, Theron J. Blakeslee, George Bleistein, Maud Elizabeth Charlesworth (AKA Maud Ballington Booth), Thomas Brassey, 1st Earl Brassey GCB, TD, JP, DL, Governor Frank Brown, Sir Thomas Henry Hall Caine CH, KBE, William John Cooper, Edwin Lawrence Godkin, John Chipman Gray, George Halley, Honorable Charles Sumner Hamlin, Sir Ian Zachary Malcolm, 17th Laird of Poltalloch, KCMG, Sir William Mackenzie, Ruth T. Livingston (Wife of Ogden Mills), Jane Beatrice Mills, OBE, Gladys Livingston Mills Phipps, Ogden Livingston Mills, Judge Henry T. Nason, Anna Reed (wife of William Barclay Parsons), Ada Rehan, Matthew White Ridley, 1st Viscount Ridley PC, DL, Edward Moore Robinson, John Henry Smith, Edward Kirk Warren, Wife of Gilbert Edward Jones
Senior Officers and Staff
Captain: H. Walker (Lt. R.N.R.)
Surgeon: Francis Verdon
Purser: T. Graham
Chief Steward: W. T. Bryden
Saloon Passengers
Dr. A. Andrei
Mrs. Andrei
Mr. Penrose Angwin
Mr. R. Apper
Mr. T. Arnold
Mr. H. L. Aschoff
Mrs. Aschoff
Dr. W. Easterly Ashton
Dr. Thomas G. Ashton
Mr. H. G. Aston
Mr. J. F. Bain
Rev. Dr. Baker
Mr. D. W. Barker
Mr. G. C. Bardons
Mr. H. Barnard
Mr. D. K. Bayne
Mrs. C. L. Becket
Miss M. A. Becket
Mr. John R. Bennett
Mr. G. Cavendish Bentinck (Note 1)

Mrs. Cavendish Bentinck and Maid
Miss Cavendish Bentinck and Maid
Miss E. Cavendish Bentinck
Mrs. S. Beverley
Mr. E. C. Bickel
Mr. E. S. Bigelow
Mrs. Bigelow
Mr. John T. Birge
Rev. Sherrard Billings
Mr. W. H. Bishop
Mrs. Bishop
Mr. Joseph Black
Mr. T. J. Blakeslee (Note 2)

Mrs. Blakeslee
Mr. W. L. Blair
Mr. George Bleistein (Note 3)

Mr. L. G. Du Bois
Mrs. Du Bois and Maid
Mrs. Ballington Booth (Note 4)

Mr. Simon Borg
Mrs. Borg and Maid
Mr. E. J. Bostock
Mr. W. H. Boyer
Mrs. Boyer
Mr. Bramden
His Excellency Lord Brassey K.C.B. (Governor of Victoria N.S.W.) and Valet (Note 5)

Lady Brassey and Maid
Née Lady Sybil de Vere Capell
Hon. Helen Brassey and Nurse
Mr. W. Brauer
Mrs. Brauer
Mr. Duncan K. Brent
Mr. Percy B. Bromfield
Mrs. Bromfield
Mr. Percy R. Bromfield
Master Edward T. Bromfield
Mr. C. Brown
Governor Frank Brown (Note 6)

Mr. Frank Brown, Jr.
Miss M. R. Brown and Maid
Mr. Thos. Egerton Bryant
Captain W. Buckley
Mrs. A. N. Burke
Mr. Hall Caine (Note 7)

Mr. John Campbell
Mrs. Campbell
Mr. George Carr
Mr. J. C. Chatterji
Dr. Charles Claxton
Rev. J. H. Coit
Mr. Coit Jr.
Mr. C. A. Conrad
Mr. Richard Y Cook
Mrs. Cook
Mr. Andrew W. Cookstown
Mr. Thomas Cooper
Mr. William J. Cooper (Note 8)

Mr. John S. Cope
Mrs. M. F. Cottrell
Miss A. Cottrell
Mr. T. C. Coxe
Mrs. Coxe
Miss Constance L. Curran
Mr. Frank O. Day
Mr. T. E. Dennis
Miss L. R. Densmore
Mr. Robert Dey
Mrs. Dey and Maid
Miss Amorette Dey
Miss Victoria Dey and Maid
Mr. John Dey
Miss E. Dobson
Miss Kate Dodd
Rev. J. Doherty
Mr. John P. Doherty
Mr. Don
Mr. A. D. Duff
Mrs. Duff
Rev. Joseph H. Dulles
Mrs. J. M. Eder
Miss Edith Eder
Mr. P. J. Eder
Rt. Rev. Dean Egan
Mr. George C. Esray
Mrs. Inez. Felker
Mr. W. Gordon Fellows
Miss M. Feretti
Mr. G. A. Fernald
Miss Edith Ferris
Mrs. Josiah M. Fiske and Maid
Miss Fiske
Mr. Marco. Fleischman
Mr. F. A. Fowler
Mr. H. Frank
Mr. J. A. Fuller
Mr. C. Gabain
Mr. S. Gabriel
Mr. R. M. Gallaway
Mrs. N. S. Gannon
Miss Gannon
Miss Marie Gannon
Miss Anna Gannon
Miss Elizabeth Gannon
Mr. C. D. Geddes
Mrs. W. E. Glover
Mr. E. L. Godkin (Note 9)

Mrs. Godkin
Mr. O. Goldschmidt
Mr. T. P. Goodbody
Mr. F. L. Lovett
Mr. L. Grauer
Mr. John Chipman Gray (Note 10)

Mrs. Gray
Mr. John Gray, Jr.
Miss Gray
Miss M. E. Gray
Miss B. Gray
Mr. Walter Greenebaum
Mrs. T. J. Grier
Master Grier
Rev. Alfred W. Griffin
Miss A. E. Guild
Miss M. A. Guild and Maid
Mr. Carl Gunther
Mrs. Gunther
Mr. Stephen Haas
Mr. F. Haberman
Mrs. Haberman
Miss Haberman
Mr. George Hackney
Mrs. Hackney
Mr. Robert Hackney
Mrs. Clement Hackney
Mr. George Halley (Note 11)

Mr. A. L. Halliday
Mr. Halliday Jr.
Mrs. George F. Hall
Mr. C. S. Hamlin (Note 12)

Mrs. Hamlin
Mr. Wm. Hargreaves
Mrs. Hargreaves
Mr. I. E. Hasbrouck
Mrs. Hasbrouck
Miss Edna A. Hasbrouck
Mr. James Hay
Mrs. Hay
Mr. H. Hervey, C.B
Mr. David Hogg
Mrs. Hogg
Mrs. L. Hoffman
Miss L Hoffman
Miss Frances Hoffman
Mrs. C. L. Holbrook
Mr. Thos. Holford
Mr. T. W. Holmes
Mr. John D. Hooe
Mr. Radcliffe Hordern
Mr. Joseph Houk
Mr. George W. Howe
Mrs. Howe
Miss Jennie Howe
Mr. Edward C. Hoyt
Mrs. Hoyt and Maid
Miss Eleanor C. Hoyt
Master Kenneth Hoyt
Master Oliver Hoyt
Mrs. Otto Huber
Miss Helen Huber
Miss J. V. Hughes
Miss Carolyn Humphrey
Mr. E. Iselin
Miss Jacobert
Rev. W. James
Mrs. James
Mr. James W. Janney
Mrs. Janney
Miss Mildred Janney
Mr. W. A. Johnston
Mrs. E. L. Johnson and Child
Mrs. Gilbert E. Jones (Note 13)

Master Jones
Mr. George Jones
Mr. M, Kaskel
Mrs. Kaskel
Miss Edith Kaskel and Governess
Miss M. Kenny
Miss S. A. Kinder
Mrs. F. H. Knower
Mrs. Arnold Kreasler
Miss M. Kreasler
Mrs. Ladjing
Mr. Alex Laing
Mr. Lamb
Mrs. E. D. Lane
Mr. Amos Lawrence
Mr. John L. G. Lee
Mr. Albert Levi
Mrs. Levi
Mr. Ben. H. Lichtenstein
Mrs. Lichtenstein
Miss Lichtenstein
Mrs. Maturin Livingston and Maid
Mr. A. N. Loeb
Mrs. Loeb
Miss Loeb and Maid
Mr. D. Lorimer
Mr. C. J. Lucas
Hon. Spencer Lyttleton, C.B
Mr. A. Mackay
Mr. B. Mahon
Mr. Ian Malcolm, M.P. (Note 14)
Mrs. Blanche Martin
Rev. M. McCarthy
Rev. Thomas McCarthy
Mr. R. W. McClellan
Major W. C. McClure
Miss Hattie H. McGahn
Mr. H. D. McMaster
Mr. C. A. McMaster
Mr. J. L. McKeever
Mr. J. A. McKee
Mr. John F. McKeon
Mr. William McKenzie (Note 15)
Miss Katie McKeon
Mrs. A. McNally
Mr. Georges Mesmin
Miss Helen F. Miller
Mrs. Ogden Mills and Maid (Note 16)

Miss Beatrice Mills (Note 17)

Miss Gladys Mills and Governess (Note 18)

Master Ogden Mills and Valet (Note 19)

Mr. E. R. Moodie
Mr. Moore
Mr. George W. Moreton
Rev. Father Morris
Mr. Ben P. Moseley
Mr. E. W. Nash
Mrs. Nash
Miss L. Nash
Judge Henry T. Nason (Note 20)

Mr. Henry Newman
Mrs. Niccoll
Miss Niccoll
Mr. W. S. Nixon
Mr. Louis Noot
Mrs. Noot
Rev. Henry O'Carroll
Mr. John Ogilvy
Mr. E. R. Orme
Mr. L. Overton
Mr. Wm. Pagen
Mrs. Wm. Barclay Parsons (Note 21)
Miss Evelyn K. Parsons (Note 22)

Mr. R. S. Paterson
Mr. T. W. Paterson
Mr. Thomas B. Peck
Mrs. Pruyn and Maid
Mr. C. H. Pugh
Mrs. Pugh
Mrs. Mary Quigley
Miss Lois Ramsey
Mr. Oswald Raitt
Mr. W. A. Redding
Miss Ada Rehan and Maid (Note 23)

Mr. William Remy
Mrs. Remy
Mr. F. W. Rhinelander
Mrs. Rhinelander and Maid
Miss Rhinelander
Mr. Matthew W. Ridley (Note 24)

Mr. Thomas H. Riegel
Miss Belle Robb
Miss Annie B. Robb
Master Duncan Robertson
Master Howard Robertson
Mr. M. Robinson
Mr. O. G. Robinson
Mrs. Robinson
Mr. Edward Moore Robinson (Note 25)

Mrs. Robinson and Maid
Master Robinson and Nurse
Mr. Matthew Rock
Mr. Matthew Rock, Jr.
Miss A. E. Rock
Mr. W. Harris Roome
Miss T. M. Sandifer
Mrs. A. B. Sands
Miss Louise Sawtelle
Mr. B. E. Schlesinger
Mr. F. W. Schultz
Mrs. Schultz
Master Walter Schultz
Master Robert Schultz
Mr. John Scott
Miss E. Shanahan
Miss M. Shanahan
Mr. George L. Shepley
Miss Shuler
Mr. Gustavus Sickles
Mr. E. Sidler
Mr. T. V. Silva
Mrs. A. M. Simpson
Miss E. Simpson
Mr. E. M. Simpson
Mr. A. Slingsby
Dr. St. Clair Smith
Mr. J. Henry Smith (Note 26)

Miss Smith
Miss Y. M. Snee
Mr. A. H. Stanhope
Mr. Jack Stedman
Mr. John Steel
Dr. James Stewart
Mr. W. C. Strohmayer
Mr. Sturtevant
Mr. William Sulley
Mrs. Sulley
Miss Sulley
Miss Emily J. Sunderland
Miss Emma L. Swift
Mr. J. Hanson Thomas
Rev. Dennis A. Tighe
Miss Elizabeth Tighe
Mr. A. Turner
Mrs. Turner
Mr. Tweedy, Jr.
Mr. Vestey
Mr. Harry Victor
Mr. W. E. Vinson
Mr. M. P. Vlasto
Mr. Leopold Wallach
Miss May Ward
Mr. E. K. Warren (Note 27)

Mrs. Warren
Mr. Paul C. Warren
Miss Louisa M. Warwick
Mr. Leonard Watson
Miss Watson
Mr. George West
Mrs. West
Mr. Percy White
Mr. John J. White
Mrs. White
Mr. G. A. Wiedenmayer
Mr. J. E. Wiedenmayer
Rev. Stephen S. Wise
Mr. Alex Williams, Jr.
Mrs. Williams
Mr. Albert Wolters
Mr. C. F. Wolfendon
Mr. A. Woodman
Mr. C. F. Wright
Passenger List Notes
George Augustus Frederick Cavendish-Bentinck PC, JP, known as George Bentinck and scored as GAFC Bentinck (9 July 1821 – 9 April 1891), was a British barrister, Conservative politician, and cricketer. A member of parliament from 1859 to 1891, he served under Benjamin Disraeli as Parliamentary Secretary to the Board of Trade from 1874 to 1875 and as Judge Advocate General from 1875 to 1880.
Theron J. Blakeslee (1851-1914), an art dealer, noted in this country and abroad for having negotiated the sale of many famous paintings, committed suicide by shooting himself in the right temple at 6 o'clock on 7 March 1914 in his office in the rear of the Blakeslee Galleries, on the second floor of the Frances Building, at 665 Fifth Avenue. His collection of 237 paintings were auctioned of in April 1915 for $262,235.
George Bleistein, an employee of the Courier Lithographing Company was the focus of a U.S. Supreme Court case in Bleistein v. Donaldson Lithographing Company, 188 U.S. 239 (1903), the case in which the United States Supreme Court found that advertisements were protected by copyright.
Maud Elizabeth Charlesworth (September 13, 1865 – August 26, 1948) later changed her name to Maud Ballington Booth, was an Salvation Army leader and co-founder of the Volunteers of America. She was the wife of Ballington Booth (July 28, 1857 – October 5, 1940) an Officer in The Salvation Army and a co-founder of Volunteers of America.
Thomas Brassey, 1st Earl Brassey GCB, TD, JP, DL, (11 February 1836 – 23 February 1918), was a British Liberal Party politician, Governor of Victoria and founder of The Naval Annual.
Frank Brown (August 8, 1846 – February 3, 1920), a member of the United States Democratic Party, was the 42nd Governor of Maryland in the United States from 1892 to 1896. Born in 1846 in Sykesville, Maryland, he also served as a member of the Maryland House of Delegates from 1876 to 1878. He died in 1920 in Baltimore, Maryland.
Sir Thomas Henry Hall Caine CH, KBE (14 May 1853 – 31 August 1931), usually known as Hall Caine, was a Manx author. He is best known as a novelist and playwright of the late Victorian and the Edwardian eras. In his time, he was exceedingly popular, and, at the peak of his success, his novels outsold those of his contemporaries. Many of his novels were also made into films. His novels were primarily romances, involving love triangles, but also addressed some of the more serious political and social issues of the day.
William John Cooper (November 24, 1882 – September 19, 1935) was an American educator who served as US Commissioner of Education from February 1929 to July 1933.
Edwin Lawrence Godkin (October 2, 1831 – May 21, 1902) was an Irish-born American journalist and newspaper editor. He founded The Nation, and was editor-in-chief of the New York Evening Post 1883-1899.
John Chipman Gray (July 14, 1839 – February 25, 1915) was an American scholar of property law and professor at Harvard Law School. He also founded the law firm Ropes & Gray, with law partner John Codman Ropes. He was half-brother to U.S. Supreme Court justice Horace Gray.
George Halley (29 October 1887 – 18 December 1941) was a Scottish professional footballer, who played as a wing half.
Honorable Charles Sumner Hamlin (1861-1938) Attorney who was the first Chairman of the Federal Reserve.
Wife of Gilbert Edward Jones, Treasurer of the Park Company and son of the late George Jones, one of the founders of the New York Times, shot himself in the afternoon of 2 November 1910 in his office on the seventh floor of 41 Park Row, the old Times Building, dying instantly.
Sir Ian Zachary Malcolm, 17th Laird of Poltalloch, KCMG, (3 September 1868 – 28 December 1944) was a Conservative Member of Parliament and Chieftain of the Clan Malcolm/MacCallum.
Sir William Mackenzie (October 17, 1849 – December 5, 1923) was a Canadian railway contractor and entrepreneur. Mackenzie together with Donald Mann were knighted in 1911 for their efforts in the railway industry, but personal and company financial difficulties led to the bankruptcy of the CNoR. The system was nationalized by the federal government on September 6, 1918, and subsequently became part of the Canadian National Railway.
Ruth T. Livingston, Wife of Ogden Mills (December 18, 1856 - January 29, 1929) who was an American financier and Thoroughbred racehorse owner.
Jane Beatrice Mills, OBE (19 July 1883 – 30 January 1972) the future Beatrice Forbes, Countess of Granard, was an American-born heiress. She married Bernard Forbes, 8th Earl of Granard in 1909 with whom she had four children. With her marriage, Beatrice Mills would be known as Countess and/or Lady Granard. Her husband's wealth was limited and she provided the funds to finish restoring the family's historic Castleforbes in Newtownforbes, County Longford, Ireland.
Gladys Livingston Mills Phipps (1883-1970) was a United States socialite, sportsperson, and a thoroughbred racehorse owner and breeder who began the Phipps family dynasty in American horse racing. She was known as the "first lady of the turf."
Ogden Livingston Mills (August 23, 1884 – October 11, 1937) was an American lawyer, businessman and politician. He served as United States Secretary of the Treasury in President Herbert Hoover's cabinet.
County Judge Nason of Tory, New York, committed suicide by drinking Laudanum and Chloroform -- his body was discovered in the woods near Albany, New York in April 1903.
Mrs. Wm. Barclay Parsons, Née Anna Reed, daughter of Rev. Sylvanus Reed and educator Caroline Gallup Reed and wife of William Barclay Parsons (April 15, 1859 – May 9, 1932) an American civil engineer. Willam founded the firm that became Parsons Brinckerhoff, one of the largest American civil engineering firms.
Niece of William Barclay Parsons.
Ada Rehan (April 22, 1859 - January 8, 1916) was an American actress. She was born as Delia Crehan in County Limerick, Ireland, and brought to the United States at about the age of six years. More than 25 years after Ada Rehan died a WWII liberty ship was named after her, USS Ada Rehan.
Matthew White Ridley, 1st Viscount Ridley PC, DL (25 July 1842 – 28 November 1904), known as Sir Matthew White Ridley, Bt from 1877 to 1900, was a British Conservative politician and statesman. He notably served as Home Secretary from 1895 to 1900.
Edward Moore Robinson, member of the firm of Drexel & Co., died on January 3, 1910 at his home in Villanova, Pa., aged 42. His death was due to pneumonia. Besides his membership in the firm of Drexel & Co., Mr. Moore was a member of the firms of J. P. Morgan & Co. of New York and Morgan, Harjes & Co. of Paris. He was very prominent socially in Philadelphia and New York. Mrs. Robinson, who was a social leader in Philadelphia, died only nine days before her husband.
John Henry Smith (September 18, 1848 – October 13, 1911) was a member of the Quorum of the Twelve Apostles and the First Presidency of The Church of Jesus Christ of Latter-day Saints (LDS Church). He was a prominent politician in Utah and played an important role in the process whereby Utah made the transition from a territory to a state of the United States.
Edward Kirk Warren (April 7, 1847 – January 16, 1919) was an American industrialist and inventor who developed featherbone, a popular alternative to whalebone in corsetry. He is the namesake of Warren Dunes State Park and Warren Woods State Park in Michigan, both of which he developed.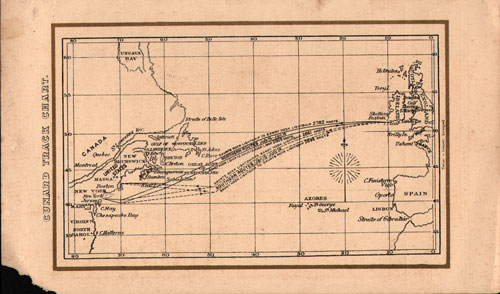 Track Chart from the RMS Campania Saloon Passenger List of 3 September 1898. GGA Image ID # 17454bc0ed