RMS Aurania Passenger List 26 March 1887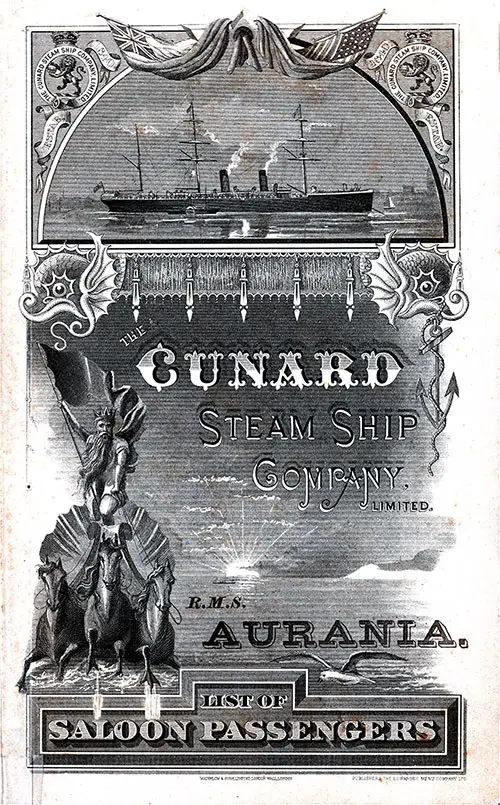 Front Cover of a Saloon Passenger List for the RMS Aurania of the Cunard Line, Departing Saturday, 26 March 1887 from Liverpool to New York, Commanded by Captain Hains. Illustration by Waterlow & Sons, Limited, London Wall, London. Publishers: The Edwardes Menu Company, Ltd. GGA Image ID # 15a0a6e257
Saloon Passengers
Miss Lucy Abbott
Mr. Joseph Andrade
Mr. W. W. Baird
Mr. Alex. Baird
Mr. E. W. Bald
Mr. R. V. Barrow
Mr. Percy Barrow
Mr. Thomas Beaver
Mr. Jacob N. Bonnet
Dr. Bingham
Miss Brereton
Mr. D. D. Brown
Mr. James Brownlee
Mrs. Brownlee
Mrs. A. T. Bruce
Mies Bruce
Mr. Fred. Bruce
Mr. A. C. Bryer
Mrs. Bryer
Master Bryer
Miss Bryer, and Maid
Mr. J. M. Bucknall
Miss Burnett
Dr. W. S. Caldwell
Mrs. Caldwell
Mr. Mansel S. Carne and Friend
Mr. J. Christian
Mr. George Cullen-Pearson
Mr. F. B. Dixon
Mrs. Dixon
Mr. Archibald Fairlie
Miss Helen F. Fleming
Mr. George F. Fox
Mrs. Fox
Mr. Theodore A. Fox
Mr. A. Frankfeld
Mr. C. W. Haines
Mr. Joseph Hall
Mrs. Hall
Mr. Joseph Hall
Miss Eliza Hall
Master Ernest Hall
Miss Bertha Hall
Mr. H. P. Harris
Mrs. Haywood
Miss Haywood
Miss C. Haywood
Mr. Wilfred Hepton
Mrs. Hepton
Mr. Albert Hess
Mr. Howard Heywood
Miss Lilia Hills
Miss Hook
Mr. W. Howkins
Mr. J. Jobborn
Mrs. Jobborn
Mr. R. K. Kynaston
Mr. David Lawrie
Mrs. Norman Logan
Mr. T. E. Mackenzie
Mrs. Mackenzie
Mr. J. M. Monkman
Mr. McGillivray
Mr. E. A. McLorg
Miss E. McLorg
Mr. Chas. J. Meakin. Jr.
Mr. W. D. Miles
Mr. Charles R. Miller
Mr. C. Morgan
Mr. P. Morgernstern
Mr. Peschiera
Mr. J. E. Rayner
Mrs. Rayner
Master Rayner
Mr. Clinton Rosette
Mrs. Thomas Shaw
Mr. Albert Smith
Mrs. Smith
Mr. L. E. Smith
Mrs. Tinsley
Miss Tinsley
Mr. W. Fuller Tufts
Mr. Neville Vibart
Mrs. Vibart
Mr. David Wallace
Mr. Robert Ward
Miss M. E. Ward
Mr. T. T. Watson
Mr. O. S. Watson
Mr. W. P. Wilbur
Mrs. Wilbur, Child, Nurse, and Maid
Miss J. E. Wilbur
Mr. Wilkinson
Mr. D. M. Yeomans
Mrs. Yeomans
Mr. Yeomans. Jr.
Hand Notation on Passenger List: Cabin 151 167 Intermediate 47 42 504 474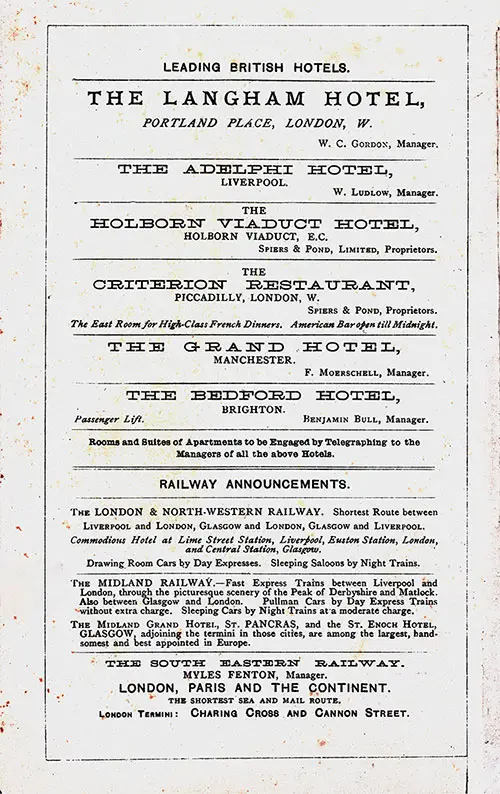 Leading British Hotels & Railway Announcements, 1887. Back Cover of a Saloon Class Passenger List of the RMS Aurania of the Cunard Line, Dated 26 March 1887. GGA Image ID # 15a0d4e094