RMS Laconia Passenger List - 10 June 1913
Passenger Lists for the First, Second, and Third Class Passengers on the RMS Laconia of the Cunard Line, Departing Tuesday, 10 June 1913 from Liverpool for Portland ME and Boston via Queenstown (Cobh). This List was Compiled from the Saloon Passenger List plus the Passenger Manifests prepared fro the Second and Third Class Passengers.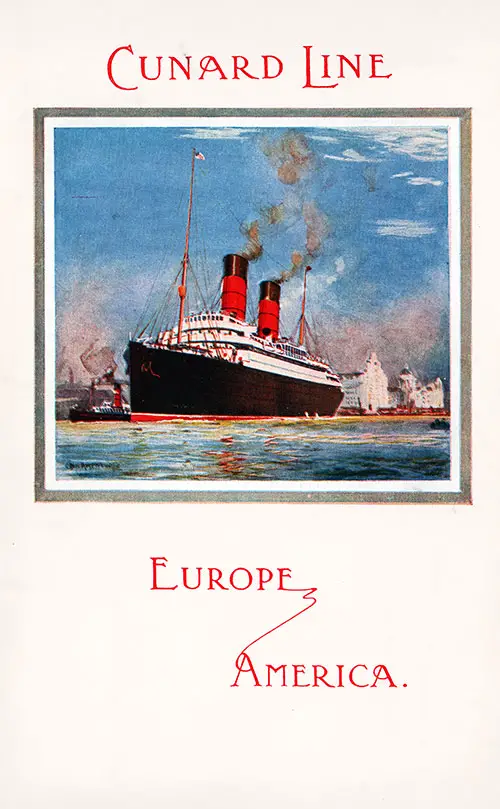 Front Cover of a First, Second, and Third Class Passenger List for the RMS Laconia of the Cunard Line, Departing Tuesday, 10 June 1913 from Liverpool to Portland, ME and Boston via Queenstown (Cobh), Commanded by Captain W. R. D. Irvine. GGA Image ID # 174a9d4725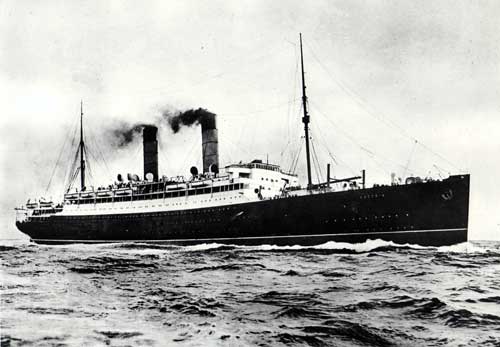 The RMS Laconia at Full Steam on a Transatlantic Voyage circa 1912. GGA Image ID # 174b446323
Senior Officers and Staff
Captain: W. R. D. Irvine, R.D.; R.N.R
Chief Engineer: J. Weir
Chief Officer: G. Gibbons, R.N.R
Surgeon: H. E. Scowcroft
Chief Steward: H. Pyatt
Purser: E. C. F. Moore
Asst Purser: W. H. Ramsden
Saloon Passengers
Mr. A. J. Abbott
Mrs. Abbott
Mrs. Frank W. Andrews and Maid
Miss C. Abbott
Miss V. Astlett
Mr. N. F. Allen
Mrs. Allen
Mrs. Elizabeth G. Allen
Miss Agnes T. Allen
Mr. Wm. H. Ames
Bostonians William H. Ames and Mrs. Ames,  who went over April 5, and have spent most of the time in France
Miss D. E. Belcher
Mr. Jas. B. Black
Mrs. Ames and Maid
Miss Helen Bradfield
Miss Mabel S. Brown
Mr. C. C. Buckley
C. C. Buckley of the B. A. A. A. L. Madden of Boston returned from a motoring trip through the English lake region, Scotland and Ireland
Mr. T. H. Bullock
Mrs.. Bullock
Miss S. P. Carle
Mr. F. S. Carr
Mr. M. F. Carr
Mr. E. J. Casey
Edmund J. Casey, head of the Brewers' Association, and his bride, who was Miss May Whalen, returned from their bridal tour.  They were married April 18, and left immediately for Europe, where they have since been traveling through Switzerland, Italy and England
Mrs. Casey
Mr. J. Keith Clement
Mr. and Mrs. J. Keith Clement of Boston returned from their honeymoon
Mrs. Clement
Miss A. Condon
Mrs. Clara E. Craig
Miss Clara E. Craig of Providence, who was sent to Rome by the Rhode Island school to study the Montessori system of education
Mr. James A. Craig - Reveremd Brother of Miss Clara E. Craig
Mr. Richard H. Dana
Mrs. Dana
Mrs. Richard Dana is the daughter of the poet Longfellow
Miss Sarah Dean
Mr: C. R. Donnell
Miss Mary L.. Dutton
Miss C. H: Dwight
Mr. E. H. Elles
Mr. N. H. Emmons
Mr. E. Fahrenheim
Mr. J. H. Farrell
J. H. Farrell of Pawtucket returned from a motoring trip through the English lake region, Scotland and Ireland
Miss E. Firpo
Mr. D. Fiske
Mrs. Fiske
Miss G. K. Fiske
Mr. W. F. Fiske
Mrs. Chas. S. Halliday
Mr. Chas. E. Lauriat
Charles E. Lauriat, the publisher, and Mrs. Lauriat, who went over three months ago, were also on board.  They visited Florence, Milan, Paris and London, meeting their son at the British metropolis
Mrs. Lauriat
Mr. Arthur. E. Lumsden, Jr.
Mr. M. L. Madden
Mr. A. B. Martin
Mrs. Martin
Mr. Richard Mayer
Mr. B. J. McGee
Mr. S. J. Meeker and Chauffeur
S. J. Meeker and J. R. Meeker of Bath toured Italy, Switzerland and France in their car, covering over 3000 miles
Mr. J. R. Meeker
Mr. C. C. Nash
Mr. and Mrs. C. C. Nash of Boston returned from their honeymoon
Mrs. Nash
Mr. S. Y. Nash
Miss E. Y. Nash
Dr. J. L. Nichols
Mrs. Nichols
Mrs. George E. Niles
Rev. F Lowe_Phalen
Mr. W. Wallace Potter
W. Wallace Potter completed a tour of the world with the arrival of the steamer.  He left San Francisco 10 months ago for Honolulu, Japan, China, the Philippines and Europe
Miss Leotine Scherrer
Mr. David Sears and Manservant
Miss Helen L. Shaw
Miss Edna Stacy
Mrs. Chas. R. Sturgis
Miss Evelyn P. Sturgis
Mr. Frederick Swindells
Miss Dorothy Test
Mr. H. Asa Thomas
Mrs. Thomas
Miss Pamela Thomas and Nurse ???
Mr. N. D. Thompson
Mr: W.. H. Todhunter
Mr. E. P. Warren
Mr. C. J. Whittaker
Miss Louise Wilcox
Mrs. G. Herbert Windeler
Mrs. G. Herbert Windeler, wife of a prominent Boston insurance broker, and her little daughter Evelyn, returned from a nine months' stay in England and Switzerland, and were met at the pier by Mr. Windeler
Miss Evelyn Windeler and Nurse
Miss L. Maud Windeler
Additional Passengers On Board
Mr. J. E. Cooper
Mr. J. J. Healey
J. J. Healey, the well-known Boston merchant, who went over six weeks ago, and decided to return on the Laconia only a few hours before she left Liverpool
Passengers Not on Board
Mr. J. B. McGee
Erratum.
Mrs. Clare E. Craig should read Miss Clara E. Craig
Miss A. Condon should read Miss A. Couden
Miss S. P. Carle should read Mrs. S. P. Carll
Miss Evelyn P. Sturgis should read Miss A. R. Sturgis
Miss Edna Stacy should read Miss Edna Stacey
Total ...89.
Landing at Portland
Mr. J. E. Cooper
Mrs. Asa Thomas, Infant and Nurse
Mr. Chas. R. Donnell
Mr. A. E. Lumsden Jr.
Mr. J. R. Meeker
Mr. H Asa Thomas
Mr. E. P. Warren
First Class Passengers
Mr. Abiel J Abbott
Mrs. Alice M Abbott
Miss Alice C Abbott
Mrs. Maria F. Andrews
Miss Vivian Aslett
Mr. Norman F. Allen
Mrs. Carry W Allen
Mrs. Elizabeth G Allen
Mrs. Agnes S Allen
Mr. William H Ames
Mrs. Mary H Ames
Miss Dorothy Effie Belcher
Mr. James B Black
Miss Helen Bradfield
Miss Mabel S Brown
Mr. Cornelius C Buckley
Mr. T. Harrison Bullock
Mrs. Jeanette Bullock
Mrs. Julia Carll
Mr. Iva S Carr
Mr. Moris F Carr
Mr. Edmond J Casey
Mrs. Julia M Casey
Mr. James Keith Clement
Mrs. Marguerite Clement
Miss Araetta M Condon
Mrs. Clara E Craig
Mr. James A Craig
Mr. Richard Hy Dana
Mrs. Edith L Dana
Miss Sarah Dean
Mr. Charles R Donnell
Miss Mary L Dutton
Miss Catharine H Dwight
Mr. Edmund H Elles
Mr. Nathaniel H Emmons
Mr. Ernest Fahrenheim
Mr. J Harry Farrell
Miss Evelyn Firpo
Mr. David L Fiske
Mrs. Ella M W Fiske
Miss Georgina K Fiske
Mr. William F Fiske
Mrs. Sarah A Halliday
Mr. Charles E Lauriat
Mrs. Harriet Lauriat
Mr. Arthur. E. Lumsden, Jr. [Portland]
Mr. M Lister Madden
Mr. Arthur B Martin
Mrs. E Annie Martin
Mr. Richard Mayer
Mr. Sydney J Meeker
Mr. J. R. Meeker [Portland]
Mr. Chauncey C Nash
Mrs. Susan H Nash
Mr. Samuel J Nash
Miss Ethel Y Nash
Dr. Joseph L Nicholls
Mrs. Mary M Nicholls
Mrs. Mary L Niles
Rev. Frank Lowe Phalen
Mr. Wallace W Palter (Potter)
Miss Leontine Scherrer
Mr. David Sear
Miss Helen L Shaw
Miss Edna Stacey
Mrs. Alice R Sturgis
Miss Evelyn R Sturgis
Mr. Frederick Swindells
Miss Dorothy E Test
Mr. H. Asa Thomas [Portland]
Mrs. Asa Thomas, Infant and Nurse [Portland]
Mr. Neale Dudley Thompson
Mr. Walter H. Todhunter
Mr. E. P. Warren [Portland]
Mr. Chris Jos Whittaker
Miss Louise Wilcox
Mrs. Laura Windeler
Miss L Maud Windeler
Miss Evelyn Windeler
Second Class Passengers
Mr. Louis Le Derf
Sophie Norton
Jane Carlsen
Vevsair Asttell
Ms. Emily Newton
Mr. Marshall M Card
Ms. Jane Carlson
Mr. John Ed Cooper
Joseph J Healey
Marshall M Card
Pesise Bergeson
Jules Descheres
Mary B Heideman
Caroline Johnson
Peter Le Gresley
Annie Le Gresley
Walter L Larsen
Maria L Larsen
Joseph E A Lanonette
Joseph E Carochelle
Joseph R Carochelle
Sarah Leach
William E Mckegney
John Macintosh
Margaret Macintosh
Mary Macintosh
Alexander Macintosh
John Macintosh
Alfred Chase Nickerson
Ruth Nickerson
Vida Elizabeth Chandler
James D Reeger
Isaac Sackman
Thomas Smith Taylor
Nette M Taylor
Julia Tripp
Lorenzo Joseph Vaudreuil
Blanche Vaudreuil
Mary O White
Eliza Jane Melville
Sue F Marthers
Jarthur Maclean
Hilda Jansen
Patrick H Murray
Bridget Murray
Mary Murray
Catherine Murray
John Murray
Joseph Madders
Catherine Madders
Madders
David Kessler
Lilly A Colton
Lillian M Colton
Vera A Millican
Mabel Millican
Ernst Clark
Amy Clark
Robert Matthews
Ernest F Lang
Florence Lang
James L Atherton
Charles E Ewings
Jennie Grady
William Oxley
Anna Petterson
Christ Petterson
George F Selvia
Margaret Selvia
Leo A Kilkenny
Sabina Kilkenny
Jane Walsh
Sadie Mosley
Mary White
William Ashworth
James L Atherton
George Abrahams
Martha Ann Abrahams
Sarah Jane Brown
Thomas Bloor
Henry Bennett
Emma Bennett
Frank Bandlen
Hannah Broomhead
Rebecca Bell
Alice E Butler
Hudie Brody
Eliza Gertrude Cartwright
Stanley Jasper Collins
Emma Clapham
Harry Foster Clapham
Nellie Conroy
Evelyn Townley
Robert Campbell
Margaret Caldicott
William Caldicott
Albert Caldicott
Albert Hulme Crompton
Chrestopher Ross Corbett
Emilie Ross Corbett
Susanna Doris Ross Corbett
Henitt David Ross Corbett
Harry Duckworth
Florence E Duce
Frank Farr
Sarah Ann Farr
Sarah Foster
Charlotte Foster
Irving Foster
Margaret Foster
Thomas Feather
Clare Feather
Flora Ford
Dorothy Ford
George Foster
Alfred Fielding
Thomas Fairhurst
Mary Fairhurst
Evelyn Fairhurst
Albert E Fairhurst
Archie Furneaux
William George
Ellen Gallagher
Sidney H Gage
John Greenwood
Alfred Goddard
Nellie Guy
Agnes Nall
Evelyn Hodgson
William Holden
John B S Holborn
Samuel Hulme
Emily Heyes
John W Hardy
Thomas Holt
Harry W Hale
Joe Holmes
Lucy Ann Holmes
Thomas Irving
Fred Inman
Lily Inman
Eveline J John
Louis Stanley Jast
Mary Cochrane
Josef Laser
Julia Laycock
Jane Lodge
Mary Lodge
George Thomas Lineham
William Marsden
James Murdoch
Gracie Macrae
James Mallinson
Edith L Mallinson
Edna Mallinson
Marjorie Mallinson
Bella Middleton
Donald Middleton
Michael McMillan
Rosann McMillan
Joseph McMillan
Leonard McMillan
Elizabeth Miller
Lele Edith Moore
Elizabeth Ann Suscan
Mary E Mitchell
Arthur Morley
John Milne
Mari Milne
Allen Moores
Wm Henry Mosley
Sudie Mosley
Margaret Metcalfe
Lucy Naylor
Hilda Naylor
Lucy Naylor
Milton Naylor
Lydia O'brien
Frank E O'brien
George Plummer
Kathleen Plummer
Amy Plummer
Gerald W Palfreyman
Herbert Pemberton
John Marsh Pitt
Emily H D Pitt
Allan Pickles
Jessie M Peacock
Jessie W K Peacock
Eric John Peacock
Gladys L Quarry
Charles Riley
Bertha Ryder
Agnes Ross
George Reynolds
Ethel Reynolds
Ada Sheettleworth
Rosie Swan
Ivy Swan
Margaret Soraghan
Bridget Soraghan
William W Sharples
Jane Alice Waring
Haroline M Shekerdjcan
Annie Sunderland
Annie Maud Shaw
Arnold Schofield
Robert John Taylor
Harold Victor Taylor
Sarah Taylor
Emma Unsworth
John E Unsworth
Robert Whitehead
Nelly Ward
Thomas Walsh
William W Webster
Ada B Wrightson
Reginald John Wrightson
Harold Sidney Wrightson
Nora Bayer
Amy Clark
Walter Atkins
Kate Atkins
Caroline Bennetts
Clara Thomas
Grace Thomas
May Duller
Marion Eason
Norah Eason
Thomas Fearher
Clara Fearher
Lily French
Frank C Geddes
Jacob Greenhalgh
Elizabeth A Greenhalgh
Minnie Greenhalgh
Nellie Greenhalgh
Elizabeth A Greenhalgh
William J Hill
Nellie Hill
Willie Hill
Betty Hill
Alice Ann Halls
Hilda Mary Higgins
Mary Lewis
Jane Mattocks
Thomas Murdoch
Annie Murdoch
William M Murdoch
Nessie Murdoch
William Mendham
Lutz Affonso
Marcilio Assumflod
Maria H Aine
Harold Aine
Emma Ardersson
Edwin Ardersson
Margaretha Behring
Itte Bajarsky
Charol Bajarsky
John Burns
Mary Bateman
Samuel Bell
Percy A Brooke
Margart Berry
Amelia Brierley
August P Caliste
Jose D A Corta
Mary Cockrane
Samuel Cockrane
George Cook
Anna Erikson
Bror Eiklund
William Gaythwaite
Sarah Farrow
Andor Garway
Gisella Garway
Ellen Gustafson
John Ironside
Thelde Jenson
Johann Kozal
Constance Labonowitz
Charles Lundh
Karl Larsson
Mary Dara Moughan
Jas S Naylor
Elizabeth Naylor
Anna Nilsson
Anton Alson
Anna Alson
Anna Alson
Arna Odelin
Joseph Porter
Manor C Ramage
Maria Strand
Ernest Suneson
Hilda Swensson
Benj Schofield
Ellen Schofield
Chanel Tarlowsky
Taybe Tarlowsky
Telde Tarlowsky
Dere Tarlowsky
Herbert Ward
Mary Ann White
John F Hawkes
Eliz M Hawkes
Tuphon De Bie
Mary B Herdman
List of Third Class (Steerage) Passengers
Kathleen Ocallaghan
John J Flaherty
Thomas Davoren
William J Gavin
Catherine Byrne
Cornelius Murphy
Frances Fitgell
Lizzie Fitgell
Samuel Bell
Jane Bell
Charlotte Bell
Jeremiah M Sullivan
Emily H Pitt
Julia Hayes
Arthur Ben Longman
Katie Haughton
Vera Millican
Zabel Millican
Harry Wright
Joseph Porter
Angelique Macdonald
Ellen Crookall
William Gillespie
Alfred George
John Holliday
Elizabeth Holliday
Lillia Kirley
William H Macdonald
John Q Hawker
Ethel Sandercock
Elizabeth M Hawkes
Cornelis Pannebecker
Sarah Homuth
Arthur Longman
Elizabeth Courtenay
Patrick C Hayes
Canelius Murphy
Henry Baines
William Steele
David Bentley
Arthur Williams
Leon Veerman
James Clarke
John Easterling
Eliza Easterling
Jennie Perrin
Joseph Perrin
Thomas Morgan
Sarah Jane Wakefield
Leonard Wakefield
John Ramshead
Emma Ramshead
Hary Jane Ramshead
Margart Ramshead
Margaret Jane Ramshead
John Ramshead
Agnes Ashton
Joseph Lang
James Stevenson
John William Earnshaw
John Thomas Liddle
Rora Sayan
Annie Gillespie
George Cork
Wm William ?? Mann
Abbert Danies
Sarah A Mason
Alfred Joseph Spiel
Mary ?? Mills
William Mills
Wornet Mills
Henry Richardson
Forace Stanley Milligan
William Russell
Albert Eason
Joseph Prumlaw Stephens
Rose Matthews
David Stephenson
Hugh Devitt
Duncan Cameron
Thomas Harland
James Stuart
Lerab Elizabeth Blezard
Harry Warburton
Bertha Warburton
Waller Caster
Sarah Ann Howard
Eva Garside
Patrick Smith
Lizzie Smith
Maggie Reilly
Harry Schofield Waterhouse
Thomas Remmer
James Ashworth
John Lowe
Mary Peach
Emily Griffin
John Clifford
Alice Mccloskey
Mary Gilday
Alice Gilday
Mary Edith Giller
Doris Giller
Roland Giller
John Hagan
Mary Winifred Smith
Mary Winifred Smith
Mary Powers
Alice Richert
Nellie Richert
Alice Richert
Samuel Richert
Elizabeth Richert
Mabel Richert
Norbert Richert
Dolly Richert
Mary Richert
Florence Richert
Antonio Coppolla
Susan Coppolla
James Hughes
Morris Caplan
Rosa Caplan
Louis Caplan
Annie Caplan
William Percival
Violet Sefton
John Stock
William Argue
George Lev Campbell
Gertrude Sophia Harper
Gertrude Clara Harper
Mary Lord
Marion Lord
Margaret Murray
Mary Slowey
Teresa Slowey
Josiah Powell
Harold Powell
Emily Bugg
Horace Bugg
Emily Eliza Bugg
Ruby Bugg
Joseph Taylor
Robert Rothwell
Annie Rothwell
Anita Rothwell
Reenie Rothwell
Myrle Rothwell
Margaret Crowley
Harold Mallinson
Henry Wink
James Flynn
Thomas Devine
Susanna Bennett
George Thompson
Alice Dawson
Margaret Argue
William Walsh
Henry R Ocallaghan
John Turner Willis
James Jones
Alice Jones
James Edward Jones
George Jones
Alice W Jones
Leslie Jones
James Sherratt
James H Kelly
Nathaniel Sweft Marsland
John Mcgeoghegan
William William
William Edwards
Santiago Inglasias
James Jones
Jane Lage
Dorothy Lage
John Mills
Andrew Keenan
Herbert Pulman
Thomas Bottomley
Arthur Musson
William Walsh
Percy A Fuller
Patrick Val Byrne
Charles Anderson
Joseph Inghtinyale
John Mc Mamis
Jack Alma Hackett
Clyde Beir
John J Sundquist
Axel Nelson
Otto Husberg
Hulda Hallen
Oscar Dahlquist
Erika Dahlquist
Ernst Dahlquist
Fridolf Dahlquist
Ivar Dahlquist
Petronella Carlson
David S Carlson
Oscar Johnson
Enock Roser
John Michelsson
Charles Johnson
Chrestean Paulien Jeftuy
Andrew Johnson
Ingeborg Johnson
Kari Johnson
Karen Johnson
John Johnson
Marie Johnson
Emma Johnson
Ida Johnson
Jennie Soderberg
Arthur Soderberg
Ida Gustafsson
Artur Gustafsson
Edit Gustafsson
Anna M Liljequist
Jenny A Gardell
Ida Gronberg
Gunhild Johanson
Karl J L Johanson
Oscar F Nilson
Oscar W Johanson
Alexander Edvinson
Ida Paulson
T Kristina Anderson
Anna F Janson
Selma F Svenson
Sigrid Ch Erikson
Anna E Olson
Lars Jacob Svenson
Bernhardina Svenson
Emil E Borg
Paul H Atzelins
Anna M Land
Lydia M Ryckman
Oscar F Barman
Carl A Johanson
E Ellen Johanson
Gust Anderson
Johan E Anderson
Malkorn Johanson
J Helmer Danielson
K Maria Peterson
Anna Olafson
Emma Larson
Albert Bergquist
Augusta Bergquist
Beda C L Erikson
Carl O Erikson
Anders G Janson
Enok Simon Johanson
Sabrilon A Lovgren
Karl Johans Johanson
Robert Vm Johanson
Johan Edwin Fredrikson
Klara Elvira Hogfeldt
O Hanna E Hogfeldt
Gustaf Adolf Hogfeldt
Johan A Nyberg
Edla M Anderson
Verner A Anderson
Gustaf Hjalmar Anderson
Nanny Ottelia Strand
Mabbs Anderson
Jacob M Johanson
Erik Pihl
Gustaf A Toren
Gabrielson Backman
Carl Hjalmar Anderson
Anna K Johanson
Johan Nilson
Maria J Nilson
Johan A Albinson
Ragnar Nilson
Gunnar M Spets
Kristina Hedin
Karl Fredrik Person
Rull M Lundstrom
Elsa A Adamson
Sara Gifting
Emma Gifting
Loke Axel Larson
L Anders V Erikson
Fred Johnson
Erik Garman Erikson
August Jonas Mattson
Erik I Osl
Carl Howard Lind
Ester Lind
Marget Lind
Emilia Johnson
George Lagerstrom
Helmer M Lindgren
Hanna Lagerstrom
Alfred Hagberg
Carl E Anderson
Oscar Johanson
Axel F G Nilson
Sally Ely Anderson
Henry Ossion Gustafson
Signe Cha Gustafson
Josef Roland Gustafson
D Leiger Lewin
John Rahnman
Karl A Karlson
Theodore Nilson
Wilhelm Erikson
Karl E Karlson
Hulda Ruckman
Astrid Ruckman
Gusbof Thim
Maria C Hogginst
Gerda F Nilson
Elin H Lundberg
Karl Erik Nilson
Ty?? J Nilson
Selma Anderson
E Isidoros Bjorkholm
Hilda A Skogland
John Any Johnson
Anna Cskonka
Ragnhild Sjoholm
Jenny Janson
Karl Johan Sjostrom
Hsdixg Hedin
Gustaf G Karlson
Alfred Anderson
Tekla V Bergstrom
Ellen V Carlson
Adolf H Bogren
Fritz Erikson
Frans Edman
Sigrid T Edman
Selma J Erikson
Hilma N W Johansson
Emilia M E Persson
Anna M Engstrom
Trgns E M Erlandsson
Gerda Persson
Nils S Hakansson
Otto A Dahlin
Turs Dahlin
Gunda Dahlin
Karl U Sahlstrom
Gerda Eriksson
Sven G Tamreslsson
Karl J Augustsson
Sigfrid Augustsson
Karl F E Augustsson
Ola Kronholm
Ernst Svensson
Karl A Persson
Gustaf E Andersson
Ivar M Nilsson
Mathilda Olsson
Johanna Olsson
Otto M Olsson
Agda G Olsson
Agda G Olsson
Bror H R Olsson
Anna Lisa Gabriclsson
Lars T F Friis
Nicolai Tejtessen
Chris Dian Andersen
Hans C Johansen
Nicolino Johansen
Willy Johansen
Frederik A R Krafs
Carla Krafs
Gunnar Krafs
Manriz H Eriksson
Niels P Johansson
Artur P Jonsson
Arvid Bruck
Hjalmar R Ahlbrand
Kan?? Hansen
Herrick Hyland
Haze F W Meyer
Olaf Albert Olausen
Andreas Olsson
Gustaf Karlsson
Oli?? C Jeflin??
Hans Cler Hansen
Anna Elo Sjolin
Hulda Johnson
Marten Bernhard Anderson
Hilma Anderson
Anna Beate Normann
Beate Othilie Normann
Ingeborg Augustusen
Elisabeth Augustusen
Karoline Augustusen
Thorleif Lend Olsen
Ragna Josefine Karlsen
Rudolf Anderson
Kunbkonrad Shoglund
Iver Ermund
Bernbard Kondsen
Louis Kondsen
Haakon Opheim
Peder Opheim
Even Skogen
John Leidal
Oll Leidal
Oscar Engstrom
Anders Hoglund
Tner Henning
Oline Henning
Edeving Henning
Torlang Henning
Lovise Henning
Magda Henning
Olav Henning
Signed Henning
Torleif Henning
Per Gronvik
Lars Gronvik
Manfred Larsson
Thyra Jensen
Gala Nilsson
John Karlsson
Johan Lundberg
Arvid Lundquist
Carl Andersson
Matti Hyvonen
Lydia Herneaho
Flmari Herneaho
Maria Herneaho
Saima Herneaho
Erva Pasanen
Luna Niemi
Edvard Lehti
Lydia Kallis
Kalle Westerbacka
Kustaa Lehmus
Oskar Hoglund
Anian Bistrom
Karolina Nyhaven
Bertha Nyhaven
Urho Nyhaven
Helvi Nyhaven
Antti Kortetainen
Roha Herrala
Aili Herrala
Wieno Herrala
Kalle Herrala
Oskar Salonen
Ellen Nordman
Arvi Kivisaari
Sanna Ulvila
Martta Ulvila
Taivo Ulvila
Juho Kuparr
Arvo Haavisto
Nestor Kranni
Selma Kiviluoma
Saima A Juhola
Evi Elina Huhtamaa
Viktor A Laaksonen
Juho Fsak Simola
Ida Ryopas
Otto Ryopas
Frans Ryopas
Urho Ryopas
Joakko Klint
Towo Klint
Kalle Klint
Antti Torri
Anshelm Mullykoski
Edward Priha
Anna Nokelainen
Walter Bodman
Antti Hyvonen
Frans Rantanen
Viktor Bradenholm
Selim Arpalahti
Kalle Perkiomaki
Kalle Simila
Alma Simila
Lili Simila
Walde Simila
Anne Simila
Maria Skata
Signe Skata
Greta Skata
Erik Skata
Anna Lovisa Pakarinen
Adolf Eerikainen
Matti H Eerikainen
Maria Eerikainen
Linda Eerikainen
Ida Utriainen
Erik Eskelinen
Wille Raisanen
Saamuel Mansikka
Matti Kotila
Juho Kotila
Eino Kotila
Wuvi Maki
Evald Maki
Hilja Maki
Weikko Maki
Samuli Ojala
Lempi Hirvyarvi
Lempi Luhtala
Arvo Savikko
Juho Pekkanen
Juho Ahola
Axel Lampinen
Kaarle Murto
Frans Saukola
Kaarle Koivuniemi
Matias Makela
Arvo Ruokola
Juho Kivela
Taavetti Ruokolo
Autusti Puurula
Albert Storgard
Herman Unger
Feliks H??
Antti Wu??
Amanda Waltanen
redrik Wainio
Olga Ylijoki
Sofia Ojala
Erkki Pajunen
Aleksis Kirkland
Lauri Meriluoto
Emil Linden
Toivo Paljakka
Nandi Wirtanen
Herman Sironen
Juho Ylonen
Amanda Makkonen
Jalmar Sipper
John Makela
Suoma Jarvinen
Mimmi Myllymaki
Flmari Hakkarainen
Flmari Muhonen
Tilta Jawiniemi
Herman Kakko
Enne Hietikko
Kate Saarman
Kalle Kivioja
Urho Sundberg
Ida Wiljakarnen
Hetvig Laakso
Anna Uimonen
Anna Uimonen
Saimi Natri
Sylvia Natri
Adiel Harju
Martta Hakola
Gijo Rosengren
Josefina Lusenjus
Kalle Hasu
Lusa Hasu
Aili Hasu
Loja Hasu
Helli Hasu
Elsa Alarahokoski
Lempi Heinonen
Kuarle Kauhaanpaa
Antti Wutaaho
Boruch Lohkis
Itte Lohkis
Josef Smieczyk
Antoni Wilpart
Karl Swietojewski
Julian Stecker
Arthur Delille
Felix Debie
Vital Joos
Alfons Dedecker
Raymond Bemerrie
Levi Debie
Charles Hutschant
Edmond Van Hoenacker
Marie Van Hoenacker
Edwardo Costa
Gerlonde Fonseca
Isabel Bernardo Brite
Maria Palmira Viegas
Maria Viegas
Francisco Gaspar Martins
Candido Fernandes Capella
Antonio Flonandis Capella
Piotr Drobnak
Maryan Skalecki
Basche Blum
Hinde Blum
Rewke Blum
Ite Nowakowski
Aron Nowakowski
Scheindel Nowakowski
Peisach Nowakowski
Abram Pincyur
Grasila Trumbacjik
Siegmund Karalewitz
Mikolas Katarsis
Michalina Polunnte
Wadewsly Balvosat
Kasimiras Cyolknnas
Hersch Lerner
Benet Katz
Daniel Grincyak
Franziskus Rozenas
Sarah Winokur
Maciej Ambrosuk
Anna Ambrosuk
Josefa Ambrosuk
Ciol Dubanski
Ursula Kuezinskute
Ursula Dolrowalskinte
Stefan Sziwanski
Josefa Tunkiel
Vicente Kischel
Jurgis Luczinskis
Petronilla Luczinskis
Reisel Awerbuch
Noach Awerbuch
Zeitel Belinsky
Berel Belinsky
Israel Lewitan
Josef Szidlanski
Wolf Lissey
Chane Podchlebrick
Joseph Vasilonis
Antonina Markiewicz
Jonas Kianlukis
Aniela Wydra
Glazel Kolsky
Franziska Nawojczik
Anna Galomte
Schmul Mifelew
Bessie Kotzen
Alter Kotzen
Gele Zoltowski
Stanislaw Rakowski
Mendel Gitermann
Maryanna Kolpak
Ignac Padgciski
Peter Aleszczyk
Ignacas Lingas
Jonas Andickas
Kazimir Waszkiewicz
Anton Alukis
Apolinia Rubinow
Stefania Rubinow
Constanty Rubinow
Adolf Kupraszewicz
Ziole Joselowicz
Michal Gabrinowicz
Ester Polanski
Brojudel Licht
Chaim Pticher
Jankel Gutmann
Lipe Kanfmann
Chume Urban
Ides Urban
Dwoine Etkin
Josefa Gabis
Abram Etkin
Sucki Moischkowitz
David Wengowski
Stefan Lubacz
Beni Silbermann
Crcheja Surlute
Maria Putelewiczinte
Anna Uszkewicz
Kamila Uszkewicz
Julian Weselowsky
Konstanti Weselowsky
Chane Eisen
Nichle Eisen
Leib Eisen
Malke Eisen
Wasily Werschhow
Andrey Grebennikow
Gerosim Maljunow
Stanislawa Aniolkowska
Anton Aniolkowska
Adam Aleszkewsiz
Viktor Boris
Rosalia Kudrauskute
Julian Skomczki
Anna Bilinska
Cecilia Bilinska
Katie Stopuky
Parl Anaska
Adam Gumbis
Jurgis Pakauszis
Jan Bonikowsky
Susanna Litwinsite
Jipe Berger
Moische Polansky
Ester Chomak
Leah Chomak
Sarah Chomak
Monika Wirbalas
Aron Greenberg
Leonia Wojcikow
Maryanna Gendrolus
Anna Gendrolus
Jan Zogrobski
Veronika Dukyaisyavnat
Julia Dobrowolskut
Malwina Mihalonis
Misbolina Borowik
Alexander Laskowski
Semion Jackiewicz
Bene Rubenstien
Dawid Berkmann
Ruwen Pejsshachowicz
Anna Samoszka
Emilie Laurcczhite
Helena Romecka
Anastasia Szanlis
Josef Brelwitis
Josef Wiszniewski
Antonia Blasmke
Ursula Bublanskinte
Bruns Bichnicwicz
Beate Bichnicwicz
Monika Petraszun
Anna Juszkitz
Anna Butkite
Wladyslawa Kordylewska
Jan Strumski
Boleslaw Hryn
Wladyslaw Juslewski
Anella Halko
Emy Korn
Francisek Wojacak
Sabina Wolodszka
Helena Wolodszka
Antonas Staniulis
Itzko Smitt
Sarah Smitt
Feige Smitt
Zallel Stepanski
Stanislaw Sokolanski
Keile Adler
Natalia Pautelewa
Aron Solowcjczik
Teodor Augustyniak
Nikodim Kapela
Mariana Shomorska
Boleslaw Shomorska
Ursza Sanleunty
Marcella Cezelski
Mariona Cezelski
Schlojme Scherman
Albin Iwanitzki
Stanislawa Iwanitzki
Boleslaw Iwanitzki
Siegmund Iwanitzki
Daniel Antonik
Adam Jakubowsky
Stanislawa Pietkiewicz
Albertus Goosen
Fredericus Johannes Blokland
Zofia Dombkowska
Massi Gudde
Chaje Gudde
Elesaweta Kollenberg
Anna Polos
Kazimer Szanczuk
Jadwiga Waljuk
Feige Schohman
Goebel Schohman
Zalmen Schohman
Libe Prusky
Schepsel Prusky
Rochel Gluskin
Musche Gluskin
Dorotea Zuba
Elisawety Zuba
Olga Zuba
Maria Zakryckaja
Mowscka Drabkin
Josef Pawlikewitz
Peisach Portnoj
Ustine Gornazka
Wera Gornazka
Pawel Lapiny
Olga Juda
Henia Abelewitz
Jachel Moses Abelewitz
Leib Rowner
Lisa Osolin
Stefan Kolenda
Moische Buchler
Elena Maczulsky
Carl Maczulsky
Stanislaw Maczulsky
Jadwiga Maczulsky
Iwan Kowalefsky
Anastasia Paszkewitz
Abram Grubman
Dweire Grubman
Abraham Binjamin
Franz Michel
Conrad Sinner
Conrad Jacob
Ester Galitzky
Chane Mere Galitzky
Jankel Seigal
Elke Ackanowskaja
Dase Woronczuk
Salman Scher
Riwka Feldberg
Witel Feldberg
Etel Feldberg
Zisel Feldberg
Jankel Feldberg
Stisie Gilman
Avelie Pindok
Stanislaw Pindok
Josef Pindok
Mirel Beker
Marjan Beker
Wasily Kuczien
Jankel Odesser
Tekla Garbarzuk
Warwara Garbarzuk
Lazar Larnakhy
Sora Rubinofa
Maria Widerholdt
Regina Widerholdt
Soloman Widerholdt
Katharina Widerholdt
Feodosy Stogny
Katharina Schwartzhopf
Katharina Schwartzhopf
Wladimir Kasperowitz
Iwan Krasnowsky
Stefania Januskewitz
Waclaw Werbitzky
Leiser Insuk
Ruchle Insuk
Aron Insuk
Jacob Insuk
Michel Katz
Morduchay Katz
Wazlaw Pleschek
Beile Sadowskaja
Chane Sadowski
Feige Sadowski
Chatzhel Sadowski
Johana Sadowski
Wladislaw Krschinewsky
Konstancia Krschinewsky
Graty Schivinsky
Stanislaw Schivinsky
Stefan Glowatzky
Rosalie Glowatzky
Josefa Glowatzky
Judho Bregman
Schlioma Bregman
Aron Lerman
Jan Jurewitz
Elisabeth Horst
Piwe Gankin
Wasily Lalaew
Andrey Samusenok
Anton Samusenok
Iwan Kosinlko
Jadwiga Geibowitz
Aron Johnkna
Feodor Lelepnen
Sergey Ermakow
Waniky Wen??Kow
Trofim Jancenko
Efim Andreitzik
Slawa Gontownik
Elijam Gontownik
Anna Stalkewitz
Baltromeja Shapinsky
Osip Lyhasim
Matwey Chanewitz
Chane Gurowitz
Ludwig Kocharowiez
Elena Senkewitz
Kasper Wisotzky
Michael Skrunda
Ewsey Liachof
Iwan Kosinlko
Iwan Chorsunof
Domicella Mihuezenko
Jan Szkrzak
Ivan Suoazic
Michael Soloaki
Ewa Reichel
Katharina Kreutz
Anna Birett
Janis Upench
Katharina Upench
Jacob Galuk
Ester Ramreba
Blume Glater
Rewke Raizberg
Fradel Raizberg
Jossel Raizberg
Pinkus Raizberg
Riwke Biberhard
Janis Stabin
Jans Grigo
Minna Behrsin
Hersch Hewelmacher
Hode Crelewitz
Roche Crelewitz
Jankel Crelewitz
Abram Crelewitz
Schboma Crelewitz
Pelagea Nowosad
Jankel Milman
Jacob Sprude
Nikolaj Zacharetz
Elisa Bejan
Jossel Gabraner
Maria Fedoruk
Stefania Doda
Johannes Batt
Chasie Biberhorn
Dwine Biberhorn
Chaike Biberhorn
Mowscha Biberhorn
Nakeschda Fedoruk
Kazimer Mesjak
Daniel Doroschzuk
Alexander Johnbowitz
Leon Burda
Maksim Kusik
A?? Bleick
Isedor Altmien
Mendel Johnsky
Osip Kyzko
Stanislaw Puschkin
Maria Puschkin
Franz Puschkin
Josefa Puschkin
Feodor Czikida
Dmitry Strak
Iwan Jawgel
Michael Jawgel
Nikita Kaidanik
Andrei Zarsky
Semen Awtuchowitz
Naderchda Awtuchowitz
Gregory Gepho
Natalia Baranowsky
Alexey Backer
Georg Schinkewitz
Nikolaj Plaksa
Nicolaj Borkofsky
Feodor Kowalsky
Itzko Jalinsky
Emelian Shdan
Anton Bartaschowitz
Anna Stulpin
Kazimir Franzhaitis
Anton Stulpin
Boleslaw Zajkowsky
Trofim Krawczuk
Ignaty Slepezuk
Iwan Utyra
Leman Luzewitz
Alexey Luzewitz
Stephan Lapaitzuk
Maria Luzewitz
Fedor Luzewitz
Afanasy Lagodiz
wan Pazrlowsky
Fedor MacHurwetz Lofarzak
Feodosy Kononzik
Tichon Gulink
Danerjl Kiluk
Emelian Krupodrof
Dmitry Krupodrof
Georgy S??Kow
Jonas Maruska
Anna Keilinkowski
Anton Keilinkowski
Petras Korsikowski
Michael Undrunay
Alexey Switzarenko
Sergey Posmakof
Danyl Gukoff
Josef Klinkowitz
Nikifor Rowalzak
Neick Aul
Anna Aul
Ervie Aul
Kaspar Ruppel
Johanes Kreinert
Fridrich Zittel
Uljan Mikuliez
Audrey Tomasefsky
Timofei Chrabry
Joseph Birnord
Simon Birnord
Benjamin Birnord
Leib Masarsky
Johan C Stefan
Lukjan Krymowsky
Sawa Zialko
Stefan Shrebetz
Agakhan Karam
Danyl Podgainy
Emelian Legutzky
Alexey Bondarowetz
Semen Weremeitzik
Wasily Balay
Friederick Nuss
Iwan Korotzenko
Feodor Kapitanof
Ignaty Maslof
Stepan Schkljarenke
Leonty Janczewki
Karikel Marhar
Isarim Schatachjautz
Alexander Retger
Amalie Gis
Amalie Gis
Emanuel Gis
Mordach Lerman
Abraham Givargis
Berko Oservwitz
Jacob Baba
Arsak Saakoly
Wladimir Bushdeira
Sergey Ermakow
Johan Lasar
Mowscha Kantor
Jakow Marczuk
Pawel Spodobetz
Iwan Degel
Marfa Nesterenks
Azriel Tatarker
Frume Tatarker
Chawe Tatarker
Chone Tatarker
Chase Tatarker
Leon Tatarker
Maxim Kulaschniker
Iwan Feschzenki
Charise Biberkard
Dweire Biberkard
Charke Biberkard
Mowscha Biberkard
Audrey Goliezenko
Love Morskaja
Moische Morskaja
Merlach Morskaja
Alexey Ponomarew
Audrey Tolkazew
Konstantin Komonenke
Nicolay Krawczenho
Rownals Latweitas
Anton Michailowsky
Dmytry Bobryk
Josip Wapelnik
Matwey Luhaschewitz
Wladislaw Krop
Grigory Neozenho Lanbzenho
Niholoj Zyhaelo
Anton Zyhaelo
Paulina Sredritzka
Schmuel Barhan
Efim Zotow
Nikita Sereda
Fedor Liadof
Wasily Kowalew
Arsenty Boroworj
Feodor Bereanik
Jacob Sterk
Jacob Sterk
Peter Sterk
Heinrich Sterk
Christian Sterk
Georg Sterk
Sterk
Wilhelm Sterk
Anton Dewsky
Pawel Czernjak
Fedosy Dopylkow
Kirill Korol
Joahanon Gioargis
China Wischnjak
Michael Slastuchin
Nikolai Moroz
Philip Mahalyrow
Iwan Smystunow
Zlate Kahan
Nakar Kowenjas
Polimht Kosoris
Foma Schikorenko
Feodor Kireew
Parhad Jacob
Johanan Alexander
Samuel Mooshiel
Jacob Schtuhart
Amalia Schtuhart
Jacob Schtuhart
Audrey Pehula
Nikifor Awdeenks
Heinrich Hinergardt
Leonid Boph
Jacob Golerhoworouin
Iwan Usow
Fredrick Weber
Jacob Hartung
Maria Hartung
Alfred Hartung
Frieda Hartung
Jacob Kreis
Heinrich Grin
Elisaweta Grin
Maria Grin
Anna Grin
Michail Murazewgolenko
Nikon Konowalenok
Emil Pelzer
Grigory Becpali
Iwan Minenko
Mefody Tarasenko
Fegot Schatoba
Nicolay Minenko
Benjamin Moosher
Michael Byhow
Schewa Stotland
Beile Stotland
Leie Stotland
Georg Horn
Heinrich Deis
Louise Deis
Georg Deis
Andreas Deis
Heinrich Deis
Konstantin Pasckhewitz
Wicenty Swib
Iwan Swib
Dmitry Sanonik
Danie Kriwenja
Isidor Puomarzuk
Josif Rupzenko
Jacob Maranenho
Chane Chaie Lewitas
Aron Erkes
Jose Radomysenky
Leie Chushaja
Ignaty Rimareen
Wasily Korsun
Michail Solodki
Ustin Sergejena
Emuel Begleahow
Limofey Maimalopky
Mantze Chaie Kotlihowa
Yale Schuchman
Scheine Schuchman
Basse Schuchman
Braine Schuchman
Jossel Schuchman
Johannes Fischer
Christina Fischer
Fedor Schkolay
Peter Capenok
Feodor Areschzenko
Wasily Nowikow
Semen Romanhof
Wassily Litwinow
Stepan Aljuschenok
Lasar Waczila
Feodor Woronho
Audrey Semendyow
Ekaterine Iwasko
Prokofy Dubewitz
Audrey Golod
Boris Kosenzuk
Peter Dorogohupetz
Adam Lupitza
Vicente Lankewitz
Franz Ignatowitz
Wladimir Rudig
Roman Robasjuk
Audrey Goretzky
Feodor Ronanjnk
Peter Ronanjnk
Alexander Tepun
Iwan Joglopsky
Michalina Joglopsky
Benjamin Tawraj
Johohan Havel
Joel Mooshiel
Babajan Sargis
Wazlaw Sakzerba
Jacow Boydakow
Iwan Mazepa
Christine Mazepa
Itzik Molin
Chawe Chaiesore Molin
Pesse Molin
Shimon Dawid
Agajan Sayad
Shaul Giwargis
Markos Giwargis
Idel Wesgnewetzer
Cipe Wesgnewetzer
Lewie Wesgnewetzer
Konstancia Sadowsha
Henry Muller
Pauline Muller
Henrich Muller
Beache Muller
Chrestian Ruppel
Mareak Ruppel
David Jordarwooick
Victoria Pawolinte
Phe Lemors Werteletzby
Jeroschkewrty
Joka Panoric
Michal Vukosich
Gjuro Haridic
Anton Cerorski
Vinko Hermanaie
Vinko Lukenic
Anton Kucic
Janko Kardian
Ivan Gjurck
Matija Hajdinjak
Matija Kunter
Mihal Grickavnjak
Ivan Gabor
Gjuro Novacic
Janko Poljak
Pero Kalaj
Franjo Zeger
Franjo Vidovic
Josep Baner
Jakob Baner
Franjo Rosan
Mato Spisic
Gjuro Lukics
Karlo Ribar
Anton Herceg
Marjan Rapelj
Stefan Brezaric
Franjo Trputec
Mato Skenderovic
Toso Krman
Janko Kompes
Jakob Bradie
Vinko Novorel
Rudolf Karas
Antan Vidovic
Walenty Pikula
Josefa Pikula
Wladyslaw Pikula
Marjanna Zajic
Alexander Zajic
Johanna Zawisza
Josef Senic??Gk
Antoni Wilfert
Josef Gjurck
Mato Crujak
Josip Crebocan
Mato Garanic
Jana Garanic
Stevan Burnckoni
Jakob Faust
Katarina Faust
Josef Klingen
Gaspar Ferber Hold
Elizabetha Ferber Hold
Gaspar Ferber Hold
Elizabetha Ferber Hold
Mirko Babic
Rosalia Babic
Gjuro Posanec
Mijo Matasic
Piotr Tanculski
Jan Trendowski
Wincenty Dus
Jan Saj
Maryanna Kielijon
Serafin Petrovic
Marya Rupcic
Jonas Hegedus
August Stolfa
Heinrich Holger
Joso Rozic
Stjepan Rozic
Blaz Miketic
Josef Sepak
Stjepan Zoinshi
Ivan Rogina
Josip Simunkovic
Nikola Simunkovic
Imbrs Dumijahovic
Slavko Boricevic
Anton Bojda
Vid Popovic
Ivan Kos
Jakob Mikulic
Jakob Mikulic
Adam Zec
Rade Zec
Miko Car
Anton Jelaca
Stefan Pavlina
Juraj Males
Franjo Urbanek
Karl Urbanek
Franjo Urbanek
Jovo Miscevic
Nikola Kunjesic
Ioan Hizak
Mijo Margetic
Paul Gregec
Josip Hlebec
Stjepan Novasia
Rok Hajduk
Andrya Bjelic
Smbro Car
tepan Secen
Sanis Kubica
Milorad Radin
Milorad Peter
Imbro Miksic
Johann Benec
Gaspar Bersek
Juraj Starinac
Luka Brdaj
Ignac Pintur
Stepan Horoat
Nikola Cosic
Sava Drenovac
Milan Lazic
Luka Nikolic
Ltevo Bedakovic
Mato Arapmac
Franjo Topljak
Martin Kasebay
Marks Hegedus
Stefan Hans
Ferenc Ivanovic
Josef Soyke
Paul Gancz
Joseph Drapkin
Maryanna Palasz
Ignacy Kielyan
Iosip Bodrozic
Martin Galic
Mijo Galic
Ivan Galic
Iwa Burazin
Tosv Burazin
Ivan Burazin
Marcin Cakarz
Maya Czyn
Hama Ohulita
Iwan Omjsczuk
Josef Kovacevic
Ivan Bajza
Elisabeta Bajza
Ana Skrtic
Marica Skrtic
Joha Skrtic
Stanho Skrtic
Mato Subic
Josef Leufer
Slavko Pajor
Yurhon Schupikow
John Harding
Michael F Madden
John Odonnell
Margaree Duggan
Catherine Collins
Thomas Loder
Michael Barrett
Nora Oreilly
Michael Guy
Edmond Dillon
Mary E Crowley
Mary Connor
Kate Hernon
Thomas Canavan
Margaret Mcgaughran
Mary Mcgaughran
James Mcgaughran
John Mcgaughran
Mary Hanmore
Maggie Davis
Peter Henigan
James Oleary
Annie Heavey
Bridget Walsh
Denis Holland
Denis Driscoll
Coleman Carter
Bridget Leary
Edward Gerrity
Bridget Tangney
Michael Matthews
Catherine Shannon
Mary Finnerty
Thomas Linehan
James Sullivan
Denis Leary
Ellen Fay
Margaret Fay
Michael Collins
Katie Odonnell
Margaret Mc Hugh
Mary Oconnor
Agnes Mc Dermott
Margaret Raftery
Mary E Raftery
Bartley Flaherty
Mary Kane
Martin Kane
Annie Crowe
Sarah Mc Mahon
Patrick Reddan
Patrick Mcloughlin
Julia Dineen
Bridget Downey
James Christie
Margaret Burke
Edward Oconnor
Gertrude Delonghery
May Halvey
Hannah Murphy
James Odonnell
Annie Glynn
William Sullivan
Michael Connor
Mary Melvin
John Lawlor
Katie Byrt
Bridget Sallagher
Patrick Mc Donald
Katie Hinchy
Cornelius Flynn
Maggie Gaffney
Annie Grenham
Mary Murray
John Brady
Patrick Gullschy
Daniel Fitzpatrick
Sabina Gaughan
Bridget Ruddy
Catherine Ruddy
Minnie Leary
Margaret Mc Donough
Stephen Devane
Maggie O'donnell
Hanna Lydon
Michael Mcdonagh
Tom Connor
Rose Shannon
Thomas Dalton
John Sullivan
Richard Wye
Joseph Delmage
Patrick D Sullivan
Kath Devine
Mary Sullivan
Margaret Cavanagh
Mary Begley
Hannah Begley
Bridget Carney
Sarah Coyne
James Lawry
William Casey
Michael Donoghue
Patrick Mc Donnell
Michael Gavin
Margt Donnelly
Thomas O'donnell
Margaret Gannon
Crssle Obrien
Mera Harmon
Michael J Hughes
Ellie Omalley
Bridget Omalley
Mary Vaughan
Mary Curran
Catherine Curran
Frances Curran
Delia O'brien
Thomas Kelly
Richard Fogarty
Michael Maher
Mary Hickey
Annie Horan
Patrick Holland
Margaret Killalea
Norah Murphy
Sarah Murphy
John Gormally
James Bolton
John Condoughlon
Annie King
Jeremiah Cahill
Delia Kelly
Mary Kelly
William Turney
Geter Whalen
Bridget Tolan
Mary Mcdonagh
Michael Curran
John Keuaedy
John Odonnell
James Mcdonagh
James Curran
Patrick Lucey
Agnes Gannon
Katherine Murphy
Thomas Murphy
Nellie Smith
Kate Smith
James Sullivan
Bridget Connor
Jenn B Odonnell
John Walsh
Mary A Obrien
Julia Conway
Johanna Granville
Michael Kett
Kate Connolly
Annie Connolly
Mollie Sullivan
Denis Keane
Patrick Keane
Patrick Kuhrne
Batt Daly
Patrick Broderick
Michael Lennon
Patrick Senlly
James Griffin
John Connolly
Denis Connolly
John J Sheehan
Marten Conlan
Bridget Mc Mahon
Maud Johnston
Pacrish Oconnor
Michael Lowery
Edward Sweeney
Récapitulation
Saloon Passengers: 80
Second Cabin Passengers: 298
Third Class Steerage Passengers: 1,452
Total Number of Passengers: 1,830
Laconia Arrival in Boston, June 1913 - Many Bridal Couples on Laconia
Cunard Liner Brings 1830 Passengers, Including Many American Tourists -- Several Bostonians Come by Rail from Portland.
The Boston Daily Globe. 19 June 1913 Evening Edition Page 8
Summary of Passengers
Bringing 1830 passengers, including many American tourists, the Laconia of the Cunard Line, Capt. W. R. D. Irvine, reached port this morning from Liverpool and Queenstown. She was delayed at quarantine about an hour, and it was after 9 o'clock when she swung into her berth at East Boston, where several hundred people had gathered to welcome friends.
On board were 80 saloon passengers, 298 second cabin and 1452 steerage. The liner called at Portland, where she landed 262 passengers, most of whom were destined for the Canadian Northwest. A few Bostonians in the first cabin, who were in a hurry to get home, also left the steamer at Portland, and came to Boston by train last evening.
Prominent Passengers
Honeymooners and professional people were included in the first cabin list. Edmund J. Casey, head of the Brewers' Association, and his bride, who was Miss May Whalen, returned from their bridal tour. They were married April 18, and left immediately for Europe, where they have since been traveling through Switzerland, Italy and England.
Mr. and Mrs. J. Keith Clement and Mr. and Mrs. C. C. Nash of Boston also returned from their honeymoon.
Andor Garvay, known as the Hungarian Ibsen, and Mrs. Garvay arrived on the liner and will visit the principal cities in the East. Mr. Garvay is a dramatist of note and a writer of short stories. He brings a letter of introduction from the minister of Education in Hungary to prominent officials at Washington.
Mrs. G. Herbert Windeler, wife of a prominent Boston insurance broker, and her little daughter Evelyn, returned from a nine months' stay in England and Switzerland, and were met at the pier by Mr. Windeler.
Miss Clara E. Craig of Providence, who was sent to Rome by the Rhode Island school to study the Montessori system of education, and her brother, Rev. James A. Craig, were also on board.
Among the Bostonians were William H. Ames and Mrs. Ames, who went over April 5, and have spent most of the time in France; J. J. Healey, the well-known merchant, who went over six weeks ago, and decided to return on the Laconia only a few hours before she left Liverpool; Mrs. Frank W. Andrews, David Sears, Mr. and Mrs. A. J. Abbott, Miss C. Abbott, F. S. Carr, M. F. Carr, N. H. Emmons, Mr. and Mrs. D. Fiske, Miss G. K. Fiske, W. F. Fiske, Mrs. Charles S. Halliday, Richard Mayer, Dr. J. L. Nichols, Mrs. Nichols.
C. C. Buckley of the B. A. A. A. L. Madden of Boston and J. H. Farrell of Pawtucket returned from a motoring trip through the English lake region, Scotland and Ireland. S. J. Meeker and J. R. Meeker of Bath toured Italy, Switzerland and France in their car, covering over 3000 miles.
Charles E. Lauriat, the publisher, and Mrs. Lauriat, who went over three months ago, were also on board. They visited Florence, Milan, Paris and London, meeting their son at the British metropolis. W. Wallace Potter completed a tour of the world with the arrival of the steamer. He left San Francisco 10 months ago for Honolulu, Japan, China, the Philippines and Europe.
Richard Dana and his wife, who was a daughter of the poet Longfellow; S. Y. Nash and Miss E. Y. Nash of Brookline, Charles R. Sturgis and Miss. Evelyn P. Sturgis of Brookline were also on board.