RMS Campania Passenger List 23 September 1899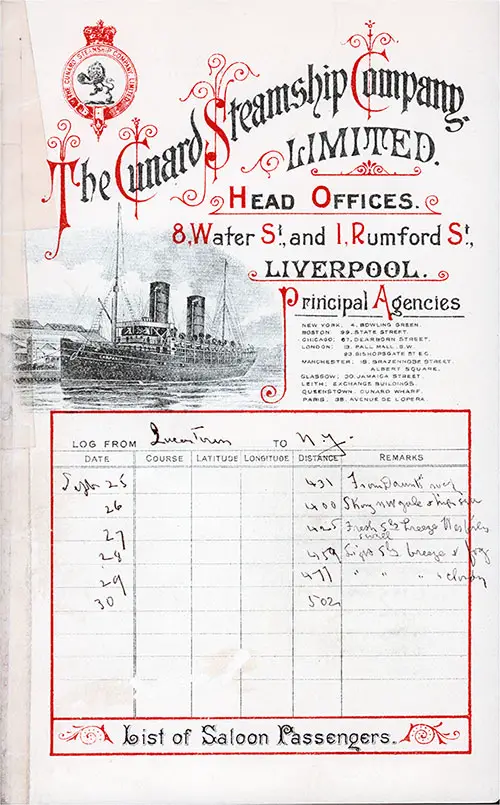 Front Cover of a Saloon Passenger List for the RMS Campania of the Cunard Line, Departing Saturday, 23 September 1899 from Liverpool to New York, Commanded by Captain J. B. Watt. GGA Image ID # 17456d60a7
Notable Passengers included: Bernard N. Baker, Prof. George F. Barker, Dr. L. F. Barker, Lord Charles Beresford, William Christie, Stuart A. Coats, Ethel Cohen, General John Gill, Edwin Lawrence Godkin, Benjamin S. Guinness, Augustus D. Juilliard, The Right Hon. Arnold Morley, M.P., Victor Nordan, William Wallace Spence, William T. Wardwell.
Senior Officers and Staff
Captain: J. B. Watt
Surgeon: Francis VERDON
Purser: T. Graham
Chief Steward: W. T. BRYDEN
Saloon Passengers
Mrs. A. N. Allen
Mr. John Ames
Mrs. Fred L. Ames
Miss Ames and Maid
Mr. H. Van Arsdale
Mrs. Van Arsdale
Mrs. Frida Ashforth
Mr. H. G. Aster
Mr. S. H. Austin
Mrs. Austin
Mr. A. G. Babington
Miss B. J. Baczalupo
Mr. Bernard N. Baker
Miss Baker
Miss Baker
Prof. George F. Barker (Note 1)
Dr. L. F. Barker of Johns Hopkins University, Baltimore
Dr. Richard Barschall
Mr. A. Benson
Lord Charles Beresford and Valet (Note 2)
Lady Beresford and Maid
Mr. Sylvan Bier
Mrs. Bier
Mr. Hugh T. Birch
Miss Bone
Mr. J. Boskowitz
Mrs. Boskowitz
Miss Florence Boskowitz
Miss Irma Boskowitz
Mr. G. W. Brandt
Rev. Francis Brown (1849-1916)
Mr. Brown
Mrs. Brown
Mr. Louis S. Brush
Mr. Willard Parker Butler (Attorney (March 28, 1857-1935))
Mr. John L. Cadwalader and Valet (Attorney (1837 - March 11, 1914))
Mr. Angus Cameron
Mr. Evan F. Cameron
Mrs. Angus Cameron
Miss Cameron
Master Angus S. Cameron
Rev. G. C. Carter
Mrs. Carter
Miss C. Choate
Mr. William Christie (Note 3)
Mr. C. H. Clark, Jr.
Mrs. Clark
Mr. Stuart A. Coats and Valet (Note 4)
Mrs. Coats and Maid, Child and Maid, Infant and Nurse
Mrs. J. Coddington
Miss Coddington
Mr. S. L. Cohen
Mrs. Cohen
Miss Ethel Cohen (Note 5)
Mrs. H. Colill
Mr. Howard Conkling
Mr. C. H. B. Corbett
Dr. Churchill Cornalt
Miss Helen Coughlin
Hon. J. Sergent Crain
Mr. W. Mansell Daintrey (William Mansell Daintrey (1848 - 27 May 1909))
Mr. E. L. Dangerfield
Mr. Francis L. Dangerfield
Mrs. E. L. Dangerfield
Miss Mary H. Dangerfield
Miss Sallie Dangerfield
Mr. S. C. Davidson
Miss S. F. Dickerman
Mrs. George E. Dodge
Miss Cissie Dodge and Maid
Mr. Patrick Donahue
Mrs. Donahue
Mrs. C. Donahue
Miss Mary Donahue
Mrs. John V. Donahue
Miss M. E. Doughtery
Mrs. Isaac Dreyfus
Miss Valeria Dreyfus
Mr. E. J. Duff
Col. James N. Duffy
Mrs. Duffy
Mrs. E. H. Duffy and Child
Mr. G. N. Dunell
Mrs. Dunell
Dr. W. L. Edwards
Mrs. Edwards
Mr. D. J. Elliot
Miss Elliot
Dr. Wm. Ely (William E. Ely (March 6, 1861- 10 Apr 1951))
Mrs. Ely (Alice Kirby)
Mr. Erik Enequist
Rev. P. J. Fahey
Mrs. M. Fatman
Miss M. Fatman
Miss E. Fatman and Maid
Miss Fitch
Mr. Fitzhugh
Mrs. Fitzhugh
Mr. D. G. Fleming
Mr. J. M. Flint
Mr. C. A. Freeman
Mr. T. H. French
Mr. Thomas Gallaher
Mr. Jas. A. Garland
Mr. C. T. Garland and Manservant
Miss Hilda Geist
Mr. Karl Gerwig
General John Gill (Note 6)
Miss M. K. Gillooly
Mrs. Glazebrook, Child and Maid
Mr. Henry Glazier
Mr. Isaac Glazier (Stockbroker ( - June 6, 1906))
Mrs. Glazier and Maid
Mr. S. W. Glazier (Simon William Glazier - Stockbroker (1830 - August 30, 1906))
Mrs. Glazier
Mr. E. L. Godkin and Valet (Note 7)
Mrs. Godkin
Mr. P. J. Goodhart
Mrs. Goodhart, Two Children, Companion and Maid
Master P. J. Goodhart
Dr. Wm. Green
Mrs. Green
Mr. Matthew Greenlees
Mrs. Greenlees
Mr. B. S. Guinness and Valet (Benjamin S. Guinness)
Hon. A. Hamilton
Miss J. M. Hamilton
Mr. Hance
Mrs. Hance
Mrs. W. W. Harral, Jr.
Mr. R. S. Hedges
Mr. Arthur Hill and Valet
Mrs. Hill and Maid
Mr. Pemberton Hollingsworth
Mrs. Hollingsworth
Miss Lina Hirsch
Mrs. Hone
Miss Hone and Maid
Mr. Howe
Mrs. Howe
Mr. Edmund G. Howe (1826-1907)
Mrs. John R. Hoxie
Miss Anna Hoxie
Mr. Arthur Hunter
Mr. Charles F. Irving
Judge Jackson
Mr. Marion M. Jackson
Mrs. Jackson
Mr. W. F. Jennison
Mr. Lucien J. Jerome
Mrs. Jerome
Mr. William Fell Johnson
Mr. Price Jones
Mr. A. E. Jones
Mr. A. D. Juilliard (Note 8)
Mrs. Juilliard and Maid
Mr. D. C. Keating
Mr. William Kennedy
Mr. Simon Knudsen
Mr. Fred Krause
Mr. A. E. Lamb
Mrs. Lamb
Miss Grace Lamb
Mr. F. Lassetter
Mrs. Lassetter
Dr. H. A. Lathrop
Mr. Thomas Learning
Mrs. Learning and Maid
Mr. J. Lindboe
Mrs. Gustave Loeser
Miss H. Bertha Loeser
Miss Longbottom
Mr. John T. Lord
Miss Mary B. Lord
Mr. Edward Lowe
Mrs. Edward Lowe and Maid
Master Edward Lowe
Miss Barbara Lowe
Hon. G. R Lyon
Mrs. Lyon
Mr. Arthur W. Machen, Jr. (Attorney (1877-1950))
Miss Fannie L. Magee
Miss Eliza J. Magee
Miss Anna J. Magee
Dr. Maguire
Mrs. Maguire
Signor Mancinelli
Mr. Chas. R. Marsh (Charles R. Marsh)
Mrs. Charles Marsh
Sister Mary
Mr. W. F. Mason
Mr. Jas. McAlpin-Pyle
Mr. D. H. McAlpin-Pyle
Rev. Wm J. McClure
Mr. Leo H. McColl
Rev. Alex. McGaffin (Alexander McGaffin)
Miss May M. McGodern
Very Rev. J. J. McLoughlin
Mr. Thomas McLoughlin
Mr. Meyer
Mr. A. Meyer
Mrs. A. Meyer
Miss Meyer
Mr. Phillip F. Meyers
Mrs. Meyers
Mr. Sarafino Saitha de Michele
Miss Mitchell
The Right Hon. Arnold Morley, M.P. and Valet (Note 9)
Mr. H. S. Morton
Miss Augusta B. Mulcahey
Dr. E. W. Mulligan
Mrs. Mulligan, Two Children and Maid
Miss H. Niel
Mr. Victor Nordan (Note 10)
Judge M. Outcall
Mrs. Outcall
Mr. John W. Paine
Mr. John Paine
Mr. J. V. Painter
Mrs. Painter
Miss Painter
Sir James Pender, Bart., M.P
Lady Pender
Mr. O. H. Perkins
Mr. H. M. Peyser
Mr. F. B. Pinkus
Mrs. F. S. Pinkus
Miss Pinkus
Master W. D. Pinkus
Mr. Newton Platt
Mrs. Platt
Dr. J. Van der Poel
Rev. George J. Prescott
Mrs. G. J. Prescott
Miss Prescott
Mr. Pringle
Mrs. Pringle
Dr. Arthur H. Remington
Mrs. [Sophie] Remington, Maid, Child (George Clifford Remington), and Special Stewardess
Mrs. J. P. Remington
Mr. W. Richardson
Mrs. J. M. Richardson
Master Herbert Richardson
Miss Corinne Richardson and Maid
Mr. Charles L Riker
Mr. James Roberts
Miss Roberts
Mr. J. P. Rosenberg
Mr. B. Rosenwald
Mrs. Rosenwald
Mr. V. Sydney Rothschild
Mrs. W. H. Rothschild
Miss Rothschild
Miss Ida Rowland
Mr. Allan Rundle
Miss O. Rutherford
Rev. R. J. Sadlier
Mr. Schneder
Mrs. Schneder
Mrs. Mae Schnehoefer and Child
Miss Gertrude Scholle
Mr. Philip Schuyler and Valet
Mrs. Schuyler and Maid
Mr. George Seeman
Mrs. Seeman
Miss Stella Seeman
Mr. S. A. Smith
Mr. Harold C. Smith
Mr. Bruce D. Smith
Mr. A. H. Smith
Mr. Walter B. Smith
Mr. Byron L. Smith
Mrs. Smith
Mr. C. Robinson Smith
Mrs. Smith
Miss Smith
Miss G. R. Smith
Miss H. R. Smith
Miss A. F. Smith
Mr. H. E. Southwell
Mrs. Southwell
Mr. W. W. Spence (Note 11)
Mr. Alfred Steinheim
Mr. Benjamin Stern
Mrs. Stern and Maid
Mr. Charles Sternbach
Mrs. Sternbach and Maid
Mr. David Stettauer
Mrs. Stettauer
Miss Stettauer and Maid
Mr. Richard Sutro
Mrs. Sutro
Miss Sutro
Miss Sutro and Maid
Mr. W. H. Tailer
Mrs. Tailer and Maid
Mr. Edward N. Tailor
Mrs. Tailer
Mr. John B Taylor
Mr. A. E. Taylor
Mrs. S. B. Taylor
Miss Elizabeth Taylor
Mr. G. C. Thomas
Mrs. Thomas
M. J. Tierney
Mr. George N. Tillman (George Newton Tillman, Attorney)
Mrs. [Martha] Tillman
Mr. Charles Timson
Mr. John A. Turney
Mr. Wm. T. Wardwell (Note 12)
Mrs. Wardwell (Neé Martha Wallace Ruff)
Mr. J. G Watson
Mrs. Wesley Watson
Miss M. Weadley
Rev. J. P. White
Comte de Wierzbicki
Miss L. Wignall
Dr. Reynold Webb Wilcox
Mrs. Wilcox (Frances M. Wilcox)
Mr. Clem Wild
Mrs. G. Huntington Williams and Maid
Mrs. A. Wiltsie
Miss Wiltsie
Mrs. A. L. Wiser
Mr. Jacob A. Wolford
Mrs. Wolford
Mrs. W. J. Wood
Miss Wood
Mr. W. J. Woodhead
Information for Passengers
Meals will be served in the Saloon at the following times :—Breakfast from 8-30 to 10; Luncheon at 1:00 pm; Dinner (a la Carte) at 7. Supper, if required, must be ordered before 10 o'clock. The Bar will be closed at 11:00 pm and the Smoking Room at 11:30 pm. The Second Steward has the arrangement of the seats at table.
Divine Service on Sunday at 10:30 am
All enquiries regarding Baggage should be made to the Purser.
Steamer Chairs may be hired from the Deck Steward at a cost of 4/- for the voyage.
Valuables and money should be deposited with the Purser who will give a receipt for same on the Company's form.
Information as to the methods of Custom's Inspection at New York, dutiable articles and rate of duty thereon, can be obtained from the Purser.
Passengers are notified that dogs cannot be landed in the United Kingdom unless a license has been issued by the Board of Agriculture, London. Forms for license can only be obtained by direct application.
Special Trains are run between Riverside Station, Liverpool, and Euston Station, London, in connection with the arrival and departure of these Steamers. All the other Railway Stations in Liverpool are within a few minutes drive of the Landing Stage.
Passenger List Notes
Geroge Frederic Barker MD. Professor of Physiological Chemistry at Yale College (July 14, 1835-May 24, 1910).
Lord Charles Beresford - Charles William de la Poer Beresford, 1st Baron Beresford, GCB, GCVO, FRSGS (10 February 1846 – 6 September 1919), styled Lord Charles Beresford between 1859 and 1916, was a British admiral and Member of Parliament.
Sir William Henry Mahoney Christie KCB FRS (1 October 1845 – 22 January 1922) was a British astronomer.
Sir Stuart Auchincloss Coats, 2nd Baronet (20 March 1868 – 15 July 1959) was a British politician and Member of Parliament for Wimbledon from 1916 to 1918 and then East Surrey from 1918 to 1922. In 1891 he married Jane Muir Greenlees of Paisley, Renfrewshire. - The Mrs. Coats listed above.
Medical Social Worker (May 25, 1892 - May 6, 1977).
One of Baltimore's most prominent financiers and clubmen, former President of the Mercantile Trust and Deposit Company (? - July 2, 1912).
Edwin Lawrence Godkin (October 2, 1831 – May 21, 1902) was an Irish-born American journalist and newspaper editor. He founded The Nation and was the editor-in-chief of the New York Evening Post from 1883 to 1899.
Augustus D. Juilliard (April 19, 1836 – April 25, 1919) was an American businessman and philanthropist, born at sea as his parents were immigrating to the United States from France. Making a successful career in New York City, he bequeathed much of his estate to the advancement of music in the United States. Trustees of his estate set up the Juilliard Foundation in 1920 to accomplish his goals, and in 1924 established The Juilliard School in New York City as a graduate music conservatory. Gradually programs were added in dance and theater.
Arnold Morley (18 February 1849 – 16 January 1916) was a British barrister and Liberal politician.
Victor Nordan (1862-1933). Victor Nordan was the son of architect Jacob Wilhelm Nordan, and was assistant at the father's office in the years 1881-84. He then studied at the South Kensington Museum (Victoria and Albert Museum) in 1884-85, and at the same time was an assistant to an architectural office in London. In the years 1886-87, Nordan was a student at the Königlich Technische Hochshule in Berlin.
William Wallace Spence - Baltimore Financier (18 Oct 1815 - 3 Nov 1915) General John Gill - listed above was his son-in-law.
William T. Wardwell (1 Feb 1827 - 3 Jan 1911) In the business world as a pioneer in the oil business, he helped organize the great Standard Oil Company and became its treasurer, which office he held till he retired from active business. A stanch total abstainer and Prohibitionist he was a prominent figure in the Prohibition party.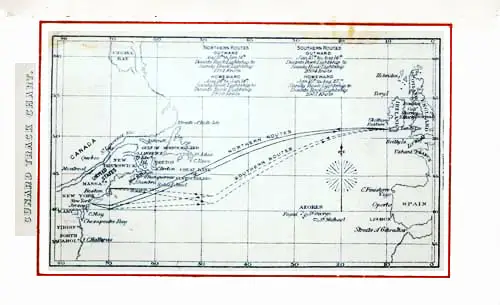 Track Chart from a Saloon Passenger List for the RMS Campania of the Cunard Line, Departing Saturday, 23 September 1899 from Liverpool to New York. GGA Image ID # 1746618e82