SS Ivernia Passenger List - 15 July 1908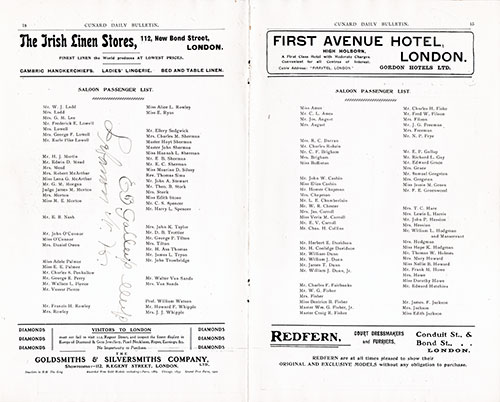 Saloon Passenger List for the SS Ivernia of the Cunard Line, Departing Wednesday, 15 July 1908 from Boston to Liverpool. Cunard Daily Bulletin, Ivernia Edition for Wednesday, July 22, 1908. GGA Image ID # 174950d86d
Saloon Passengers
Miss Ames
Mr. C. L. Ames
Mr. Jos. August
Mrs. August
Mrs. R. C. Barran
Mr. Charles Robzin
Mr. C. F. Brigham
Mrs. Brigham
Miss Buffinton
Mr. John W. Cashin
Miss Eliza Cashin
Mr. Homer Chapman
Mrs. Chapman
Mr. L. E. Chamberlain
Mr. W. R. Chester
Mrs. Jas. Carroll
Miss Veria M. Carroll
Mr. E. V. Carroll
Mr. Chas. H. Collins
Mr. Herbert E. Davidson
Mr. H. Coolidge Davidson
Mr. William Dunn
Mr. William J. Dunn
Mr. James T. Dunn
Mr. William J. Dunn, Jr.
Mr. Charles F. Fairbanks
Mr. W. G. Fisher
Mrs. Fisher
Miss Beatrice B. Fisher
Master Wm. G. Fisher, Jr.
Master Craig R. Fisher
Mr. Charles H. Fiske
Mr. Fred W.. Filoon
Mrs. Filoon
Mr. J. G. Freeman
Mrs. Freeman
Mr. N. P. Frye
Mr. E. P. Gallup
Mr. Richard L. Gay
Mr. Edward Grace
Mrs. Grace
Mr. Samuel Gregston
Mrs. Gregston
Miss Jessie M. Green
Mr. F. E. Greenwood
Mrs. T. C. Hare
Mrs. Lewis L. Harris
Mr. John P. Hession
Mrs. Hession
Mr. William L. Hodgman and Manservant
Mrs. Hodgman
Miss Hope K. Hodgman
Mr. Thomas W. Holmes
Mrs. Mary Howard
Miss Nellie B. Howard
Mr. Frank M. Howe
Mrs. Howe
Miss Dorothy Howe
Mr. Edward Hutchins
Mr. James. F. Jackson
Mrs. Jackson
Miss Edith Jackson
Mr. W. J. Ladd
Mrs. Ladd
Mrs. G. M. Lee
Mr. Frederick E. Lowell
Mrs. Lowell
Mrs. George F. Lowell
Mr. Earle Pike Lowell
Mr. H. J. Martin
Mr. Edwin D. Mead
Mrs. Mead
Mrs. Robert McArthur
Miss Lena G. McArthur
Mr. G. M. Morgan
Judge James M. Morton
Mrs. Morton
Miss M. E. Morton
Mr. E. B. Nash
Miss Alice L. Rowley
Miss E. Ryan
Mr. Ellery Sedgwick
Mrs. Charles M. Sherman
Master Hoyt Sherman
Master John Sherman
Miss Hannah L. Sherman
Mr. E B. Sherman
Mr. E. C. Sherman
Miss Maurine D. Silvey
Rev. Thomas Sims
Mr. John A. Stewart
Mr. Theo. B. Stork
Mrs. Stork
Miss Edith Stone
Mr. C. S. Spencer
Mr. Harry L. Spencer
Mr. John O'Connor
Miss O'Connor
Mrs. Daniel Owen
Mrs. John K. Taylor
Mr. D. B. Trottier
Mr. George P. Tilton
Mrs. Tilton
Mr. H. Asa Thomas
Mr. James L. Tryon
Mr. John Trowbridge
Mr. Walter Van Sands
Mrs. Van Sands
Miss Adele Palmer
Miss E. E. Palmer
Mr. Charles S. Penhallow
Mr. George E. Perry
Mr. Wallace L. Pierce
Mr. Vassar Pierce
Prof. William Watson
Mr. Francis H. Rowley
Mr. Howard F. Whipple
Mrs. Rowley
Mrs. J. J. Whipple
SUPPLEMENTARY Passengers.
Mr. F. Moore
Mr. Moody
Miss Moody
Mrs. Thurmond
Not on Board.
Mr. E. B. Nash
Mr. F. E. Greenwood
Summary of Passengers
First Class: 122
Second Class: 266
Third Class: 301
Crew: 265
Total Number on Board: 954
Information for Passengers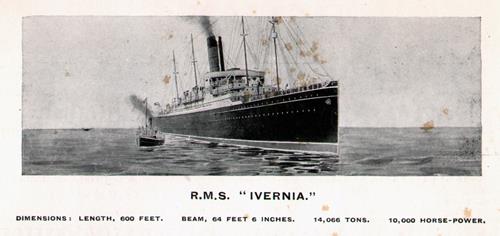 Divine Service.
, ---
Choral Service was held in the Saloon on Sunday at 10:30 am There was a good attendance, and at the close a collection was made in aid of the Seamen's Charities of Liverpool and Boston.
Amount realised £7 10s. 8d.
Daily RUNS.
Wednesday noon, from Boston Light-ship.
369 miles
Thursday, Lat. 41.23 N. Long. 54'24 W.
364 miles
Friday, Lat. 41.17 N. Long. 46.27 W.
366 miles
Saturday, Lat. 44'38 N. Long. 29.06 W.
38o miles
Sunday, Lat. 47.28 N. Long. 30'54 W.
381 miles
Monday, Lat. 49.45 N. Long. 21.40 W.
391 miles
Tuesday, Lat. 5rio N. Long. 11.36 W. 393 miles.
To Daunt's Rock
132 miles
Notice.
Passengers are urged not to leave any Articles of Value about the Saloon, Staterooms, or elsewhere, especially before the departure of the Steamer. Money, Jewellery, or other Valuables should be deposited with the Purser for safe keeping.
Camp Stools can be obtained from the Bedroom Steward.
Wireless Telegraph
Tuesday: At 9:45 am when leaving Boston, communication was established with the land station at Cape Code and maintained until 8:00 pm