RMS Franconia Passenger List - 22 August 1914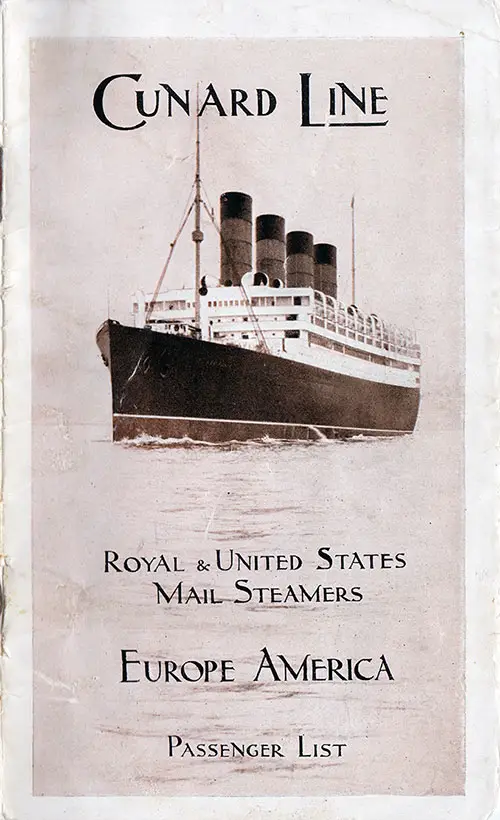 Front Cover of a Second Cabin Passenger List from the Steamship RMS Franconia of the Cunard Line, Departing 22 August 1914 from Liverpool to Boston, Commanded by Captain D. S. Miller, RD, RNR. GGA Image ID # 11e2788d5c
Senior Officers and Staff
Captain: D. S. Miller, R.D., R.N.R.
Chief Engineer: H. Davys
Chief Officer: G. S. Horsburgh, R.B.R.
Chief Steward: John Sleigh
Surgeon: A. W. MacKensie
Purser: E. C. F. Moore
Assistant Purser: H. S. Wroth
Second Cabin Passengers
Mr.  A. Adams
Miss Mary Adams
Mr.  W. Adams
Mrs.  M. G. Adams
Mrs.  S. A. Adams
Miss E. Adams
Mr.  Harry J. S. Ainscow
Mrs.  A. Ainscow
Mr.  E. Ainsworth
Mr.  W. C. Answorth
Mrs.  Answorth
Miss D. Answorth
Mrs.  T. W. Alcock
Master Alcock
Mr.  George Allen
Miss E. A. Allinson
Miss H. Anderson
Miss S. Applebaum
Miss V. B. Appleton
Miss A. E. Appleton
Mr.  John Armstrong
Mr.  Herbert Aspin
Mrs.  Aspin
Master Arnold Aspin
Miss Alice Astley
Mr.  John Atchison
Mr.  G. Baker
Mrs.  Baker
Miss G. Baker
Master G. Baker
Master G. Baker
Mrs.  Ada Bamford
Miss Eliz. Bamford
Miss Annie Barker
Miss M. E. Baron
Mr.  J. Barraclough
Master F. Barraclough
Mr.  T. Barrett
Mrs.  Barry
Miss Margaret Barry
Mr.  G. F. Battles
Mr.  W. Bennett
Mrs.  Bennett
Mrs.  H. Bennett
Mrs.  M. B. Benson
Miss Bentley
Miss Sophia Berggren
Mrs.  Berman
Mr.  Bernstein
Mr.  John Berry
Mr.  J. E. Bilbrough
Mrs.  Bilbrough
Mr.  J. Billing
Miss H. Blackley
Mrs.  Amy Blatley
Miss A. R. Blinn
Mrs.  C. O. Block
Miss Block
Miss A. Bloomberg
Mr.  E. A. Bolt
Miss M. Bonfield
Mr.  L. Bottomley
Mrs.  E. Bottomley and Infant
Mr.  Bowe
Mrs.  Bowe
Mr.  W.E. Bradford and Child
Mr.  T. J. Brennan
Mrs.  Mary E. Brooks
Miss Doris Brooks
Mr.  W. D. Broomhead
Mr.  John Brown
Miss Elsie Brown
Mr.  Buckpitt
Mrs.  Buckpitt
Miss L. Burgess
Miss Mary F. Burke
Mrs.  J. G. Burton
Miss M. Burton
Mr.  Alfred Caddick
Mr.  W. Caddick
Mrs.  M. Campbell
Miss M. Campbell
Mr.  J. P. Campion
Mr.  P. Carroll
Mr.  W. Catlow
Miss F. E. Challice
Mr.  J. W. Charles
Mr.  N. T. Chatter
Mrs.  Chatter
Mr.  H. Chippendale
Mrs.  Chippendale
Mr.  John Clark
Mrs.  Clark and Child
Mrs.  B. Claugherty
Mrs.  Clara Clayton
Master Gordon Clavton
Mr.  W. Clear
Miss A. Clear
Mrs.  Ellen Clough
Miss E. Clough
Mrs.  S. Clubb and Infant
Mr.  W. H. Coles
Mrs.  Coles
Miss C. Collis
Miss K. Condon
Mr.  J. Conners
Mrs.  A. L. Cooke
Miss Cookman
Mrs.  Sabina Corcoran
Miss Cora Corcoran
Miis. F. Cordingley
Miss M. Cosgrove
Rev. M. J. Costello
Mr.  J. H. Counsell
Mr.  Richard Coxhill
Mr.  L. Crabb
Miss K. M. Crabtree
Prof. W. D. Crockett
Mr.  Thos. Crompton
Mrs.  Crompton
Mr.  Thos. Crompton
Mrs.  Crompton
Mrs.  Cronshaw
Miss Cronshaw
Mrs.  M. Crossley
Master H. Crossley
Miss A. J. Cunningham
Mrs.  Cuthill
Miss B. Cuthill
Master Cuthill
Mrs.  C. Dalby
Master J. Dalby
Master E. Dalby
Miss J. Dand
Mrs.  Emma Darrah
Master H. Darrah
Mrs.  M. E. Davenport
Miss Davenport
Mr.  G. Davies
Mrs.  Davies
Master R. Davies
Miss E. A. Davies
Mrs.  Davies
Master C. Davies
Mr.  George I. Dawson
Mrs.  S. Dawson
Master G. Dawson
Miss G. Dawson
Mr.  Danl. Delaney
Mrs.  Delaney and Infant
Mr.  D. Denison
Mrs.  Edith Dennison
Miss Hilda Dexter
Mrs.  A. Dickinson
Mr.  E. Dixon
Mrs.  Dixon
Mr.  A. F. Dodd
Mr.  J. Donlan
Mr.  M. G. Donohue
Mr.  Peter Downs
Miss Anastasia Doyle
Mrs.  F. Drew
Miss A. M. Drew
Mr.  Jeremiah Driscoll
Miss E. S. Duckett
Mrs.  S. Duckhouse
Mr.  Frank H. Du Four
Miss G. Duncan
Miss Mary Duncan
Mr.  J. G. Dunn
Mr.  W. Durkin
Mrs.  Durkin
Miss Lizzie Durkin
Mr.  Moses Durnell
Mrs.  Durnell
Miss Ethel Durnell
Miss Isabella Durnell
Mrs.  Margaret A. Eccleston
Mrs.  M. E. Eddicott
Mr.  James Edsforth
Miss A. Elmsley
Miss Alice L. Eyman
Miss E. M. Fan
Miss Farr
Mrs.  Felter
Mr.  Frederick Fenton
Mrs.  Fenton
Dr. Fetter
Miss K. Fick
Mr.  W. F. Firth
Miss Flanagan
Mr.  J. Fleming
Mrs.  Fleming
Mr.  J . P. Fleming
Mrs.  Fleming
Mr.  H. Fletcher
Mr.  P. Flynn
Mr.  Percy G. Fogg
Mrs.  Hettie Fogg
Miss Gladys Fogg
Mr.  M. J. Foley
Mrs.  F. J. Foss
Mr.  George S. Fost
Mr.  H. Foster
Mrs.  W. Foster
Miss Foulkes
Rev. C. Plunkett
Mrs.  Francis
Miss L. Francis
Mr.  W. .T. Freeman
Mrs.  S. Friedlander
Miss Esther Friedlander
Miss Nellie Gabbett
Mrs.  M. Gallagher
Miss Gallagher
Mr.  Timothy C. Gallivan
Mrs.  E. Gandette
Mrs.  M. A. Gardiner
Mr.  Richard Geary
Mrs.  Geary
Mrs.  Nellie Gesner
Mrs.  G. F. Gibbs
Miss Katherine M. Gibbs
Mr.  N. W. Gifford
Mrs.  Gifford
Miss N. M. Gifford
Miss A. H. Gifford
Miss Lizzie Glavin
Mrs.  Glynn
Mr.  W. Glynn
Mrs.  Glynn
Miss A. Glynn
Mrs.  Hugh Goddard
Mr.  J. S. Gorrie
Mr.  J. Gough
Mrs.  Gould and Infant
Miss M. Palmer Gould
Mr.  T. Graham
Mr.  J. Grandin
Mrs.  L. Graves
Mrs.  M. Greenhalgh
Master W. Greenhalgh
Miss M. Greenhalgh
Mrs.  Hannah Greenwood
Master Thomas Greenwood
Miss A. Griffen
Miss Jennie Guy
Mr.  A. Hagerman
Mr.  T. E. Hall
Miss A. S. Hameson
Miss M. Hanley
Miss R. I. Hanley
Miss A. R. Harker
Mr.  J. W. Harmstone
Mr.  Harris
Mrs.  Harris
Mr.  J. Harris
Mrs.  J. Harris
Mr.  W. Harrison
Mrs.  Harrison
Miss E. B. Hawkins
Mr.  A. Hay
Mr.  R. J. Hayden
Miss E. Hayden
Mrs.  H. G. Hayes
Mr.  A. D. Hayward
Miss B. M. Healev
Mr.  W. Heaton
Mrs.  L. F. Hedges
Master C. J. Hedges
Mr.  Chas. R. Hendels
Miss Kate Hennessy
Mr.  T. Henschall
Mrs.  Albert ine Hess
Miss Marie Hess
Mr.  I. M. Hill
Mrs.  Hill
Miss Jessie Hill
Master R. Hill
Miss Nannie L. Hill
Mr.  A. P. Hills
Mrs.  Hills
Mr.  A. Hincheliffe
Mr.  A. Hoerbe
Mrs.  Alice Holden
Mr.  S. J. Holden
Mrs.  Ellen HoIden
Mrs.  S. O. Hole
Mr.  B. S. Holmes
Mr.  N. E. Holmkvist
Mr.  B. T. Holmkvist
Miss Alice Holt
Mr.  J. W. Homer
Miss D. F. Homer
Miss A. B. Hooper
Mr.  E. A. Hooton
Mr.  Hopkinson
Mrs.  Hopkinson
Mr.  H. Horohan
Mr.  W. Horton
Mr.  S. J. Hough
Mr.  A. Houldsworth
Mr.  Hourihan
Mrs.  M. A. Howarth
Miss Alice Howarth
Mrs.  Hannah Howarth
Miss Betty Howarth
Mr.  T. Howe
Mr.  L. Hoyle
Mr.  H. G. Hudson
Mr.  G. Hudson
Mr.  N. H. Hughes
Mr.  Thomas Hughes
Mr.  T. C. Humphreys
Mr.  E. Hunt
Miss H. Hunt
Mrs.  A. L. Huntress
Mrs.  E. Hurley
Mrs.  Margaret Hurley
Mrs.  M. Hyslop
Mr.  Geo. A. Ingalls
Mr.  G. P. Irving
Mr.  J. H. Irving
Miss A. Jackson
Mrs.  M. Jefferson
Mrs.  E. J. Jennison
Rev. J. Pandy John
Mrs.  John
Mrs.  G. Johnson
Miss M. Johnson
Mr.  John Johnson
Mr.  Johnston
Mrs.  Johnston and Child
Mr.  John D. Jones
Miss M. S. Jones
Mr.  D. Rees Jones
Miss O. May Jones
Mr.  M. E. Joyce
Mrs.  Joyce
Mrs.  Bessie M. Joyce
Miss M. Joyce
Miss Veronica Joyce
Master J . Joyce
Master Kiernan
Miss Clara Keeley
Miss A. V. Keighley
Miss J. J. Keir
Miss N. Kelleher
Mr.  J. Kelly
Miss Mary Kelly
Mr.  J. J. Kelly
Mrs.  Ellen Kenny
Miss Mary A. Kenyon
Mrs.  Kiernan
Mr.  O. N. A. King
Mrs.  King
Mrs.  Lizzie Kirby
Mr.  M. Kissane
Mr.  William Klockan
Mr.  William Klockan, Jun.
Miss H. Lambert.
Miss M. Lamont
Mrs.  F. C. Lane
Miss D. Larkin
Mrs.  L. Larsan
Mr.  D. Lavelle
Mr.  C. Leary
Miss E. M. Lee
Mr.  P. Leyland
Mr.  J. P. Leyland
Mrs.  F. Leyland
Mr.  Carl E. Lillestrand
Mr.  C. E. Lilliestrand
Mr.  James H. Lindsay
Mrs.  M. Lohar
Mr.  W. Long
Mrs.  Longbottom
Mrs.  M. J. Looney
Mrs.  A. Lowry
Mrs.  A. Lovitt
Mr.  Jas. Lynch
Mrs.  Lynch
Mr.  J. J. Lynch
Mrs.  M. P. MacDearmid
Mrs.  Amy Mack
Master P. G. Mack
Mr.  PI. C. MacLean
Miss Maloney
Mrs.  E. Mansfield
Miss M. Massey
Mr.  J. Masterson
Miss A. Maycock
Miss N. Maycock
Miss A. Maycock
Mr.  S. McConnell
Mr.  R. McCann
Miss McCann
Mrs.  A. McClure
Mr.  Thos. McDermot
Miss Mary McDermott
Miss Marguerite McDermott
Miss M. McDonald
Miss Mary McDonnell
Mr.  R. D. McDowell
Mrs.  McDowell
Miss W. McDowell
Mr.  McDowall
Miss McEnaney
Mrs.  McEneaney
Miss E. McEneaney
Mr.  Peter McEneeney
Mrs.  T. A. McEvoy
Mr.  Jas. McGifford
Mrs.  McGifford
Mrs.  J. McGregor
Miss Annie It. McHugh
Mrs.  E. McMullen
Mrs.  D. McPhee
Miss M. McRobbie
Miss E. McMahon
Mr.  James Meekle
Mr.  J. Meadowcroft
Mrs.  Metcalfe
Miss Metcalfe
Mr.  Albert Metcalf
Mrs.  Metcalf
Mrs.  Ettie Metzger
Master R. Metzger
Miss Isabel Metzger
Mrs.  Middleton
Master A. Middleton
Master D. M. Middleton
Miss J. M. Middleton
Mrs.  N. Moar
Miss A. Moar
Mr.  F. E. Moersdorf
Mrs.  Moersdorf
Miss P. Moloney
Mr.  L. Mooney
Mr.  P. Moore
Mr.  John Moran
Master C. Moran
Miss C. E. Moran
Mr.  Michael Moran
Mr.  J. Morton
Mrs.  Clara Morton
Miss Ivy Morton
Master W. Morton
Mrs.  E. Moyes
Miss J. Moyes
Miss Mulvey
Mr.  Fred Murphy
Mr.  Murphy
Mrs.  Murphy and Child
Mr.  Alex. Mussen
Mrs.  Mussen
Mr.  Berman Myer
Mrs.  B. Myer
Miss Anne Neale
Miss Ida Nelsson
Rev. E. C. Newham
Mrs.  Newham
Mr.  E. Newsholm
Mrs.  Newsholm
Mrs.  O. Nicholson
Master J. F. Nicholson
Mr.  F. A. Nicholson
Mrs.  Nicholson and Infant
Miss Constance Nicholson
Mr.  Geo. Nicol
Mrs.  Nicol
Miss M. B. Nicol
Miss Isabella Nicol
Mr.  Anders Nilson
Mrs.  Nilson
Master Arvid Nilson
Mrs.  Noonan
Miss Noonan
Miss O'Connell
Miss O'Connell
Mr.  J. J. O'Farrell
Mrs.  O'Farrell
Mr.  Danl. G. O'Gorman
Mr.  M. O'Keefe
Mrs.  John Oliver
Miss J. Orr
Mr.  Fred W. Palliser
Mr.  Alfred Palliser
Mr.  Alexander Palliser
Mr.  W. Palliser
Mrs.  E. Palliser
Mr.  Palmer
Mrs.  Palmer and Child
Miss N. Palmer
Miss H. Partington
Miss Margaret Patterson
Mr.  M. Parsons
Mr.  Thomas Pearson
Mrs.  J. R. Pearson
Miss Pell
Mrs.  J. Perry
Dr. Peters
Miss A. Pettig
Mr.  J. W. Pickering
Miss P. Pilkington
Mrs.  M. Potter
Miss L. Potter
Mr.  Thomas Price
Mrs.  Price
Miss L Price
Mr.  Caleb Purvis
Mrs.  Purvis
Master Jos. Purvis
Mrs.  Putman
Mr.  L. Pyle
Mrs.  Pyle
Miss L. Quigley
Miss Anna Quinn
Miss Anna Quinn
Mrs.  I. Quirk
Mr.  E. Rasbottom
Mrs.  Eliza A. Ratcliffe
Mr.  Cornelius Read
Mr.  G. W. Reed
Mr.  Simon Reed
Mrs.  Reed
Mr.  J. Regan
Miss E. Regan
Miss Regan
Mr.  P. S. Reid
Mrs.  Reid and Infant
Miss D. Reid
Mr.  R. Renshaw
Mrs.  Nettie Renshaw
Master Jack Renshaw
Mr.  G. Richmond
Mrs.  J. Riddings
Master Riddings
Mr.  D. J. Riely
Mrs.  Annie Rigby
Mrs.  Florence Rimell
Master E. Rimell
Mrs.  Rimmer and Infant
Mrs.  F. Robinson
Mrs.  J. Rogan
Mrs.  Roper
Master W. Roper
Miss E. Roper
Mrs.  Rosenheims and Maid
Mrs.  G. Rosenheim
Miss W. Rosenheim
Miss Rowe
Mr.  A. E. Rowles
Miss K. Rudd
Mrs.  Rudd
Mr.  John Russell
Mr.  J. Ryan
Mr.  Valentine Ryan
Mrs.  M. Salfaty
Mr.  D. E. Sampson
Mrs.  Sampson
Mr.  J. Saunders
Mrs.  Lucy Saunders
Miss Lucy Saunders
Mrs.  Saunders
Mr.  A. Sawyer
Mrs.  Catherine Scanlon
Mr.  Scoggin
Miss Harriet Scott
Mrs.  Jennie Scott
Mr.  Horace G. Seaton
Mrs.  Seaton
Mrs.  Sarah Sedgwick
Mrs.  Florence Sedgwick
Mr.  H. Shannon
Mr.  S. Shaw
Mrs.  E. Shaw
Mr.  F. A. Shepard
Mr.  H. F. Shepherd
Mrs.  E. Sheplev
Mr.  W. J. Shirley
Mrs.  Shirley
Miss S. Singleton
Miss Anna Sjokvist
Mr.  A. Sloan
Mr.  Alex. Smith
Mrs.  M. A. Smith
Miss M. Smith
Miss E. Smith
Mrs.  E. Smith
Mrs.  P. Smith
Mrs.  R. H. Smith
Mrs.  Smith
Mr.  F. Smith
Mrs.  Smith
Master D. Smith
Master K. Smith
Mrs.  F. Spiller
Mrs.  M. H. Stanton
Mr.  D. M. Steadman
Miss E. Stevens
Mr.  William Stewart
Mrs.  Stewart
Master L. Stewart
Miss Mona Stewart
Master R. Stinson
Mr.  John C. Stock
Mis. D. Straing and Infant
Master H. Straing
Mr.  J. J. Sullivan
Mrs.  E. Sunderland
Mr.  W. Sutcliffe
Miss Agnes Svenson
Mr.  George Swailes
Mr.  T. Swanson
Miss M. E. Swarbrick
Mrs.  H. C. Swartz
Mrs.  J. Swift
Mrs.  C. R. Swineford
Mrs.  Swineford
Miss Swineford
Mrs.  K. Talbot and Infant
Mis. a. R. Tattersall
Mr.  E. C. Taylor
Miss M. L. Taylor
Mr.  G. Taylor
Mis. Taylor
Mr.  Samuel Taylor
Miss E. M. Taylor
Mr.  G. Taylor
Mr.  F. W. Thompson
Mrs.  Thompson
Master W. H. Thompson
Mr.  W. Thompson
Mis. N. Threlfall
Miss Threlfall
Miss E. Tickle
Miss M. Tierney
Miss E. Tobin
Miss Elizabeth Tobin
Mr.  Joseph Tomlinson
Mr.  W. Towers
Mr.  Towers
Master Towers
Mr.  E. P. Troy
Miss T. Turnbull
Miss M. Turnbull
Mr.  K. M. Vaughan
Mr.  S. Voyce
Mr.  G. Voyce
Mr.  G. Wade
Mrs.  Wade
Mrs.  Maggie Walker and Infant
Master Walker
Miss B. Walsh
Miss M. A. Walsh
Miss Ellen Walsh
Mr.  Walmsley
Mrs.  Walmsley
Miss M. E. Walsh
Mrs.  Alice Warburton
Mr.  H. Warren
Mrs.  M. J. Watson
Master J. Watson
Master T. Watson
Mr.  T. H. Wellspring
Miss West
Mrs.  E. Whallev
Mrs.  H. H. Whitehead
Miss C. Whitehead
Mr.  A. I. Whitehouse
Mrs.  Whitehouse
Master W. Whitehouse
Miss D. Whitehouse
Miss F. Whitehouse
Mr.  A. A. Whitmore
Mr.  M. Whittaker
Mr.  W. Whittaker
Mr.  S. Wilkinson
Mrs.  Wilkinson
Miss M. Wilkinson
Miss M. W. Wilkinson
Mr.  M. Williams
Mr.  W. J. Williams
Bev. d. Williams
Mrs.  Williams
Mr.  T. II. Williams
Mr.  W. Williams
Mr.  G. Wilson
Mrs.  Wilson
Miss Wisnom
Mr.  Wisnom
Mrs.  Wisnom
Miss S. E. Wold
Mr.  S. Wood
Mr.  J. Wood
Miss B. M. Worthington
Mr.  W. Wright
Mrs.  Wright
Miss Ethel Writh
Mrs.  John Young
Miss Edna Young
Mr.  W. Yates
Mrs.  Yates
Mrs.  Jennie Yates
Miss Emily Yates
Additional Passengers
Mrs.  A. Adams
Miss Sarah Atchison
Mr.  S. A. Allford
Miss J. M. Bessio
Miss J. Barker
Mr.  W. W. Baines
Mrs.  Bailey
Mr.  J. B. Burnham
Mr.  John Bayles
Mr.  Seymour Carpenter
Mrs.  Carpenter
Miss Julia Carpenter
Mrs.  M. A. Crossley
Master A. Crossley
Miss M. Dineen
Mr.  M. Daly
Mr.  B. Feeney
Master Foster (infant)
Mrs.  B. Findlay
Miss G. Findvay
Mr.  F. T. Goodman
M. D. S. Green
Mr.  E. Garnett
Mr.  J. B. Glenn
Master W. Glynn
Miss M. S. Haddow
Mt. Thomas Holt
Mr.  J. J. Hourihan
Master Hourihan
Mr.  P. Haddock
Mrs.  C. Haddock
Mr.  J. F. Jouineaux
Mr.  Frank Jackson
Mr.  H. A. Jackson
Mrs.  M. Jones
Mr.  C. W. Jones
Miss F. James
Miss Jane Larkin
Mr.  A. Leyshar
Mrs.  Leyshar
Mr.  W. Mannings
Mrs.  H. Metcalfe
Miss C. Metcalfe    
Miss Margaret Nicholson
Miss Mary Nicholson
Miss Anna Nicholson
Mr.  W. Nye
Mrs.  Nye
Miss E. Nye
Mr.  S. Neville
Mrs.  Neville
Master W. Neville
Mrs.  E. Noyes
Miss J. Noyes
Miss J. Orr
Mr.  W. Potts
Mrs.  Potts
Mr.  Chas. Potts
Mr.  James Robinson
Mr.  J. Recher
Mrs.  Recher
Miss B. E. Roberts
Mr.  A. Sissoms
Mr.  P. Sedgwick
Dr J. R. Tucker
Mrs.  Tucker
Mr.  Peter Taylor
Mr.  G. Troughton
Mr.  W. Tonge
Mrs.  S. P. Turner
Miss I. B. Turner
Miss M. Wiegand
Miss M. G. Wiegand
Mr.  A. E. Wans
Mrs.  M. L. Weaver
Mr.  A. H. Wallack
Mrs.  M. J. Wilson
Mr.  J. H. Wilson
Master T. Wilson
Miss M. Warford
Miss J. Warford
Miss A. Warford
Mrs.  S. Walsh
Mrs.  C. Young
Miss C. Young
Mr.  N. Yates
Not on Board
Miss H. Anderson
Master G.. Baker
Mrs. Ada Bamford
Miss Elizabeth Bamford
Miss Margaret Barry
Miss Sophia Berggren
Mrs. Berman
Mrs. Amy Blatley
Mr. E. A. Bolt
Miss M. Bonfield
Mrs. E. Bottomley and infant
Mr. Bowe
Mrs. Bowe
Mrs. J. G .Burton
Miss M. Burton
Mr. J. B. Campion
Mr. J. W. Charles
Mr. Thomas Crompton
Mrs. Crompton
Miss J. Dand
Miss G. Dawsou
Mrs. A. Diekenson
Miss E. S. Duckett
Miss G. Duncan
Miss Mary Duncan
Miss Lizzie Durkin
Miss A. Elmsley
Miss Alice L. Eyman
Miss Farr
Mrs. Felter
Dr Fetter
Mr. W. F. Firth
Mr. J. P. Fleming
Mrs. Fleming
Miss M Palmer Gould
Miss A. Griffen
Miss M. Hanley
Miss B. I. Hanley
Miss E. B. Hawkins
Mr. A. D. Hayward
Mr. Chas R. Hendels
Miss Gannje L. Hill
Mr. A. Hoerbe
Mr. N. E. Holmkvist
Mr. B. T. Holmkvist
Mr. E. A. Hooton
Mr. H Horohan
Mr.  Hourihan
Mrs. Margaret Hurley
Mr. Geo A. Ingalls
Mr. Johnson
Mrs. Johnson and child
Miss N. Kclieher
Mr. J. Kelly
Mrs. L. Larsan
Mr. Carl E. Lillestrend
Mr. W. Long
Mr. E. C. Mae Lean
Mr. J. Masterson
Miss A. Maycock
Miss N. Marcock
Miss A. Maycock
Mr. S. McConnell
Miss P. Moloney
Master W. Morton
Mrs. E. Moyes
Miss J. Moyes
Mr. F. A. Nicholson
Mrs. Nicholson and infant
Miss C. Nicholson
Mr. Anders NiIson
Mrs. NiIson
Master Arvid Nilson
Miss O'Connell
Mr. M. Parsons
Mrs. J. R. Pearson
Mrs. J. Perry
Miss A. Pettig
Mr. s. Putman
Miss Anna Quinn
Mr. G. W. Reed
Mrs. J. Rogan
Mrs. G .Rosenheim
Mrs. Lucy Saunders
Miss Lucy Saunders
Mr. A. Sawyer
Mrs. Catherine Scanlon
Miss Anna Sjokvist
Mrs. P. Smith
Mrs. Smith
Mrs. Smith
Master D. Smith
Master K. Smith
Miss Agnes Svenson
Mr. T. Swanson
Miss E. M. Taylor
Miss J. Turnbull
Miss M. Turnbull
Mrs. Maggie Walker and infant
Master Walker
Mrs. M. J. Watson
Master J. Watson
Master T Watson
Mr. M. Whittaker
Mr. W. Williams
Miss S. E. Wold
Corrections
Mr. Moses Durnell should read Mr. Moses Dutnell
Mrs. Durnell should read Mrs. Dutnell
Miss Ethel Durnell should read Miss Ethel Dutnell
Miss Isabella Durnell should read Miss Isabella Dutnell
Miss A. R. Harker should read Miss A. R. Hartley
Miss Ethel Writh should read Miss Ethel Worth
Information for Passengers
The "Franconia" carries an orchestra of highly-trained musicians, who will play at the undermentioned times and places:
10.00 to 11.00 a. m.: Second Cabin Dining Room
1.00 to 2.10:00 pm: First Class Dining Saloon
3.30 to 4.00 p. m.: Second Class Dining Saloon
7:10 pm to 8:45 pm: First Class Dining Saloon
9.00 to 10.00 p. m.: First Class Drawing Room
Chairs and Rugs may be Hired at a Cost of 4/- (or $1) each on application to the Deck Steward.
Each Rug is contained in a scaled cardboard box, and bears a serial number worked into the material so that passengers will have no difficulty in identifying their rugs. At the end of each voyage, the rugs which have been in use, are sent to the store and thoroughly cleaned, before being re-issued.
This Steamer Is Fitted with Marconi's System of Wireless Telegraphy. Also with the Submarine Signaling Apparatus. the "Lusitania" and "Mauretania" Are the Fastest Steamers in the World.
Meals will be served in the Saloon at the following times:
Breakfast at 8:00 am.
Dinner 12:30 pm.
Tea 5:30 pm.
Supper 8-30 p.m.
The Bar and Smoke Room will be closed at11:00 pm.
Seats at Table.—Applications may be made at any of the Chief Offices in advance or to the Second Cabin Steward on board the steamer on day of sailing.
Divine Service on Sunday at 10:30 am
Baggage.—Passengers are recommended to insure their Baggage, as the Company's liability is strictly limited in accordance with Contract Ticket. All enquiries regarding Baggage on board ship should be addressed to the Baggage Master.
Valuables.—The Company is not responsible for theft if valuables or money are kept in the Staterooms. The same should be placed in charge of the Purser for deposit in his safe, and a receipt will be given on the Company's form. As no charge is made for carriage the Company cannot accept any responsibility for loss or damage, however arising, but passengers can protect themselves by insurance.
Passengers should obtain a receipt on the Company's form for any additional Passage Money or Freight paid on board.
Notice.—Passengers are informed that Professional Gamblers are reported as frequently crossing on Atlantic Steamers and are warned to take precautions accordingly.
Exchange of Money.—Owing to fluctuations it is not possible to make a fixed Rate of Exchange.
The Surgeon is authorized to make customary charges, subject to the approval of the Commander, for treating any passengers at their request for any illness not originating on board the ship. In the case of sickness contracted on board no charge will be made and medicine will be provided free.
Dogs.—Passengers are notified that dogs cannot be landed in Great Britain unless a license has previously been procured from the Board of Agriculture, London. Forms of license must be obtained by direct application to the Department before the dog is taken on board.
Fishguard.—See Special Notice, "Express Route," etc.
Arrivals at Liverpool —Time of Landing Passengers.— Under normal conditions when any of the Company's steamers arrive alongside the Liverpool Landing Stage after 8:00 pm it is optional for the passengers to go on shore that night. In the event, however, of their remaining on board, they will be landed after breakfast the following morning, either at the stage or in dock as circumstances may make desirable.
In the same way when the vessel reaches the river but does not come alongside the Stage, to prevent inconvenience and to meet emergencies, any passengers desirous of disembarking will, on arrival of the steamer, be landed, with hand baggage only, by tender, provided that the Purser is advised before leaving Queenstown or Fishguard of the passengers wish to do so. Notice will be placed in the Companionway on arrival at Queenstown or Fishguard advising passengers of anticipated arrival at Liverpool, and arrangements for landing.
Arrivals in Boston.—Under normal conditions when any of the Company's steamers arrive at the Wharf after 8:00 pm, passengers have the option of remaining on board overnight and landing after Breakfast the following morning.
All enquiries re Baggage, Mail. etc., can be made at the Information Office on the Pier.
European Hostilities.-—During present Hostilities passengers of foreign nationality are, under the Aliens Act, only permitted to land at certain approved ports, of which Liverpool is one, but Queenstown and Fishguard are excluded, and passengers may be subjected to slight delay on arrival at Liverpool.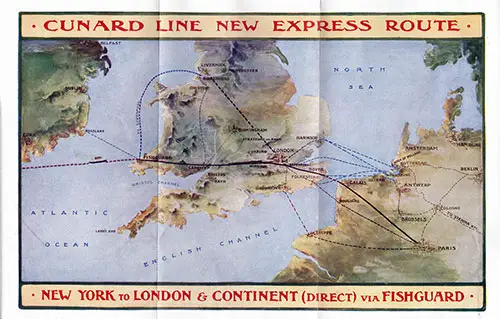 New Cunard Express Route Map New York to London & Continent (Direct) via Fishguard - 22 August 1914. GGA Image ID # 11e2b1d839