SS Saxonia Passenger List - 23 May 1905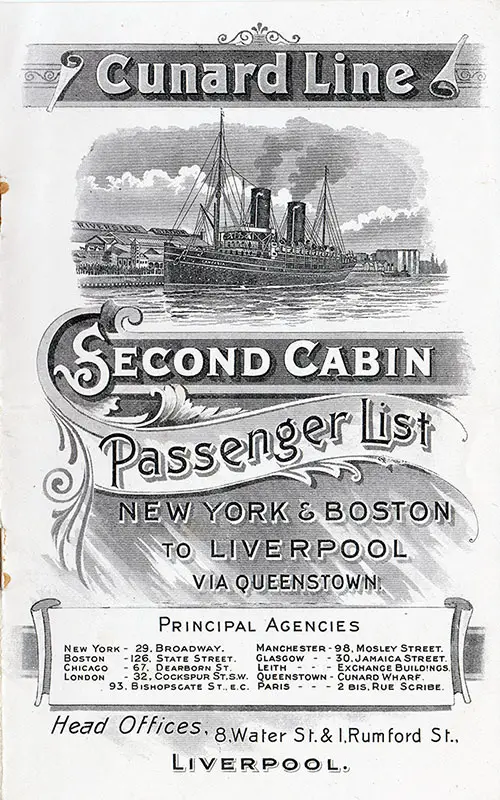 Front Cover of a Second Cabin Passenger List from the SS Saxonia of the Cunard Line, Departing 23 May 1905 from Boston to Liverpool, Commanded by Captain James Clayton Barr. GGA Image ID # 11c82bb4c4
Senior Officers and Staff
Commander: Captain James Clayton Barr
Surgeon: T. F. Bayfield
Purser: H. D. Strainer
Assistant Purser: Alex Rutherford
Chief Steward: J. Napier
Second Cabin Passengers
Miss Celia Anderson
Mrs. William B. Bassett
Mr. Biard
Miss A. Broughton
Mrs. Buddle
Master Frank Buddle
Mr. G. Bannock
Mr. A. Bannock
Mrs. Bannock
Miss Iris Bannock
Miss Sarah Broadbent
Mr. J. D. Broughton
Mrs. T. Bloomer
Mrs. A. Cannon
Mrs. Richard Croke
Mr. Charles F. Coes
Mrs. James Coes
Miss Florence A. Coes
Miss Katie Curley
Mrs. G. Docker
Miss J. Drew
Miss Mary E. Duerden
Mr. William Ellis
Miss Charlotte Ericson
Miss H. Eklof
Miss Anna W. Erikson
Mr. John Elliott
Mr. Thos. Eddleston
Miss Margaret Fairbairn
Miss J. I. Foote
Miss T. Freeman
Mrs. Louise Fricker and 2 children
Miss A. E. Foley
Miss Nora Flatley
Miss E. R. Filson
Mrs. Flint
Mr. Joseph Fitzgerald
Mr. E. A. Gaudy
Mr. Thomas Grenfell
Mrs. J. F. Groby
Miss A. J. Groby
Mrs. M. Gadbois
Mr. J. Green
Mrs. Pesha Grossberg
Mrs. B. B. Hauser
Mrs. Sarah Holt
Miss Mary Horman
Mrs. S. B. Hughes
Master Joseph Hughes
Master Stephen L. Hughes
Miss Lauretta Hughes
Mr. Alfred Halligan
Mrs. Hitchings
Master Frank Hitchings
Miss G. E. Holbrook
Mrs. Thomas Huggan
Miss E. Howden
Mrs. A. H. Haug
Miss Anna Haug
Mr. Frank Hinton
Mr. Wallace Hewinson
Mrs. Jennie Hewinson
Mr. Albert Hewinson
Mrs. Sadie Hewinson
Master Harold Hewinson
Mr. John Horman
Mr. Claude Joile
Mrs. Johnson
Mrs. James 2 children and infant
Mr. C. J. Johnson
Mrs. C. J. Johnson
Miss Mary Kelly
Mr. R. T. J. Kelsev
Miss Emma Kelsey
Miss Margaret Kerins
Miss Bridget Kelly
Miss Maria Kelly
Miss H. Krabal
Mr. O. Krabal
Rev. E. L. Krumreig
Mr. Xaver Kramer
Miss Margaret Longhead
Miss V. B. Longhead
Miss Nora Lyons
Mr. Frank Lees
Mrs. Frank Lees
Mrs. J. H. Landau
Miss Lillian Licht
Miss Julia Murphy
Miss Margaret McCarthy
Mrs. William McDermott
Mr. O. T. Mannke
Mrs. Mary K. Malpass
Master Robert G. Malpass
Mrs. Annie R. McHugh
Mrs. Merritt
Miss Margaret Maitland
Miss Margaret Merrick
Mr. George F. Marshall
Mrs. George McInnes and infant
Mrs. M. McDevitt
Miss Mary Moran
Mr. Cornelius O'Donnell
Miss Clara Oberg
Miss Laura Owen
Miss O. Olsen
Mr. William Parr
Mrs. Annie Porter
Mrs. Rae
Mrs. G. H. Richardson
Miss Ethel W. Richardson
Master E. H. Richardson
Mrs. Richards
Mrs. James P. Robertson
Master J. S. Robertson
Miss Dorothy Robertson
Miss L. R. Roper
Mr. Robert B. Reid
Mrs. Emily Reece
Mrs. Sarah A. Robinson
Miss Mg't  Ryan
Mr. John Reed
Mr. Salisbury
Mr. James A. Scott
Miss Mary A. Slater
Mrs. E. Starke
Miss May Schofield
Miss J. M. Sinclair
Mr. James Smith
Master Thomas Smith
Miss Celia Smithy
Miss M. Stadig
Mrs. Shannon
Miss Shannon
Mr. G. H. Thielseer
Mrs. Delia Thornton
Miss M. T. Thompson
Miss Irene Thompson
Mrs. J. H. Vickers
Miss Mary Vickers
Miss A. C. Wheeler
Mrs. K. Worth
Master Ralph Worth
Mrs. E. M. Ward and infant
Miss Annie Ward
Mrs. O. M. Wood
Mrs. W. Walmsley
Mr. Alfred Wittig
Miss R. Wishart
Miss Delia R. Walker
Miss Annie Ward
Mr. A. N. Zafiropulas
ADDITIONAL PASSENGERS
Mr. Thomas Bennetts       
Mr. J. H. Kearns     
Miss Louisa Larson
Mr. A. G. Lowe
Mr. P. McDonald
Miss A. Mulligan
NOT ON BOARD
Mr. George F. Marshall
Total = 184
Information for Passengers
Meals will he served in the Saloon at the following times:
Breakfast: 8:00 am.
Dinner:  12:30 pm
Tea: 5:30 pm
Supper: 8:30 pm
The Bar and Smoke Room will be closed at 11:00 pm.
The Second Cabin Steward has the arrangement of the seats at table.
PASSENGERS desiring to have letters and telegrams forwarded by the Pilot from Boston Light, must hand same (fully prepaid) to the Purser within one hour after leaving dock.
Divine Service on Sunday at 10:30 am
Passengers are notified that dogs cannot be landed in Great Britain unless a license has previously been procured from the Board of Agriculture, London. Forms for license can only be obtained by direct application to the Department before the dog is taken on hoard.
All enquiries regarding Baggage should be made to the Purser; and Trunks. Wraps, etc., will be received, stored and shipped by the Company for the return voyage.
Steamer Chairs may he hired from the Deck Steward at a cost of $1.00 for the voyage.
Gentlemen are requested not to smoke in the saloons, staterooms, or companion-ways.
The Company is not responsible for theft if valuables or money are kept in the staterooms. The same should be placed in charge of the Purser for deposit in his safe, and a receipt for same will be given on the Company's form. As no charge is made for carriage, the Company cannot accept any responsibility for loss or damage, however arising, but passengers can protect themselves by insurance.
Passengers should obtain a receipt on the Company's form for any additional Passage Money or Freight paid on board.
Tobacco, cigars, etc., wines, spirits and perfumery are liable to duty on being brought into the United Kingdom, and the smallest quantities should be declared to the Customs authorities when required.
Reprints of copyright books and music will be confiscated.
Special Trains are usually run between Riverside Station, Liverpool and Euston Station, London, in connection with the arrival and departure of these Steamers. Convenient trains also leave other Stations, situated near the Landing Stage.
Passengers for London are recommended to see their baggage deposited in the train after its examination by Customs at Liverpool.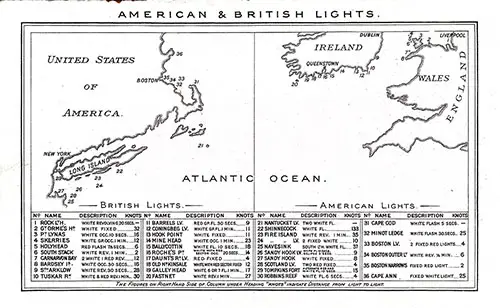 Back Cover, American & British Lights - Cunard SS Saxonia Second Cabin Passenger List - 23 May 1905. GGA Image ID # 11c85243c6