RMS Lusitania Passenger List - 20 March 1909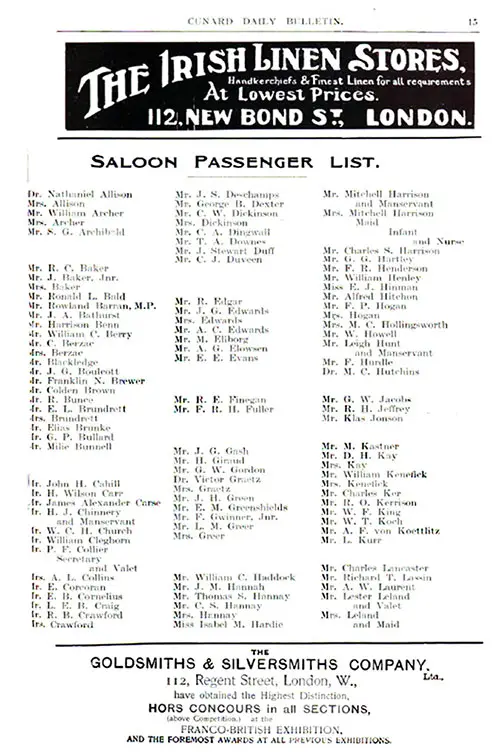 Saloon Passenger List from the RMS Lusitania of the Cunard Line, Departing 20 March 1909 from Liverpool to New York via Queenstown (Cobh), Commanded by Captain W. T. Turner. Sourced from the Cunard Daily Bulletin, Lusitania Edition, Thursday, 25th March 1909. Cunard Daily Bulletin, Lusitania Edition - 25 March 1909. GGA Image ID # 174c9bcde9
Saloon Passengers
Mr. A. Adams
Mrs. Charles B. Alexander and maid
Miss Harriet Alexander and maid
Miss Janetta Alexander
Lady Allan and maid
Mrs. E. Anderson
Mr. A. Louis Allen Marquis of Anglesey and manservant
Mr. A. J. Angler
The Hon. C. M. Astley
Mr. H. L. Baggallay
Mr. J. Bardon
Mr. Hamilton Bardswell
Mrs. Bardswell
Mr. B. S. Beam
Miss Hubv Beddoes
Mr. J. S. Bigger
Mr. S A. Birdsong
Mr. T. Stanley Rirkin
Mrs. J S. Bollard
Mr. H K. Bloodgood
Mr. Percy A. Blythe
Mrs. Blythe
Mr. Charles Booth. Jr.
Mrs. Booth, Jr
Master A. Booth
Mr. Marcus Braum
Hr. C. F. Brackett
Mr. L W. Branch
Mrs. Branch
Mr. John Brodix
Mr. Fred F Bullen
Mrs. Bullen
Mr. Robert Burgess
Mr. A. J. Buston
Mr. W. M. Cabot
Col. Colin Campbell and manservant
Mrs. Campbell and maid
Mr. Ewen Cameron
Mrs. Cameron
Mr. William A Carlyle
The Hon. Cynthia Charterte
Mr. Henry Church
Mrs. Church
Mr. I. M. Cohen
Mr. W. H. Colquhoun
Mr. A. M. Colquhoun
Mr. W. S. Coutts
Mr. O M Crego
Mrs. Crego
Mr. James S. Cross
Mr. A. Cross
Miss Anna M. Denver
Mr. B. Deleuze Marchioness of Donegall
Mr. L G. Du Bois
Mrs. Du Bois and maid
Mrs. M. Darley
Mr. H F. Drader
Lady Elcho and maid
Mr. Thomas R. Ellison
Mr. C. M. Everest
Mrs. Everest
Mr. W. H Finlayson
Mr. John Fowler
Mrs. Fowler
Mr. Maurice P. French
Mr. R. Gardiner
Mr. William Galewood
Mr. E. Geoffray
Mr. Joseph Gerli
Mrs. Gerli
Miss Agatha Gerli
Miss Alice Gerli
Miss Margaret V. Giehle
Mr. G. W Gordon
Mr. C. W. Gooch and manservant
 Mr. Ed. Goodman and valet
Mr. B. Gulbenkian
Mr. Graeme Harrison
Mr. J. P. Hamilton
Mr. R. G. Hanford
Mrs. Hanford
Mr. Y. Hayashi
Lord Herbert and valet
Lady Herbert and maid
Mr. H Herde
Mr. Oscar Henrichs
Judge P. A. Holmes
Mrs. Holmes
Miss Holmes
Mr. A. C Hostler
Mr. W. B Howland
Mrs. Howland
Mrs. J. P Hunting
Mr. George W Hyde
Dr Ed. J. Ill
Mr. Frederick Ingham
Mr. O Ingrens
Mr. V. J. Jimishiam
Mr. L. Johnson
Mr. E. C Kent
Mr. A S Klauber
Mr. William Klein
Miss Klein
Mr. C. J. Laan
Mrs. Laan
Mr. A. B. Leach
Mrs. Leach
Mr. J. S. Lowry
Mr. Charles H. Macdonald
Mrs. Macdonald and Maid
Miss Macdonald
Mr. Albert MacGarvey
Mr. Ted D. Marks
Mr. Joseph Martin
Mrs. Martin
Mr. Joseph Martin. Jr.
Mr. Chester Martin
Mr. Frank Martin
Mrs. J. Duff McIntosh
Mr. D. McKay
Mr. D. R. McLennan
Mrs. McLennan
Mr. W. Meadows
Mr. Jules Mendel
Mrs. Mendel
Mr. Harold H. Miller
Prof. Pablo S. Mimbela
Mrs. Mimbela and Maid
Miss Marv Mimbela and Nurse
M r. Malcolm Moncreiffe
Mrs. Moncreiffe
Mme. de Mora
Mlle. C. de Morn
Mr. S. T. Murdoch
Mrs. Murdoch
Miss Alice Murdoch
Mrs. Chas. Oppenheim and Maid
Mr. Chas. Oppenheim, Jr.
Miss Marjorie Oppenheim
Mr. W. W. Paine
Mr. W. H. Park
Captain Raymond Parker
Mr. Ralph Phelan
Mr. Isidore P. Polak
Mr. J. Frederick Pomphrey
Mr. J. C. Porter
Mr. W. A. Prime and Valet
Mrs. Prime
Mr. .lohn L. Prime
Mr. C. W. Purington
Mrs. Purington
Mrs. E. Ralston
Mr. C.    Poynter Rrdfern
Mr. F.    A.  Richards
Miss A,  H. Richards
Mrs. L.  M. Righter
Miss M. A. Reley
Mr. E.    Rohner
Mrs. B.  Ruffer
Miss V.  Ruffer
Mr. T. J. Russel
Mr. S. Saba
Mr. T. Sakai
Mr. S. H. Savage
Mrs. Kate Scheurman
Master Carl Scheurman
Mr. Erhard Schlegelmilch
Mr. Srnold Schlegelmilch
Mr. D. M. Schöenfeld
Mr. H. C. Schöenfeld
Mr. J. A. Shehyn
Mr. N. Shiman
Mr. Ernest Smellie
Mr. Hiram C. Smith
Mr. Harold D. Smith
Rev. Charles Stelzle
Mr. W. Tyrie Stevens
Mrs. Stevens
Mr. W. Plunket Stewart
Miss E. J. Stewart
Mr. Herman Stiefel
Mrs. Stiefel
Mr. A. E. Stilwell
Mrs. Stilwell and Maid
Mr. W. W. Strathy
Mr. A. H. Strauss
Mr. R. Takeda
Mr. D. P. Taylor
Mr. Thomson
Mr. A. L. Toombs
Mr. W. D. Triest
Mrs Triest, Child and Governess
Mr. Toyokiche Tyenaga
Mr. Gustave Yogt
Mrs. Yogt
Miss Hattie Yogt
Mr. H. Wada
Mr. Hiram D. Wagner
Mr. L. V. Waters and Valet
Mr. A. Watt
Mr. Sylvester Watts
Mrs. T. Webb-Osborne
Miss K. Webb-Osborne
Mr. Ralph Whelan
Mr. Harry K. Widner
Mr. Daniel Willink
Mr. B. W. Winder
Mr. K. G. Winslow
Mr. Alex. Winton
Mrs. Winton
Mrs. G. Wishart
Mr. Sam Wolff
Mr. William Holland Youd
Mr. W. K. Ziegefeld
Additional Saloon Passengers
Mr. J. E. Bell
Mr. J. R. Cahill
Mrs. T. D. Christian
Mr. F. A. Dolph
Mr. Ellbogen
Mr. J. W. Gerow
Miss Gerow
Mr. E. Herz
Mr. T. Iyenaga
Mr,. Richard T,. Laffin
Mr. G. Louis
Major F. R. McDonald
Mr. M. A. Magner
Mr. W. Neadenthal
Mr. F. L. Stewart
Mr. J. A. Stein
Information for Passengers
Passengers are respectfully notified that a Stenographer and Typist is carried on the ship, and is prepared to execute every description of work at moderate prices.
Passengers are urged not to leave any Articles of Value about the Saloon, Staterooms, or elsewhere, especially before the departure of the steamer. Money, Jewelery, or other Valuables should be deposited with the Purser for safe keeping.
Camp Stools can be obtained from the Bedroom Steward.
The Cunard Steam Ship Company Limited Money Drafts
The Company issue, free of charge, drafts on their own Offices in New York, Boston, or Chicago payable at sight in U.S. Currency, and to avoid delay and the responsibility of carrying loose money, passengers are recommended to avail themselves of these drafts.
Similar facilities are also afforded to passengers from the United States. They may obtain from any of the Co.'s Sub-Agents, who are to be found in most of the towns of the U.S., drafts limited to £10, payable in almost every town in the United Kingdom.
Drafts for any amount can also be purchased at the Co.'s Head Offices, New York, Boston, or Chicago, payable at the Company's Offices in Queenstown, Glasgow, London or Liverpool.