RMS Caronia Passenger List 30 March 1912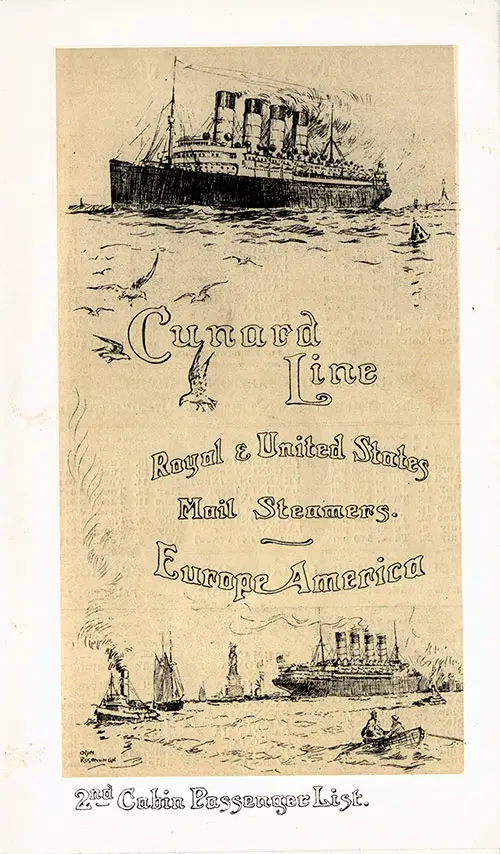 Front Cover of a Second Cabin Passenger List for the RMS Caronia of the Cunard Line, Departing Saturday, 30 March 1912 from Liverpool to New York, Commanded by Captain James Clayton Barr. GGA Image ID # 13b7ee0163
Senior Officers and Staff
Captain: James Clayton Barr
Surgeon: J. F. Mcdermott
Purser: C. T. Spedding
Assistant Purser: H. R. Bennett
Chief Steward: Thos. Dickinson
Typist and Stenographer: Miss S. Hale
Second Cabin Passengers
Mr. A. J. Ahring
Mr. T. M. Allen
Mr. Alfred Allison
Mrs. Anderson
Miss Anderson
Mrs. Elsie Anderson
Miss Gladys Anderson
Mr. Martin Antalin
Mr. Wm. W. Ashe
Mrs. Ashe
Miss Ruth Ashe
Mr. Walter Ashton
Mrs. Emma Ashton
Mrs. Minnie Austin
Master R. W. Austin
Mr. F. D. Bailey
Mr. Frank Ballard
Mrs. Ballard
Mrs. Bertha Barnes
Mr. Evan Baxter
Mr. W. Beadman
Miss Emma L. Benson
Mr. E. Bertram
Mrs. M. Best
Mr. Thomas Blazey
Mr. Patrick Bolger
Mrs. Annie Bolger
Master Bolger and Infant
Mr. N. Bonrez
Mr. Edward Boon
Mrs. Sarah Ann Booth
Mr. C. B. Boothroyd
Mr. John E. Boulgec
Mrs. Braithwaite
Mr. Leslie Brooks
Mrs. Brookes
Mr. L. W. Brown
Mrs. Brown and Two Children
Mr. T. E. Burke
Mrs. F. H. Busch
Miss Margaret Carey
Mr. L. Carlton
Mr. C. Carr
Mr. Alf. Cartledge
Miss Philip Casey
Miss Edith Chapman
Mr. Cniera
Mr. H. Colin Clarke
Mr. A. Clayton
Mr. F. Clayton
Mr. Clerico
Mr. Wilks Clough
Mr. Francis Cooley
Mr. Rueben Copestake
Rev. J. Creed
Mr. Albert Cripps
Mr. E. Cullen
Mr. W. E. Cunliffe
Mr. Richard E. Dalton
Mr. Charles Davies
Mrs. Davies
Mr. Samuel Davies
Mr. Morgan W. Davies
Mr. F. Dawson
Mr. J. Dennison
Mrs. Dennison
Mr. V. Dodis
Mr. Patrick Donovan
Mrs. J. Dorrington
Mr. G. W. Douglas
Mrs. Douglas
Mr. George Douglas
Miss Doyle
Mr. F. Draper
Miss F. E. Dunning
Mr. Wm. Eaton
Mrs. Eaton
Miss A. Erickson
Mr. Wm. Evans
Mr. C. J. Fairbairn
Mr. Patrick Finn
Mr. Thomas Forgan
Mr. William Forgan
Mr. Fredericks
Miss G. A. Funk
Mr. Lawrence Gaffney
Mr. Bernard Gaffnev
Miss S. A. Gill
Miss S. A. Gill
Mr. J. A. Glen
Mr. J. H. Glen
Miss Rose A. Gray
Mr. John F. Griffith
Dr. H. Groeve
Mr. G. F. Hall
Mrs. Jane Hall
Mr. E. Harrison
Mrs. Harvey
Miss Kate Healy
Mr. Frank C. Hesse
Miss E. Hinchcliffe
Miss Ida Hittunen
Miss H. Hofherr
Mr. P. Holland
Mr. S. A. Hotz
Mr. John Houlihan
Mr. J. N. Humphrey
Mr. R. W. Humphreys
Mr. H. E. Jarvis
Miss Anna Jeppson
Mr. Wm. Johnson
Mr. J. Johnson
Mr. Walter C. Johnson
Mrs. Anne Johnson J
Mr. Jas. L. Johnstone
Miss Lizzie Jones
Mr. Evan Jones
Mr. Urbieta Jose
Mr. L. E. Kane
Mr. Kay
Dr. Kayser
Mrs. Kayser
Mr. Timothy Kearns
Mr. Edward Kearns
Mr. Robert Kearns
Mr. Robert Kelly
Mrs. T. Kennedy
Mr. William M. Kennedy
Mr. P. J. King
Mrs. King
Mr. Abraham Klein
Mr. G. L. Kluks
Mr. L. A. Kluks
Mr. Adolf Kuhn
Mr. Richard John Leach
Mr. S. F. Lelen
Miss Alice Lessiter
Mr. E. L. Levy
Dr. Erik Lind
Mr. Jos. H. Lockwood
Mr. J. Louch
Mr. D. S. Maokie
Mr. W. J. Maguire
Mrs. Maguire
Mr. Martin F. Maher
Mr. Peter Maher
Mr. Patrick Maher
Mr. Mahoney
Mrs. Mahoney
Mr. Wm. Marshall
Mrs. Mather
Master Winston Mather
Mr. W. C. Mathieson
Mr. D. Me Austin
Mrs. D. Me Austin
Mr. William McBride
Miss McBride
Mr. McColl
Mrs. McColl
Mr. McCormack
Mrs. McCormack
Mr. Thos. McCormack
Dr. W. H. McCormick
Mrs. McCormick
Mr. B. McCotter
Mr. T. F. McDonald
Mr. J. McFarland
Mr. M. McGuffin
Mrs. Mary McNamara
Mr. A. McWilton
Mr. L. Melior
Miss C. Melville
Mr. Harry Merez
Mrs. Lucy Millington
Master Fred Millington
Master Millington
Mr. Jos. G. Morgan
Miss Louise Morton
Mrs. Gertrude Mulbv
Master Spencer Mulby
Miss Mulliner
Mrs. Bridget Mulvey and Infant
Master Bichard Mulvey
Miss Margaret Mulvey
Mr. C. Muramatsu
Mr. S. Nagassawa
Mr. Kennett Newman
Miss Elizabeth Norton
Miss Evelyn O'Brien
Mr. Gerald O'Farrell
Mr. Denis O'Keefe
Mr. Ereing Olsen
Miss Sarah O'Neill
Miss Jane O'Neill
Mr. Alf. A. Orlando
Mrs. Orlando
Mr. E. Ota
Miss Olive Otley
Mr. B. Owen
Mr. J. Parker
Mrs. J. Parker
Miss A. Parker
Mr. A. H. Parsons
Mrs. Phoebe Partridge
Mr. B. E. Pendleton
Mr. T. Phillips
Mr. Harry Phillips
Mr. Mendel Pianko
Mr. F. Pierce
Mr. E. B. Pollett
Mr. Eugene Poplulz
Mrs. Mary Potts and Infant
Mr. Joe G. Pritchard
Miss E. Proudfoot
Mr. W. B. H. Pughe
Mr. Jas. Quinn
Mr. Horace T. Bawlins
Mrs. Bawlins
Mr. H. Began
Mr. Patrick J. Beilly
Mrs. J. H. Beynolds
Mr. Samuel Boberts
Mr. Frank Bock
Mrs. Bock
Mr. Francis Ed. Roger
Mr. D. J. Bosser
Mr. S. H. Rowe
Mr. G. Salvatore
Mr. J. Sanchez
Miss Kate Sands
Mr. Sardo
Mr. James J. Scanned
Mr. L. Scheff
Mr. John V. Scott
Mr. Louis Vi Scott
Mr. P. Sharkey
Mrs. Agnes A. Shepherd
Mrs. Florence E. Simoson
Miss Florence R. Simoson
Miss Sissi
Mr. F. W. Skirrow
Mr. G. E. Smith
Mr. Paul Solim
Mr. A. de Souza
Mr. Howard Steeds
Mr. Stephenson
Mr. Chas. Stephenson
Mr. Frederick Stock
Mrs. Stock
Master Jack Stock
Miss Violet Stock
Mr. Max Stoller
Mr. Seth Thomas
Mrs. Catherine J. Thomas
Mr. J. E. Thomas
Mrs. Thomas
Master Norman Thomas
Mr. R. Thomas
Miss Rachel M. Thomas
Mr. Wm. J. Tobin
Mr. N. C. Triandaphillides
Mr. C. Triandaphillides
Mr. Hy. Velvick
Mr. G. Wacht
Mr. Robert R. Wallace
Mr. Wm. E. Ward
Mr. Percy Wark
Miss Caroline Warwick
Mr. S. Watanabe
Miss Clarice Watling
Miss A. S. Watts
Miss C. E. Watts
Mrs. M. Whitehead
Miss R. Whitehead
Mr. J. W. Whiting
Mr. Harry Whittington
Mr. Hugo Wild
Mr. John Williams
Mrs. Mary J. Williams
Miss Lottie Marie Williams
Master John A. Williams
Mr. James Williams
Mrs. Williamson
Mr. J. Wilson
Mr. T. D. Wishart
Mr. Thomas W. Yates
Mr. Thomas E. Yates
Mr. Jack Young
Mrs. Young

Passenger Additions and Errata
Additional Passengers
Mr. H. H, Avery
Mr. J. Backhurst
Mrs. Butchart
Mr. C. E. Cave
Mr. E. H. M. Curtis
Mr. F. Dewhurst
Mr. J, E. Darby
Mr. K. R. Eriksson
Mr. J. Healy Mrs. Healy
Mr. J. W. Hemingway
Mr. R. Hubbert
Miss E. Jenkins
Mr. M. Ktiop
Mr. O. Lewis
Mr. B. McGlone
Mr. J. H. Moran
Mrs. M. Orme
Mr. G. Orrell
Mr. W. Plumb
Mr. E. Rush
Mr. D B Scott
Mr. George Stevenson
Mr. E F Terry
Miss Olga Trommold
Mr Harold Trommold
Mr. H. Wilkinson
Mr. B. Wormington
Mr. F. Whitehead
Passengers Not on Board
Mrs. Sarah Ann Booth
Mr C Carr
Mr H Colin Clarke
Miss F E Dunning
Mr Patrick Finn
Mr William Forgan
Miss S A Gill (2)
Mrs. Jane Hall
Mr E L Levy
Mr W J Maguire
Mrs. Maguire
Miss McBride
Mrs. McNamara
Master F Millington
Miss Elizabeth Norton
Miss A Parker
Mr A H Parsons
Mr Patrick J Reilly
Mr Stephenson
Mr J Wilson
Corrections to Ships List
| Listed As | Should Read |
| --- | --- |
| Mr Walter Ashton | Mr Walter Aston |
| Miss Philip Casey | Mr Philip Casey |
| Mr N Bonrez | Mr N Bourez |
| Mr W E Cunliffe | Mr W E Cunniffe |
| Mr F Draper | Mr F Diaper |
| Mr H E Jarvis | Miss H E Jarvis |
| Mr Jas L Johnstone | Mr Jas L Johnson |
| Mr G L Kluks | Mr G L Klerks |
| Mr Harry Merez | Mr Harry Mertz |
| Mrs. Gertrude Mulby | Mrs. Gertrude Mulley |
Total Passengers: 303
Information for Passengers
This Steamer Is Fitted With Marconi's System of Wireless Telegraphy, Also With The Submarine Signaling Apparatus.
The "Lusitania" And "Mauretania" Are The Fastest Steamers In The World.
A Stenographer And Typist Is On Board For The Convenience Of Passengers.
Express Route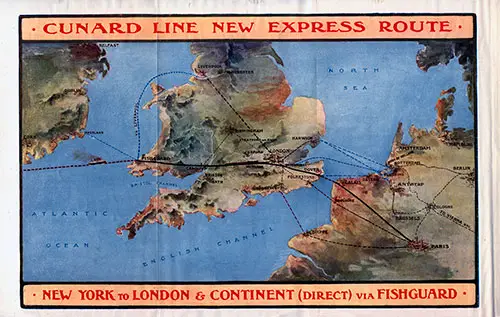 Map of the America to London and the Continent via Fishguard. Which Is Recognized As The Most Expeditious Route, 1912. GGA Image ID # 1747f33050
With the view of enabling passengers to reach London on Monday afternoon and Paris the same evening or following morning, the "Lusitania" and "Mauretania" have been scheduled to leave the New York Pier at 1 am on Wednesdays and proceed direct to Fishguard without calling at Queenstown. The steamers will thus be due at Fishguard on Monday morning.
A Cold Buffet Supper will be served to Passengers between 9:00 pm and midnight on Tuesdays.
All other New York steamers will call at both Queenstown and Fishguard, the "Campania" leaving New York at 1 am Wednesday, and "Carmania" and "Caronia" at 10:00 am on sailing day.
Steamers from Boston, commencing with the "Laconia," 30th April, to the "Laconia," 23rd July inclusive, will also call at both Queenstown and Fishguard.
The Great Western Railway provide special trains from Fishguard for London (Paddington), the railway journey occupying about 4.75 hours. Special trains will also be provided for the Channel Ports when sufficient inducement offers.
Fishguard is the nearest British port to New York and Boston, and this route is therefore the most direct to London.
Telegraphic Code.
For the convenience of passengers copies of the Western Union Telegraphic Code and of Lieber's Code are carried on this steamer, and same can be referred to on application to the Purser.
Wireless Telegram Rates.
Ship to Ship.—Minimum Rate, 8d. (16 cents) per word; every word in address, text, and signature counted, and all fees must be prepaid.
United Kingdom.—The minimum Marconi Rate, via Crookhaven, or other stations in the United Kingdom, or through the medium of a passing steamer, is 10d. (20 cents) per word; every word in address, text, and signature counted; land charges additional; all fees must be prepaid.
United States.—The minimum Marconi Rate, via Sea Gate, Sagaponack, or (for steamers in the Boston Service only) South Wellfleet, Cape Cod, or through the medium of a passing steamer and one of these stations is 8s. 4d. ($2) for ten words. Each extra word 6d. (12 cents); text only counted; address and signature free; land charges additional; all fees must be prepaid.
The minimum rate via Siasconsett or Cape Race, or through the medium of a passing steamer and these stations is 12s. 6d. ($3) for ten words. Each extra word 9d. (18 cents); text only counted; address and signature free;. land charges additional; all fees must be prepaid.
The minimum Marconi Rate via Sable Island, or through the medium of a passing steamer and this station is 16s. 8d. ($4) for ten words. Each extra word 1s. (24 cents); text, only counted; address and signature free; land charges additional; all fees must be prepaid.
Travellers' International Cheques.
For the convenience of its Patrons the Cunard Company now issues CHEQUES of $10.00, $20.00, $50.00 and $100.00, with Foreign money equivalents distinctly printed thereon, at which they will be cashed by its Agents and Correspondents throughout the world; thus providing not only the safest and most economical means of taking funds abroad, with an absolute certainty as to value, but also A Simple And Effective Means Of Identification In Case Of Need.
Full information regarding these Cheques will be given on application to any of the Company's principal Agencies throughout the United States.
Rugs May Be Hired at a Cost of 4/- (or $1). Each Rug will be contained in a sealed cardboard box, and will bear a serial number which will be worked into the material so that passengers will have no difficulty in identifying their rugs. At the end of each voyage, the rugs which have been in use, will be sent to the store and thoroughly cleaned, before being re-issued.
All Cunard Steamers in the Liverpool, New York and Boston Services and in the New York- Mediterranean Service carry Orchestras of professional musicians, which play at appointed times and according to requirements.
The "Caronia" carries an orchestra of highly-trained musicians, which will play at the undermentioned times and places:
First Class Dining Saloon
1:00 to 2:10:00 pm
7:10 to 8:45:00 pm
9:00 to 10:00 pm
Second Class Dining Saloon
10:00 to 11:00 am
9:30 to 4:00 pm
This arrangement may be altered as circumstances necessitate.
Meals will be served in the Saloon at the following times:— Breakfast at 8 am; Dinner 12:30 pm; Tea 5:30 pm; Supper 8:30 pm The Bar and Smoking Room will be closed at 11:00 pm
Seats at Table.—Application may be made at any of the Chief Offices in advance, or to the Second Cabin Steward on board the steamer on day of sailing
Divine Service on Sunday at 10:30 am
Baggage.—Passengers are recommended to insure their Baggage, as the Company's liability is strictly limited in accordance with Contract Ticket. All enquiries regarding Baggage on board ship should be addressed to the Baggage Master.
Steamer Chairs may be hired from the Deck Steward at a cost of 4s. for the voyage.
Valuables.—The Company is not responsible for theft if valuables or money are kept in the Staterooms. The same should be placed in charge of the Purser for deposit in his safe, and a receipt will be given on the Company's, form As no charge is made for carriage the Company can not accept any responsibility for loss or damage, however arising, but passengers can protect themselves by insurance.
Passengers should obtain a receipt on the Company's form for any additional Passage Money or Freight paid on board.
Exchange of Money.—The Purser is authorized to exchange money at the following rates. He will give American money for English at $4.80 to the pound sterling and English money tor U.S. Currency at £1 sterling for $4.95.
The Surgeon is authorized to make customary charges, subject to the approval of the Commander, for treating any passengers at their request for any illness not originating on board the ship. In the case of sickness contracted on board no charge will be made and medicine will be provided free.
Dogs.—Passengers are notified that dogs cannot be landed in Great Britain unless a license has previously been procured from the Board of Agriculture, London. Forms of license must be obtained by direct application to the Department before the dog is taken on board.
Arrivals at New York.—Passengers are landed at the Company's Piers, 54 to 56, North River, Foot of West 14th Street, where railway tickets can be purchased and baggage checked to any part of the United States and Canada. After landing, passengers should enquire at the desk on the wharf for letters and telegrams.
When any of the Company's steamers arrive at the Pier after 8:00 pm, passengers have the option of remaining on board over night and landing after Breakfast the following morning.
Public Telephones.—Telephone service with booths and operator in attendance will be found near the Customs Lines on the New York wharf.
Taxicabs and Carriages.—These can be hired at the New York Piers. Passengers by communicating their wishes regarding conveyances to the Purser can have them reserved in advance. The Purser will forward such requests by Marconi Wireless Telegraph Company to the New York Office without charge.
Fishguard.—See Special Notice, " Express Route," &c.
Arrivals at Liverpool.—Time of Landing Passengers.— When any of the Company's steamers arrive alongside the Liverpool Landing Stage after 8:00 pm it is optional for the passengers to go on shore that night. In the event, however, of their remaining on board, they will be landed after breakfast the following morning, either at the Stage or in dock as circumstances may make desirable.
When the vessel reaches the river but does not come alongside the Stage, to prevent inconvenience and to meet emergencies, any passengers desirous of disembarking will, on arrival of the steamer, be landed, with hand baggage only, by tender, provided that the Purser is advised before leaving Fishguard or Queenstown of the passenger's wish to do so. Notice will be placed in the Companionway on arrival at Fishguard or Queenstown advising passengers of anticipated arrival at Liverpool, and arrangements for landing.
Special trains are run between Riverside Station, Liverpool, and Euston Station, London, in connection with the arrival and departure of the steamers.