RMS Aquitania Passenger List - 11 July 1914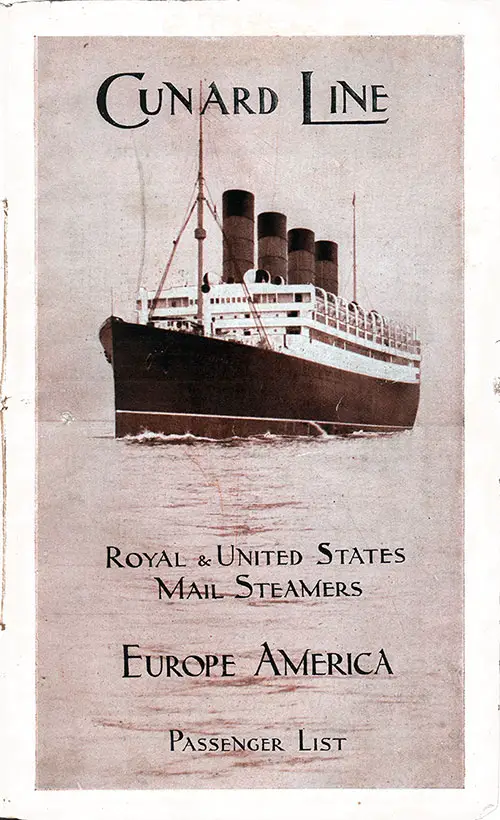 Front Cover, Cabin Passenger List from the RMS Aquitania of the Cunard Line, Departing Saturday, 11 July 1914 from Liverpool to New York, Commanded by Captain W. T. Turner, RNR. GGA Image ID # 13b5349dda
Senior Officers and Staff
Captain: W. T. Turner, R.N.R.
Staff Captain: R. V. Peel, R.D., R.N.R.
Chief Engineer: A. Bryce
Assistant Chief Engineer: G. Patterson
Chief Officer: S. Gronow
Purser: J. A. McCubbin
Assistant Purser: P. Draper
Surgeon: Jas. Pointon
Assistant Surgeon: J. P. Litt
Chief Steward: Wm. H. Allison
Second Cabin Passengers
Mr. Adam
Mrs. Adam
Master Adam
Col. John Addie (s.a.)
Mrs. S. Adler
Master M. Adler
Master S. Adler
Miss M. Allen
Miss J. Allen
Mr. Jens J. Anderson
Mr. Louis Anderson
Mrs. Anderson
Mr. P. Appleton
Mrs. A. Arnstein
Master Arnstein
Mr. J. W. Barber
Mr. A. S. Barham
Mr. John Baxter
Miss L. Bean
Mr. H. A. Bell
Mrs. Bell
Mr. S. H. Bennotte
Mr. J. Bentley
Mr. S. Bentley
Mr. W. H. Bevan
Mrs. M. J. Bevan
Mrs. Q. D. Bevan
Mr. A. Biddle
Miss A. Birchall
Mr. J. Broidy
Mrs. J. Brooks
Mr. W. Brown
Miss H. A. Brown
Mr. C. A. Buckner
Mr. A. A. Bullen
Mr. A. R. Buttock
Mr. R. Burns
Miss M. Burns
Ensign Lucy Bushnell
Mr. Butler
Mrs. E. Butterly
Mr. George Calton
Mr. D. Campbell
Mr. Heyworth Campbell
Mrs. Campbell
Mr. C. A. Cardwell
Mr. Carlson
Mrs. Carlson
Mr. H. L. Carman
Mr. A. B. Carrirk
Mr. M. Carroll
Mr. D. S. Chisholm
Mr. T. Christiansen
Mr. Alf. Christoffersen
Miss H. C. Clarke
Mr. Walter Clarke
Mr. Lawrence Clawson
Miss A. M. Clowes
Mr. T. Collett
Mrs. L. Collett
Rev. M. A. Condon
Mrs. J. Cook
Miss. Cooke and Infant
Miss M. Cooney
Mr. G. W. H. Corbett
Miss Blanche B. Cox
Mr. E. E. Craddock
Rev. D. Cramman
Mr. F. A. Craven
Mrs. Craven
Mr. W. Crosland
Mrs. Crosland
Mr. C. A. Crossley
Mr. C. W. Darker
Mrs. Darker
Miss W. Davis
Mr. B. Delbridge
Dr. John Dennett
Mr. M. Dickie
Mrs. Dickie
Mr. Harry S. Donaghy
Mrs. Emma Duncan
Mr. George William Duncan
Miss Winifred Eadsforth
Mr. Adolf Eklund
Mr. Hugh Elder
Mr. J. E. Ellis
Mr. P. E. Erhorn
Mrs. Erhorn
Miss Kochel Essenborg
Mr. Richard T. Evans
Mrs. Evans
Mrs. E. C. C. Fenn
Mr. Herman Filsen
Miss D. Fisher
Mr. James Forbres
Capt. W. A. Fordyce
Mrs. Fordyce and Infant
Capt. Foster
Mr. A. Fothergill
Mr. Samuel Freedman
Mrs. Eliz. Gaskell
Mr. C. Glikys
Mrs. E. Glikys
Mr. Abraham Goldstein
Mrs. Goldstein
Mr. Lewis Goldstein
Mr. H. S. Gooch
Mis. Gooch
Mr. C. Gould
Mrs. Gould
Miss Ida N. Gould
Miss E. Gravelle
Mrs. Green
Mrs. Margaret Green
Mr. H. Griffiths
Mr. Haagen
Mrs. A. K. Hall
Miss M. K. Hall
Miss Emily Hall
Mr. J. D. Halton
Miss B. Hamilton
Miss Hilda Hanby
Rev. H. Hansen
Miss S. Hansen
Miss Lillian Hartley
Mr. P. Hayday
Mr. John Hayes
Mrs. Hayes
Miss Emilia Hearth
Mr. H. Hermann
Mr. R. B. Hesketh
Miss E. Hesse
Mr. A. E. Higgins
Mr. J. Hirschler
Mrs. Hirschler
Mr. H. C. Hitchcock
Mr. G. W. M. Hitchens
Mr. A. E. Hobson
Mrs. Hobson
Mis. E. Holt
Mrs. M. A. Howlon
Miss M. A. Howlon
Mrs. Alice Hughes
Miss Margaret Hunt
Miss Margaret Hunt [sic]
Mr. Oscar D. Hunter
Miss M. Hunter
Mr. W. Hutchison
Mr. It. Van Huystein
Mr. W. Hynds
Miss A. Hynds
Rev. O. Inglis
Mrs. Elizabeth Irvine
Miss C. Irvine
Mr. D. Jarvis
Mr. H. B. Jervis
Mr. L. G. Johnson
Master Johnson
Mr. August D. Johnson
Mr. P. H. Jones
Mr. S. B. Joseph
Mr. F. J. Joubert
Mr. James Kay
Mrs. Kay
Mr. K. W. Kaye
Mr. R. B. Keller
Mr. D. E. Kennedy
Brigadier A. E. Kimball
Mr. H. E. Kinlock
Mrs. Kinloek
Mr. S. K. Kinrade
Mr. A. Knox
Mr. Sain Koidanovsky
Mr. K. Kramnic
Mr. A. Krampolt
Mr. T. H. Lamar
Mr. T. J. Lambert
Mrs. Lambert
Mr. W. Lawrence
Mr. J. S. Lawson
Mr. Erick Lee
Mr. D. Leon
Mrs. K. A. Lettsome
Mrs. E. Lithman
Mr. George B. Long
Mr. Harry Lonsdale
Mrs. Lonsdale
Master H. Lonsdale
Mr. G. A. Lorimer
Mrs. A. Loveday
Mr. B. Ludlow
Mrs. Ludlow
Major Lumb
Mrs. Lumb
Mr. H. Lynn
Mr. Mackie
Mr. W. Maber
Mr. James Macrae
Miss Amanda Magnuson
Mr. Marsden
Mrs. Marsden
Lieut.-Col. Marshall
Mrs. Marshall
Miss Marion Marshall
Capt. E. A. Marshall
Master Norman Marshall
Mr. Arthur Martin
Mr. J. A. Marten
Mr. F. Mathie
Mrs. Mathie
Mr. C. McEnearney
Miss Emma McGee
Mr. K. A. McIntyre
Mrs. McKelvey
Mr. McKenzie
Miss H. McLay
Mr. McVitie
Mrs. McVitie
Mr. A. F. Menogin
Mr. A. Metz
Mr. T. H. Mewes
Mrs. Mewes
Mr. H. L. Millar
Mr. A. F. Minague
Miss D. B. Moore
Mr. W. G. Morgan
Mr. Robert B. Morton
Mrs. Morton
Miss Myra Morton
Miss Mulholland's Maid
Miss I. Murphy
Mr. Andrew P. Murray
Adjutant J. Nonkinet
Miss C. E. Nealo
Mr. J. Needham
Mrs. Needham
Master Needham
Miss J. M. Needham
Mr. Chas. A. Nesbitt
Mr. W. North
Mrs. North
Miss Minnie B. Norton
Mr. George Oliver
Mr. Edward Olsson
Mr. G. Patterson
Mr. Philip G. Peabody
Miss N. Pearson
Miss A. M. Pearson
Adjutant Lois Peers
Mr. J. D. Percy
Mr. R. O. Philipson
Mr. Daniel Pinching
Mrs. Pinching
Miss Pinching
Mr. R. H. Playfair
Miss L. M. Poore
Mr. Alfred A. Pourn
Mr. Pratt
Mister Pratt [sic]
Mr. R. G. Proudlock
Madame Psarsky
Mr. R. Purvis
Mr. William Ramsay
Mr. James Ramsay
Miss L. S. Rami
Mrs. M. Randall
Mrs. K. J. Ranson
Mr. James Reese
Mr. Thomas Rennie
Miss K. Rennie
Mr. Rewe
Master Rewe
Mr. P. Rinn
Mr. William Roberts
Mrs. Roberts
Mr. O. R. Roberts
Miss Royce
Miss D. E. Roys
Mr. W. J. Russell
Miss Russell
Mr. T. H. Sandall
Adjutant H. A. Sanford
Mr. G. H. Saywell
Mr. Jolin Schofield
Rev. W. N. Schulte
Mis. Schulte
Mr. Scott
Mr. Jos. S. Scott
Mr. Hans P. Sethro
Mr. R. Sharpies
Mr. H. F. Shaw
Mr. N. J. Sheridan
Mr. W. K. Sheriff
Mr. Silcock
Mr. Howard Silcock
Mr. E. T. Sills
Mr. John Simpson
Mr. John Simpson
Mr. Thomas E. Smith
Mrs. Amelia Smith
Mrs. A. Smith
Mr. Thomas Spargo
Mr. Robert Spearman
Mr. Hugo Spilzer
Mr. W. S. G. Sprake
Mr. W. Steadman
Mr. H. Steffen
Mr. Chas. G. Strand
Mrs. Strand
Miss M. Strand
Mr. Michael Stephens
Mr. Jacob Swartz
Mr. William K. Tait
Mrs. M. B. Taylor
Mr. John Taylor
Mr. J. Torrany
Mrs. Torrany
Miss D. Terrany
Mr. C. W. Thompson
Miss E. R. Tooth
Capt. E. Turner
Mrs. E. F. W. Van Timmeren
Mr. J. Vila
Mr. E. N. Vose
Mr. George P. Wagner
Mrs. M. L. Wagner
Mr. T. V. Wallace
Miss Charlotte Wallace
Miss Hilda Wallenius
Mr. K. .J. Warronder
Mr. G. A. Watson
Mrs. Watson
Miss M. Watson
Mr. E. J. Wheeler
Miss Lucy Wheeler
Mr. Richard White
Mrs. White
Master W. White
Miss Emma White
Mr. O. White
Mr. Isaac White
Mr. H. D. Wilkie
Mrs. K. Williams
Mr. Wm. Wilson
Mrs. S. Wilson
Mrs. Sarah Winkel
Brigadier J. R. Wiseman
Mr. Olans C. Wold
Mrs. Wold
Master Robert M. Wold
Mr. T. S. Wood
Mr. Harry Woods
Mr. John L. Woolson
Mrs. Woolson
Miss Jane Ellen Worswick
Mr. Wotton
Mr. Wyon
Mr. Joseph Yudlevitz
Mrs. Yudlevitz
Master Yudlevitz
Information for Passengers
The "AQUITANIA" carries an orchestra of highly-trained musicians, which will play at the undermentioned times and places:
10:00 to 11:00 am ... Second Class Dining Saloon.
1:00 to 2-10:00 pm ... First Class Dining Saloon.
9:30 to 4:00 pm ... Second Class Dining Saloon.
7:10 to 8:45:00 pm ... First Class Dining Saloon.
9:00 to 10:00 pm ... First Class Drawing Room.
MEALS will be served in the Saloon at the following times :—
Breakfast at 8:00 am; Luncheon 1:00 pm; Dinner 6:30 pm
The Bar and Smoking Room will be closed at 11:00 pm
Seats at Table.—Applications may be made at any of the Chief Offices in advance or to the Second Cabin Steward on board the steamer on day of sailing.
Divine Service on Sunday at 10:30 am
Baggage.—Passengers are recommended to insure their Baggage, as the Company's liability is strictly limited in accordance with Contract Ticket. All enquiries regarding Baggage on board ship should be addressed to the Baggage Master.
Valuables.—The Company is not responsible for theft if valuables or money are kept in the Staterooms. The same should be placed in charge of the Purser for deposit in his safe, and a receipt will be given on the Company's form. As no charge is made for carriage the Company can not accept any responsibility for loss or damage, however arising, but passengers can protect themselves by insurance.
Passengers should obtain a receipt on the Company's form for any additional Passage Money or Freight paid on board.
Notice.—Passengers are informed that Professional Gamblers are reported as frequently crossing on Atlantic Steamers, and are warned to take precautions accordingly.
Exchange of Money.—The Purser is authorized to exchange money at the following rates. He will give American money for English at $4.80 to the pound sterling and English money for U.S. Currency at £1 sterling for $4.95.
The Surgeon is authorized to make customary charges, subject to the approval of the Commander, for treating any passengers at their request for any illness not originating on board the ship. In the case of sickness contracted on board no charge will be made and medicine will be provided free.
Dogs —Passengers are notified that dogs cannot be landed in Great Britain unless a license has previously been procured from the Board of Agriculture, London. Forms of license must be obtained by direct application to the Department before the dog is taken on board.
Arrivals at New York.—Passengers are landed at the Company's Piers, 53 to 56, North River. Foot of West 14th Street, where railway tickets can be purchased and baggage checked to any part of the United States and Canada. After landing, passengers should enquire at the desk on the wharf for letters and telegrams.
When any of the Company's steamers arrive at the Pier after 8:00 pm, passengers have the option of remaining on board over night and landing after breakfast the following morning.
Public Telephones.—Telephone service with booths and operator in attendance will be found near the Customs Lines on the New York wharf.
Taxicabs and Carriages.—These can be hired at the New York Piers.
Fishguard.—See Special Notice, " Express Route," &c.
Arrivals at Liverpool.—Time of Landing Passengers.— When any of the Company's steamers arrive alongside the Liverpool Landing Stage after 8:00 pm it is optional for the passengers to go on shore that night. In the event, however, of their remaining on board, they will be landed after breakfast the following morning, either at the stage or in dock as circumstances may make desirable.
When the vessel reaches the river but does not come alongside the Stage, to prevent inconvenience and to meet emergencies, any passengers desirous of disembarking will, on arrival of the steamer, be landed, with hand baggage only, by tender, provided that the Purser is advised before leaving Queenstown or Fishguard of the passenger's wish to do so. Notice will be placed in the Companionway on arrival at Queenstown or Fishguard advising passengers of anticipated arrival at Liverpool, and arrangements for landing.
Travellers' International Cheques.
For the convenience of its Patrons the Cunard Company issues CHEQUES of $10.00, $20.00, $50.00 and $100.00, with Foreign money equivalents distinctly printed thereon, at which they will be cashed by its Agents and Correspondents throughout the world; thus providing not only the safest and most economical means of taking funds abroad, with an absolute certainty as to value, but also A SIMPLE AND EFFECTIVE MEANS OF IDENTIFICATION IN CASE OF NEED.
Full information regarding these Cheques will be given on application to any of the Company's principal Agencies.
Chairs and Rugs may be Hired at a Cost of 4/- (or $1) each on application to the Deck Steward.
Each Rug is contained in a sealed cardboard box, and bears a serial number worked into the material so that passengers will have no difficulty in identifying their rugs. At the end of each voyage, the rugs which have been in use, are sent to the store and thoroughly cleaned, before being re-issued.
All Cunard Steamers in the Liverpool, New York, Boston and Canadian Services and in the New York-Mediterranean Service carry Orchestras of professional musicians, which play at appointed times and according to requirements.
Telegraphic Code.
For the convenience of passengers copies of the Western Union Telegraphic Code and of Liebers Code are carried on this steamer, and same can be referred to on application to the Purser.
This steamer is fitted with MarconI's system of wireless telegraphy also with the submarine signaling apparatus. The "Lusitania" and "Mauretania" are the fastest steamers in the world.
A stenographer and typist is on board for the convenience of passengers, and is prepared to attend promptly to all work required. The office is situated on the boat deck.