RMS Campania Passenger List 24 September 1910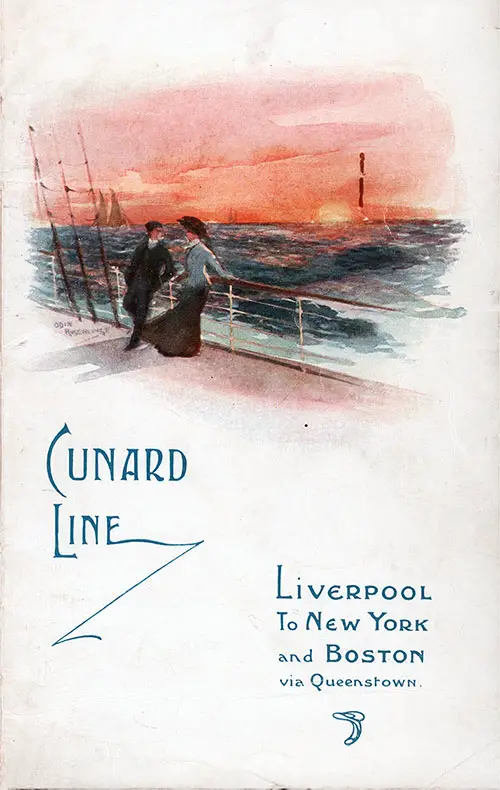 Front Cover of a Saloon Passenger List for the RMS Campania of the Cunard Line, Departing Saturday, 24 September 1910 from Liverpool to New York via Queenstown (Cobh), Commanded by Captain R.C. Warr. GGA Image ID # 159f85ab18
This passenger list contained Map of Cunard Line New Express Route: New York to London & Continent (Direct) via Fishguard.
Senior Officers and Staff
Captain: Commander R. C. Warr
Surgeon: Robert BRUCE
Purser: E. C. F. Moore
Assistant Purser: J. W. Lawler
Chief Steward: W. T. TRACY
Saloon Passengers
Mr. E. C. Ackermann
Dr. W. E. Adams
Mrs. Adams
Mr. A. L. Adamson
Mrs. Adamson
Mrs. Henry Allen
Mr. Casimiro Alminaque
Mr. R. W. Baldwin
Mr. Phillip Banard
Mrs. Banard
Mr. T. Barrett
Miss A. Baxter
Mr. H. L. Beach
Mrs. Beach
Miss H. E. Beach
Mr. Courtenay W. Bennett, (H.B.M. Consul-General, New York.)
Mrs. Bennett
Miss Bennett
Mr. Nelson Bennett
Mrs. Bennett
Miss C. Bennett
Rev. E. A. Beresford
Miss Beresford
Mr. Mortimer Bishop
Mr. George Black
Mrs. Black
Mr. Harvey Black
Mr. George Black, Jr.
Miss Agnes Jane Black
Mrs. Olga Bourgogne
Mr. A. W. Boyd
Mr. Joseph Boylson
Mrs. Boylson
Mrs. H. Westbrook Bradbury
Mr. W. Brill
Mrs. Brill
Miss Sarah Brough
Mr. R. L. Brown
Mrs. Brown
Mrs. W. M. Buchanan
Mr. E. J. Buckley
Mr. Frank W. Burke
Mrs. Burkinshaw
Mr. Burkinshaw
Mr. I. H. Burney
Mrs. Burney
Mr. Nelson R. Butcher
Mrs. Willard L. Candee
Mr. Arthur A. Carey
Miss Alida Carey
Mr. Carter
Mr. J. B. Cartmell
Mr. O. B. Clarence
Miss A. V. E. Clarence-Smith
Mr. A. G. Clark
Mr. Claros
Mrs. Claros
Miss Claros
Mr. Herbert P. Coates
Mr. H. Cortland
Mr. John A. Coyle
Mrs. Coyle
Miss Helen Amelia Coyle
Mr. W. R. Craig and Manservant
Mr. J. C. Cremer
Mr. E. H. Crowdus
Mrs. Crowdus
Mrs. A. E. Crowe
Miss Cissy Curlette
Mrs. Dalgleish
Mr. J. W. Davidson
Mrs. E. P. Dean
Mr. John J. Deaner
Miss Jojie M. Demarest
Rev. Timothy Dempsey
Miss Dempsey
Mr. George Denison
Miss Devaria
Mrs. Don
Miss Don
Miss Tillie Dunbar
Miss Elizabeth Dutcher
Mr. R. F. Easson
Mrs. Easson
Mrs. Adelaide Egerter
Miss Eva Egerter
Miss A. E. Entwistle
Mr. S. de Silva Ferreira (Portuguese Consul, San Francisco)
Mr. A. Firth
Mr. J. Fleming
Mrs. Fleming
Miss Lola Fleming
Master Edgar Fleming
Mr. J. G. Fletcher
Major Frederick S. Foltz
Mrs. Foltz
Mr. A. C. Foster
Mrs. Foster
Mr. F. B. Foster
Miss Mary Fowler
Mrs. C. W. Franzheim
Miss K. M. Franzheim
Mr. Andrew Fraser
Mrs. Friser and Infant
Master Donald Fraser
Miss Nan Fraser
Mr. Harry L. Gamin
Mr. Thomas Gore
Mr. Julius Gottschalk
Mrs. Gottschalk
Miss H. Gottschalk
Mrs. A. J. Graham
Mr. J. J. Graham
Mr. J. B. Graham
Mr. Antonio Granda
Mr. J. F. Grant
Hon. Norman Grey
Mrs. Grey
Miss Lucy B. Grey
Miss Norma Grey
Miss Louise S. Grey
Major G. H. Griffith, R.E
Mrs. M. Grosh
Mr. T. Grosse
Mr. H. Mayo Gunn
Mr. G. S. Gunson
Mr. O. Haaks
Mrs. Haaks
Miss Jean B. Haldeman
Mr. William Hall
Mr. H. G. Heiget
Mrs. Heiget
Mr. W. J. Heinritz
Miss Heldon
Mrs. Wilbur T. Helm
Miss Alice C. Helm
Capt. Wm. Hethorn
Miss Pauline Hethorn
Mr. George Hoag
Mr. Frank Homes
Mr. Alfred Hopkins
Mr. W. D. Howells
Miss Howells
Mr. W. E. Howes
Mr. Isaac Penny Hubbard
Mrs. Hubbard
Mr. Stewart B. Hubble
Miss R. Hurst
Miss Eleanor Hurst
Miss Isabel Ide
Dr. James A. Irwin
Mrs. Irwin
Mr. Kirby Jackson
Mrs. Jackson
Miss Grace E. Jackson
Miss Emma Jenkins
Miss Mabel Jenkins
Mr. E. H. Jennings
Mr. E. H. Jennings, Jr.
Miss Katharine Jennings
Mr. Johnston
Mr. E. A. Johnston
Mrs. Johnston
Mr. J. Jonassen
Miss C. R. Lowell and Maid
Miss Mary G. Loweth
Mr. Ludwig Lurman
Mrs. F. Th. Lurman
Mr. Leon Kamaiky
Mr. E. S. Kelly
Mrs. Kelly
Miss Martha Kelly
Miss Nina Kelly
Miss Nell Kelly
Mrs. Thomas F. Kent
Mr. Martin J. Keogh, Jr.
Mr. Fredk. Kerr
Mr. Walter Kirton
Mrs. Kirton
Mr. W. Klehr
Mrs. Klehr
Mr. W. G. Lacy
Mr. W. D. Lacy
Miss Grace Lamb
Mr. Francis Lambert
Mr. Thos. Langford
Mr. T. L. Langford
Mr. J. H. Larwill
Miss Dorothy Lawton
Mr. Peter Leidenger
Mrs. Leidenger
Dr. Leitner
Mr. D. G. Ley
Mrs. Ley
Rev. J. G. Libert
Rev. G. L. Locke
Mr. J. W. Locke
Miss MacEnerey
Mr. L. Mann
Dr. Henry K. Marks
Miss Louise Martin
Mr. James Mayor
Mrs. Fannie M. Mayer
Miss S. McCallin
Mrs. E. F. McClennen
Miss Gladys McConchie
Miss M. J. McCoy
Miss McElroy
Mr. J. G. McLallen
Mrs. M. C. McLallen and Infant
Miss Annie McMorrow
Mrs. A. K. McMullen
Miss K. Mead
Mr. R. Mellor
Mrs. J. M. Moderwell
Mr. E. Moir
Mr. C. G. Moller, Jr.
Mrs. Moller
Miss R. H. Moller
Master C. Moller
Mr. George Moore
Mrs. E. W. Moore
Mrs. F. Gordon Morrill
Mr. S. Morrill
Miss Lucy E. Moten
Mr. Basil Mott, M.I.C.E
Mr. P. E. Mulligan
Mrs. Mulligan
Mr. A. H. Neal
Mrs. Daniel Rogers Noyes and Maid
Mrs. La Verne W. Noyes
Mr. Nutting
Mrs. Nutting
General James R. O'Beirne
Mrs. A. B. Olive
Miss Olive
Mr. Alex. Ormsbee
Mrs. Owen
Miss Owen
Dr. Wallace Pyle
Mrs. Pyle
Master Wallace Pyle, Jr.
Mr. A. Radford-Whysall
Mr. S. Ramirez
Miss Florence Raub
Dr. E. Rhodes
Mr. George E. Rice
Miss Lena de Rochemont
Mr. Richmond Rochester, Jr.
Mrs. Rochester
Mr. G. J. Romero
Miss Emily F. Paine
Miss Anita Parker
Mr. D. J. Partello
Mr. Jerome Paul
Mr. R. D. Peebles
Capt. F. W. Phisterer
Mrs. Phisterer
Mr. Wm. Hugh Pickard
Mr. Gustav Pollak
Mrs. Pollak
Mr. Francis D. Pollak
Mr. Percival Pollard
Mr. J. G. Porter
Mrs. Porter
Mr. T. M. Post
Mr. Robert T. Potter
Mr. J. Power
Mr. D. E. Pugh, Jr.
Miss Elizabeth Sabin
Mr. Oscar Saxton
Mrs. Saxton
Miss M. A. Scherer
Mr. W. Schroder
Mrs. Carl Schurz
Mr. J. A. Serpell
Miss May Serpell
Mr. John Sime
Miss Isabel Smallbones
Miss Louise Smallbones
Mr. S. Russ. Smith
Mrs. Smith
Mr. W. T. Smith
Miss Ella Snydam
Mr. H. B. Stapler
Mr. Francis Stephens
Mr. F. M. Swanzy
Mrs. Swanzy
Miss Nora Swanzy
Miss R Swanzy
Dr. Homer F. Swift
Mr. William Tandrop
Mr. E. A. Taylor
Mr. S. Telfeyan
Mrs. Telfeyan
Mrs. J. W. Thompson
Mrs. Tiedemann
Mr. P. D. de la Touche
Mr. C. Trebeck
Dr. S. B. Tryon
Mrs. A. Vincent
Mrs. Wallace
Rev. Thos. Walsh
Mr. G. L. Walters
Mrs. Walters
Mr. Simon Weil
Mrs. Weil
Mr. Maurice Weil
Miss Weil
Mr. L. Wessels
The Hon. Sir J. P. Whitney
Captain C. S. Wilkie
Mr. C. L. Wilkinson
Mrs. J. W. Williams
Miss Agnes R. Wills
Mr. Wilshire
Mrs. Wilshire
Hon. W. B. Wilson
Mrs. Wilson
Mrs. E. D. Wilson
Mr. R. G. Winny
Mr. A. Woltman
Mrs. Woltman
Mrs. E. P. Woodworth
Miss H. Wright
Mr. Fred. Yates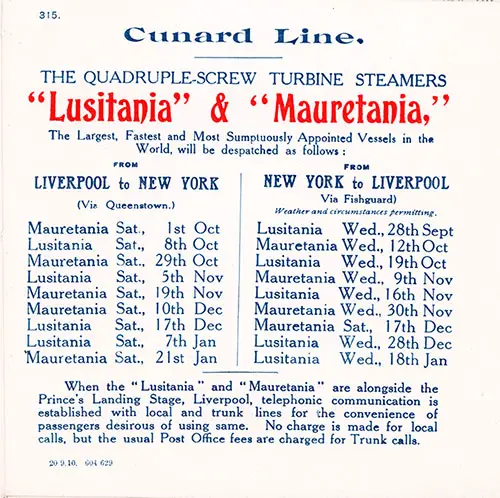 Sailing Schedule for the Quadruple-Screw Turbine Steamers "Lusitania" & Mauretania," The Largest, Fastest, and Most Sumptuously Appointed Vessels in the World from the Cunard Line. Insert to the Saloon Class Passenger List of the RMS Campania from 24 September 1910. GGA Image ID # 159f9e5f78
Information for Passengers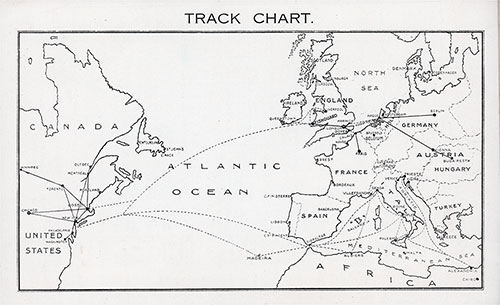 Cunard Line Atlantic Track Chart, 1910. Included in a Saloon Class Passenger List for the RMS Campania of the Cunard Line, Dated 24 September 1910. GGA Image ID # 159fc9c29e
RMS " CAMPANIA." From Liverpool, Saturday, September 24th, 1910, For New York, via Queenstown.
This Steamer is Fitted with Marconi's System of Wireless Telegraphy and Also with Submarine Signalling Apparatus.
Meals will be served in the Saloon at the following times :—
Breakfast, from 8:30 to 10;
Luncheon at 1:00 pm;
Dinner at 7 o'clock.
Supper, if required, must be ordered before 10 o'clock.
The Bar will be closed at 11:30 pm
Seats at Table.—Application may be made at any of the Chief Offices or to the Second Steward on board the steamer.
Divine Service on Sunday at 10:30 am
Baggage.—All enquiries regarding Baggage should be addressed to the Baggage Master.
Steamer Chairs may be hired from the Deck Steward at a cost of 4s. for the voyage.
Valuables.—The Company is not responsible for theft if valuables or money are kept in the Staterooms. The same should be placed in charge of the Purser for deposit in his safe, and a receipt will be given on the Company's form. As no charge is made for carriage the Company can not accept any responsibility for loss or damage, however arising, but Passengers can protect themselves by insurance.
Passengers should obtain a receipt on the Company's form for any additional Passage Money or Freight paid on board.
Exchange of Money.—The Purser is authorized to exchange money at the following rates. He will give American' money for English at $4.80 to the pound sterling and English money for U.S. Currency at £1 sterling for $4.95.
The Surgeon is authorized to make customary charges, subject to the approval of the Commander, for treating any Passengers at their request for any illness not originating on board the ship. In the case of sickness contracted on board no charge will be made and medicine will be provided free.
Dogs.—Passengers are notified that dogs cannot be landed in Great Britain unless a license has previously been procured from the Board of Agriculture, London. Forms of license must be obtained by direct application to the Department before the dog is taken on board.
Arrivals at New York.—Passengers are landed at the Company's Piers, 54 to 56, North River, Foot of West 14th Street, where railway tickets can be purchased and baggage checked to any part of the United States and Canada. After landing, Passengers should enquire at the desk on the wharf for letters and telegrams.
Public Telephones. —Telephone service with booths and operator in attendance will be found near the Customs Lines on the New York wharf.
Taxicabs and Carriages.—These can be hired at the New York Piers. Passengers by communicating their wishes regarding conveyances to the Purser can have them reserved in advance. The Purser will forward such requests by Marconi Wireless Telegraph Company to the New York Office without charge.
Fishguard.—Attention is specially drawn to the facilities recently provided by the Cunard Line for their American patrons in reaching London and the Continent by traveling via Fishguard, which is now recognised as the most expeditious route. Eastbound.—All New York Steamers, with the exception of the Lusitania and Mauretania, will call at both Queenstown and Fishguard. The Lusitania and Mauretania will proceed direct to Fishguard without calling at Queenstown.
The Great Western Railway provide special trains from Fishguard for London (Paddington), the railway journey occupying about 41 hours.
Fishguard is in Pembrokeshire, on the South-West coast of Wales, and being the nearest British port to New York, this route is the most direct to London.
Arrivals at Liverpool.—Time of Landing Passengers.—When any of the Company's steamers arrive alongside the Liverpool Landing Stage after 8:00 pm it is optional for the Passengers to go on shore that night. In the event, however, of their remaining on board, they will be landed after breakfast the following morning, either at the stage or in dock as circumstances may make desirable
When the vessel reaches the river but does not come alongside the Stage, to prevent inconvenience and to meet emergencies, any Passengers desirous of disembarking will, on arrival of the steamer, be landed, with hand baggage only, by tender, provided that the Purser is advised before leaving Fishguard of the passenger's wish to do so. Notice will be placed in the Companionway on arrival at Fishguard advising Passengers of anticipated arrival at Liverpool, and arrangements for landing.
Automobiles.—The Purser can give full information to Passengers who wish to hire Automobiles for Touring purposes, and on receipt of instructions will send Marconigram to Head Office ordering same.
Liverpool.—Special trains are run between Euston Station, London, and Riverside Station, in connection with the departure of the steamers. Specials will also be run from Riverside to Euston in connection with the arrival of steamers, when required.
Travellers' International Cheques.
For the convenience of its Patrons the Cunard Company now issues Cheques of $10.00, $20.00, $50.00 and $100.00, with Foreign money equivalents, at which they will be cashed by its Agents and Correspondents throughout the world, distinctly'printed thereon; thus providing not only the safest and most economical means of taking funds abroad, with an absolute certainty as to value, but also A SIMPLE and EFFECTIVE MEANS of IDENTIFICATION in Case of NEED.
Full information regarding these Cheques will be given on application to any of the Company's principal Agencies throughout the United States.
Wireless Telegram Rates.
United States.—The minimum Marconi Rate, via Sea Gate, Sagaponack or South Wellfleet (Cape Cod), or through the medium of a passing steamer and one of these stations is 8s. 4d. for ten words. Each extra word 6d.; text only counted; address and signature free; land charges additional; all fees must be prepaid.
The minimum rate via Siasconsett or Cape Race, or through the medium of a passing steamer and these stations is 12s. 6d. for ten words. Each extra word 9d.; text only counted; address and signature free; land charges additional; all fees must be prepaid.
The minimum Marconi Rate via Sable Island, or through the medium of a passing steamer and this station is 16s. 8d for ten words. Each extra word Is.; text only counted; address and signature free; land charges additional; all fees must be prepaid.
United Kingdom.—The minimum Marconi Rate, via Crookhaven. or other stations in the United Kingdom, or through the medium of a passing steamer, is 10d. per word; every word in address, text, and signature counted; land charges additional; all fees must be prepaid.
Ship To Ship.—Minimum Rate, 8d. per word; every word in address, text, and signature counted, and all fees must be prepaid.
The " CAMPANIA " carries an orchestra of highly-trained musicians which will play at the undermentioned times and places :—
10:00 to 11:00 am .. Second Class Drawing Room.
1:00 to 2-00 pm First Class Dining Saloon.
3-00 to 4:00 pm ... Main Entrance.
7-20 to 8-20 p.m First Class Dining Saloon.
9:00 to 10:00 pm ... Drawing Room.
This arrangement may be altered as circumstances necessitate.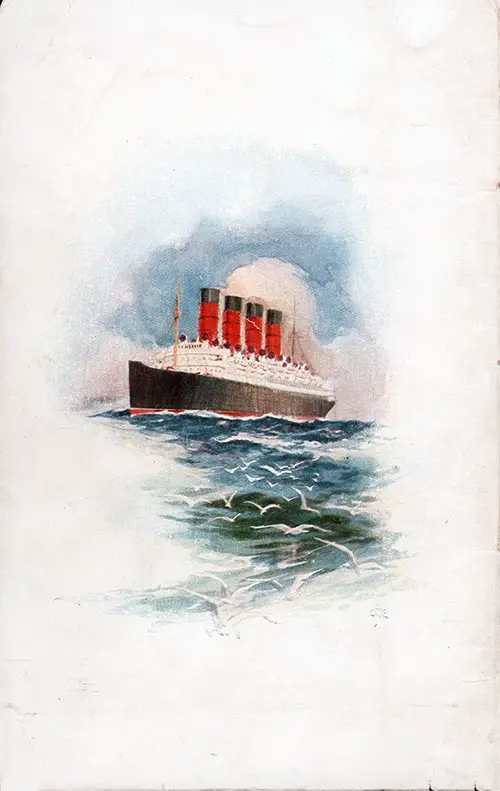 Back Cover of a Saloon Class Passenger List from the RMS Campania of the Cunard Line dated 24 September 1910. GGA Image ID # 159fbdad89